The Pokémon franchise has been a household name since it took the world by storm back in 1996 and became a worldwide phenomenon in no time. It's no surprise, then, that you might be looking for a Pokémon-themed gift for someone you know. Luckily, we've done the hard work and put together a list of the best Pokémon gifts around.
This list of Pokémerch has something for fans of any age, from trading cards to video games and everything you could want in-between, so be sure to catch 'em all when you're shopping.
1. Pokémon Trading Cards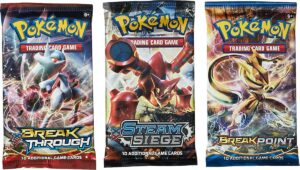 Pokémon cards are a classic Pokémon-themed gift. A new set of Pokémon cards is typically launched every few months, which allows fans to consistently collect new Pokémon and discover new art.
These booster packs will make a great addition to any existing card collection. Each pack also offers the chance to get rare cards and holofoils, which make the gift all the more exciting.
2. Pikachu Coin Bank
Who better to protect all of your loose change than adorable little Pikachu? This fantastic Pokémon-themed bank makes a great gift for kids and adults alike who need somewhere to store their coins.
All you need to do is place a coin on the yellow spot on top of the bank and Pikachu will pop up and snatch it into his little home. The tiny electric Pokémon also talks to you, but luckily won't demand your money.
3. New Pokémon Snap
New Pokémon Snap was released in April 2021 as a remake of the 1999 version and has sold over 2 million copies. If you know a Pokémon fan who also loves taking pictures, the New Pokémon Snap would make an excellent gift.
Players must photograph Pokémon while exploring unknown islands in their NEO-ONE. You'll need to work with Professor Mirror to reveal the mystery behind the Illumina Phenomenon.
4. Pokémon Battle Academy Board Game
For any younger or newer fans who are just getting into collecting Pokémon cards, the Battle Academy board game is a great introduction to the Pokémon trading card game.
The board game comes with three complete Pokémon trading card game decks. The rules are broken down step-by-step, walking each player through the beginning portion of their turn and beyond.
5. Pokémon Scarlet & Violet
The most recent Pokémon video games were released in the back half of 2022 and would make a great gift for any Pokémon fan. The games introduce a wealth of new Pokémon and locations that true fans will love to discover.
Each version of the game has a slightly different storyline and exclusive Pokémon that you can only catch in that version. If you want to catch them all, you'll have to trade between games.
6. Bulbasaur Planter
Every Pokémon fan is familiar with the three OG starters, and this Bulbasaur planter hits the nail on the head for any Pokémon fan with a green thumb.
The 3D-printed planter looks just like the iconic grass-type Pokémon and is a perfect fit for small plants, succulents, and cacti. There's even a small hole in the bottom to allow for proper water drainage.
7. Let's Go, Pikachu! and Let's Go, Eevee!
Although each of these games was released in 2018, they're staples to any Pokémon fan's video game collection. Not only are they the first Pokémon games made for the Nintendo Switch, but they're each a remake of Pokémon Yellow.
Players will get a specific starter Pokémon, either Pikachu or Eevee, depending on which game they're playing. These games feature the original 151 Pokémon and some Alolan Pokémon and can even be connected with Pokémon Go.
8. Pokémon Loungefly Bag and Wallet
If you're looking for a gift that's as stylish as it is practical, this Pokémon Loungefly mini-backpack and wallet are it. The Loungefly backpack showcases four different types of Pokémon, including grass, water, electric, and fire-type.
The wallet showcases each of Charmander's fiery evolutions, including his original form, Charmeleon, and Charmander. With three different pockets in the backpack and enough room to carry all of your cards in the wallet, you'll be able to hold all of your essentials while becoming the best Pokémon trainer there ever was.
Buy bag on Loungefly
Buy wallet on Loungefly
9. Pokémon Funko Pop!
No Pokémon collection is complete without a few amazing Funko Pops in it. There are so many options available, from Charmander to Psyduck, but our two favorites are a grumpy Pikachu and the legendary Mewtwo.
If you're getting a Pokémon Funko Pop! for someone who's just starting their collection, this classic Pikachu figure is the way to go. However, if you're looking for Pokémon gifts that would make a great addition to an established collection, you can't go wrong with a powerful Funko Pop! of Mewtwo.
10. Pokémon Legends: Arceus
In early 2022, Pokémon Legends: Arceus was released and was a massive success for Nintendo. In the first week of its release, the game sold over 6.5 million copies, so it's safe to say the Pokémon fan in your life would enjoy this gift.
This game is part of the eighth generation of Pokémon video games and serves as a prequel to Pokémon Diamond and Pearl. Players will explore the Hisui region and help to create the first-ever Pokédex while uncovering the mystery of the mythical Pokémon, Arceus.
11. Pokémon Plush
It's a well-known fact that Pokémon of all types are undeniably adorable. Every fan of the franchise has wanted to cuddle up with one at some point, and these awesome Pokémon plushies can finally allow them to.
While there are many plushies to choose from, these napping Pikachu and Charmander plushies are our favorite. Each plush is 18 inches and made of super soft material, so you can cuddle until your heart's content.
12. My Pokémon Cookbook
If you know someone who loves to cook and is also obsessed with Pokémon, we have the perfect gift. This My Pokémon Cookbook is full of delicious recipes that are inspired by Pikachu and other lovable Pokémon.
The cookbook contains over 45 recipes from multiple regions in the Pokémon universe. The recipes feature step-by-step instructions and helpful pictures so fans of all ages can make their favorite Pokémon-themed dish.
13. Bespoke Poké Ball
Every Pokémon trainer needs at least one Poké Ball in their collection. This brespoke Poké Ball makes an amazing gift, and it comes in multiple different options, from classic to Master Ball.
Each Poké Ball is handmade and can be customized according to how you want it to look. The best part is that it features an LED ring light on the front and a hinge on the back for an authentic look.
14. Pokémon Mega Construx
You can get your block-building fix with a Pokémon Mega Construx set. There are a ton of different Pokémon-themed sets on the market, but these two caught our eye.
The first Mega Construx set contains 470 pieces and allows you to build each of Eevee's evolutions, from Jolteon to Sylveon. If you're looking for something that packs more of a punch, you can't go wrong with the Mega Construx Gyarados set, which has 2,188 pieces and features a fully mechanized Gyarados when finished.
15. Ravensburg Pokémon Puzzle
For our last gift on the list, we have an amazing Pokémon-themed Ravensburger puzzle that'll bring a smile to the face of any fan. This 1,000-piece puzzle features a ton of Pokémon from the first generation in a challenging design.
If you're able to tell the intricate differences between Raichu and Pikachu, then this is the puzzle for you. Find your favorite Pokémon as you put each piece of the puzzle in its place with your loved one.
READ NEXT: 15 Best Zelda Gifts