Film noir is one of the most distinctive cinematic genres in the history of film. It is also one of the most fun, featuring witty dialogue, flashbacks, murky pasts, and mysterious plotlines. Stemming from hard-boiled detective novels, the classic period of film noir ranges from the early 1940s to the late 1950s.
Most films were in black and white, accompanied by the nearly constant fog of cigarette smoke, with a unique screen look that relies heavily on the intense use of shadow and low-key lighting. These elements give film noirs an unmistakable ominous mood and a bleak sense of hopelessness. The term "film noir" is actually a French moniker referring to black or dark film, but the genre is absolutely American. In fact, film critic Roger Ebert described film noir as "the most American film genre".
Film noir is easy to identify but difficult to define. They usually revolve around shady characters, private detectives, corrupt cops, and especially femme fatales. This is a seedy world of grizzled gumshoes and double-crossing dames. Most of the stories are doomed from the start, and proud of it. The prospects of a happy ending don't apply here. Film noirs generally relate themes of deception, betrayal, self-destruction, and paranoia; and are commonly conveyed by internal narration.
The approach and qualities of the genre have influenced cinema in every decade since it was introduced. More recent films such as Basic Instinct, Seven, L.A. Confidential, Sin City, John Wick, Knives Out, and The Little Things all display heavy characteristics of film noir. Sadly, classic film noir is becoming more and more forgotten. For those of you who are not well versed in film noir but are interested, here are ten essential films to introduce you to the genre.
The Best Film Noir Movies
1. The Maltese Falcon (1941)
Director: John Huston
The Maltese Falcon is often considered the first film noir. It also marked the directorial debut of Hollywood legend John Huston. Typical of film noir, the story features a private detective (Humphrey Bogart) enlisted to help a mysterious lady (Mary Astor) under perilous circumstances.
Dangers quickly arise as the detective, Sam Spade, is caught in the middle of a struggle for a mythical falcon statue. The film is brilliant in both acting and storytelling and holds a Rotten Tomatoes rating of 100%. The Maltese Falcon was one of the first 25 films to be included into the National Film Registry.
2. Double Indemnity (1944)
Director: Billy Wilder
Double Indemnity was adapted from a 1936 novella written by noir luminary James M. Cain. The film stars Fred MacMurray as a morally ambiguous insurance man and Barbara Stanwyck as a sultry wife who wants her rich husband dead. Stanwyck plays a mesmerizing femme fatale as she convinces MacMurray to help her kill her husband and collect the insurance money.
Edward G. Robinson is excellent as a clever insurance sleuth and fills out an impressive supporting cast. Double Indemnity was nominated for seven Academy Awards and is consistently cited as setting the standard for film noir.
3. Laura (1944)
Director: Otto Preminger
With a Rotten Tomatoes rating of 100% (which seems to be a trend with these essential noir films), Laura is one of the most well regarded film noirs of all time. When high powered ad executive Laura Hunt (Gene Tierney) is murdered, it is up to a New York detective (Dana Andrews) to untangle the web of suspects.
As the detective delves deeper into the case, he starts to fall in love with the dead woman and finds out that this crime is anything but a simple whodunnit. Laura is unique among film noirs in that the female lead is not a true femme fatale, or so it seems.
4. The Big Sleep (1946)
Director: Howard Hawks
This film noir once again features Humphrey Bogart as a private investigator. Bogie plays the infamous Philip Marlowe who is called in when a rich father needs help with his rambunctious adult daughter. When the father's older daughter (Lauren Bacall) tries to help, the case quickly descends into blackmail, double-crossing hijinks, and murder.
The plot is a bit confusing, but the performances are outstanding. As film critic Tim Robey stated, "The Big Sleep is the best scripted, best directed, best acted, and least comprehensible film noir ever made". 52 years after its release, director Joel Coen cited The Big Sleep as inspiration for his cult classic The Big Lebowski.
5. Out of the Past (1947)
Director: Jacques Tourneur
This film is often referred to as the "quintessential noir". Out of the Past stars Robert Mitchum, Kirk Douglas, and Jane Greer as a perfect femme fatal. When crooked gambler Douglas' girlfriend steals $40,000 from him, then shoots him, he hires private investigator Mitchum to track her down.
As the story unfolds, Mitchum is discovered living a new life and flashbacks reveal how lust, murder and deception forced him into hiding. The brilliant cinematography and sharp screenplay personify the signature film noir style. No film captures the mood, attitudes, and elements of the genre quite as well as Out of the Past.
6. The Asphalt Jungle (1950)
Director: John Huston
This intense noir hosts a compelling mix of criminals who are brought together to pull off a massive jewelry heist. When the robbery goes awry, the culprits must survive capture, but can they survive each other? With this film, director John Huston carefully and beautifully builds an uneasy tension that is so typical of classic noir.
These elements are accentuated by a superb ensemble cast. Sterling Hayden and Sam Jaffe are exceptionally brilliant, while the film also boasts an impressive early performance from Marylyn Monroe. The Asphalt Jungle was nominated for four Academy Awards and has a Rotten Tomatoes rating of 97%.
7. Gun Crazy (1950)
Director: Joseph H. Lewis
This noir is a doomed love story in the most stylistic sense. It features John Dall and Peggy Cummins as a pair of carnival sharpshooters who are not only gun crazy, they are crazy for each other. After the couple is fired from their show, they must resort to crime in order to survive. Before long, they find themselves wanted and on the run.
This film captures many of the typical noir devices, especially the bleak sense of hopelessness. Gun Crazy holds a Rotten Tomatoes rating of 98% and was a precursor to the couple crime spree genre, and was a major influence on films such as Bonnie and Clyde, The Getaway, Badlands, and Natural Born Killers.
8. The Big Heat (1953)
Director: Fritz Lang
Fritz Lang directed this masterpiece about a righteous cop (Glenn Ford) who vows to rid his city of gangsters and corruption using the law. When his wife is killed in an explosion that was meant for him, his new vow is to get revenge by any means necessary. The formula differs a bit from typical noir but still fully within the genre.
A menacing Lee Marvin adds greatly to the gritty atmosphere. This is a dark film, even by noir standards, but the execution is flawless. With a Rotten Tomatoes rating of 100%, The Big Heat is one of the most brutal and exciting films of the genre.
9. The Killing (1956)
Director: Stanley Kubrick
Considered Kubrick's first great film, The Killing is a unique and flamboyant take on noir. It tells the story of a sophisticated robbery and the aftermath associated with the caper. The film features a smart plot told with flashbacks and through multiple perspectives. The amazing direction heightens the anxiety that is representative of great noir.
Quentin Tarantino cited The Killing as a huge influence on his 1992 film Reservoir Dogs, stating that, "I didn't go out of my way to do a rip-off of The Killing, but I did think of it as my Killing".
10. Touch of Evil (1958)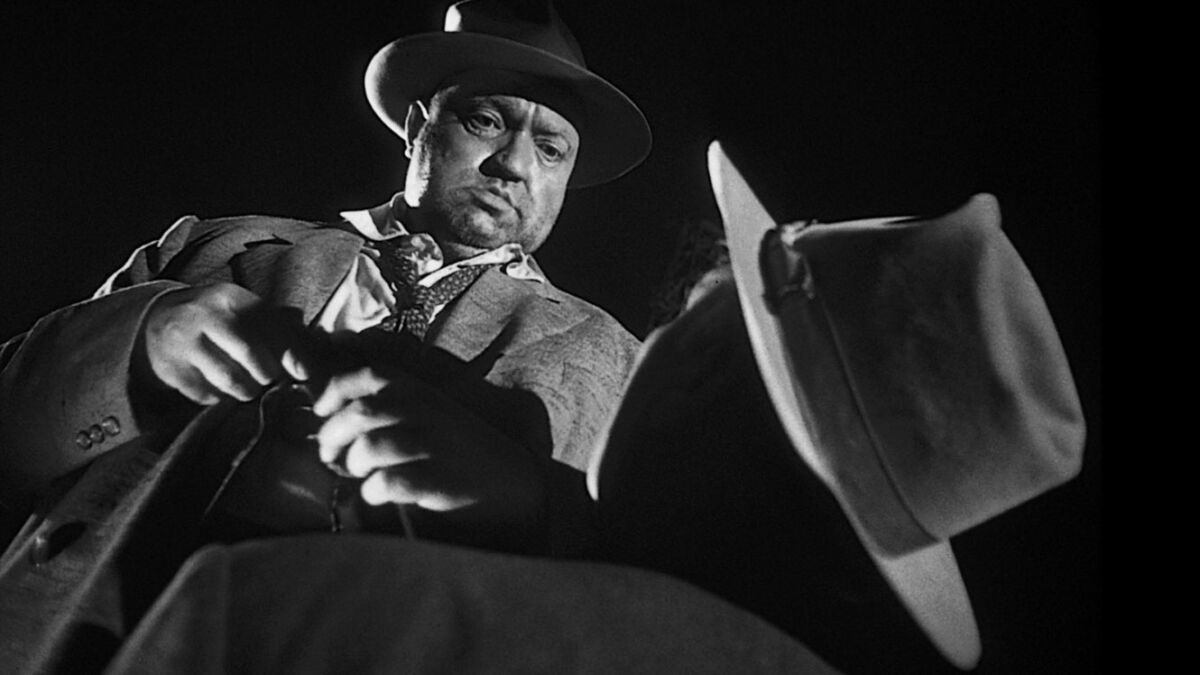 Director: Orson Welles
This Orson Wells classic is considered the last true great film of the genre. Michael Wilmington of the Chicago Tribune calls it "close to the pinnacle of film noir". The complex plot focuses on corruption and murder in a U.S./Mexico border town. Featuring powerful performances from Charlton Heston, Janet Leigh and Welles, this film is celebrated as much for its entertainment value as for its technical excellence.
Although Welles directs the story as a dark suspense thriller, the feel is unmistakable noir. Touch of Evil functions as a capstone to the genre, it is also one of the finest examples of it.
READ NEXT: 6 Movies That Perfectly Mix Noir and Horror
Some of the coverage you find on Cultured Vultures contains affiliate links, which provide us with small commissions based on purchases made from visiting our site. We cover gaming news, movie reviews, wrestling and much more.