With the announcement of a brand new limited series of Dexter, reactions mostly ranged from surprise to indifference. As the show is mainly remembered for unfortunately descending into messier stories and a very polarising finale, this can be understandable. However, with the recent news that veteran actor Clancy Brown will be playing Kurt Caldwell, the main villain of the show, has served as a timely reminder that Dexter also featured some excellent performances, whether in the main cast (Jennifer Carpenter as Debra Morgan) or in recurring performances (Mos Def as Brother Sam in Season 6, for instance).
The best heroes require the best antagonists, and at times, Dexter had some of the best on television. Below is a list of the five best Dexter antagonists from the original run, an example of the high standard Clancy Brown will have to live up to in his own future appearance.
1. The Ice Truck Killer/Brian Moser (Season 1)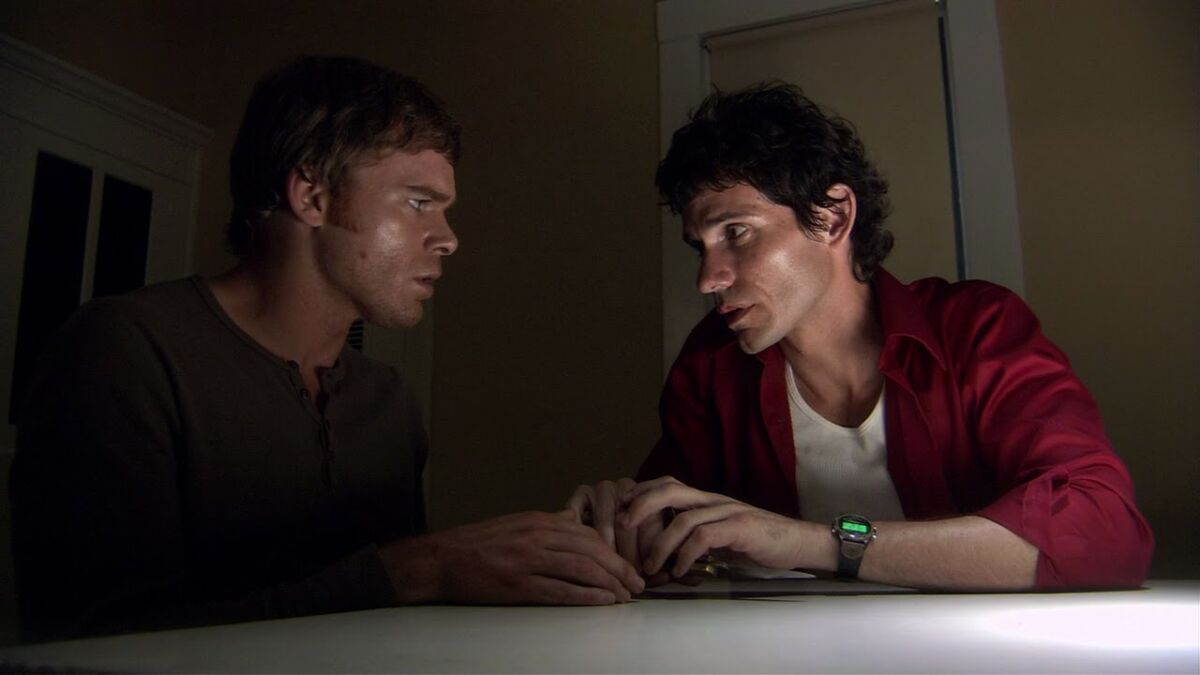 The first season exploded out of the gate in 2006, quickly gaining critical acclaim and garnering Showtime's highest ratings in nearly two years, capturing the imagination of audiences with its unique protagonist. While previous dramas of the era had featured anti-heroes like Tony Soprano and Vic Mackey, who committed crimes and acts of corruption, they rarely committed murder unless they were forced to. In comparison, Dexter Morgan began the show stalking and killing a child killer, the first of at least 130 murders that mostly portrayed a serial killer in a sympathetic manner. However, to humanise Dexter enough for the audience to like him required a much more terrifying villain.
Enter The Ice Truck Killer, a murderer of prostitutes who is eventually unveiled as Brian Moser, the older brother of our protagonist. Both brothers had suffered from a traumatic childhood experience, forced to witness their mother being chainsawed to death and left with her body for several days, but whereas Dexter was lucky enough to be mentored by his adopted father Harry, Brian grew to become an unrepentant psychopath.
The playful games between Dexter and the Ice Truck Killer transition into a fascinating dichotomy between the two brothers, suggesting the difference between nature and nurture. Brian may not have survived season one, but his impact on Dexter and his Code would continue through the rest of the show, appearing irregularly in Dexter's mind as the devil on his shoulder whenever Dexter struggled with his murderous desires.
2. Miguel Prado (Season 3)
The first few seasons seemed to follow a distinct pattern of introducing a specific relation into Dexter's life who discovers his secret as a serial killer – the first season, as we mentioned, looking at Dexter having a brother. The second season introduced a new love interest in Lila,who proved more insane than our hero, but the third season introduced the biggest guest star yet, television royalty Jimmy Smits. Formerly of L.A. Law, NYPD Blue, and The West Wing, Smits had garnered critical acclaim for his mixture of intensity and soulful nature.
Smits played senior Assistant District Attorney Miguel Prado, a physically intimidating and powerful individual with an unparalleled level of connections. The two men meet after Dexter accidentally murders Miguel's innocent brother Oscar and with both men members of law enforcement frustrated by the failures of the courts, begin a twisted friendship that develops into a mentor/protégé relationship. Whereas Brian already knew about Dexter's urges and Lila discovered it accidentally by following Dexter, this was the first time that the character chose to open up to someone. The inevitable betrayal by Miguel meant that when Dexter finally killed his best friend, he also cemented his decision to focus purely on his family and new-born son, Harrison.
3. The Trinity Killer/Arthur Mitchell (Season 4)
While Season 1 was an excellent introduction to the world of Dexter, and the next two seasons continued the high standard, Season 4 is retrospectively remembered as the absolute pinnacle of the show. Over the next few seasons the show struggled to equal these heights due to multiple reasons, such as questionable character choices, pointless filler stories, and weak villains – if you can tell me the main killer of Season 8, I'll be impressed. In a way, the show was a victim of its own success, since its future antagonists never measured up to the titanic performance of John Lithgow as Arthur Mitchell, the most dangerous serial killer in Dexter history.
Depicted as being everything Dexter desires, being known as a reputable family man, loving father and caring deacon, Arthur is in actuality a foul-mouthed and brutal narcissist with abusive tendencies. A conflicted individual with moments of barbaric evil and desperate self-loathing, Lithgow transcended expectations and eventually was awarded with both a Golden Globe and a Primetime Emmy Award.
Ironically, Mitchell's most evil act occurred offscreen, as Season 4 ended with Dexter discovering that his wife Rita had been killed by Mitchell in an act of revenge. As the screen faded to black on the image of Dexter carrying his blood-soaked son away from his wife's body in a camera shot reminiscent of Dexter's own childhood, there was a realisation for audiences that Dexter had changed forever.
4. Jordan Chase (Season 5)
Following Rita's death and realising the possible futility of a normal life, Dexter's following season worked on both allowing Dexter to mourn and move on. For instance, the opening episode portrayed Dexter in an unprecedented manner, having him lash out in rage and begin to realise he's not as devoid of emotion as he believed. Over the twelve episodes, Dexter attempts to help a rape victim called Lumen exact revenge against her abusers, simultaneously moving on from and exorcising his guilt for failing to save Rita. The themes of victimisation and the cycle of revenge in this season builds upon the fallout of Season 4, while introducing the evils of the Barrel Girl Gang.
A gang of five lifelong friends who rape, torture, and murder women, Dexter stumbles upon them when he kills Boyd Fowler, the one who killed and disposed of their victims. The group also consisted of Dan The Dentist, who chose and kidnapped their victims, lackey Alex Tilden, physical torturer Cole Harmon who also recorded the acts, and Jordan Chase, the ringleader and psychological manipulator of the group. The decision to follow up their best individual serial killer with a group of unrepentant villains created a fascinating seasonal story arc that combined Dexter's and Lumen's arc. While Chase and his compatriots viewed Lumen as an object to be brutalised and discarded, Dexter sees Lumen as a survivor that he can save, making up for his failures. Lumen serves a purpose for both men, for Chase she's an opportunity to enact his cruelest tendencies, but for Dexter it's an opportunity of redemption.
The death of the all-powerful Chase and his gang allowed Lumen and Dexter both to move on from their trauma, after a season that suggested Rita's death was essential for the development of Dexter's character as opposed to a shock ending. Unfortunately, this season was eventually revealed as indicative of the writers' refusal to have Dexter deal with actual consequences, such as his sister Debra discovering he's killing people, or having to kill LaGuerta to protect his secret. Instead Dexter has other characters either by coincidence or luck absolve him of guilt or save him from being caught.
5. Isaak Sirko (Season 7)
Season 6 was one full of potential, the surprise inclusions of talents such as Mos Def, Colin Hanks, and the incomparable Edward James Olmos building the audience's anticipation. Unfortunately, the unceremonious killing of Mos Def's popular character Brother Sam, and an underwhelming twist of Hanks being a solo killer and his supposed mentor Olmos having been dead all along was laughable in execution, resulting in the worst season yet. During this time, it was announced that Dexter had been renewed for two more seasons, with Season 7 featuring Dexter's last true great villain (so far, anyway) in Ray Stevenson's Isaak Sirko of the Ukrainian crime syndicate known as the Koshka Brotherhood.
A dignified and intimidating figure in his suit, Sirko is capable of great brutality as he investigates the disappearance of top subordinate Viktor, eventually discovering that Dexter had killed him. It's at this point that Sirko is revealed to be driven not by greed or money, but that Viktor was secretly the love of his life. This unlikely motivation gradually unveils the layers of Sirko, as his sense of honor means he even allows Dexter to live due to a promise made. When Sirko eventually dies after being betrayed by his own Brotherhood, he and Dexter actually sit together as equals, discussing the idea of love. In fact, Sirko is one of the few villains that Dexter mourns to some degree, having made a surprising connection not because of their murderous urges, but for their actions inspired by the people they love – Viktor and Debra respectively.
The best villains from Dexter have always been the ones that represented something that contrasted the protagonist as a character. Whether a child who witnessed his mother's death, an individual who helped put offenders in jail, a killer with a family, a relationship with Lumen, or what emotion motivates their actions, it was those who shared similarities and the biggest contradiction that challenged Dexter best. With the new season currently being cast, it'll be interesting to see whether the showrunners will be inspired by these top villains, or fall into the same mistakes that plagued their last season…
READ MORE: 10 Horror Movies That Could Be Great TV Shows
Some of the coverage you find on Cultured Vultures contains affiliate links, which provide us with small commissions based on purchases made from visiting our site. We cover gaming news, movie reviews, wrestling and much more.