Christmas is only weeks away, which means time is running out to get the perfect present for the Batman fanatic in your life. Working out exactly what to buy can feel a bit like trying to solve one of the Riddler's fiendish puzzles – or it would be, without this handy Batman gift guide at your disposal.
It caters to all budgets and ages of Bat-fan, from junior family members to mature coworkers. So, no matter who you're shopping for, pick something from this list of best Batman gifts and merchandise ideas and you'll be the real superhero this.
1. LEGO DC Batman 1989 Batwing
The 2000+ LEGO DC Batman 1989 Batwing display model accurately recreates the Dark Knight's aircraft, as seen in Tim Burton's classic film, right down to the smallest detail. It also comes packaged with three minifigures, as well as a display stand and wall mount.
2. Batman Wall Art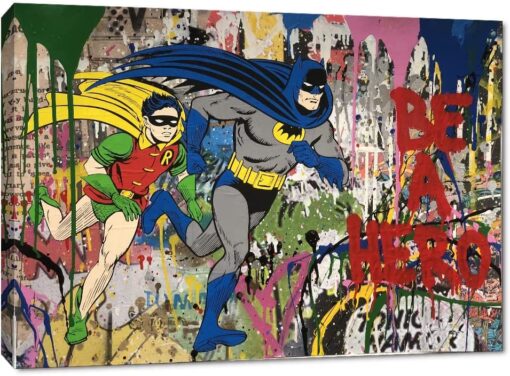 What better way is there for Batman fans to celebrate their love of the Caped Crusader than with a snazzy piece of wall art? There are countless Batman-themed artwork options to choose from, so let the recipient's sense of style and the size of your wallet guide you.
3. The Batman 4K UHD Blu-ray Steelbook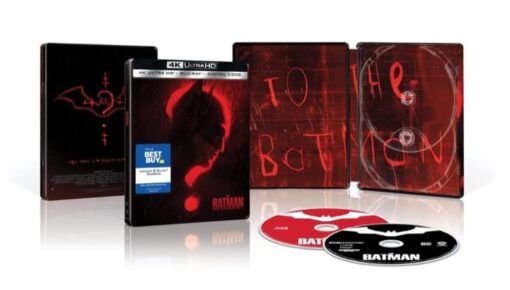 Physical media is making a comeback, which explains why several home video releases made the cut for this list of the best Batman gifts and merchandise.
First up is The Batman 4K Ultra HD Blu-ray Steelbook, Matt Reeves' 2022 blockbuster that pits Robert Pattinson's Dark Knight against Paul Dano's Riddler. Loaded with over two hours of special features, this limited edition UHD release also boasts a slick metal case far superior to the standard edition's cover.
4. Batman Funko POP Figure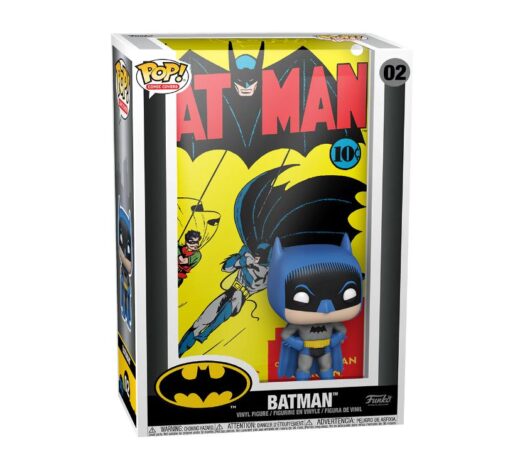 Batman-themed Funko POP figures make great presents for diehard toy collectors and more casual types looking for something cool to jazz up their bookshelf or work cubicle. There's a wide range of vinyl dolls to choose from, so which one you go with ultimately comes down to personal preference. However, if you really can't decide, we recommend Batman Comic #1, which is so retro-tastic it's almost a sin to unbox it.
5. Batman: Arkham City Escape Board Game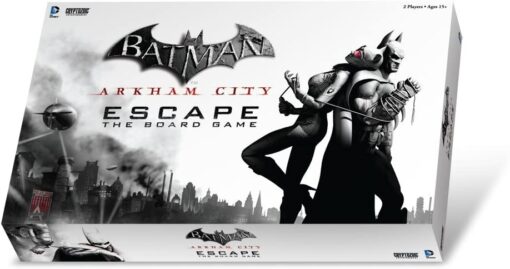 Batman: Arkham City Escape Board Game has a simple yet effective set-up: one player assumes the role of Batman, while the other stands in for the Dark Knight's rogue's gallery. Batman's stand-in has a utility belt of cards at their fingertips, but otherwise, they'll need wits to rival Bruce Wayne's own to stop the inmates of Arkham City from escaping. A great gift for Batman fans keen to emulate the iconic superhero's legendary tactical prowess.
6. The Batman Box Set
The perfect present for anyone eager to get into comics after seeing The Batman, The Batman Box Set collects three softcover volumes that inspired Matt Reeves' movie. The set consists of Batman: Year One, Batman: The Long Halloween, and Batman: Ego and Other Tails, wrapped up in a slipcase by superstar artist Jim Lee. As Batman gifts go, this one's a no-brainer.
7. Batman Socks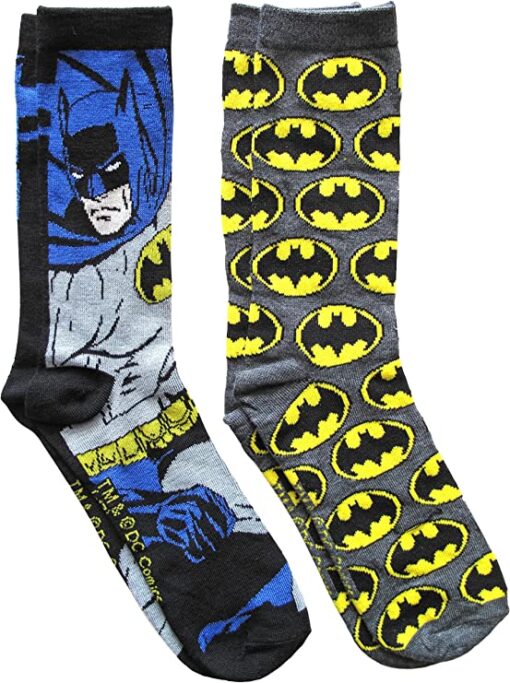 Often dismissed as a token "dad present," socks are actually a solid festive gift choice for just about anyone – especially when they're covered in the iconic Batman logo. Options range from the understated to the flamboyant (some even include capes), however, we recommend splitting the difference by going with the Hyp DC Comics Batman Grey Pattern Men's Crew Socks two-pack.
8. The Dark Knight Trilogy 4K UHD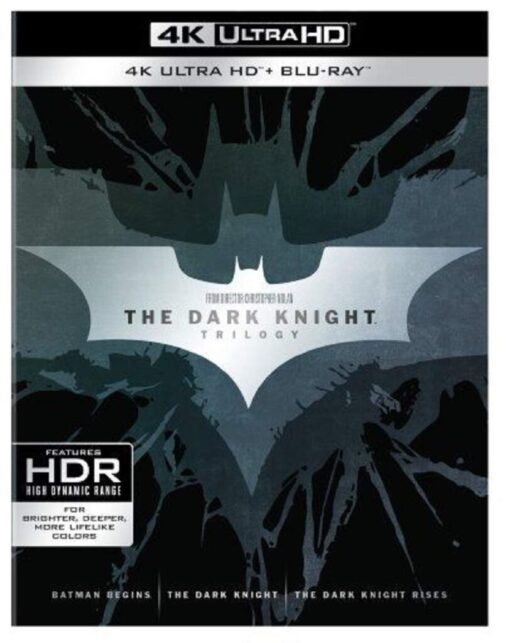 Many fans still consider Christopher Nolan's Dark Knight trilogy the definitive screen version of Batman, so the 4K Ultra HD set is a safe gift choice. Even someone who already owns Batman Begins, The Dark Knight, and The Dark Knight Rises on DVD or standard Blu-ray will be happy to find this set under their tree – the audio-visual upgrade is that good. The Dark Knight Trilogy 4K Ultra HD includes hours of bonus content, too, so devotees of Christian Bale's Caped Crusader won't be disappointed.
9. Batman Insignia Ice Cube Tray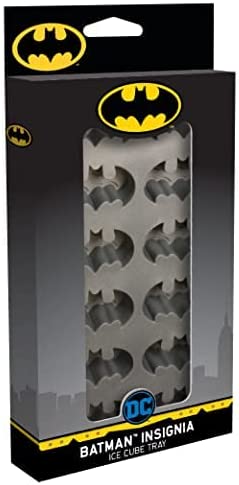 The Batman Insignia Ice Cube Tray is among the best stocking stuffers on this list of Batman gift and merchandise ideas. It's cheap, fun, and (above all) practical, and kids and adults alike will get a kick out of it. Until a working replica of Mister Freeze's ice gun hits shelves, The Batman Insignia Ice Cube Tray is the best way to chill beverages, plain and simple.
10. Gotham City Cocktails
Bruce Wayne may not be much of a drinker, but that doesn't mean the rest of us can't partake. That's where Gotham City Cocktails – the only authorized Batman-themed cocktail guide on the market – comes in handy. It even includes recipes for bar snacks to accompany tasty beverages such as The Dark Nightcap, which recipients who enjoy hosting will appreciate.
11. Batman Comfy Throw Blanket
The Batman Comfy Throw Blanket doubles as a costume, so it's the ideal present option for someone who appreciates cosplay and couch time equally. Fashioned from soft polyester fleece, this hybrid ensemble packs the benefits of both a blanket and robe – with a full-body Batman print thrown into the mix, as well.
12. Batman: Arkham Collection
While it's impossible to truly become Batman, Batman: Arkham Collection does a pretty good job of making you feel like you have. The three titles in this collection – Batman: Arkham Asylum, Batman: Arkham City, and Batman: Arkham Knight – give players access to the Dark Knight's full arsenal of skills and hardware. Developer Rocksteady has also given Arkham Asylum and Arkham City a graphical overhaul, keeping this collection feeling as fresh as ever.
13. Batman Projector Pen
Another of the more modest entries on this list of Batman gift and merchandise ideas, the Batman Projector Pen nevertheless combines novelty with utility. A ballpoint pen at one end and a portable miniature Bat-signal at the other, it's a fun piece of merch. The Batman Projector Pen even comes with batteries included – something even a gazillionaire like Bruce Wayne would appreciate.
14. Batman: The Complete Television Series
Batman: The Complete Television Series is a must-buy present for fans turned off by other, more self-serious adaptations of the Bat-mythos. Collecting all 120 episodes of the 1966 show, Batman: The Complete Television Series is a timeless treat thanks to Adam West's not-so-Dark Knight and his colorful coterie of allies and enemies. It's also jam-packed with over three hours of special features.
15. Justice League Batman Voice Changing Tactical Helmet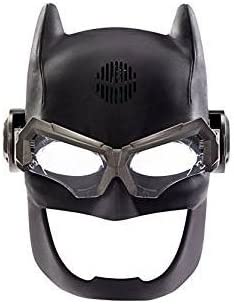 One of the hardest things about masquerading as Batman is mimicking his signature raspy vocals – or at least, it used to be. Now, anyone can deliver a decent Dark Knight impression via the Justice League Batman Voice Changing Tactical Helmet. Modeled on Ben Affleck's cowl in that film, the helmet also comes preloaded with movie phrases and sound effects, as well as a flip-down visor and edge lighting.
16. Batman DC Comics Absolute Edition
This list of Batman gift ideas already covered comic book newbies, but what about long-time readers? For these fans, you'll want to hunt down a DC Comics Absolute Edition. These archival reprints are pricey, but they're worth every penny for sheer wow factor. There are several Batman volumes to choose from, but we'd recommend Absolute The Dark Knight, as the oversized format brings out the best in Frank Miller, Klaus Janson, and Lynn Varley's stunning artwork.
17. Batman 4-Film 4K Collection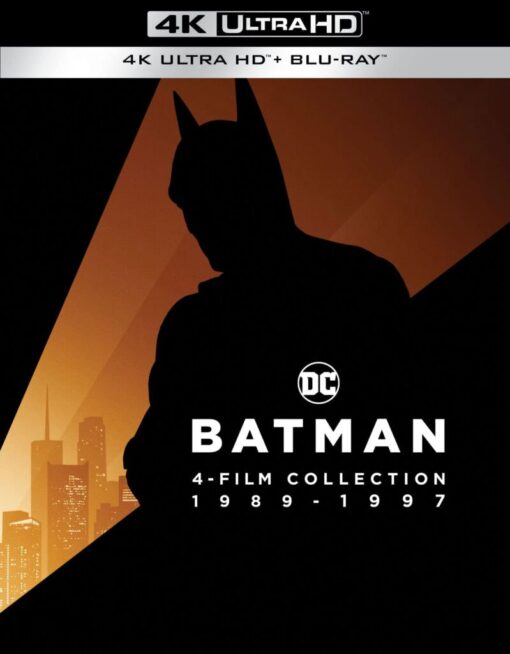 The ultimate nostalgia fix for fans of a certain age, the Batman 4-Film Collection includes Tim Burton's beloved Batman and Batman Returns and Joel Schumacher's more polarizing Batman Forever and Batman & Robin. Warner Bros. has remastered this quartet of Bat-flicks in 4K UHD, resulting in markedly superior audio-visual quality. Even fans who've watched all four movies umpteen times will cherish this gift.
18. Moleskine Batman Notebook
Moleskine's notebooks are some of the best money can buy – and that's especially true of its limited-edition Batman line. Continuing a theme with this list of Batman gift and merchandise ideas, the notebooks come in a variety of styles and designs to suit all tastes. Regardless of which option you settle on, high-quality ruled pages and a durable cover remain standard features. And did we mention these notepads come with stickers?
19. Gotham Knights
We've already established that Batman: Arkham Collection is the best virtual Batman experience on the block, however, that title is decidedly lacking in the cooperative play department. Enter: Gotham Knights, Warner Bros. Montreal's new action-RPG effort noted for the quality of its multiplayer modes.
20. The Art of The Batman
The third and final item on this list related to The Batman, The Art of the Batman is a 200+ page tome brimming with concept art, storyboards, and set photos from the hit movie. While fans eager to pursue a career in the film industry will especially enjoy The Art of the Batman, showbiz dreams aren't a prerequisite for soaking in the sheer depth of creativity on display in this book.
21. Batman Travel Mug
Fact: Batman is canonically a fan of coffee (it's all those late-night stakeouts). Exactly what kind of cup the Dark Knight prefers is less clear, however, we're willing to bet it's something like the Batman Travel Mug. The 15oz Batman Travel Mug's double-insulated stainless steel well is coated in a bat-logo embossed silicon sleeve, so it's basically a superhero-grade bit of kit.
22. Batman v Superman Ultimate Edition 4K UHD
Would any list of Batman gift and merchandise ideas be complete without Ben Affleck's debut adventure as the Caped Crusader, Batman v Superman: Dawn of Justice? Not if you're buying for a vocal supporter of Zack Snyder's 2016 blockbuster, it isn't. You can make just such a fan's Yuletide dreams come true with the newly reissued 4K UHD "Ultimate Edition" of the film, which includes 30 minutes of additional footage, plus remastered colors and enhanced aspect ratio presentation.
23. The Batman Handbook
If you're the type of gift giver who likes to foster people's dreams no matter how ridiculous, The Batman Handbook: The Ultimate Training Manual might be exactly what you're after. It covers everything that the would-be masked vigilante in your life would ever want to know, from how to train a sidekick to the best technique for throwing batarangs.
24. Batman Statue
Shopping for someone whose sensibilities run slightly more highbrow than LEGO? A Batman statue is the way to go, then. You know the drill by now: there are plenty of variations to choose from, so decide based on your recipient's preferences and your own budget. But for what it's worth, we recommend DC Collectibles Batman Black & White: Batman V.3, due to its timeless design and stylish monochromatic paint job.
25. Batman: The Complete Animated Series
Batman: The Complete Animated Series is the perfect suggestion to end this list of Batman gift and merchandise ideas with. Collecting all 109 episodes of the Emmy-winning 90s classic – plus feature films Batman: Mask of the Phantasm and Batman & Mr. Freeze: SubZero – in high definition, it's the perfect gift for Bat-fans of all ages.
READ NEXT: 15 Best Elden Ring Gifts