Attack on Titan has been the talk of the anime industry these past few years, and it's easy to see why. Hajime Isayama's dark fantasy manga had taken an eccentric approach to its genre, blending themes of tragedy and action previously not seen working together this well. Afterwards, the anime adaptation we all adore today was brought to life by Studio Wit, and the rest is history.
The Attack on Titan manga has collectively sold over 100 million copies, an astonishing feat that has only been achieved by a handful of franchises. The anime series has four seasons in total as of this moment, and the final part of the fourth season is slated to arrive next year, which is still a ways away.
So if you're anxiously waiting for the final part of Eren Yeager's saga, here's a collection of the best Attack on Titan merchandise that is surely going to ease your torment.
12. Attack on Titan Shoe Charms
Own a pair of Crocs but can't figure out what to decorate them with? Well, for all die-hard fanatics of Attack on Titan, these charming shoe charms of Mikasa, Captain Levi, Eren, and the Titans will make your feet stand out more than ever before.
Plus, with so many Titans on your feet, you might just even cause the "Rumbling" yourself. This AoT merch collection has tons of charms to choose from, so pick what suits you best, and dive into an epic fantasy wonderland.
11. Attack on Titan Jacket / Cloak
Sacrificing themselves for the betterment of Paradis has been the sole objective of the Survey Corps, and what better way could there be to pay tribute to them other than owning their signature style jacket?
In the above-mentioned merch, you can choose between either the brown short jacket that you've probably seen Eren and others wear during their training, or you could opt for the stellar green cloak that Captain Levi puts on while annihilating hoards of Titans.
10. Attack on Titan Grisha Key
If you've just started watching Attack on Titan, you probably know about Grisha Yeager's basement. During the third season of the anime, the sole objective of the Survey Corps' mission was to retrieve the secrets stored there.
Grisha's cellar key is definitely an awesome piece of memorabilia for anyone looking to get their hands on some Attack on Titan merch.
9. Attack on Titan Poster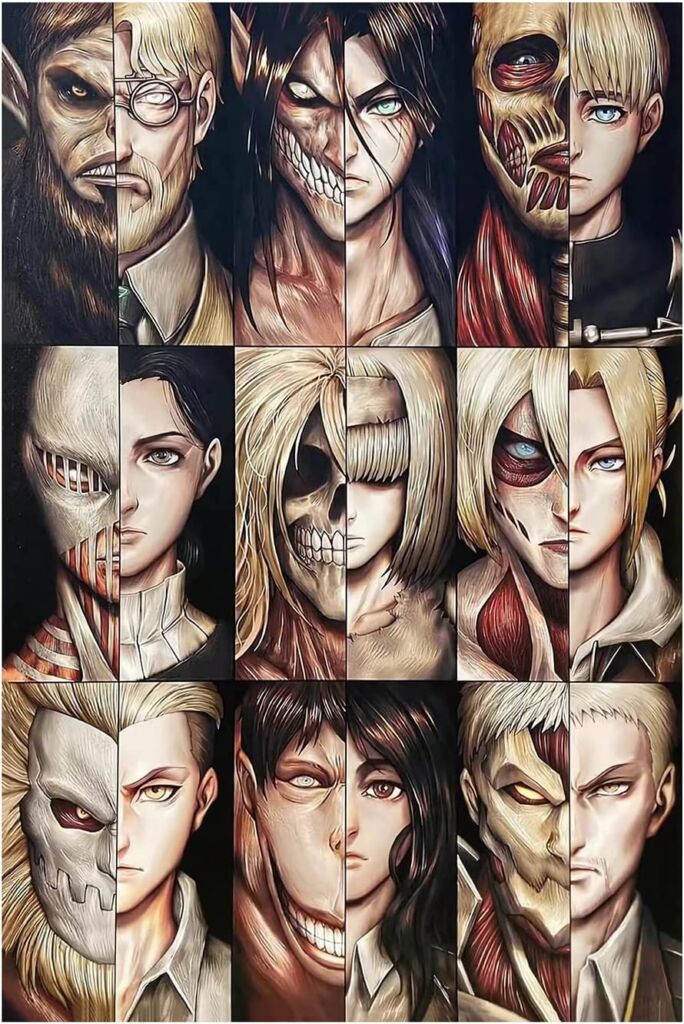 The nine Titans are truly the most stunning of attractions you'll find in Attack on Titan, so how about a sick-looking canvas painting that perfectly captures their essence?
Reiner's Armor Titan, Zeke's Beast Titan, and Eren's Attack Titan especially pop out the most. This poster's visual design and coloration bring the Titans to life in a way even the anime couldn't totally represent, so be sure to add this Attack on Titan merch to your cart.
8. Attack on Titan Lamp
Anime is something that goes hand in hand with gaming for some people, so if you've got a cool gaming rig, this Eren Yeager multicolor lamp is the perfect addition to your set-up.
This lamp nails the cold season four aesthetic of Eren, with his tied-back hair and the shifter marks below his eyes being displayed vibrantly. When the lights go out for bedtime, this lamp will stunningly brighten up your room.
7. Attack on Titan Captain Levi Figurine
Let's be honest, Levi isn't the jolliest one among the Survey Corps, but this maid model of his brings out tons of giggles.
You can adjust the poses of this Levi Ackerman figurine, and test the one that makes you laugh the most. It's just a gratifying feeling that you get watching Humanity's Strongest Soldier clean your household.
6. Attack on Titan Gift Set
If you've got a friend's birthday coming up, and AoT just so happens to be their forte, here's the ultimate dream gift set.
It includes an AoT-themed lanyard, keychain, bracelets, stickers, and loads more. This gift box is one great way to pour some insane amount of AoT merch goodness into your life.
5. Attack On Titan Wallet
Can't wrap your head around what Attack on Titan merch to get? Then take a look at this slick wallet that has some cool AoT military carvings on it.
Gift it to a friend, or expand your own collection, that'll be one step closer to becoming a member of the Survey Corps yourself.
Buy it on Techanimate
4. Attack on Titan Manga Box Set
If you still haven't bought the AoT manga, then we totally recommend collecting all the volumes because every Attack on Titan fanboy and fangirl's merch collection would be incomplete without it.
This set contains the first four volumes of the manga, which roughly cover-up season one of the anime. Besides that, you're given two awesome sticker sets featuring Mikasa, Levi, Erwin, and the other Survey Corps members.
3. Attack on Titan: Colossal Edition Manga
What's better than having the entire AoT manga set? Having the entire AoT manga set but in a single giant booklet.
As you've guessed, like the Colossal Titan, this edition of the manga is huge. Each part of the Colossal Edition has 5 volumes compiled into it, making the book an astonishing 970 pages long, and to cap that all off, it's even got 15 exclusive colored pages. Collect them all, and relive Eren's entire story with a jovial twist.
2. Attack on Titan Bag
Jokes aside, this has got to be the most stylish bag so far. It's got tons of patterns, from the Armor Titan fighting Mikasa, to animated toons of the AoT characters.
This is one Attack on Titan merch that doesn't just look cool, but also has a lot of use to it. Take it to school, and let your otaku friends be amazed.
1. Attack on Titan Funko POP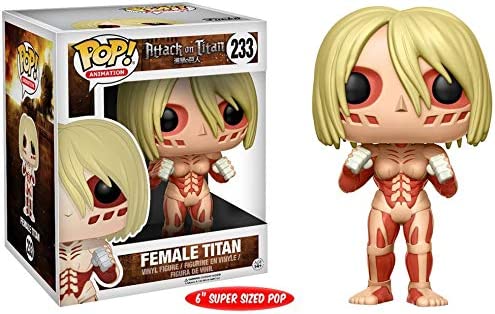 If you prefer Annie over the other Attack on Titan characters, this 6″ Funko POP action figure of her Titan form will definitely resonate with you.
Apart from Annie's Titan, gather the Armor, Attack, Beast, and more until you collect all nine. Place them on your desk, or with the other amazing figurines of yours, and add them to your ultimate Attack on Titan merch collection.
READ NEXT: 12 Best Demon Slayer Merch & Gift Ideas You Should Check Out