Season 10 of Apex Legends has been an unusually quiet one, with Rampart's Town Takeover being the only in-game event of any real significance. But now, the metamorphosis appears to have begun, starting with the first of a new event type: the Apex Chronicles, which appear to be a series of character-centric events that require players to compete as a specific Legend, completing challenges and uncovering lore as they progress through the quest. After months of boredom, the Respawn gods have finally blessed us with an interesting, complex event that not only spices up gameplay, but also gifts players with the kind of story content they've been missing since the discontinuation of weekly in-game comics.
The new event – entitled "Old Ways, New Dawn" – revolves around Bloodhound's quest to uncover the truth behind the catastrophic damage Hammond Industries' Planet Harvester has caused to their homeworld of Talos, where World's Edge is located. As of this writing, only the prologue and first two chapters are unlockable, but Chapter 3 and the finale will be unlockable on October 5th. Unfortunately, just getting the first quest started is like trying to find a feathered needle in a lava-filled haystack, while also being shot at.
Your first task is to find a white raven. There's one on the main screen, directly to the right of the button you select to start a match (on the lower left side of the screen). Upon clicking the raven, it will fly away, and Bloodhound will comment "That is not mitt (my) raven. It is…strange…"
But this quest requires players to find that raven on World's Edge itself, and doing so is no small task. You must play as Bloodhound, and may have to wait several hours for World's Edge to rotate back in as the active map. Once you've got the right Legend and the correct map, it's tracking time.
This quest can be hard to complete with a full squad (unless you're playing with friends), so your best bet is to un-select the "fill teammates" option located just above the ready-up button on the lower left side of the screen, allowing you to load in without teammates and focus solely on hunting down the raven and avoiding combatants. You can complete this quest in both trios and duos modes. Loading in alone will allow you to always pick Bloodhound, while playing with a full squad will often lead to a fellow squadmate choosing Bloodhound before you do, forcing you to waste valuable time playing as another Legend. (You will also need to play as Bloodhound for all of the subsequent quests, as completing the objectives relies entirely on Bloodhound's passive tracking abilities.)
The white raven can only be found on World's Edge, and it cannot be found in ranked mode, so make sure you're playing vanilla trios or duos if you want to find our elusive little feathered friend. It can spawn in one of three points of interest: Lava Siphon, The Epicenter, and Skyhook. Within each of these POIs are five possible spawn points.
Thankfully, Respawn isn't completely throwing you to the prowlers here – if you open the visual map of World's Edge before you land, you'll see a raven icon with a yellow circle around it, indicating where you should land to find the Raven. It won't give you the precise location, but it will allow you to land in the general vicinity of the spawn point. In Chapter 1, it will always spawn at Lava Siphon.
If you're really struggling, it may be worth laying low for a minute or two until any initial fights between squads have ended and other combatants have looted and left the area, giving you time to search. If you still can't find the raven, never fear: The notable lore-hunter and dataminer known as Shrugtal has created an excellent visual guide to give you an idea of where to look.
Here's a pocket guide to Old Ways, New Dawn as it goes live today. All possible raven waypoints are marked below. It's unclear where the "start" is, so you will have to do a bit of hunting at these locations. pic.twitter.com/1lR0jthKMQ

— Shrugtal (@shrugtal) September 29, 2021
Once you find the first raven, you'll notice that in addition to the normal red, diamond-shaped icons revealing the tracks of enemy combatants via Bloodhound's passive ability, there are now a series of yellow diamonds indicating the tracks of a wounded Prowler. Follow those tracks and you'll be led to another white raven. Select the "investigate" option, and watch on.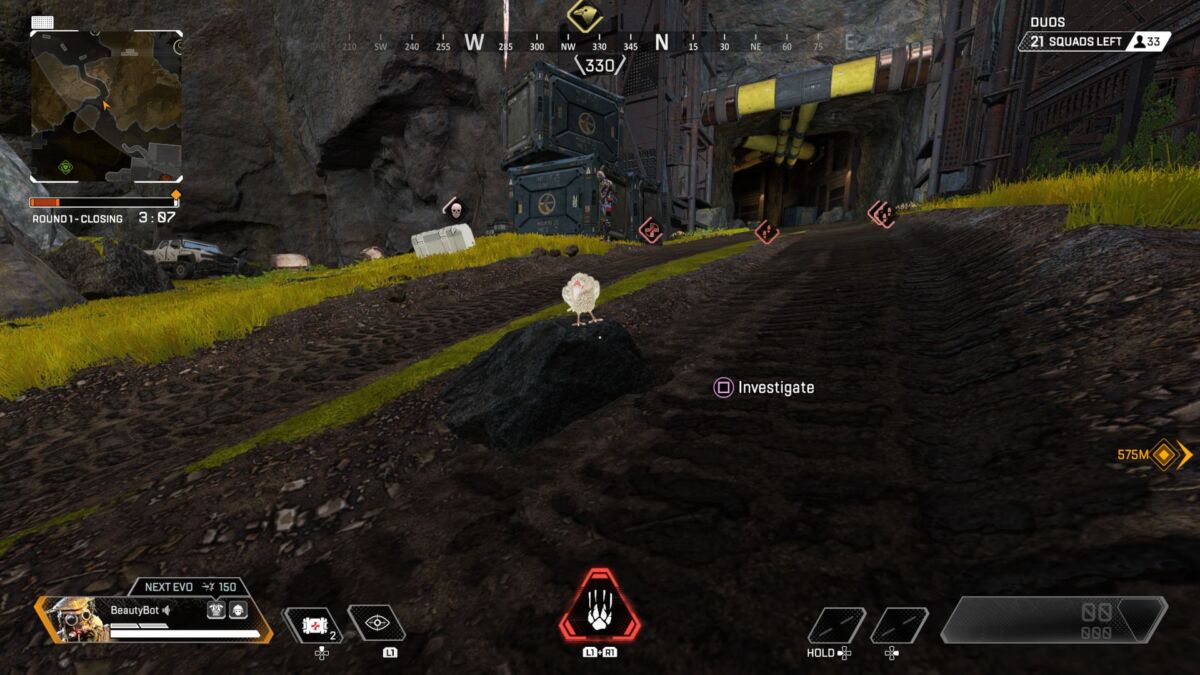 Once you've found the second raven, you will have completed Chapter 1. But if you happen to get killed on your way to the second raven, all is not lost. Your progress will be saved, and you will be able to load in to the next match and pick up following the tracks where you left off. It is worth noting, however, that once you find the second raven, you must wait for Bloodhound's dialogue to end before the quest is counted as complete. If you are killed while the dialogue is still going, you will have to pick up where you last left off. Be sure to have a friend watch your back, or load in alone and proceed stealthily and with caution.
With the second raven found, you'll earn five battle pass stars and unlock Chapter 2, which has you following another trail of yellow prowler tracks between Landslide and Skyhook, then to Epicenter. There, the trail will run cold, another fun little event will play out, and you'll get a notification that the quest has ended. With that, you've completed the first two unlocked chapters and earned a total of ten battle pass stars.
The 3rd and 4th chapters haven't unlocked yet, but it stands to reason that those quests will be similar to the first two. For completing the prologue and subsequent 4 chapters, players will receive three Apex packs, but these come with a twist. They're a new type of character-specific packs, meaning you'll receive Bloodhound cosmetics for opening them. If you're short on time, don't worry – this quest line runs until the end of the season, so you have plenty of time for birdwatching.
As for what's coming next in "Old Ways, New Dawn"? Well, until the final two quests unlock on October 5th, only the gods can say. But I think it's safe to assume we'll be getting more story content related to everyone's favorite technological tracker. Quoth the raven: "extra lore".
Apex Legends is available for PC, PS4, PS5, Xbox One, Xbox Series X | S, and Switch.
READ NEXT: Unlikely Heroes: Why Apex Legends' Characters Keep Us Coming Back
Some of the coverage you find on Cultured Vultures contains affiliate links, which provide us with small commissions based on purchases made from visiting our site. We cover gaming news, movie reviews, wrestling and much more.