Animal Crossing: New Horizons has no shortage of exotic and rare fish for you to hunt down over many months, one of the newest additions as of May being the rather "interesting looking" Mahi-Mahi fish.
A brand new fish for the Animal Crossing franchise, the Mahi-Mahi's unusual name is of Hawaiian origin and means 'very strong'. I guess you would have to bulk up to distract from whatever's going on with your forehead if you looked like this dude.
Here's all the info you need to catch the Mahi-Mahi in Animal Crossing: New Horizons. If you need a whole load more New Horizons guides, we have you covered.
Mahi-Mahi Quick Facts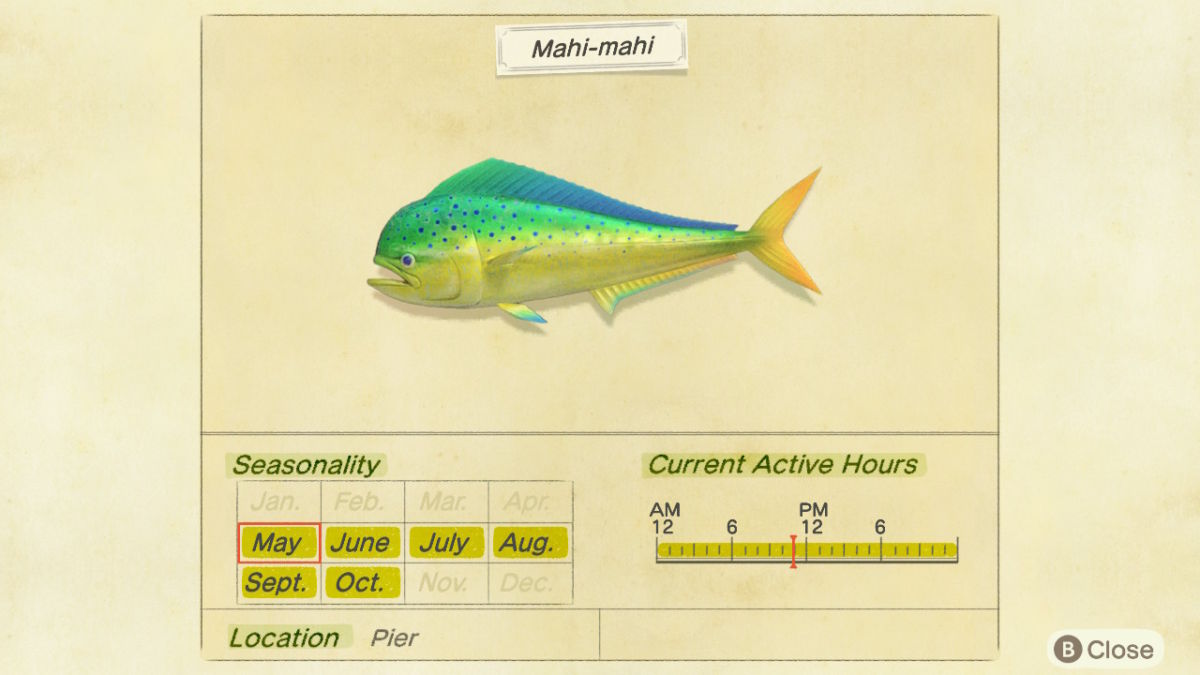 | Name | Location | Time of Day | Price | C.J. Price | Seasonality |
| --- | --- | --- | --- | --- | --- |
| Mahi-Mahi | Pier | All Day | 6000 | 7200 | May-October |
"I caught a mahi-mahi! It's all mahine-mahine!"
The Mahi-Mahi casts a very large shadow and has a gigantic forehead to go with its lovely green and yellow hues.
Mahi-Mahi Location & Time of Day
The Mahi-Mahi is one of the most interesting fish in New Horizons to catch as it's not a fishing spot that's made all that clear to you. You can find the Mahi-Mahi by fishing off of the pier, which is located to the southeast of your island.
Don't worry about running out of time in the day to catch the Mahi-Mahi, it spawns all day. It is quite rare, though, so expect some frustration.
As always, you will need at least a flimsy fishing rod to catch the Mahi-Mahi. If you're having trouble finding one, don't forget to craft bait with clams so more fish will spawn in front of you, while also checking that you're at the right pier — it's not the same as the heliport.
Mahi-Mahi Price
Once you've caught a Mahi-Mahi in New Horizons, don't forget to turn it into Blathers at the museum to add it to his collection.
Here's what Blathers has to tell you about the Mahi-Mahi:
"The mahi-mahi is an ocean fish known for its wide, somewhat-cute face. It can reach over six feet long. It is known by different names including "dolphinfish," even though it has no relation to dolphins. They live in only in warm, tropical waters…which perhaps explains the relaxed, happy look on their faces."
When you catch your second Mahi-Mahi, you can then sell it to Nook's Cranny for 6000 Bells. That's a pretty decent price, though there are pricier fish that you could also call rare.
You can also hold onto it until C.J. arrives on your island, who will then buy it for 20% more than usual for a price of 7200 Bells. You can also give him three of them and he will give you a Mahi-Mahi model in return.
When Are Mahi-Mahi Available Until?
If you can't find the Mahi-Mahi within the first few days of May, don't panic: it's available from the start of May until the end of October. That's a whole lot of forehead to try and hunt down, especially as it's the same shadow size as the Sea Bass.
And, don't forget, just in case you completely forget to fish for six months, there's always the emergency option of time travelling.
Animal Crossing: New Horizons, which is out now exclusively for Switch, is a game that has as bright a future as this fish's scales. From our review:
"New Horizons is a great continuation of an already fantastic series of games, and paying back Tom Nook's loan has never been so fun."
MORE NEW HORIZONS:
– New Horizons: All New May 2020 Bugs
– New Horizons: All New May 2020 Fish
– New Horizons: What Does The Kotatsu Do?
Some of the coverage you find on Cultured Vultures contains affiliate links, which provide us with small commissions based on purchases made from visiting our site. We cover gaming news, movie reviews, wrestling and much more.