The other night I decided to vacate my skull, leave my brain in storage and settle down with R.I.P.D, starring Jeff Bridges and Ryan Reynolds. I won't even begin to describe the plot as it barely exists but genuinely, it was a really good 90 minutes that didn't take itself too seriously – a pleasant change from the increasing amount of moral heavy films hitting the cinemas these days. Looking at you, 12 Years a Slave.
One quick Google search later and I was astounded to see that it had as little as 13% on Rotten Tomatoes. Sure, it's no Hitchcock, but there's no way it was that bad.
A few searches later and I unearthed some more ratings from the aggregating service that seemed way off and were either far too low or generously high. Rotten Tomatoes is definitely flawed, which is evident when you look through some of the actual reviews themselves – RT just bases percentages on whether the critics like or disliked it; there's no middle.
Here are a few of the films that, in my opinion, were a little off the mark.
Equilibrium
One of my favourite films as an angry teen who loved all things trench coats and guns, Equilibrium
 was derided and often ignored as Matrix-lite back in 2002, slightly unfairly.
Of course, it's not quite on-par with The Matrix but it deserved far better than some reviews it received.  The basic gist of the film is that Christian Bale is a warrior-priest (stay with me) who is tasked with bringing down those who feel in a dystopian world where emotions are outlawed. However, after a deadly encounter with Sean Bean (guess which one dies), Bale's character begins to doubt the totalitarian regime. Forgoing his medication, his world unravels and descends into one of intrigue, backstabbing and jujitsu.
The character, finally having character, really is compelling viewing with there being several stand out scenes (the one with the vinyl player for instance), which really land for the audience, helping the film to reach its cult status. Catch it if you haven't already.
Rotten Tomatoes rating: 37%
Realistic rating: 75+%
The Dark Knight Rises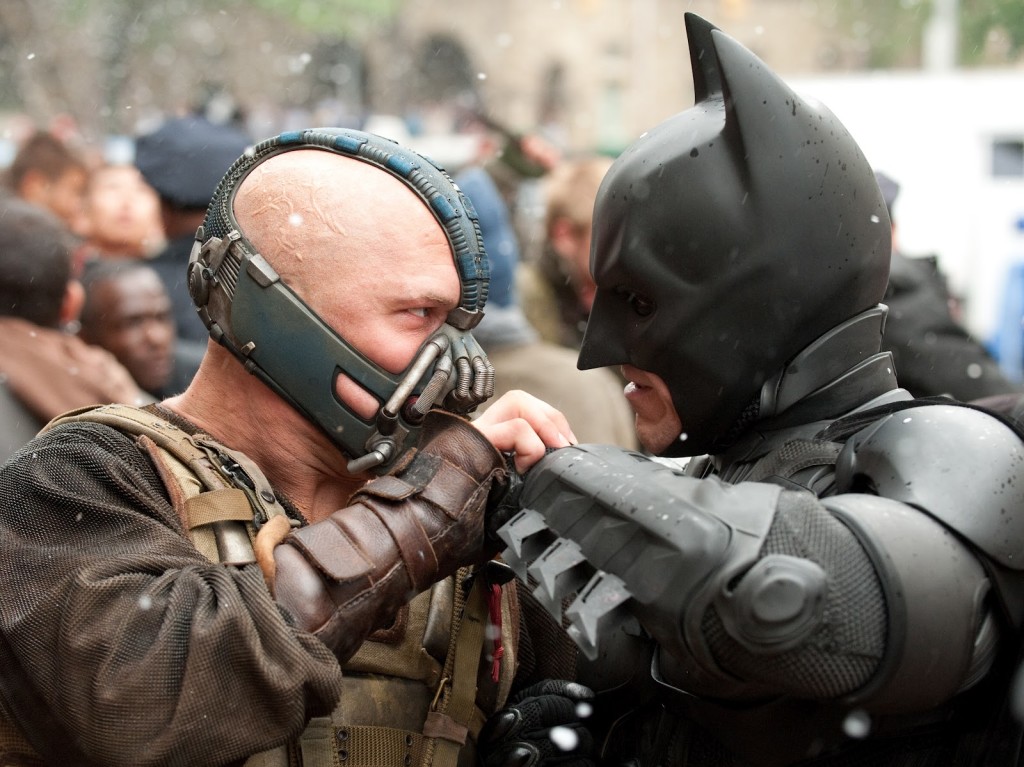 More Bale, but this one is the opposite to Equilibrium in that RT's rating was way, way too generous.
Back when this was in the cinema and I watched it first time around, I was pretty pleased. It wasn't as good as its predecessor but definitely a decent way to conclude the trilogy. After repeated viewings, however, the cracks really started to show.
Let's start with Bane. Menacing first time round, hilarious every time afterwards; it was a pretty stupid accent. Let's be honest here: Sounding like a sea lion with half a pineapple up your sphincter does not make me tremble in my Bat-boots. As for the story, there was so much, "just because, okay", that you were meant to accept. Bruce Wayne losing all his money 'just because' is one of the many instances of half-assery throughout. The bloated plot and lightweight script really let Rises down, but don't even get me started on that ending.
Overall, a really unsatisfying conclusion to one of the best blockbuster franchises in recent memory.
Rotten Tomatoes rating: 88%
Realistic rating: 70-75%
Harry Potter and the Deathly Hallows – Part 2
This one is absolutely BAFFLING and may make you shit when you look at its rating below.
I remember watching this and expecting a masterpiece, purely based on its RT score. Honestly, I was expecting all the amazement I felt when first watching Philosopher's Stone to come flooding back; I've fallen out of love with the franchise over the years and have been a casual viewer ever since.
Yet, there was literally nothing to distinguish it from the predecessors: the design is still drab, Radcliffe is still a weak actor and there was no engagement with the audience whatsoever. We're expected to feel tension as the final battle approaches, but I'm pretty sure trimming my chest hair took precedent during.
The climax to the magical series is about as unsatisfying as the time you had a posh wank back in middle school. A severe case of, "that's your lot. Fuck off", is evident in the epilogue and the film in no way deserves its acclaim. Not even close.
Rotten Tomatoes rating: 96%. NINETY SIX? That's more than The Dark Knight!
Realistic rating: 65-75%
Fight Club
The movie of a jaded generation, David Fincher's Fight Club is in no way an inferior film to the final Harry Potter which really goes to show how flawed the ratings system is on Rotten Tomatoes.
Although it has a respectable rating on the site, the trials and tribulations of The Narrator deserve far higher. What film in the past decade can you think of that has had such a stranglehold on popular culture and has gone on to seemingly become ever more popular with each passing year?
It's a classic and one which lives long in the memory, even after the whirlwind 139 minutes of running time and deserves to be close to 100%. Some critics may have just been sourpusses about their man tits.
Rotten Tomatoes rating: 81%
Realistic rating: 90%+
Shaun the Sheep Movie
Aliens, Mean Streets, The Conversation, Once Upon a Time in the West, The Manchurian Candidate: all classic films that rank lower on the site's official top 100 than Shaun the Sheep Movie. Call me crazy, but that seems slightly wrong.
Shaun the Sheep Movie is no doubt a great movie, but near perfection? Something that deserves to be immortalised alongside The Godfather and Citizen Kane? You must be baaaaarmy to think that. So sorry.
In our golden age of animation, where the likes of Pixar have had their glory days and every other studio is now stepping up, we seem to be seeing more and more films in the genre that are outright fantastic, leaving the label of "just for kids" behind. Shaun the Sheep Movie is decent family entertainment, but an iconic film of a generation, like Toy Story, Up, and Finding Nemo, it is not.
Rotten Tomatoes Rating: 99%
Realistic Rating: 75%+
Honourable mentions
Overrated:
Magnolia (84%)
Indiana Jones and the Kingdom of the Crystal Skull (78%!)
Crash (75%)
Gravity (98%)
Mad Max 2 (100%)
Underrated:
Home Alone (54%)
Kingdom of Heaven (39%)
Taken (58%)
The Jacket (44%)
Everything by M. Night Shyamalan since Sixth Sense (just kidding. Retire, guy.)
Some of the coverage you find on Cultured Vultures contains affiliate links, which provide us with small commissions based on purchases made from visiting our site. We cover gaming news, movie reviews, wrestling and much more.