Time is relative, in the sense that 2013 may seem a long time ago for some of us, and the rest may remember the year with a strange, acute clarity. If so, can you remember the movies that took the year by storm? Realistically, if you're like me, you probably don't recall movies by year, and would be surprised to learn how many of them turn 10 this year.
Without further ado, here are 10 huge movies turning 10 in 2023.
1. The Purge | June 7th, 2013
Director: James DeMonaco
Despite the lukewarm 40% The Purge received on Rotten Tomatoes – with an even lower audience score – it has grown into a franchise of 5 movies. It's easy to understand why, as all the films are massive money makers. The Purge grossed about US$89 million worldwide on a budget of US$3 million, which is quite the profit.
This was the movie that started it all, and it began with a concept. Considering human nature and our inclination towards savage and base desires, and how these urges can't be stopped, The Purge is about a society that allows any kind of violence to happen for 12 hours, and this violence is sanctioned by the government.
James Saundin (Ethan Hawke) has made a fortress of their home in preparation for this day, but everything changes when the family grants safety to a man being hunted. When the hunters figure out where the man is hiding, the family is forced to choose – sacrifice the life of a stranger or endanger everyone close to them.
The Purge is certainly a commentary on gun violence and its consequences, as well as the rich/poor divide, and what will happen to the disenfranchised in these types of situations. While the movies are far from perfect, I do applaud the franchise's ability to find new ways to tell the same story from different points of views.
2. Man of Steel | June 14th, 2013
Director: Zack Snyder
Considering all the reboot talk going around now, and that Henry Cavill has probably hung up the red cape for good, it feels apt to spotlight the movie that started it all. Man of Steel dives into the origins of Superman, who lands at the farm of Jonathan (Kevin Costner) and Martha (Diane Lane) Kent, who name him Clark and raise him as their own son. Jonathan spends his entire life getting Clark to hide his remarkable abilities from the world, believing that the world would turn against him once they perceive his difference. But when a threat to Earth emerges, Clark realises he cannot continue to hide, and must become the hero he needs to be.
I know this movie is divisive, given the 56% score on Rotten Tomatoes, with some feeling that the hyperbolised Christ imagery was a bit much, and that the spectacle took away from the characters and story. I understand the criticisms, but I do feel the movie has quite a bit of strong points going for it as well. I do think Cavill is a fantastic Superman, Amy Adams is great as Lois Lane, even if she isn't given much to do. I also thought Clark's relationship with each of his fathers was also interesting and added a neat layer to the story. And of course, Michael Shannon played a fantastic villain. Zod's motivations are easy to understand, even if completely maniacal.
3. The Conjuring | July 19th, 2013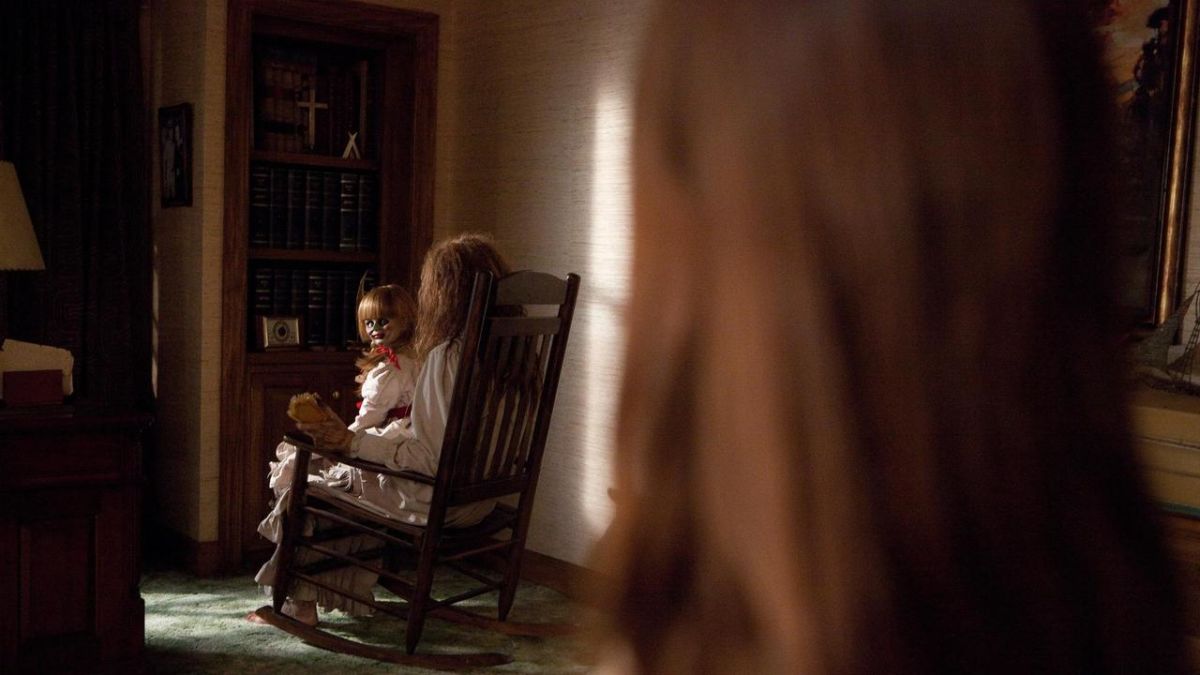 Director: James Wan
While The Conjuring franchise has become quite extensive, none of the subsequent films even come close to besting the original. Director James Wan managed to take the haunted house movie and elevate it, creating a film that is so unnerving that the viewer can't help but be startled at every jolt or creak. It also introduce us to the Warrens, played with aplomb by Patrick Wilson and Vera Farmiga. Their relationship is truly one of the highlights of the film, as well as the very likeable Perron family at the centre of things.
After the Perron family move into their new home, strange things start to happen, and the family feels like it's the work of a supernatural entity. They request the services of Lorraine (Farmiga) and Ed (Wilson) Warren, who come to their home to determine what kind of manifestation they're dealing with. Though the manifestations are relatively benign at first, events soon escalate in horrifying fashion, especially after the Warrens discover the house's macabre history.
4. Prisoners | September 20th, 2013
Director: Denis Villeneuve
Everyone talks about director Denis Villeneuve's streak of critically acclaimed movies, a winning streak that started with Prisoners. It all begins when two young girls from neighboring suburban Pennsylvania families disappear. Keller (Hugh Jackman) and Grace (Maria Bello) Dover search for the girls with their friends, the Birches, father Franklin (Terrence Howard) and mother Nancy (Viola Davis). All that can be recalled is the girls playing near a creepy RV earlier in the day.
Called in to investigate, Detective Loki (Jake Gyllenhaal) quickly tracks down the suspect, whom he's soon forced to release as no physical evidence is found in his RV. The suspect in question, Alex (Paul Dano), is mentally impaired and can't, or won't, answer Loki's questions. Is Alex guilty or innocent, and will all those involved make mistakes that they can never take back?
5. Rush | September 27th, 2013
Director: Ron Howard
Apologies to all you Thor fans, but I think that Rush is Chris Hemsworth's best film. The racing sequences are top-notch, as are the relationships central to the story. Surprisingly, the movie was not in the Oscar race at all, not even for Sound Mixing. This is just proof of what a stacked year 2013 was for movies, that even really good movies like this get left out of the conversation.
Hemsworth plays English playboy James Hunt. He and Austrian driver Niki Lauda (Daniel Brühl) share an intense rivalry in F1 racing. Fueled by their desire for victory, Hunt and Lauda burn up the track, all the while pushing themselves to the breaking point of physical and mental endurance. Meanwhile, the women (Olivia Wilde, Alexandra Maria Lara) in their lives can only watch as both drivers risk death with every lap.
6. Gravity | October 4th, 2013
Director: Alfonso Cuarón
If you've seen Gravity, then it shouldn't surprise you that the film raked in 7 Oscars, winning for Best Cinematography, Best Director, and tons of other technical categories. While Sandra Bullock was nominated, she didn't win the Oscar, losing to Cate Blanchett. It's such a shame, because she delivers one of the best physical performances in this movie. As she makes her way through zero gravity, her gestures and body language do so much to show us a glimpse of the character's interior.
Bullock plays Dr. Ryan Stone, a medical engineer on her first shuttle mission. Her commander is astronaut Matt Kowalsky (George Clooney), helming his last flight before retirement. Suddenly, during a routine space walk by the pair, disaster strikes. This leaves the shuttle destroyed, with Ryan and Matt stranded in deep space with no link to Earth and no hope of rescue. As fear turns to panic, they realize that the only way home may be to venture further into space.
7. Captain Phillips | October 11th, 2013
Director: Paul Greengrass
While Captain Phillips also got attention at the Oscars, with 6 nominations, it wasn't as successful as 12 Years a Slave, not winning for any of its nominations. What it does accomplish was bring attention to leading actor Tom Hanks, who managed to bring something new to the table despite his illustrious career.
Based on real life events, the film is about the U.S. containership Maersk Alabama that was overtaken by Somali pirates. They climbed aboard vessel and take everyone hostage. The captain of the ship, Richard Phillips (Hanks), looks to protect his crew from the hostile invaders, and their leader, Muse (Barkhad Abdi). The pirates are after millions of dollars, and Phillips must use his wits to make sure everyone survives and returns home safely.
What is most gripping about the movie is its last scene, which actually wasn't planned. The team was ahead of schedule, and after Greengrass' discussion with one of the consultants on the film, someone who was present at the event, the infirmary scene came to life.
8. 12 Years a Slave | November 8th, 2013
Director: Steve McQueen
12 Years a Slave made history at the Oscars, becoming the first movie from a black director to win Best Picture. It also took home the award for Best Adapted Screenplay, and Lupita Nyong'o clinched the Best Supporting prize for her poignant and heart-wrenching performance.
The movie follows Solomon Northup (Chiwetel Ejiofor), a free black man from upstate New York. Things go awry when Solomon is kidnapped and sold into slavery in the South despite his free status. He has to deal with the cruelty of one owner (Michael Fassbender), but he also finds unexpected kindness from another. In the 12th year of his ordeal, a chance meeting with an abolitionist from Canada changes Solomon's life forever.
McQueen was somehow able to find the balance between beauty and horror. The film itself is visually stunning, but it never shies away from the brutality of these slave owners, making it a difficult yet wholeheartedly necessary watch.
9. Her | December 18th, 2013
Director: Spike Jonze
Despite the strong contenders in the category, Jonze managed to best all of them and took home the Oscar for Best Original Screenplay. Jonze's film follows Theodore (Joaquin Phoenix), a man earns a living by writing personal letters for other people. After his marriage ends and he is left heartbroken, he becomes fascinated with a new operating system, which reportedly develops into an intuitive and unique entity in its own right. He starts the program and meets "Samantha" (Scarlett Johansson), and as the two begin to spend more time together, their relationship deepens into love.
Even though the film deals with the implications of technology on relationships, its focus never wavers from the nature of humanity and the desire for connection that binds us all.
10. The Wolf of Wall Street | December 25th, 2013
Director: Martin Scorsese
Considering what a beast of a movie The Wolf of Wall Street is, it's a shame it didn't bag any of the Oscars it was nominated for. But it is a controversial movie, given the copious amount of drug use displayed and the constant use of the f bomb. Some might have also felt that Scorsese's film was a celebration of Jordan Belfort's behaviour rather than a cautionary tale, which could have prevented voters from aligning themselves with it.
Leonardo DiCaprio plays Jordan Belfort, who takes an entry-level job at a Wall Street brokerage firm and finds himself doing quite well. This leads to him starting his own firm and together with partner-in-crime Donnie (Jonah Hill), Belfort makes a huge fortune by defrauding wealthy investors out of millions. This leads Belfort further down a life of vice, partaking in a hedonistic brew of sex, drugs and alcohol.
It may sound like serious stuff, but The Wolf of Wall Street is actually a comedy. There's no way anyone can watch the drugs/stairs scene and not laugh out loud at the brilliance of it. This movie is also proof that Scorsese can handle pretty much any genre and crush it.
READ NEXT: 25 Best Post-Apocalyptic Movies You Should Watch
Some of the coverage you find on Cultured Vultures contains affiliate links, which provide us with small commissions based on purchases made from visiting our site. We cover gaming news, movie reviews, wrestling and much more.