Sandwiched between two house shows that have received far more attention, WWE's actual October pay-per-view is this Sunday. Evolution boasts the first all-women's card in company history and has some damn good matches to boot.
There has been criticism aimed towards this event's build and it's all been justified. WWE are coasting on the fact they're doing this concept in the first place, thinking that that's enough to counter the hack job they've done of promoting it. More emphasis has been placed on the ill-fated Saudi Arabia event, Crown Jewel, than on a show that is supposed to be making steps towards the future. But aside from all that, there's a solid card here to dissect and some potentially interesting outcomes. So, here are our predictions for WWE Evolution.
Note: It is unclear at the time of writing if the NXT UK Women's Championship will be on the show. There was a match originally scheduled but it has since been pulled from the advertising.
Women's Battle Royal
It's been confirmed that Evolution will have a Kick-off Show and it will likely house this match. WWE have been keen to tout that over 50 women will be involved on the night, but most of them are confined to this #1 contender's bout. Big names have been chucked in here rather than having a real match and it's a damn shame.
Prediction: Battle royals are always a crapshoot, this is no different. There's a lot of star power in the field, so I'm going to play it safe and say Asuka.
Sasha Banks, Bayley & Natalya Vs. The Riott Squad (Ruby Riott, Liv Morgan & Sarah Logan)
This one is unquestionably a TV match that has wormed its way onto a pay-per-view. Everyone here could be better utilised elsewhere on the card, but at least they're appearing in something other than a hastily thrown together battle royal. Sasha Banks made her big return on Raw last week to add a new ruffle to the seemingly endless Bayley/Natalya/Riott Squad feud. That's all there is to say really, everyone here has been so overexposed that it's hard to care.
Prediction: Straightforward logic here. Sasha's only just come back, her team wins.
2018 Mae Young Classic Final
Toni Storm Vs. Io Shirai
This will probably be match of the night and cap off what's been a damn good Mae Young Classic. It was obvious from the start that these would be the two women to make the final. Both have a particular amount of hype behind them, as well as large followings from hardcore fans. Also, who doesn't love a good tournament final?
Prediction: It's a close call, but I'm taking Io Shirai. Toni winning to promote the recently launched NXT UK makes sense on paper, but let's think big picture. The winner receives an NXT Women's Title shot, and Toni won't be winning that belt as she has the UK division to worry about. Io Shirai has been signed to the American NXT brand and thus is a more convincing challenger for the strap.
Trish Stratus & Lita Vs. Alexa Bliss & Mickie James
Alexa Bliss is still confirmed to be a part of this match, despite reports that she is currently dealing with a possible concussion. It'll be fun to see Lita and Trish, but this is more a match to shift tickets more than anything. Throwaway might be too harsh a term to use, though it inspires very little even from a nostalgic point of view. The crowd should be hot for it though.
Prediction: Lita and Trish. They're not losing. Simple.
NXT Women's Championship Match
Kairi Sane (C) Vs. Shayna Baszler
I can't bloody wait for this. Most of you already know I'm a huge NXT mark and an ardent supporter of Shayna Baszler's work. It's by far my most anticipated match of the night and to see an NXT match on a main roster show warms my heart. Both women have done excellent work building towards this, with Shayna playing the perfect bully heel as a counter to Kairi's pure babyface. Compelling stuff.
Prediction: I reckon there's gonna be at least one title change on Sunday, and it may very well be here. Kairi winning the belt was a great feelgood moment, but Shayna Baszler taking it back would be the ultimate dastardly move. I still feel Shayna's initial reign was cut short, this would be a good way to rectify that and build even more sympathy for Kairi's cause.
Last Woman Standing Match for The SmackDown Women's Championship
Becky Lynch (C) Vs. Charlotte Flair
Yet another match of the night contender, this is the potential blow-off for the Becky/Charlotte rivalry. There's a high stakes stipulation and two incredibly capable performers to guide us through this torrid tale of a shattered friendship. Becky's promo and character work as a heel has been next level, making her one of the most memorable villainous champions on the main roster in recent memory. I can't wait to see what these two bring to the table.
Prediction: It's a stipulation that best serves a bad guy. Becky doesn't have to pin or submit Charlotte to retain her gold, only keep her grounded for ten seconds. A draw is also a possibility if both women can't answer the ten count. Either way, I'm backing Becky Lynch to walk out with her title and possibly move onto the battle royal winner (Asuka, in my scenario).
Raw Women's Championship Match
Ronda Rousey (C) Vs. Nikki Bella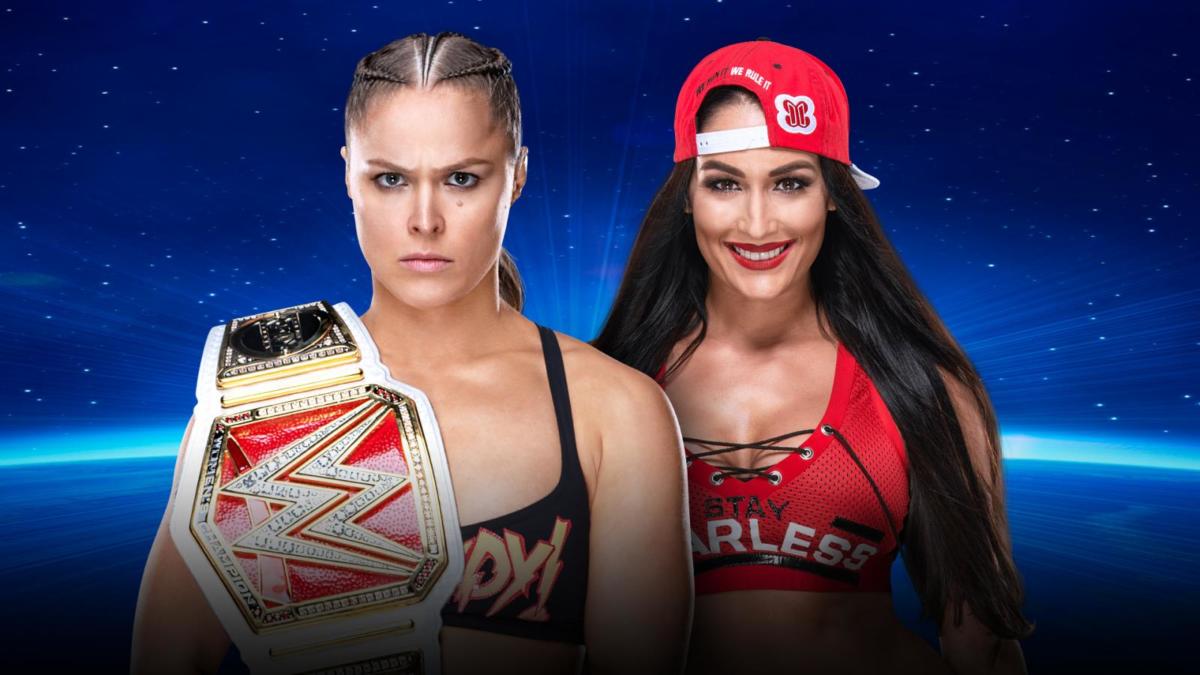 Say what you want about why this match even exists, but the star power here is undeniable. Both women are mainstream figures and are likely playing a big part in this event being a financial success. It won't set the world on fire, but it doesn't need to. The Bellas have done an excellent job at building this on their social media accounts, throwing all kinds of shade at Ronda. It's a spectacle, and wrestling needs that.
Prediction: Ronda Rousey is the only horse to bet on in this race. Nikki winning as a swerve isn't totally out of the question, but Ronda is arguably the most protected person on the roster, male or female. Maybe Brie will show up and the duo attempt a little twin magic, only for Ronda to tap out the wrong twin? It could happen, but I see Rousey keeping her gold.
Some of the coverage you find on Cultured Vultures contains affiliate links, which provide us with small commissions based on purchases made from visiting our site. We cover gaming news, movie reviews, wrestling and much more.