It can't just be us that's a bit concerned that we haven't heard anything regarding WWE 2K20 yet, right? Considering the game normally launches around October, the fact that there's been no confirmed features, no gameplay or roster reveals or anything else is strange. It's not like WWE 2K20 won't come out, but the lack of information is baffling.
Either way, let's use this lack of information to wish for some of the features and content we'd like to see in the upcoming game. While a grand overhaul of the annual series seems very unlikely, we have some suggestions about what WWE should keep, upgrade or just scrap altogether. Here's 10 things we'd like to see in WWE 2K20.
1. MyCareer To Be Another Story Mode
The MyCareer Mode has been somewhat of a controversial inclusion ever since it was introduced back in WWE 2K15. Each iteration until last year's tried to create some kind of free-flowing experience where you could choose your rivalries and carve out your own niche within the world of WWE.
That was the idea anyway. In execution, the mode was always a mess that gave no real incentive to play. Rivalries meant nothing, choices were arbitrary and everything just felt awful. Fortunes changed with 2K19, which changed MyCareer into a proper Story Mode, as you took a created wrestler from the indies to WrestleMania headlining. We'd like more of the same please, but with added content that we'll touch on later.
2. Proper Intergender Wrestling
Women's wrestling has finally been given the chance to shine in WWE, but the WWE games push women's wrestling into the background for the most part. Recent games have allowed women to get involved in more extreme match types, mirroring the current product, but there's still more that could be done.
One good way to fix that would be to properly implement intergender wrestling into the gameplay, allowing the likes of Becky Lynch to smack Braun Strowman with a steel chair or compete in Hell in a Cell against one another. Intergender wrestling in actual WWE is a debate all its own, because sponsors and all that, but the 2K games allow players to live out their wrestling fantasies, so why can't that fantasy accommodate a woman as WWE Champion?
3. Women's MyCareer Mode
Just do it. It makes sense. If WWE truly are committed to putting women's wrestling at the forefront of their product, which you would think they are given the main event of the most recent WrestleMania (though the Saudi Arabia shows suggest otherwise), their licensed products should reflect that mantra.
Rumours have circulated that Becky Lynch will be the cover star for 2K20, so it stands to reason that the game should offer a MyCareer specifically for women, following a different story entirely. At a basic level, it gives WWE 2K20 more content for all its players, while adding some much needed representation to the game's flagship mode.
4. More Origin Choice For MyCareer
Tying into the previous point, perhaps one of the criticisms of MyCareer last year is that, despite the fact you could customise most aspects of your playable character, Buzz, his origins and voice remained the same throughout. While giving players too much choice pretty much led to the MyCareer Modes of old, it would be nice to customise your MyPlayer's origin a little bit more this year.
At the very least, the option to change your character's voice would be fantastic. Creating a character from the UK only to have him sound like Suburban America Man (the worst superhero in the world, by the way) was a bit disillusioning, so some different voice types wouldn't go amiss.
Beyond that, being able to select a background and origin for your character would add a touch of replayability to the mode. European created characters could cut their teeth in NXT UK before being called up to the main roster, for instance, while choosing backgrounds like former sports star or indie darling could result in different base stats when starting out and more dialogue options during the game.
5. Buzz As A NPC/Villain This Year
WWE 2K19 put us in the shoes of "Buzz" (you entered your own name, but everyone just called him Buzz), an indie wrestler who had to claw his way through the WWE ranks as the likes of Triple H and former mentor Barron Blade mess with him along the way. At the culmination of the mode, you defeat a heel AJ Styles in the WrestleMania main event and become Universal Champion.
But what follows when you're given all the power in WWE? Absolute power corrupts absolutely, so it wouldn't be surprising to see Buzz turn baddie when he reaches the mountaintop, perhaps turning him into someone who needs to be dethroned. If 2K could implement a way of importing your 2K19 MyPlayer, it would be a great way of tying both stories together.
6. Less Loot Boxes To Earn MyPlayer Content
Trying to change this one is going to feel like farting in a tornado, but one of the most-maligned aspects of the MyPlayer/Career experience was its approach to unlockables. Players had to earn lots of in-game currency to purchase loot boxes that contained a variety of cosmetic and functional items, with other limited cosmetics tied to the WWE's PPV schedule.
The idea of limited time cosmetics is perfectly fine, as it gives players incentive to keep coming back to the game across the year, but locking nearly every cosmetic item behind these loot boxes inhibits the game's creativity. Your MyPlayer likely won't be your intended vision of the character until you grind out loads of loot boxes, and that's a shame.
7. GM Mode, Obviously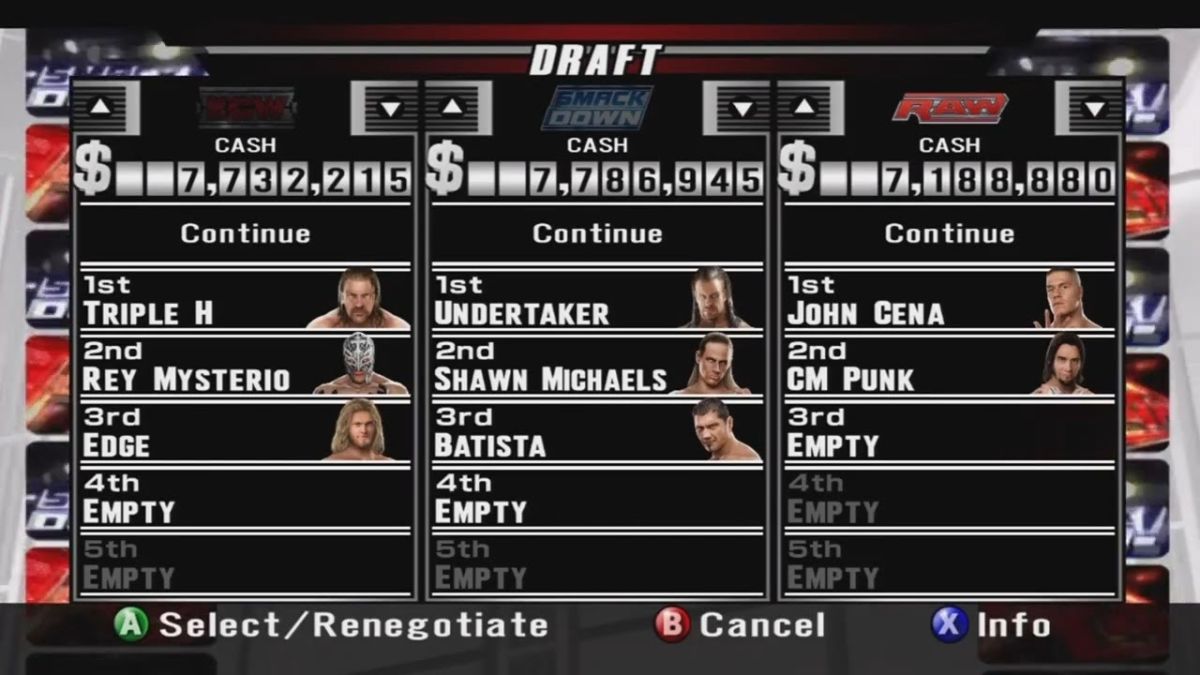 Here's a totally original request: GM Mode. Probably one of the most requested features in WWE 2K games for years now, GM Mode put you as the head of a brand in direct competition with WWE's other brands. While WWE Universe Mode offers the same kind of experience, it doesn't include the management aspects GM Mode did, as you had to manage wrestler morale, budgets and fan interest as you competed against a rival.
While the current Wildcard Rule has kind of led to the death of the second brand split, 2K have the potential to create a forward-thinking GM Mode for modern times, as you manage a WWE product that's in direct competition with a new up-and-coming promotion. Making sure your top talent remains happy so they don't jump ship could lead to some interesting real life parallels.
8. Showcase Mode To Focus On Women's Wrestling In Some Way
Showcase Modes have always been a great way to celebrate the history of the WWE, with previous iterations focusing on The Attitude Era, the legacy of WrestleMania as a whole, Stone Cold Steve Austin's career and Daniel Bryan's emotional journey. Another version of this mode makes sense, so let's once again use it to highlight women's wrestling.
The Showcase Mode for WWE 2K20 could chronicle all the best moments of women's wrestling in WWE, from Chyna's supremacy, the rivalry between Trish Stratus and Lita and the recent Women's Evolution era, culminating in the WrestleMania 35 main event, or it could hone in particularly on the careers of the Four Horsewomen (Becky Lynch, Bayley, Charlotte and Sasha Banks).
There's plenty of great matches to spotlight from the past few years alone, and coupled with the usual documentary package cutscenes that accompany this mode in years past, this year's Showcase Mode has a lot of potential. Also, it's another reason for the women's wrestling to not be an afterthought once again.
9. Scrap The Current Promo System
Alright, time to be brutally honest here: the promo system that 2K have introduced in the past couple of years straight up sucks. Promos are an important part of the overall wrestling package, but none of the WWE games have never been able to capture the magic of a great promo in any capacity.
The recent promo system, which is used in Universe Mode, doesn't allow character nuances to translate well, as wrestlers fit into character archetypes with promo attitudes like "Spooky". Bray Wyatt and The Undertaker might both be spooky characters, but they definitely don't cut the same promos. Unless the promo system allowed players to actually write promos for characters, similar to the old Create-A-Story mode, the current system needs scrapping.
10. More Creations and More "Fun"
Speaking of Create-A-Story (which should also make a comeback, now that we've mentioned it twice), our last requested feature concerns the idea of more creation tools and more fun. The WWE series of games has seen plenty of creation modes come and go over the years, with options like Create-A-Finisher and Create-A-Taunt having been added and removed multiple times, so seeing those return could add an extra touch of personality to your MyPlayer wrestlers.
As for fun, WWE 2K19 introduced modes like Big Head Mode, 8-bit screen filters and the ability to create a block based wrestler that looked like a Minecraft character. More options like this would give WWE 2K20 a real party game feel. One suggestion could be a low gravity option that turns the game's physics into something more resembling WWE All-Stars.
Side note: can we just have WWE All-Stars 2?
Some of the coverage you find on Cultured Vultures contains affiliate links, which provide us with small commissions based on purchases made from visiting our site. We cover gaming news, movie reviews, wrestling and much more.