Developer: Yuke's, Visual Concepts
Publisher: 2K Sports
Platform(s): PC, PS4, XB1
Review code provided
I've played every annual WWE game from '06-'15, but fell off after that due to some of the changes and series fatigue. Trying to get back into the series with last year's WWE 2K18 did not give me anything close to what I wanted, so I wasn't expecting much from this year's latest cash in. I felt like my old love could never be rekindled, but I adore wrestling and wanted to give these games another shot, remembering how much fun I used to have with them. I was hoping to have my boots blown off by the new and amazing offering, but I'll settle for my socks instead.
After the download finally finished and I could play more than a basic match, I got a full look at the new aesthetics for the opening visuals and menus. It seems like the development team were big fans of Avengers: Infinity War and the majority of it takes place mid-snapture, but I do have to say it is creative and different enough that it doesn't feel like a re-skinned interaction menu at first.
Everything is big and bold and there is a lot to look through. There is so much to do in these games that it is hard to figure out what to begin with. It's a little overwhelming, being unsure if I want to dive into creating my own universe, my own character, the story mode, showcase, or just do some exhibition matches to see how the game plays this time around. I did a lot of everything, and even then still felt like I am missing out, leaving a ton unfinished. However, after looking around a bit each of these modes will feel familiar to anyone who has played a recent entry, and that awestruck sensation fades quick.
The selling point for the majority of recent wrestling games is looking good, but also appearing like the show that fans love. This game does a great job of mirroring an episode of RAW, Smackdown, NXT, or a number of PPVs, by recreating the arenas and entrances to the smallest details, while allowing for a surplus of big moments and dream matches. 2K starts on these projects pretty early in the year, so I am impressed with how up-to-date the roster and designs are, other than Baron Corbin not wrestling in his snappy button-up shirts and vests.
There are still problems with the graphics of course, like how some superstar entrances look better than others—what is up with Balor's beard—and there are a few odd facial expressions the engine creates. There are also some moves that don't quite connect, like it's a constant running count for Botchamania, while a few of the attack animations with certain weapons seem weaker. The noticeable misses and weaker attack animations though are made up for by the sound, with the exception of a few kicks, most of the maneuvers genuinely sound painful and hard.
Audio is solid across the board, with some suitable picks for songs, great sounding superstar themes, and some honest-to-god decent voice acting and commentary. To be specific, the announce team delivers their lines well and are on their game at times, but often they repeat the same lines and will say things that are simply not true. A player paying too much attention to the commentators will be told that he or she is losing and needs to improve, when in fact they may have been dominating for several minutes.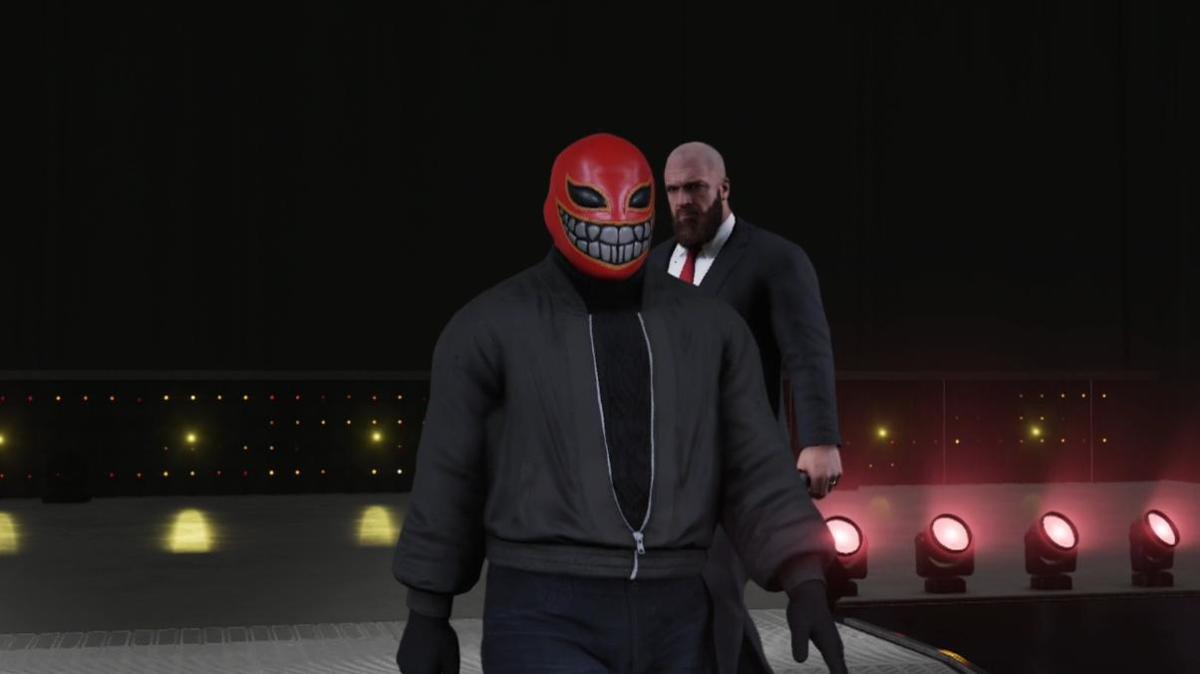 Some say the engine may be starting to show its age a bit, but I am impressed with what the developers have pulled out of it. The game runs well and is in many ways a refined version from the past couple of years, offering improved lighting, textures, and more importantly smoother gameplay. Striking is better overall, even if connecting isn't always secure, but the reversals feel better timed and many of the old mini games are back, meaning that returning players will feel right at home. I still suck at submissions though, they feel so hard to sync in against the computer and the timing is never quite the same once the lines are touching. I hate them. There are just so many options of how to go about a match now, like when the computer opponents keep attacking me before and after the fight even though I'm trying to play fair and not use that cheap stuff.
The AI does some interesting things, like when I was beating Miz so badly that he pulled out a weapon from under the ring and hit me, giving my character the win by DQ, but leaving me flat and him standing strong. This is something I wasn't expecting, even though it has happened in other games, and was welcomed. The computer is easy to lead though and often does dumb things in gimmick matches, like with tables or ladders. In fact, these gimmick matches (Hell in a Cell, Cage, Ladder) are when the engine shows most of its problems.
Interacting with these other objects or barriers often causes some slight issues. If it isn't wonky rope physics, stretching them out forever, then it is jittering characters, stuttering frames, or images of wrestlers and fans not fully materializing. Sometimes finishers don't prompt like they should, even when the stamina bar is full enough. These errors shine through more in the bigger matches with six to eight characters. I had a few friends over to test out some of the more fun stuff like the Elimination Chamber, Royal Rumble, and the re-added Triple Threat Tag Team matches, and not only did we have some of the aforementioned problems, but the look is still a huge problem in these bouts as well. I only had a few big bugs, like when the ref wouldn't count anyone out in the Last Man Standing match but I eventually couldn't get back up, so nothing ever happened. It wouldn't be a WWE 2K game without a few of these things though.
Gameplay may be sleeker, but some of the player stats feel a bit off, like always. The difference just feels more noticeable in the superstar ratings. There are times when Cena and Reigns feel unstoppable even after being put in the red, or that Dana Brooke reverses everything I throw at her even though there is a fifteen point difference, but I can't do the same controlling someone her level. I like the idea of any wrestler being able to beat anyone on any given day, and I just want to make Zack Ryder my Universal Champion. The Accelerator add-on ($4.99) allows players to change the stats so we can all make our dreams come true, but if you aren't willing to pay, 2K19 is saying that only the strong popular wrestlers win. More superstars are on the way as well, via DLC, in the Rising Stars and Titans packs (at $9.99 each), and there is of course a New Moves pack ($3.99) that should have probably just come with the game.
Following an already established champion, Showcase Mode returns to give Daniel Bryan his time in the spotlight, a mode that feels more personal, like a close look at an epic journey that almost any fan can get behind. It is also historically accurate and uses documentary style interviews of Bryan, awesome original footage from Velocity, RoH, and the first iteration of NXT, before getting into the parts of the story most know. This is a tough but fun climb to success of an established superstar that we know and love.
The MyCareer mode allows players to do the same with a created character a bit wilder story as they make their name in the Indies, NXT, and then takeover the main roster, with some interesting twists and turns. The developers revamped this mode a good bit, making it leaner, back to the basics as it were. I might miss wandering around backstage and the random encounters, but the adventure is more focused and offers some excellent dialogue options. This is all accented by some fun cutscenes and great voice acting. It does suck a bit that 2K19 was rumored to have an option for female created characters in MyCareer mode, but that did not happen.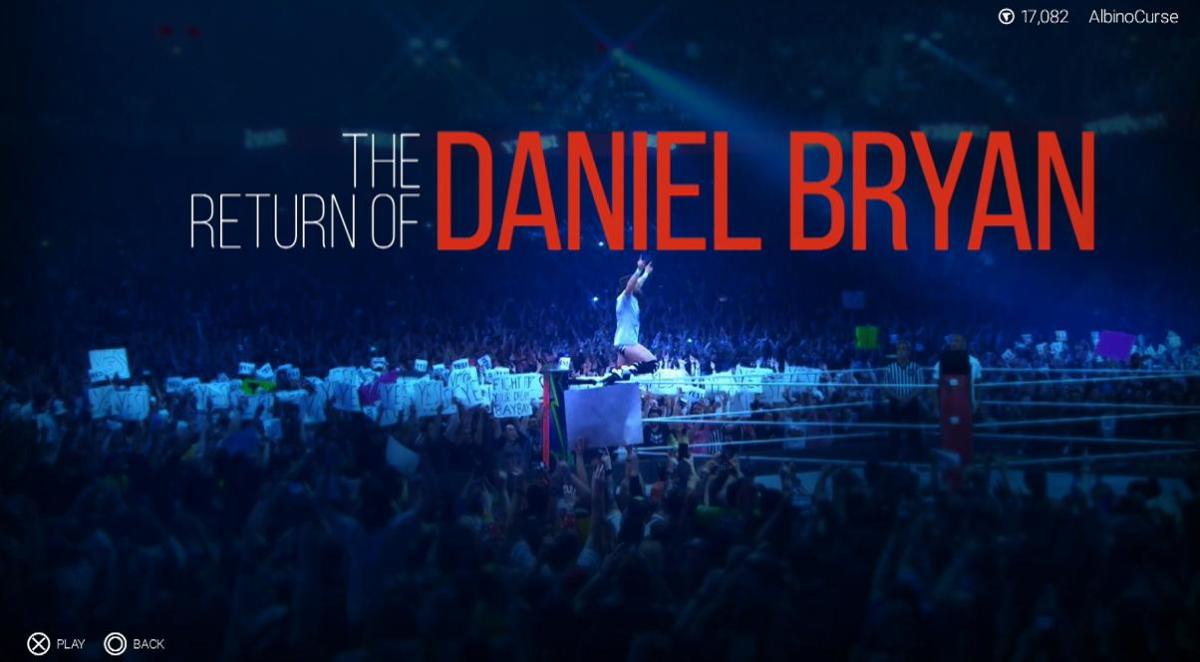 Still, there is a ton to unlock in the MyCareer mode for that particular created player (it's all unlocked for basic character creations outside of that mode though, making it a little less tempting), everything from gear, moves, entrances, stat boosts, and points for some extensive talent trees, but I'm betting those who have read this far already figured out that there is a MyPlayer KickStart pack that helps unlock most of the items and cut out a ton of the grinding for $9.99. Most of this is unlocked normally via booster packs that offer random items. There are a variety of different types of these packs, costing two different forms of currency, and it unlocks every little thing your character needs, mentioned above. Thankfully duplicates can be traded back in for a small amount. I'm not a huge fan of systems like this, but this one seems less egregious than other recent games and the end goals appear reachable without too much stress. For those wondering and wanting to get a little extra help, the DLC is a bit expensive separately, but "only" $30.00 together.
Those two modes are a lot of fun, at least once through, but I certainly prefer my wrestling matches to be a little less objective based. This brings us to the excellent MyUniverse mode, which is once again a good long-running continual escape for those who want to go for match-after-match and be able to take control of the shows while micro-managing stipulations. This mode helps a player feel more like Vince McMahon, for better or worse. The promos are still rather boring though, mainly facilitating an opportunity to check Twitter. Multiple saves give the option for roster versatility and will cause some hardcore fans to live in this endless barrage of wrestling until next year's release.
There are also the new 2K Towers that feel lifted from Mortal Kombat X. Just like the towers in that game, these are different challenges of multiple opponents that have various rules or objectives, while content for them changes based off daily, weekly, and even PPV themed towers, some of which are time based, while all offer various rewards. This will be another fun waste of time for most and a strong challenge as well. There is even content currently involving the Million Dollar tower to face off against AJ Styles in the game and possibly win a million dollars.
For them pumping out one of these a year, I'm still impressed that it feels like this massive thing, taking previous building blocks and improving upon them. I'm surprised by the polish the game has, while still managing to add new things like the Payback system that fits in well with the previous structure. With everything above that I've mentioned, it should be no surprise that I'll be coming back to this one quite a lot to tackle all of the various modes, and that is before I even get to play with stuff like community creations and the online a bit more.
WWE 2K19 didn't give me everything I was hoping for, but it reminded me of so many things I did enjoy about the previous games. It may not hold a candle to some of the entries from several years ago, but has definitely improved on the recent features. My love is not quite rekindled, but there are some embers heating up. This has been a blast to play, so the tough question now becomes: do I watch more wrestling, or create it?
Some of the coverage you find on Cultured Vultures contains affiliate links, which provide us with small commissions based on purchases made from visiting our site. We cover gaming news, movie reviews, wrestling and much more.

Verdict
Under this luchador mask lies a familiar game with a lot of the same old issues, but somehow there is even more fun to be had, with a new impressive look, a good bit of polish, and some features reminiscent of its younger self. Microtransactions: yes, the player can spend real money to cut out the grind.