Picture it: it's the 90s. Saved By The Bell is playing on the TV, Spice Girls are on the radio, and your dad's selling dodgy DVDs to random people. Okay, maybe my version of the 90s might not reflect everyone else's, but there's a certain mirror between that life and The Big Con's. Sure, there's plenty of wholesome and uplifting things to enjoy about the 90s, but there was always some kind of seediness bubbling beneath the surface. The Big Con captures both sides brilliantly, creating a short but wonderful road trip narrative as a result.
By all rights, The Big Con shouldn't be as uplifting and smile-inducing as it is, considering the game's subject matter. Playing as the teenager Ali, you find out that your mum's video store (because it's the 90s and VHS hadn't died yet) is set to go under. Ricky, the slimy crook that's like Fat Tony without the charm, is owed $97,000, and you've got 10 days to pay up. The solution is simple: crime spree.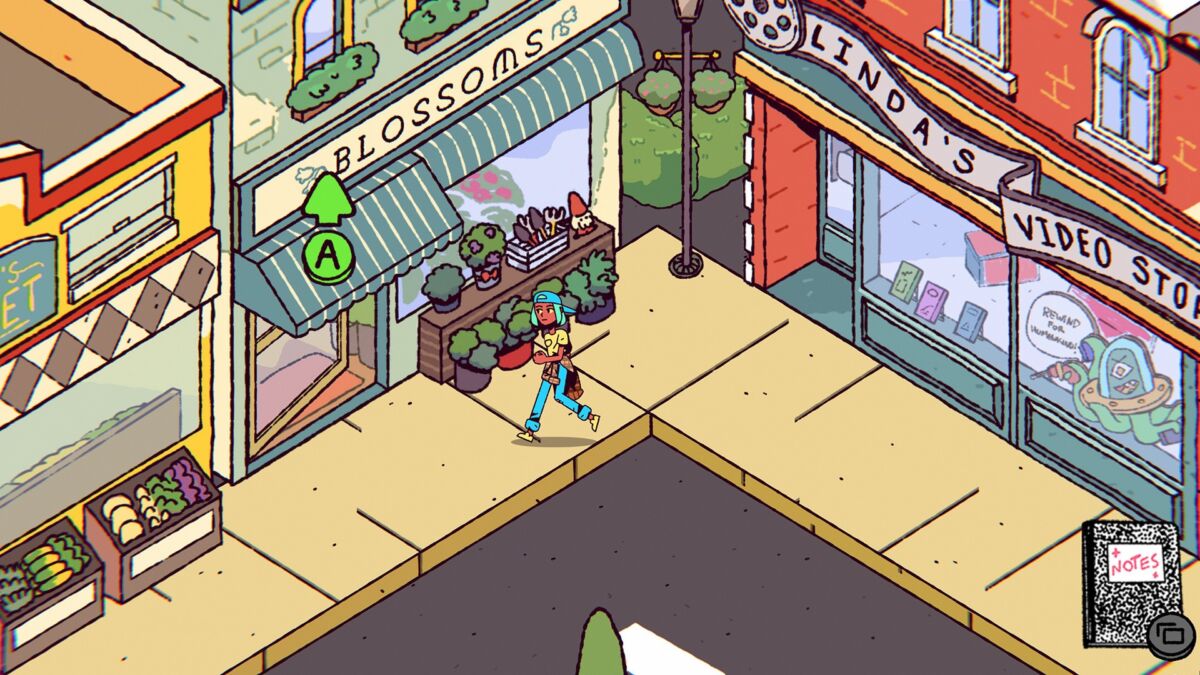 Partnering up with small-time con artist Ted, Ali sneaks out of town to go on a cross country road trip, pick-pocketing and swindling together the money needed to save her mother's video store from the hands of a massive slimeball. It's a daft concept that you'd probably see in some kind of 90s movie, but The Big Con knows when to play for laughs when it comes to tropes, without veering too far into the realms of ridiculous. It's light-hearted for the most part, but The Big Con doesn't shy away from playing it completely serious too, as the emotional, character-driven moments are given a chance to shine, and they land effectively.
A big highlight for The Big Con are the characters you meet along the way, as there's plenty of big personalities and vibrantly designed people to encounter. Whether it's the periwinkle obsessed fashionista, the lacklustre comedian who needs you help writing jokes, or the Pawn Shop owner/Joker-looking ass Collector who demands you find some hidden items for cash, there's a memorable crew of weirdos to interact with.
However, the real star of the show is Ali herself. She's a likable protagonist, with enough sass and confidence to make her endearing to pretty much everyone, but she's also not just quippy one-liners and laugh-out-loud moments. Ali's got a good heart, with her desire to save her mum's video store keeping her grounded as the takes get bigger and bigger. It could have easily been the case where Ali's actions make her too unlikable, but Mighty Yell does a great job of ensuring her moral compass doesn't sway too heavily.
Gameplay-wise, The Big Con feels most like a point and click adventure game. You'll explore a set of levels, each with their characters to pickpocket and wider schemes to undertake, and you'll have to find ways to navigate around that. It's usually pretty simple stuff, with the player having to find certain items in the environment, which can then be used to distract or barter with certain characters.
You're also able to eavesdrop in certain situations, which is beneficial as it allows you to obtain information that you otherwise wouldn't have known. The code to an old woman's suitcase might seem like guesswork to begin with, until you hear her proclaim that she uses the same code for everything when buying food via credit card. The more you know, and all that.
Each level is like its own multilayered puzzle, as the different moving pieces come together. An argument with a train conductor might not seem significant, until you're given an apology package for their rude behaviour which can be used to solve someone else's issue later on. There's even one particular questline about shoes that allows you to play two parties against each other in a way that'll leave you feeling like the world's greatest grifter.
There are a couple of issues with the overall formula though, particularly when the game lands in Las Venganza. Playing the game on Xbox One X led to some slow down, which is strange given how The Big Con isn't exactly graphically demanding, though the Xbox Series X version is completely fine. On top of that, the area is much bigger than other levels in the game, and it can be a bit of a pain to navigate in the early going. There's one moment in particular where you have to tail someone to eavesdrop and gain information, but their path is often obscured by buildings blocking the isometric view. They're a sneaky one to follow too, as it feels like if they're off your screen for one second, you're not seeing them again for five minutes.
The Big Con also suffers from a few technical issues that hopefully will be addressed in future patches. There were moments where certain characters seemed to appear invisible, including one person arguing with a video store clerk in the game's second area.
I'm also not sure if I missed something or if they also glitched, but certain pathways in levels seemed impossible to get through. There's a suitcase in the first level, but for the life of me, I can't figure out how you're meant to get the code for it. I just managed to guess it right, apparently. Worst of all, trying to continue from a saved game during a moment in the desert led to the game crashing every time I loaded The Big Con up.
While these glitches and issues can make playing the game a bit more annoying, these aren't enough to stop The Big Con from being an easy to recommend, crime-fuelled joyride from start to finish. It'll make you laugh, it might make you cry, but The Big Con is certainly one hell of a good time.
A code for The Big Con on Xbox was provided by PR for the purposes of this review. 
READ MORE: 50 Best Indie Games of All Time
Some of the coverage you find on Cultured Vultures contains affiliate links, which provide us with small commissions based on purchases made from visiting our site. We cover gaming news, movie reviews, wrestling and much more.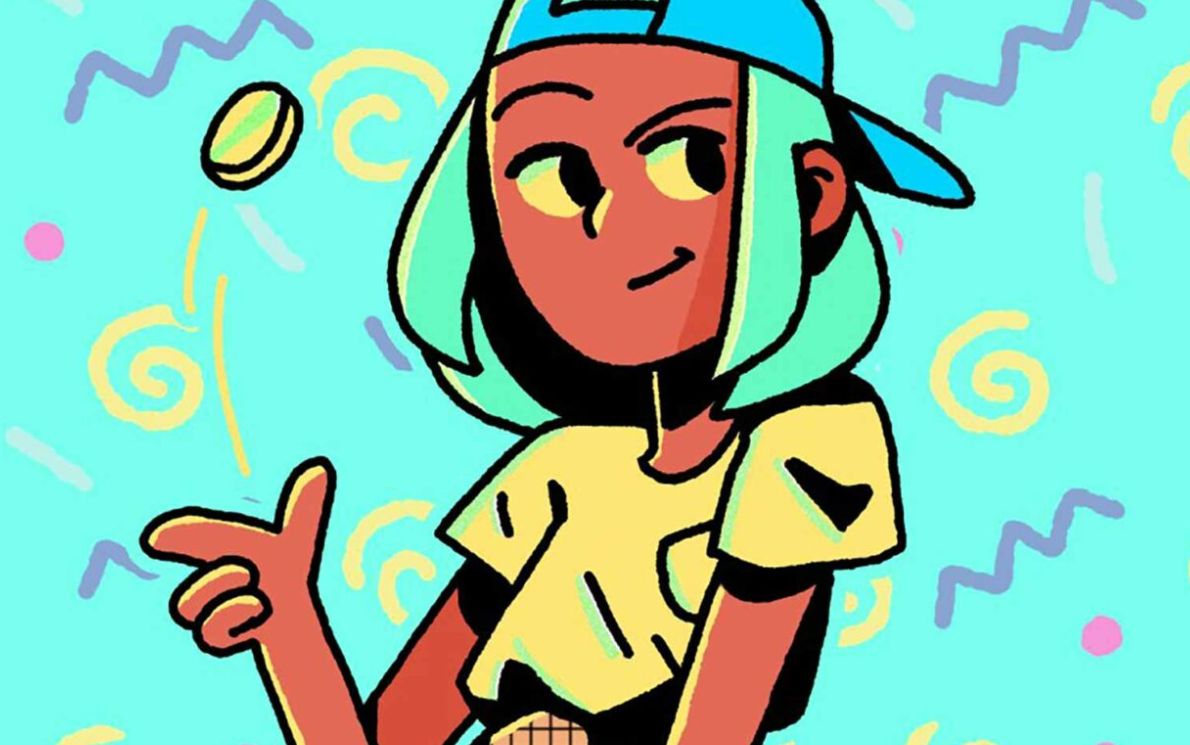 Verdict
Though there's some technical issues, some more devastating than others, The Big Con is a heart-warming teenage road trip that's worth playing