You'd be forgiven for thinking that SummerSlam this year is WrestleMania 33 based on the strength of the card. The WWE marketing machine boasted that last year's main event featuring Brock Lesnar and The Undertaker was "the rematch too big for WrestleMania", not to mention we got a title vs title match between Seth Rollins and John Cena. It must be said that this year is every bit as stacked, arguably more so than SummerSlam 2015, which is an impressive feat.
After the best Battleground event ever last month (which admittedly isn't that hard, I mean, it's Battleground), we're all eager to see multiple key storylines in WWE come to an epic conclusion at the Biggest Party of the Summer. And maybe some new ones can have some big developments.
Will we see the end of a historic tag team title reign? Can The Boss overcome the woman that is genetically superior? Is the RKO able to topple the F-5? And could we see the rise of a Demon?
All will be revealed come August 21, so here's our breakdown of the card as well as our predictions.
SUMMERSLAM 2016 CARD
ENZO AMORE AND BIG CASS VS. CHRIS JERICHO AND KEVIN OWENS
Not exactly a huge match for either team, but it's a very fun pairing indeed. It is somewhat disappointing to not see KO in a major singles feud going into SummerSlam, because he is just that damn good, but there is undeniable star power in this match.
There has been some comedy gold created between these two teams over the past few weeks, and the duo unofficially known as "JeriKO" are a welcome pairing with hilarious odd couple chemistry. When you combine two teams with so much charisma between them, it's impossible to not have interest.
PREDICTION: Team Canada have this one, especially when you consider that WWE have a habit of jobbing out babyfaces when they're in their hometown.
THE NEW DAY (KOFI KINGSTON AND XAVIER WOODS) (C) VS. LUKE GALLOWS AND KARL ANDERSON – WWE TAG TEAM CHAMPIONSHIP MATCH
New Day's staggeringly long WWE Tag Team Championship reign has gone from post-to-post. It began at SummerSlam 2015 and they've held off all the competition to stride into this year's event with the belts. Come the night of the pay-per-view, their reign will stand at 364 days, just one day off the magic one year mark.
Gallows and Anderson seem like viable threats and almost everyone is anticipating that The Club will walk away with the straps. It would make perfect sense, they quickly disposed of Kofi this past week on Raw, as well as kayfabe injured Big E the week before to give him time off so he could heal up after legitimately hurting himself. And while I do think these two will hold the belts, I don't foresee it happening at SummerSlam at the expense of the New Day having a year-long title reign. While it would be great heat for Gallows and Anderson to cut their reign short just one day from 365, the last person to hold a title in the WWE for a year was the infamous CM Punk. WWE have been somewhat petty in recent times when it comes to erasing Punk from history, even going so far as to have Nikki Bella beat his wife's record Divas title reign. Vince can really act like a jilted lover at times.
PREDICTION: The New Day barely survive, then drop the belts to Gallows and Anderson the next night on Raw, ending their reign at 365 days.
RUSEV (C) (WITH LANA) VS. ROMAN REIGNS – UNITED STATES CHAMPIONSHIP MATCH
How the mighty have fallen. Roman Reigns has main evented every single pay-per-view since Survivor Series last year, that's nine main events in a row. Now he's going for the same belt that Zack Ryder challenged for last month. It's clear that he's receiving the same treatment that Triple H got after the Curtain Call incident back in the day, losing his main event push and being pinned clean by Ambrose, Rollins and Balor since Money in the Bank. But don't think that all of his heat is gone.
Rusev has been re-treading his monster heel US Champion routine from last year and it has been a welcome development for his character. Even though it could be considered a step backwards, Rusev has evolved beyond being a foreign heel and is now just a heel that happens to be foreign. He's exercised his comedic chops as well, cutting some wildly entertaining and funny promos, the man has come out of his shell in a big way. Sadly this feels like a straight up repeat of his feud with John Cena over the very same belt. Roman has been positioned as the mighty conqueror who is here to take back the belt for America, and we shouldn't be surprised if that's exactly what happens.
PREDICTION: Roman takes the belt after a hard fought bout, leading to a short programme between the two over the next couple of pay-per-views.
THE MIZ (C) (WITH MARYSE) VS. APOLLO CREWS – INTERCONTINENTAL CHAMPIONSHIP MATCH
The Miz has simply been one of the most entertaining Intercontinental Champions in years. Not since Cody Rhodes has a heel with the top mid-card belt drawn such brilliant heat from crowds around the world and made people anticipate that fateful day when he finally loses his title. This is the best work Miz has ever done and with Maryse as his heater, his delusional Hollywood "A-lister" gimmick has gotten over like gangbusters.
In comes the plucky upstart Apollo Crews, who earned his number one contender spot after defeating Baron Corbin and Kalisto on SmackDown two weeks ago in a triple threat match. It was the right call to put Crews in this position, he needs some kind of meaningful feud and it's hard not to admire his incredible athleticism and in-ring ability. Sadly this is a bit of a lopsided feud in terms of actual character work. Miz has worked damn hard to get over as a heel champ and has become one of my favourite mid-card acts in the company. Apollo Crews, on the other hand, just smiles because "he's happy to be here". Miz has made a point recently of mentioning that he is on a never ending Intercontinental Championship world tour, which is a wonderful stroke of character work. Unfortunately it seems that tour may be coming to an end come SummerSlam, as it looks like WWE want to make Crews a major player on the blue brand in the years to come.
PREDICTION: Apollo Crews wins the belt clean as a whistle to continue the feud.
JOHN CENA VS. AJ STYLES
Easily the match I'm most looking forward to, the feud between John Cena and AJ Styles has been the single most entertaining angle in all of WWE. We've seen compelling promos between the two men, with AJ holding his own on the mic with the company's golden goose despite his comparable limited abilities at cutting promos. This rivalry has felt real, with a genuine catharsis on AJ's side, he feels undervalued and wants to be in John Cena's spot. Yes, the "I'm a wrestler, you're an entertainer" dynamic has been done with Cena before with CM Punk and Daniel Bryan, but the sheer intensity the two men have unleashed has been palpable. They've managed to convince me at times that they genuinely hate each other, sucking me into the work, that's great storytelling.
So, you have AJ Styles, arguably the best wrestler in the world, taking on Big Match John, who over the last two years has had a career renaissance. He's been having great matches and has been putting people over more often than usual. With a guarantee that The Club won't get involved like in their last singles encounter, expect a clean finish to what will be a barn burner of a match. The rumours are swirling around that Cena has requested more time off as his reality show has been renewed for a second season, could we see a repeat of Hell in a Cell 2015 where he did the job for Alberto Del Rio? It certainly seems to be heading in that direction.
PREDICTION: AJ wins clean after a hell of a match, leading to a monster singles run on SmackDown.
SASHA BANKS (C) VS. CHARLOTTE – WWE WOMEN'S CHAMPIONSHIP MATCH
Sasha finally winning the belt on the July 25 edition of Raw was an emotional shocker. Almost everyone was anticipating her big win to come at the show being predicted in this very article, but WWE needed to kick off the first Raw of the brand split in a big way. Sasha got a megastar pop when she won the belt and she's finally having her time to shine.
Despite the convoluted angle on Raw last Monday in which Sasha had to beat Dana Brooke to avoid a handicap match at SummerSlam, and in turn got Brooke banned from ringside, this match will prove to be excellent. Charlotte is simply one of the very best workers in the company and these two women will create magic together. This match should nicely close the chapter on their feud and allow them to move on to bigger and brighter things as they lead the new era of women's wrestling.
PREDICTION: Sasha wins clean after a great back-and-forth match to continue her reign.
DEAN AMBROSE (C) VS. DOLPH ZIGGLER – WWE WORLD CHAMPIONSHIP MATCH
Arguably the most surprising match on the card, not many people anticipated that Dolph Ziggler of all people would be challenging for the company's top belt at their second biggest show of the year, yet here he is. Ambrose has carried himself well as a champion since winning it at Money in the Bank when he cashed in on the newly crowned champ Seth Rollins, and it doesn't look like he's stopping any time soon.
The inclusion of the Wyatts in this feud has been interesting but a bit confusing, as I doubt they will have any influence in this match. It's highly likely that Dolph is just being used a filler opponent for Dean to get a high profile title defence under his belt while they prime Bray Wyatt for a run at the strap.
PREDICTION: Dean wins clean after a strong match where Dolph gets some good licks in.
FINN BALOR VS. SETH ROLLINS – WWE UNIVERSAL CHAMPIONSHIP MATCH
The arrival of Finn Bálor on the main roster has the potential to be the greatest debut of any NXT call up ever. Earning this match by winning a fatal four-way and pinning Roman Reigns clean on the same night, the man formerly known as Prince Devitt is clearly being primed for a run as one of the company's main players.
Insert the cunning Seth Rollins into the mix, and you have all the ingredients for a Match of the Year candidate on your hands. These two have surprisingly never wrestled each other before, most likely due to the fact that Seth Rollins cut his teeth in the States while Bálor was ruling the roost in Japan. Balor is going to be over like crazy once the SummerSlam crowd see his "Demon King" entrance, which promises to be larger in scope than any other Demon entrance we've ever seen from him before. The hardest match on the card to call a winner on, you should fully expect either man to walk away with the newly created Universal Championship. However, I just don't see Bálor losing on the night he debuts his darker side.
PREDICTION: Bálor enters the ring with a wicked entrance, then leaves with a brand new shiny toy.
BROCK LESNAR (WITH PAUL HEYMAN) VS. RANDY ORTON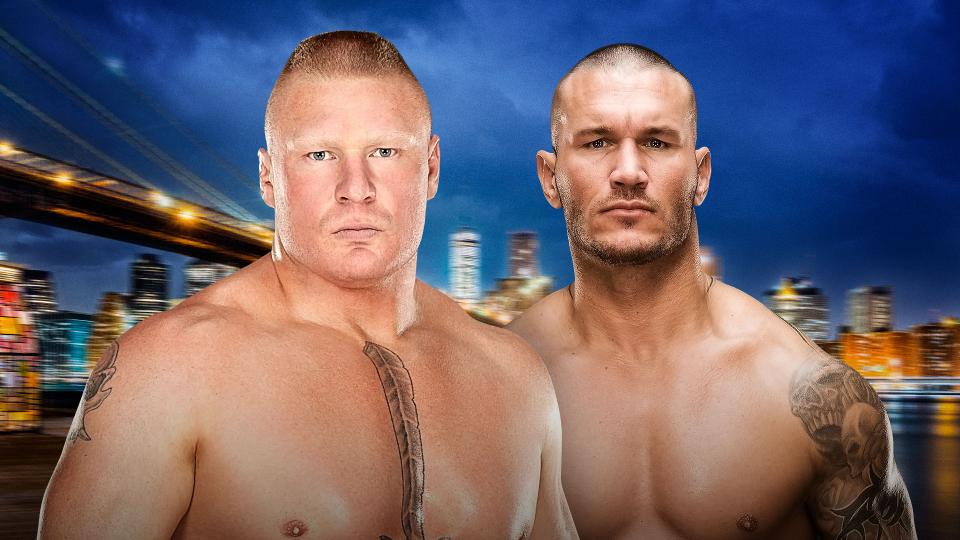 Well, this is it, the big one, the main event. The fact this match has never happened on pay-per-view is surprising when you consider that both Lesnar and Orton are from the same class of OVW alumni. The feud has been built well, with Orton drawing first blood on Raw two weeks ago when he hit Brock with an RKO that actually came out of nowhere thanks to the cameras not showing him even entering the ring. Sure enough, Brock would retaliate the next night on SmackDown with an F-5. In just two weeks, the brand split already saw superstars appearing on both shows, but as long it's contained to this feud alone then that shouldn't be a problem.
WWE have done a good job of making the RKO seem like the silver bullet for Brock, as it's probably the most versatile move in the company. He can hit it from seemingly anywhere and can get really creative with it. We're all salivating at the thought of Randy converting an F-5 into an RKO and it's almost a certainty that that will happen. However, this really is Randy's match to lose, Brock hasn't took a pin since WrestleMania 29 and Randy is not the guy to put him away, it would be a waste of Brock's unstoppable aura.
PREDICTION: Orton hits three or four RKOs and nearly pulls off the upset, but Suplex City ultimately prevails.
Some of the coverage you find on Cultured Vultures contains affiliate links, which provide us with small commissions based on purchases made from visiting our site. We cover gaming news, movie reviews, wrestling and much more.