Ever wanted to play out the epic mythical struggle between the god of the sun, Ra, and his archnemesis, the god of Chaos, Set? Pharaoh Hound Games' debut title, Sons of Ra, gives a taste of what these battles must have looked like to Egypt's deities. Though these divine conflicts are presented in a small-scale package, Sons of Ra mostly succeeds at being a compelling and addictive strategy game.
Sons of Ra is a competitive tower defence auto-battler hybrid set in ancient Egypt where various gods and their followers do battle. From a presentation standpoint, the game is immediately gripping with its understated aesthetic style. Sons of Ra feels like a board game dug up from the ancient past, as the battle maps look like either sandboxes or papyrus scrolls with blueprints.
The graphical style, though simple, is pleasant and effectively grounds the action. Each unit and building has the look of an animated wooden figurine, as if the players themselves carved their game pieces and brought them to battle. The music is good, albeit not too varied, and adds a lot of character and energy to each match. It's safe to say that, for such a small game, the developers succeed in finding a distinct aesthetic language.
As well as its solid visuals, Sons of Ra's pleasantly simple control scheme makes it quite accessible. The core gameplay loop involves two players engaging in a duel, selecting their deity of preference, placing units to attack the enemy keep on one of up to three lanes, constructing towers to defend themselves, and casting magical abilities to gain an advantage. All these actions are performed by a simple point-and-click system.
The accessible control scheme focuses the gameplay on strategic and tactical decision-making and develops the player's ability to read the battlefield rather than learning the controls. Because each match will turn into a constant ebb and flow of tug-of-war style engagements across multiple lanes, there is always something for players to consider to affect the battlefield and seek an advantage. And the objective itself is quite simple: take down the enemy's keep. The game succeeds at being an easy to learn, but hard to master strategy game.
In any given match, there will always be four main elements combatants can utilize: units, buildings, powers, and upgrades. There are four core units available to all players, each filling a well-defined role and they seem to be well-balanced. Depending on the choice of god, players will have access to additional units, but they usually have some unique effect that fits the chosen god's playstyle.
The weakest of the four elements are towers. Just as there are four different units, there are four towers with varying effects and, on paper, they provide players a good variety of battlefield options. However, the balance of the game seems to be skewed in favor of units as they essentially do the same things as towers for a lower cost.
On the flipside, the strongest element of Sons of Ra are the gods and their powers. Not only are the powers fun and interesting with good visual feedback illustrating their impact, but they also have the greatest effect on player decision-making. The choice of god gives players five active spells plus one passive that assert the chosen deity's distinct playstyle and identity. There's certainly room for improvement in balancing the gods, but overall they and their powers work well enough to give each god a try. No two gods will feel the same.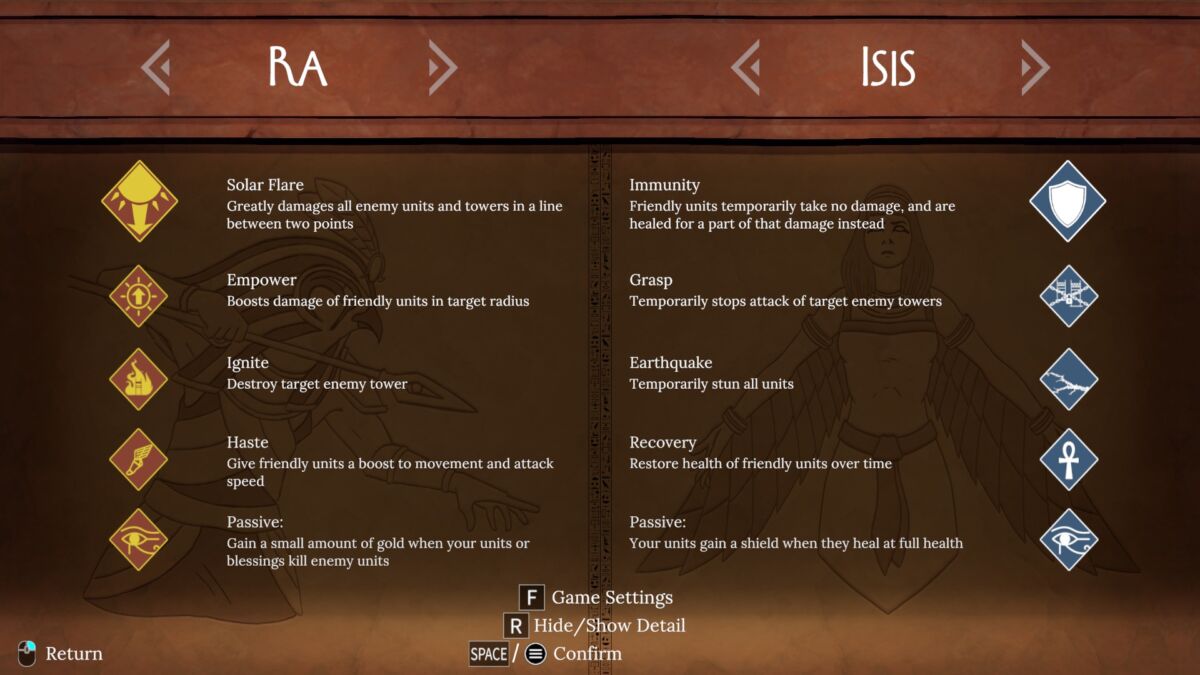 The final upgrade element is a bit of a mixed bag in its impact and execution, and, just like towers, it comes down to balance. During a match, players will have to manage a progression bar that slowly fills up that allows them to unlock new towers and units, as well as special buildings that have an overall benefit, like a mine for extra gold or a temple for extra favor points to cast spells. This in-battle unlock system works well enough, but it seems that some special buildings (the mine and temple in particular) are way too dominant in their benefit with little reason to try any others.
There are a total of six maps in the game with different lane and construction layouts. Practically speaking, it's more like three maps each with two variants, but some do include interesting features, such as a mine in the center of the map or funky lane setups. Unfortunately, it's a bit of a missed opportunity for Pharaoh Hound Games to experiment with more maps, as well as the unique ways lanes and other elements could affect gameplay.
The developers have also included a simple progression system that covers both single player and multiplayer modes where players will earn experience and unlock new gods and a whole slew of fun cosmetics for their avatar, keep, and units. While not too involved or innovative, the progression system on hand is functional and will keep players engaged for a time.
Sons of Ra sets itself up to be a multiplayer-centered game and the modes make this abundantly clear. Aside from the tutorial, there are two single player modes: skirmish and arcade. Skirmish has little in the way of longevity as the AI isn't particularly good. The Arcade mode is far better as players will have to battle a series of gods with the AI legitimately improving between each match. The length of each Arcade run does feel a touch too short, however.
For multiplayer, there is the focal skirmish mode with a good variety of match customization options, as well as a split screen multiplayer mode. The multiplayer skirmish mode is definitely where the game shines, as playing against a live opponent unlocks a whole new dimension of mind games and strategy the AI couldn't hope to bring. Though there's essentially only one mode in multiplayer and in the game as a whole, the overall quality of the gameplay loop is high and the matches are fast-paced and addictive with room to develop personal tactics and to experiment with different approaches and deities.
From a technical standpoint, I encountered a couple of issues, though none which were too frustrating, such as unit models getting stuck in place after long engagements for no reason. I also experienced the rare crash, but luckily it was more of an annoyance as it's quite easy to start up a new match. I also noticed some odd frame drops when multiple units would reach the enemy keep at the same time.
Since Sons of Ra is quite small, it runs quite smoothly and will pretty much run on any system. It's even more impressive to see in the later stages of the match when there are a lot of entities and multiple powers going off at the same time that the game is able to handle such activity. The options menu is barebones, but functional given the game's scale. The UI isn't too intrusive and presents vital information clearly enough, but it does lack the same visual flair that the rest of Sons of Ra possesses.
Sons of Ra is a super focused yet small game, but this isn't inherently a bad thing. Its gameplay is addictive and fast-paced, the core loop works on the whole, and the setting plus the presentation gives the game its character. If Sons of Ra is to succeed at being a competitive multiplayer game, it's vital that the balance issues with towers and upgrade buildings are addressed as soon as possible. Nonetheless, this neat little strategy game is worth checking out.
A Steam key was provided for the purposes of this review.
Some of the coverage you find on Cultured Vultures contains affiliate links, which provide us with small commissions based on purchases made from visiting our site. We cover gaming news, movie reviews, wrestling and much more.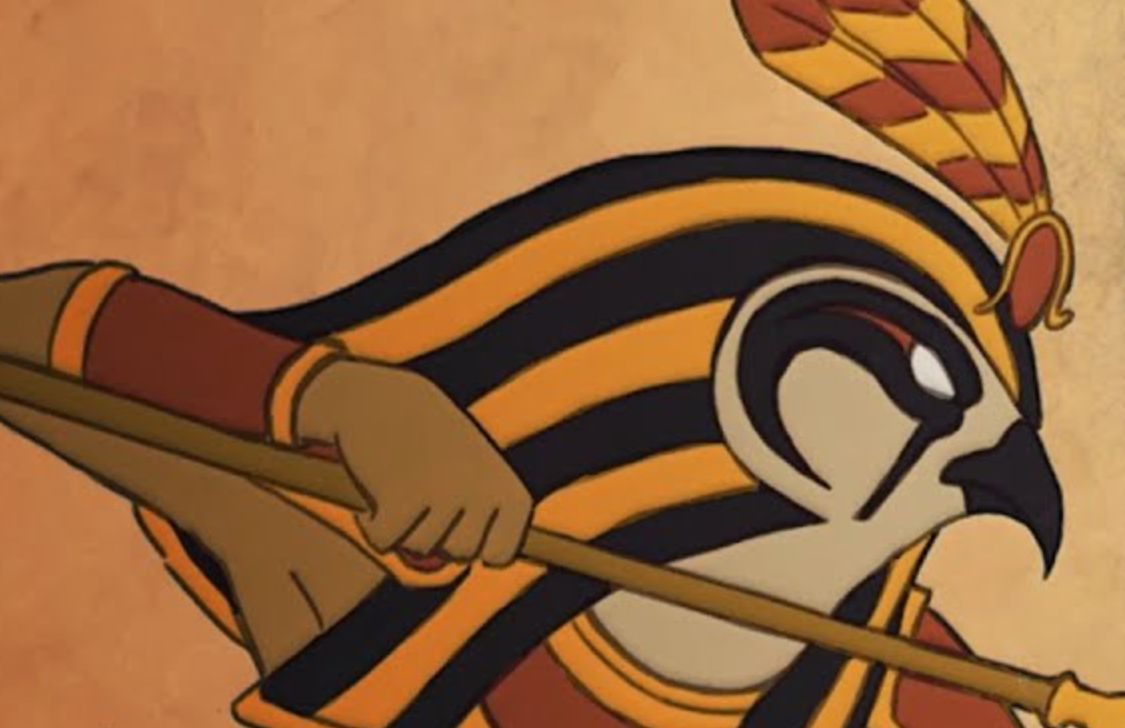 Verdict
Sons of Ra is a tight and fast-paced competitive game with a neat setting and flavorful presentation, though does suffer from some balancing issues.