Imagine, for a moment, that you're Aquaman. You never need to take a breath and can control sea creatures, but you're slow and a single leech can defeat you. Sounds like, well, a nightmare of sorts, but that's exactly what helps to make Silt thrilling in its premise, because while you can control portions of the sea, you retain the respect and fear of the unknown.
Silt is a puzzle adventure game developed by Spiral Circle Games that sees you playing as a lone diver who manages to break free of his chained limbo at the bottom of the sea by possessing a nearby carnivorous fish. The fish chews through the chains that bound the diver to the seafloor and sets them on their journey to reawaken the "machine."
Silt doesn't spend much time explaining its plot and doesn't have any in-game text logs, audio logs, or exposition that lay things out for the player. If you want to know more about Silt's story, everything must be gleaned from near-silent cutscenes, actions, and achievements.
While this might frustrate some players, it actually pairs well with Silt's atmosphere, though it might have helped to have more instances of these storytelling methods. As is, the story is a little obscure and difficult to decipher.
Silt's world takes place in the deep ocean, and the individual environments range from dark and oppressive to grand and otherworldly. There's this sense of isolation and loss that permeates different levels, and it's all accentuated by the emphasis on a black and white color scheme. It often reminded me of a combination of Tim Burton's iconic style and Don't Starve's picture book-like quality. The stark contrast in colors not only adds to the gloomy and mysterious tone of the game, but also helps to highlight important features in the environment.
For instance, all objects and fish that can be possessed or interacted with are white, while coral, machines, and other non-interactable objects will be dark gray or black. However, just because something can be interacted with, it doesn't mean that it's safe, as there are one or two enemies that can prove to be a big challenge. Their white coloring is more of a hint that they can be destroyed by other means rather than an indication that they're friendly.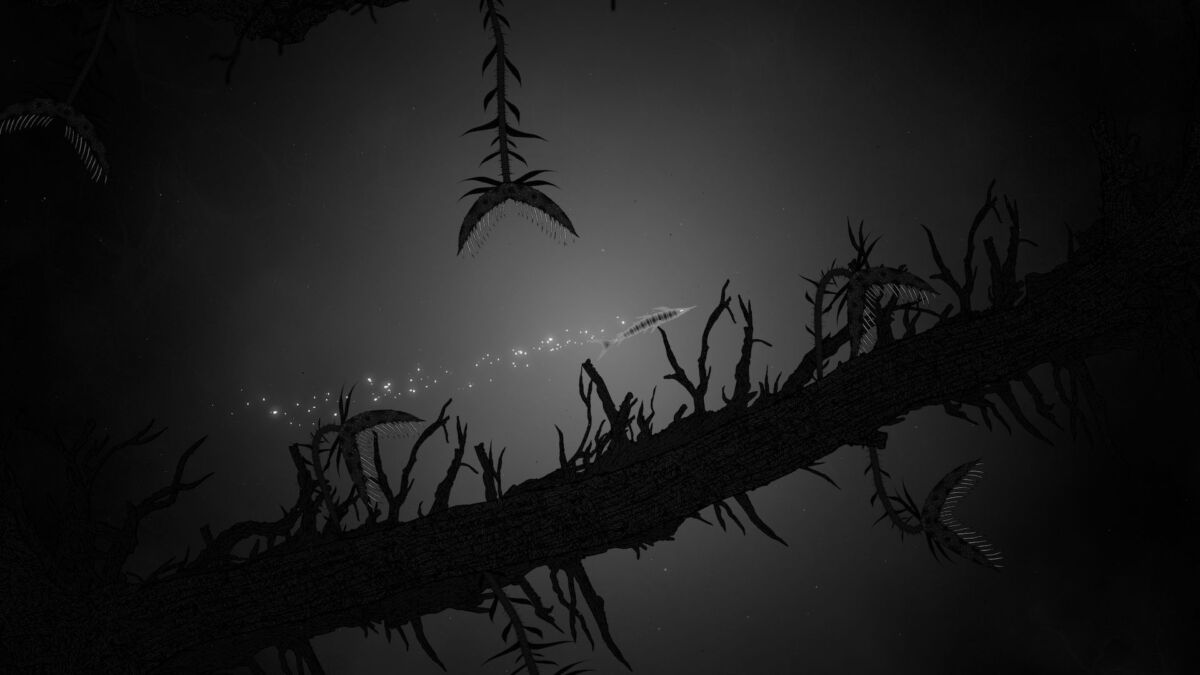 Since there isn't much of a plot, Silt's style alone was motivator enough for me to want to continue swimming past giant worms and dodging leeches so that I could see whataforementioned fabled machine looked like. The only way to wake up this machine, however, is by absorbing four ancient monsters who are deep in the ocean caves that the diver must traverse. To get through these caves, the diver will need to swim around hazards and use the local ecosystem to their advantage.
The diver has this unique ability to possess fish (and a few other objects) and use their abilities to interact with the environment. There is the hammerhead shark-esque Blockhead that uses its hammer-shaped head to smash weak walls and other organisms. There are also little piranha-like fish that can chew through ropes or snack on other creatures, electric eels that can power up lights, stingrays that can teleport (for some reason), crabs that can do little jumps and break machinery with their tough bodies, and, finally, puffballs that explode when they're touched like a naval mine.
There's a decent variety of possessions over the length of Silt (about 4-6 hours for a first playthrough), but I was a little disappointed by the end because I thought there was still so much potential for the developers to explore the extent to which these creatures could be utilised in gameplay. By the time Silt ended, I felt like Spiral Circle Games were only scratching the surface of how far they could take the possession mechanic to design puzzles and hazards. What would happen if there were puzzles that required more than three steps to figure out and required most of the existing creatures to solve? The mechanics already present in the game could expand and offer some tricky solutions.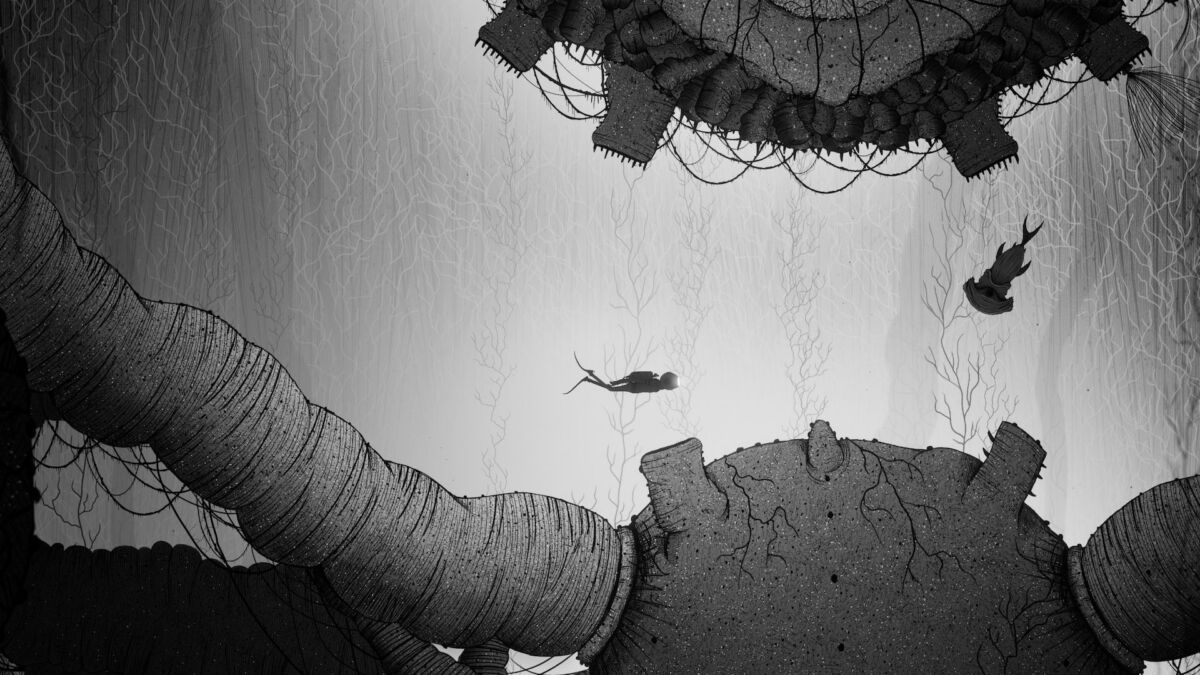 That being said, the gameplay elements present could still use some work on a fundamental level in this bite-sized package, as there are a few features that are less than fun. First and foremost, the swim speed of the diver and the creatures can be mind-numbingly slow, especially after your tenth retry at a section. There is a "sprint" option, but the base speed is so slow that it feels like sprint should be the normal swim speed.
Most of the puzzles are fairly straightforward and have you experimenting with the order of possessions and setting the environment up for the answer to the puzzle. However, there are a couple of puzzles that require you to be fast, which isn't as straightforward as it could be.
First, the possession tendril that the diver sends out to complete a possession is slow and not the most exact when it comes to reaching a creature from a distance. Second, the creatures are constantly moving which can cause problems with some of the faster puzzles as it adds a level of RNG to the challenge rather than simply being able to execute the answer. These moments could be incredibly frustrating.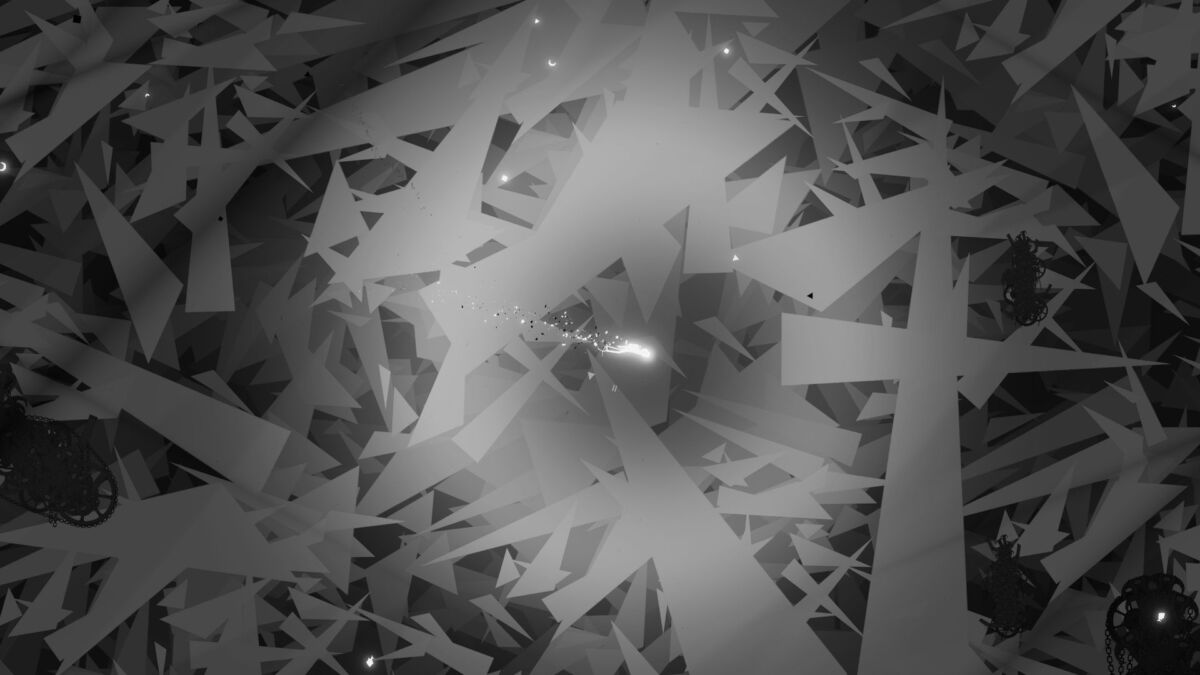 Speaking of the possession tendril, the player must hold a single button, which is B on Xbox. To release the possession, the player can quickly press B and the diver's soul will return to its original body. It seems fairly simple, but in the heat of the moment, it's common to release the possession rather than take control of another creature. This was only an issue on the speedy puzzles (which were few and far between), but these moments stuck out as infuriating. The current controller layout leaves a lot of unused buttons, so a remap tool or simply having the two actions mapped to different buttons would be such a help.
By the time I was using light to grow plants and maneuver through the plants with the explosive puffballs, I was really becoming engaged with the gameplay. I was curious about where Silt was going to take these interesting mechanics, but just as quickly as I started getting immersed, the game ended. While Silt retains its beauty and ends in a very poetic manner, it feels like it slightly misses its full potential.
Silt tells a moving poem that lets its illustrations deliver meaning without a word from a narrator or protagonist. However, even in this department, Silt could have used more environmental storytelling or a longer runtime to get its full meaning across more effectively. It wasn't the game I was expecting when I first booted it up, but I can appreciate it for what it tries to do.
An Xbox key was provided by PR for the purposes of this review.
Some of the coverage you find on Cultured Vultures contains affiliate links, which provide us with small commissions based on purchases made from visiting our site. We cover gaming news, movie reviews, wrestling and much more.

Verdict
Silt is a fascinating puzzle game with a beautiful art style and poetic delivery, but the short length and unrealized potential leave Silt still needing to find itself.