In 2006, filmmaker Adam Green unveiled his debut movie at the London FrightFest Film Festival, kickstarting a horror series that utilised several beloved horror icons. The original Hatchet opens with Robert Englund of Freddy Krueger fame, and transitions to Tony Todd of the Candyman and Final Destination series, before unveiling the beloved Kane Hodder. Having come to prominence as a stuntman before becoming the quintessential Jason Voorhees in four Friday The 13th movies, the Hatchet series was designed to feature Hodder predominantly.
Whether as the main antagonist, a deformed vengeful spirit called Victor Crowley, or appearing in flashbacks as Thomas Crowley, the broken father of Victor, Kane Hodder is a main reason for what makes the Hatchet series so enjoyable. His Thomas helps humanise the spirit just enough to gain some dimensions, while his Victor is a gleefully violent behemoth to entertain the audience. Combined with visceral '80's-inspired special effects reminiscent of Tom Savini, the Hatchet series has grown into a hidden gem of death and destruction, but which is the best Hatchet movie, and which is the worst?
Hatchet Movies Ranked
4. Victor Crowley (2017)
Director: Adam Green
Even though this is the weakest of the four, Victor Crowley isn't a bad sequel. In fact, it's a strong sequel that taps into the consistency of the original trilogy, which delighted fans of the series. Set ten years after the original Crowley Massacre, the focus shifts to a new protagonist in Andrew, who featured in Hatchet III. Andrew is an unfortunate butt monkey who audiences can at least sympathise with, being the only one smart enough to hide from Crowley as opposed to tackling him head on.
The positives are the return of the blood and gore that decorated the screen in the previous three films, and Crowley's resurrection occurs in a relatively convenient manner that doesn't insult audiences. However, the decision to keep a smaller focus on possible victims, specifically survivors of a plane crash and a nearby documentary film crew, creates a much more claustrophobic horror. While it makes sense from a storytelling purposes, it does mean negating some of the major strengths of the series, which is a creepy atmosphere in Honey Island Swamp, and a large list of victims who can be dispatched in violent unique manners.
Victor Crowley ends up feeling more of a prequel or proof-of-concept that the series still had an audience, as opposed to an evolution of the original trilogy.
3. Hatchet (2006)
Director: Adam Green
The film that kicked off the series, and a seeming love letter to slashers such as the original Friday The 13th series, director Adam Green hit the ground running with his confident cult classic back in 2008.
Beginning with a prologue that introduces horror legend Robert Englund in a small but pivotal role, the first half works best when building the legend of the disfigured Victor Crowley and the swamp he inhabits. With three varying storylines, one building upon the disappearance of Englund's character, a second focusing a mishmash of outsiders who venture on a tour into Lonely Island Swamp, and a third introducing the urban legend to our protagonists, it all culminates in a second half that is pure carnage.
The moment Crowley himself truly appears shifts the film directly from the terror of the unknown into the horror of an unkillable monster. With the pieces successfully set in place, this allows Green to go all-out, with Kane Hodder in the role of Crowley seemingly having tremendous fun himself. Whether twisting heads off or tearing them in half, pulling arms off or impaling victims, blood spurts and drenches our cast in a heightened style, a live action cartoon that gleefully entertains a bloodthirsty audience. Crowley instantly cements himself as an awesome antagonist reminiscent of Jason Voorhees, but the film itself was just a hint of what was to come.
2. Hatchet II (2010)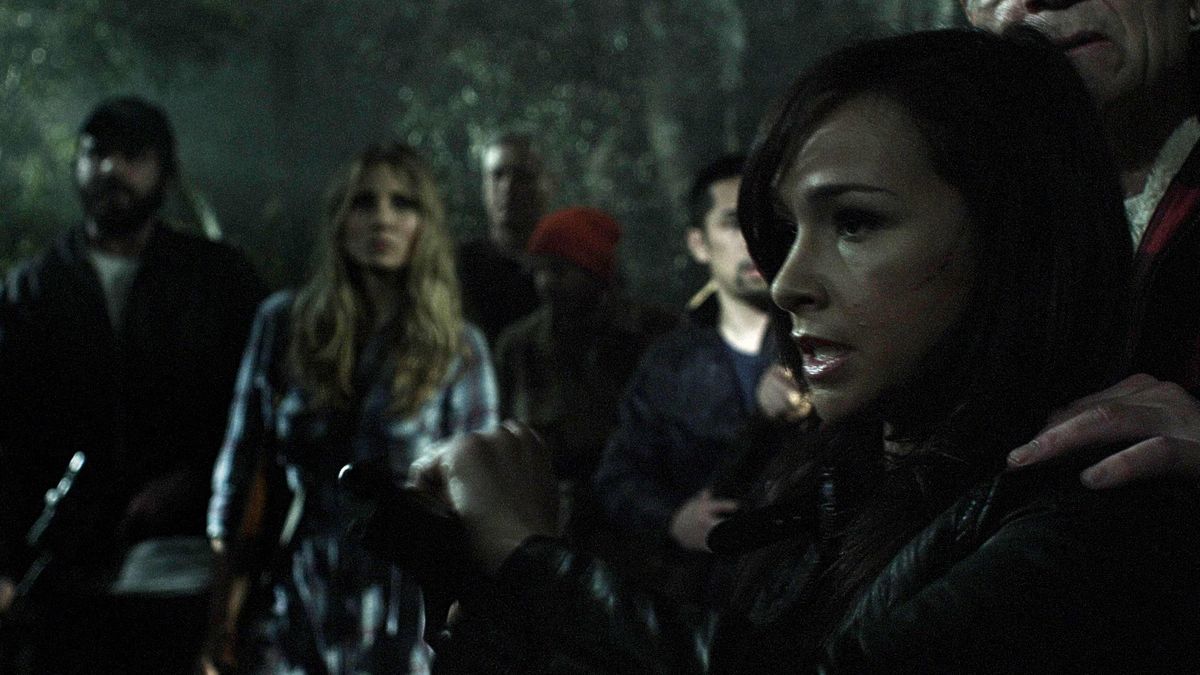 Director: Adam Green
Picking up seconds after the ending of the first film, Hatchet II makes two major decisions in terms of its cast. The first is recasting the role of Marybeth Dunston, replacing the serviceable and solid Tamara Feldman with beloved scream queen Danielle Harris, bringing Marybeth to the forefront of the story. The second major change sees horror icon Tony Todd evolving from his small role in Hatchet into a main character. This allowed for two popular and capable performers to add legitimacy for audiences to connect with, in a story that builds upon the groundwork laid in the previous movie.
While the first film featured Marybeth as an amateur detective investigating her father and brother's disappearance, the second has her returning to the swamp to retrieve their remains. This wish requires guidance from Todd's Reverend Zombie, who cleverly decides to bring several hunters as back-up. These hunters allow for even more battles and violence with Crowley, increasing the setpieces with more gore and blood than before, while also including extended flashbacks to the original attack on Victor as a child.
Between an increase in victims, bloody special effects, and the mythology of Crowley himself, this is a great sequel that improves upon the first.
1. Hatchet III (2013)
Slightly controversially, the best Hatchet film of the four is the only one not directed by Adam Green. However, Green is heavily involved as the screenwriter in a film seemingly primed to tie up the trilogy, again picking up where the last film left off. The second film demonstrated Marybeth's transition from a victim into a survivor, but Hatchet III shows her metamorphosis into a reluctant anti-hero traumatised by her experiences. This is where Harris' casting is most beneficial, as she offers an acerbic and bitter centre for the audience to follow.
And yet, it's the blood, guts and destruction that make Hatchet III the best in the series, as Marybeth's arrest by the police requires multiple emergency response units to venture to the home of Victor Crowley. With over thirty different paramedics, firefighters and police officers sent in, we enter a smorgasbord of possible victims, weapons such as defibrillators, spears and even tree branches guaranteeing multiple unique deaths and dismemberments.
While the first film was a skirmish, and the second film a battle, Hatchet III becomes a war, especially when a SWAT team arrives to take down Crowley. With rocket launchers and rifles now in play, Green's imagination runs wild and culminates in a third act defined by fire, blood, and death.
READ NEXT: Ranking Every Hannibal Lecter Movie from Worst to Best
Some of the coverage you find on Cultured Vultures contains affiliate links, which provide us with small commissions based on purchases made from visiting our site. We cover gaming news, movie reviews, wrestling and much more.