Congratulations, we've nearly completed another full lap around that big orb of fire in the sky. With just a few short weeks until 2022, you'd be forgiven for thinking that the game releases would have dried up completely, which tends to be the case around this time of year. Aside from one or two big hitters, a lot of highly anticipated games are only launching in 2022, but there's still some big new games launching in December 2021.
Well, truth be told, there's one big new game launching this month, along with a couple of other games from less recognisable franchises and developers, but just because one game is hogging the limelight it doesn't mean that the other games launching in December 2021 aren't worthy of mentioning. Here's all the biggest new games of December 2021 across PC, PS4, PS5, Xbox One, Xbox Series X | S, and Switch.
The New Games of December 2021
Solar Ash | December 2nd
Developer: Heart Machine
Publisher: Annapurna Interactive
Platform(s): PC, PS4, PS5
Heart Machine blew the world away back in 2016 with their debut title, Hyper Light Drifter, so a sophomore title certainly has a lot to live up to. Solar Ash, if nothing else, is an ambitious attempt to exceed what Heart Machine have done before, taking the vibrant and lovely colour scheme of Drifter and applying it to a game that attempts to cross Jet Set Radio and Shadow of the Colossus.
Instead of a 16-bit adventure, Solar Ash is a fully 3D action platformer where you control Rei, a voidrunner navigating a black hole while attempting to save her planet. While there's a lot of enemies to encounter within Solar Ash, the game's true focus is on the action platforming and exploration side of gameplay.
If anything, Solar Ash might prove that it's not too late for a sleeper 2021 hit.
Happy's Humble Burger Farm | December 3rd
Developer: Scythe Dev Team
Publisher: TinyBuild
Platform(s): PC, PS4, PS5, Xbox One, Xbox Series X | S, Switch
The product of if Good Burger was actually some kind of Cronenberg-esque body horror movie, Happy's Humble Burger Farm does not seem to feature any of the happiness that the title suggests it would. If you're looking for something that's just a little bit creepy and unsettling before the end of the year, this game should fit the bill.
Playing as the new manager of the titular burger restaurant, you work the overnight shifts, trying to ensure that the customer's meal is delivered correctly while putting out fires, dealing with rats and other random events. Just try not to mess anything up and receive an infraction, as three infractions incurs the wrath of Happy.
You won't like Happy when they're angry.
Chorus | December 3rd
Developer: Fishlabs
Publisher: Deep Silver
Platform(s): PC, PS4, PS5, Xbox One, Xbox Series X | S, Stadia
Looking at the game's logo and font, you'd be forgiven for thinking that the name is actually Chorvs, taking inspiration from the band CHVRCHES in the process, but no, it's Chorus, and it might just be the game to scratch the space dogfighting itch. Is it just me who has that itch? Oh, carry on then.
Playing as the mysterious pilot Nara, who controls the sentient spaceship Forsaken, you'll travel around the galaxy in an attempt to stop The Circle, a vicious, cult-like group led by The Great Prophet, who are looking to dominate the universe. Crucially, Chorus is actually an open-world game, with players able to explore temples to unlock new abilities for the Forsaken.
It's an ambitious game, but it could be a real winner. Keep your eyes peeled.
Heavenly Bodies | December 7th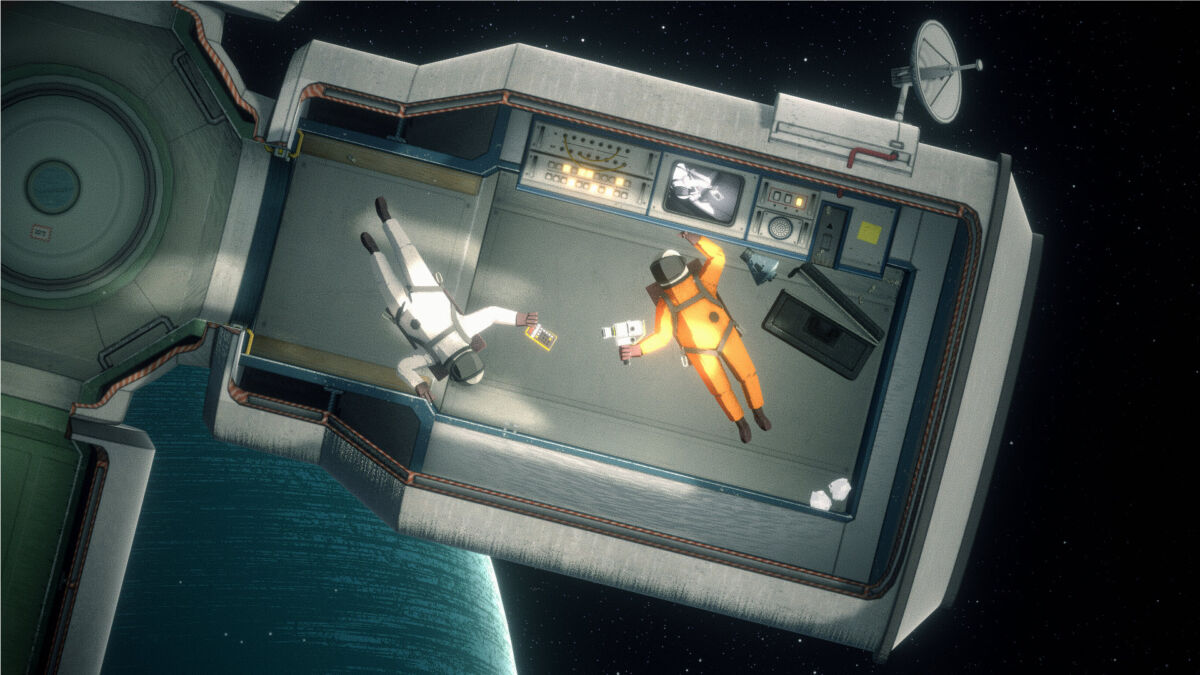 Developer: 2pt Interactive
Publisher: 2pt Interactive
Platform(s): PC, PS4, PS5
Physics-based puzzle games can be incredibly enjoyable and challenging at the best of times, but imagine how much more difficult they would be if gravity wasn't a factor. That's the premise put forward by Heavenly Bodies, which sees you playing as cosmonauts in the 1970s, performing daring feats by navigating increasingly precarious space stations.
Using your gangly, free-flowing limbs, along with your own ingenuity, you'll solve puzzles, complete the installation of a scientific space station and maybe even you'll avoid burning up in the Earth's atmosphere. WIth full support for co-op, allowing a fellow cosmonaut to jump in and "help out" (or get in the way), Heavenly Bodies looks like a lot of fun.
In space, no one can hear you scream at your co-op partner.
Halo Infinite | December 8th
Developer: 343 Industries
Publisher: Xbox Game Studios
Platform(s): PC, Xbox One, Xbox Series X | S
Unquestionably December's biggest release, and arguably the biggest game of the whole year, Halo Infinite is a chance for 343 Industries to prove themselves as the worthy custodians to the legendary franchise. If the multiplayer is anything to go by, they're on the right track, but for many, Halo lives and dies on its campaign. Infinite has a lot to live up to in that respect.
Playing as the Master Chief once again, you'll travel to a decimated Halo ring and run afoul of The Banished, a group of savage aliens looking to impose their will on the entire universe. With an open world approach to campaign design, Halo Infinite promises somewhat of a revolution when it comes to what makes a Halo campaign, and it looks fantastic.
December 8th can't come soon enough.
Sam & Max: Beyond Time And Space Remastered | December 8th
Developer: Skunkape Games
Publisher: Skunkape Games
Platform(s): PC, Xbox One, Xbox Series X | S, Switch
Skunkape Games might not be a household name, but their previous studio definitely was: Telltale Games. The developers of the likes of The Walking Dead, The Wolf Among Us, Batman and Tales From The Borderlands, Telltale actually cut their teeth early on with the Sam & Max series, a madcap adventure with an anthropomorphic investigative duo.
Since Telltale's closure, Skunkape have been the guardians of the Sam & Max series, and have already released a remastered version of Season 1, Sam & Max Save The World. Now, they're launching their remastered version of Season 2, Sam & Max: Beyond Time And Space. This second season includes vampires, zombies, a giant volcano and a host of other threats.
It's silly, but you'll be laughing most of the way through.
The Gunk | December 16th
Developer: Image & Form
Publisher: Thunderful
Platform(s): PC, Xbox One, Xbox Series X | S
Admittedly, The Gunk might not sound like the most exciting game in the world. If anything, it's a description of why your sink is blocked. However, what might be exciting for a lot of players is the fact that it's developed by Image & Form Games, who are most notable as the creators of the SteamWorld franchise. The Gunk looks to be their boldest game yet.
You control Rani, one half of a duo of space haulers who happen upon a planet that's teeming with life. Unfortunately, it's also home to a toxic gunk parasite which threatens to consume all life within its grasp. With your trusty Power Glove in hand, you're able to fight back against the tide of the gunk, and hopefully reverse this planet's fortunes.
No pressure, then.
READ NEXT: 15 Best Detective Games You Should Snoop On
Some of the coverage you find on Cultured Vultures contains affiliate links, which provide us with small commissions based on purchases made from visiting our site. We cover gaming news, movie reviews, wrestling and much more.