In March, I looked at the concept of redemption in movies. Five films was never going to be even close to covering the subject to my satisfaction, let alone in full. If any subject deserves a second part, a first for this column, it would be this particular theme.
When I write a Make the Case column, I begin by making up a list of twenty or thirty movies that might fit the theme in mind. I'll look at IMDB lists, Reddit, Twitter, and I'll certainly ask people I respect and trust (Sean Woodard of Drunk Monkeys was a massive help on this particular subject).
From a list of twenty or thirty movies, I cut things down to the five you see in the column. I'm never fully satisfied with the five I choose, in the sense that it's almost impossible to actually pick just five movies. I've never been very good at that, which is one of the reasons why I started this column in the first place.
With redemption, it took almost as long to pick the five movies as it did to write the column itself. That's just damn silly. So, to speed things up, I promised myself I would pick another five for a second column covering redemption in cinema.
We could very easily go to three or four parts with a subject like this, or even beyond, but we won't.
For now, here are five more movies about redemption.
5. Merrily We Go to Hell (1932)
Director: Dorothy Arzner
No one gets the redemption they need or deserve in Dorothy Arzner's potent Pre-Code drama Merrily We Go to Hell. Besides having one of the best movie titles I've ever seen in my life, the film is a somber, electric depiction of a husband and wife who love and try to care for another, but who are eventually destroyed by obsession and miles of multifaceted misery. Redemption will come up in several different ways with a story like that.
Where Arzner, far and away the most prolific female filmmaker of her day, really finds the center of this movie for me is in how strongly you care for these two characters. An intense dissection and evisceration of things like marriage and the oppressive nature of society itself are strongly linked to this story, but volatile and complex performances by Sylvia Sidney (who's worth appreciating for more than just her amazing Beetlejuice performance) and Fredric March as the couple add the devastating and vital human element. They can be weak, hypocritical, self-destructive, and more, but you want it to work for them.
The movie ends on a seemingly hopeful note, but it's hard to imagine either of these two can find what they need to survive.
4. Army of Darkness (1992)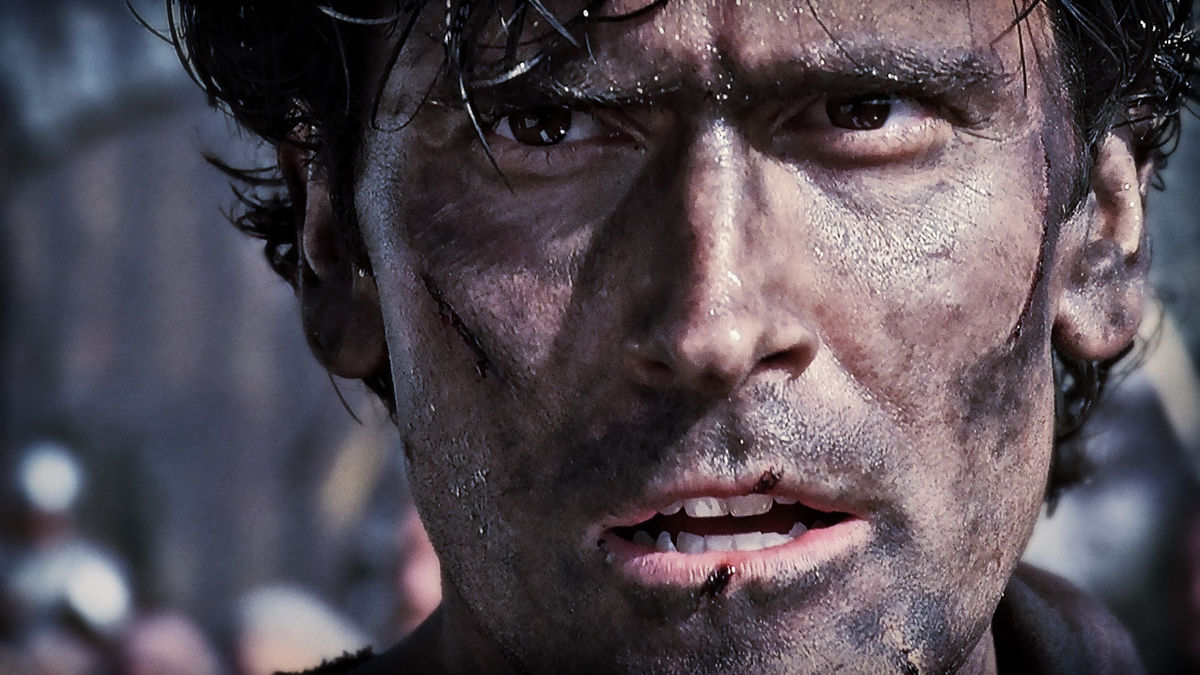 Director: Sam Raimi
Ash Williams (the inimitable Bruce Campbell) certainly makes his own terrible decisions throughout the Evil Dead saga of films, shows, and comic books. Even so, as he screws up virtually everything in his path in Army of Darkness, which sets him against the forces of evil during the Middle Ages, we're always rooting for him.
Poor Ash, often armed only with a surprising amount of cunning, arrogance, and a chainsaw attached to his arm, is always either a victim of circumstance or his own charming dumbassery. He didn't ask to be responsible for a book that opens the hideous gates of hell on earth itself. He certainly didn't ask to be attacked, made a hero, or left with the responsibility of saving humanity itself. Army of Darkness is the point in which Ash makes a concerted effort to get his life back on track. He is stopped at every turn, and is still expected at the end of the day to save us all.
Naturally, in one of the funniest horror comedies ever made, he squanders his opportunities, bristles in the face of responsibility, and then tries to simply run away from his growing list of problems. This makes for a tall order for redemption, which isn't too important to us to like him as a reluctant hero, but it's good to see him eventually take charge in his own unique way. At his best, Bruce Campbell as Ash creates a compelling, hilarious, and oddly endearing journey.
3. Crazy Heart (2009)
Director: Scott Cooper
Redemption is once more a big part of another major film concerning an alcoholic country singer who desperately needs to crawl out of the deep bottle of their pitiful circumstances. Comparisons to Tender Mercies, which I covered in part 1 last month, are easy to spot. Right down to the appearance of Robert Duvall (an immensely likable performance with very little screentime), acting as a mentor to Jeff Bridges' Bad Blake, an unapologetic, seemingly hopeless burnt-out star of glory days long since left to rot.
Bridges won an Oscar for this character, one of his best, but Crazy Heart isn't Oscar bait playing on our sympathies with an established story. Instead, Crazy Heart as a story truly forces Blake to deal with his demons. That includes the many consequences of his past, and then the consequences of trying to find redemption without ever actually trying.
He meets a woman (Maggie Gyllenhaal, making her character more than just a prop for Blake's story) with a young child. He wants to be happy, and we get brief glimpses of that potential, but he never stops seeing himself as someone who will probably ruin it all once again.
Which he does, and which the movie makes him pay for several times over. Although he pulls himself in the end, even finding peace, we also see a man who will probably not live much longer under the weight of everything he had to sacrifice.
2. He Never Died (2015)
Director: Jason Krawcyzk
After amassing dozens of credits in movies and television, 2015's underrated, dark, funny, and quite violent He Never Died puts singer, writer, and activist Henry Rollins in the lead role. As an immortal cannibal with a particularly impressive secret from his past, Rollins as Jack shoulders a fairly ambitious combination of highly dramatic storytelling and grisly horror-comedy.
Jack as we meet him is someone who would prefer to be left alone to his bleak, unremarkable, and lonely routine. Mobsters and a daughter he never knew about come into his life at a point where something like redemption no longer exists. It is simply a void where the idea used to dwell. Jack attends mass, but this is simply an exercise in remembering something he no longer even conceives. Keeping the humor and gore at a steady pace, He Never Died gives Rollins a nuanced character whose tortures are not simply window dressing for another badass force of nature.
Rollins channels his deadpan delivery and intense resignation to his fears into something that can inspire you to believe that even someone like this can find legitimate, meaningful redemption.
1. Groundhog Day (1993)
Director: Harold Ramis
Many movies about redemption stick to the distilled model of this narrative. Even in the universe of whichever movie we're talking about, our main character is generally able to get to their form of salvation over a pretty short period of time. Groundhog Day forces a Pittsburgh weatherman (Bill Murray) to relive the same day for what could be anywhere from a couple of weeks to a handful of full lifetimes. Over and over again. Until he gets it right.
And "get it right" turns out to be expressed in numerous ways. Phil Conners isn't just tasked by nameless powers-that-be with getting his own rotten outlook and behavior in check. He comes to understand that he must also redeem himself by leaving Punxsutawney better than when he found it. Both of these larger requirements have to be met, and it's going to take as long as it gets for Phil to understand that.
Much of the comedy comes from Murray's brilliant performance in slowly realizing this. Falling in love with his producer Rita (Andie MacDowell being immensely likable) motivates him a bit, but even that's not enough. Few protagonists are made to work as hard to get out of the wasteland of empty existence (or not existing, I suppose) as Phil does.
Of course, none of us get quite that many chances to make good. Redemption for most isn't as exciting as what we get in these or other movies on the subject. One of the reasons why we love movies like Groundhog Day is because we get to see people earn more than just a moral victory.
READ NEXT: Ranking the Ghostbusters Movies from Worst to Best
Some of the coverage you find on Cultured Vultures contains affiliate links, which provide us with small commissions based on purchases made from visiting our site. We cover gaming news, movie reviews, wrestling and much more.