Picture this: it's Valentine's Day 2017. A particularly aggressive winter storm howled outside. There wasn't an Internet connection – a power surge made sure of that. This was also the day Marilyn Manson was to release SAY10 (get it? Because it's his 10th album and… yeah). Good use came from my phone's data as I constantly refreshed Google results and news feeds. Alas, it wasn't meant to be and I had wasted approximately 300MB of data (yay). Months passed by with silence from Manson and endless speculation from his fans.
Fast-forward to present-day and we get this shrouded creature, under the name Heaven Upside Down. Was it worth the wait? Mostly yes.
The record kicks off with Revelation #12, a twitchy cut with the industrial distortion of the band's yesteryear as Manson howls his best sleazy preacher impersonation. It's a fine opener, reminiscent of 1994's Portrait of an American Family, and better played loud. Air raid sirens forebode the journey to come, and ambient noise leads into Tattooed in Reverse, a poppy stomper with a dose of The Pale Emperor (2015) for good measure. It's a satisfying cut – even though it strays close to AWOLNATION's Sail – armed to the teeth with Manson's wordplay arsenal ("So fuck your Bible and your babble;" "I'm unstable, I'm not a show horse.").
WE KNOW WHERE YOU FUCKING LIVE, the first single off the record, has aggression in spades, although it's not as powerful as it could've been. The cut is a definite head-banger, but it's let down by a muddled lens – which is to say it's hard to pinpoint exactly what Manson's trying to do. Manson sings quite a few cryptic-ish lyrics without making a concise point. Is it about Big Brother? Is it about dangerous suburbia? Is it just about chaos? The song is ambiguous, which works for those who like filling in details (myself included), but it's understandable if somebody casually listening hears it as mere provocation. That said, the energy is there and it is palpable.
SAY10 (the original title track) saw hype since last November when a clip featuring the first minute of the song debuted. Perhaps most notable about this clip was that it showed the beheading of a man with particularly small hands and a particularly red tie (Manson refuses to admit it's you-know-who, but the video dropped on Election Day so make of that what you will). SAY10 is a filthy track and I mean that in the best possible way. The trap beat is dirty. Manson's voice sounds dirty. The song creates a sense of unease, better than WE KNOW WHERE YOU FUCKING LIVE did, as Manson croaks amid the textures, leading into an explosive chorus. The best thing about SAY10 is that it sounds fresh; this new sound is a perfect accompaniment for present-day Marilyn Manson.
KILL4ME, contrary to its hip-hop title, is a groovy pop-rock piece that could pass as a spiritual successor to The Pale Emperor's Third Day of a Seven Day Binge. It's perhaps the most radio-friendly song on the record, lyrical content such as offing people in sheds notwithstanding. It's possible that fans will be divided over KILL4ME; it's reminiscent of Manson's post-Golden Age of Grotesque work (a mixed bag for many a person) with a hint of 1998's Mechanical Animals.
A thematic shift occurs in Heaven Upside Down, with KILL4ME acting as the segue. Whereas the first four tracks were heavier in nature and subtext, the rest of the album focuses more on Manson and relationships. This isn't a bad thing and it isn't reiterating The High End of Low (2009), but I can't shake the feeling that Heaven Upside Down needed another song to bridge the gap between SAY10 and KILL4ME. Kicking off the latter half of the record, we get an 8-minute cut in Saturnalia. Fears of an I Want to Kill You Like They Do in the Movies (a 9-minute song from The High End of Low) repeat were firmly put to rest as Saturnalia stands as one of the strongest songs on the album. The song is musically and lyrically adventurous, binaural beats clashing against a beefy bassline before Manson takes the wheel and those eight minutes fly by.
JE$U$ CRI$I$ (yes) follows, opening with the inviting lines, "I write songs to fight and to fuck to / If you wanna fight, then I'll fight you / If you wanna fuck, then I'll fuck you / Make up your mind, or I'll make it up for you." To be fair, it's a deliberately ridiculous song and the music itself is upbeat and fun, but it feels superfluous (even the dollar signs in the title are arbitrary), evidenced by the glaringly rehashed chorus. Namely, the pre-chorus for Lay Down Your Goddamn Arms off Born Villain (2012) – "Wanna fight? / Wanna fuck? / Wanna die? / Try your luck / Lay down your goddamn arms." JE$U$ CRI$I$ isn't a bad track and the second half has an absolutely killer shift, but the song adds little to Heaven Upside Down and throws off the second half's cohesion.
The album's eighth track, Blood Honey, is a gothic power-ballad that melds the best of Eat Me, Drink Me (2007) with effective synth work. Blood Honey's anguish is genuine and feels earned, making it another highlight. The title track, Heaven Upside Down, is a surprisingly upbeat affair (musically, anyway), shifting away from the vampiric pianos and guitars of Blood Honey to a more traditional "classic rock" sound. It's a touching song, maybe not something you'd expect from Manson. Threats of Romance closes the record as a throwback to '70s rock with clear Bowie influence. It's decent work all around and Manson's vocal performance is fantastic, but it doesn't grab you the way an album closer ought to. It feels light.
Heaven Upside Down showcases the best and worst tendencies of Marilyn Manson (though no songs on here belong in Manson's "worst" catalog). Lyrically, the record offers moments of ingenuity (e.g., "Open your mouth, love / Like a gutted church / My goat horns are napalm trees / And a crown of thorns is hard to swallow" off SAY10) juxtaposed with moments of face-palmery (e.g., the aforementioned chorus for JE$U$ CRI$I$). The record follows the somewhat recent trend of Manson repeating certain lyrics multiple times. This is usually okay, but on occasion you'll wish the man will stop latching on to a clever phrase, using it to fill a song's length, and just write quality lyrics instead. Musically, Heaven Upside Down shines. The composition on the record is fantastic and it's well-produced, thanks to producer/lead guitarist Tyler Bates, whose experience scoring films such as Guardians of the Galaxy and Watchmen works to the album's benefit. Heaven Upside Down is arguably the most instrumentally upbeat record put out by the band, which gives it a distinct presence.
Manson has mentioned in a few interviews that Heaven Upside Down is a concept album, with the intricacies of the story left to the listener's interpretation. There is definitely a story here (person bent on chaos realizes they can't go through life alone), but again, I feel the album needed another song or two to really flesh it out and unify the two halves. People who are expecting something akin to the novel-dense triptych (Antichrist Superstar, Mechanical Animals, and 2000's Holy Wood) will walk away disappointed, but to cast their shadow on Heaven Upside Down would be a disservice to what Manson's accomplished. Manson sounds utterly energized here and his best qualities as a showman are on full display. This isn't an album from a person who seeks to change the world, but rather it's an album from a person who genuinely seems to enjoy doing what they're doing. Heaven Upside Down speaks on its own terms and the result is a rock experience that only Marilyn Manson can conjure.
Some of the coverage you find on Cultured Vultures contains affiliate links, which provide us with small commissions based on purchases made from visiting our site. We cover gaming news, movie reviews, wrestling and much more.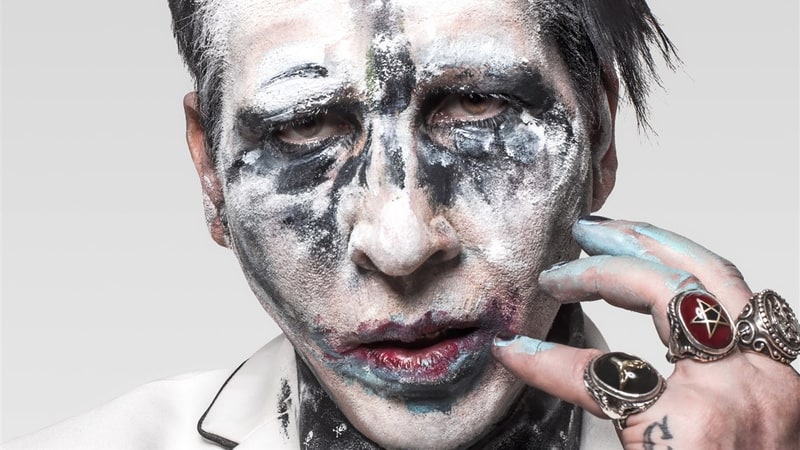 Verdict
Heaven Upside Down is a solidly-crafted album that will assuredly please the majority of Marilyn Manson's fanbase (despite some shortcomings). The unconverted will likely stay unconverted, but the confidence and songcraft are well worth respecting. All told, a fine addition to Manson's discography.