Make the Case lists choices chronologically, rather than in any order of quality. Picks reflect film acting roles only. If the actor in question also directed the movie, that's purely a coincidence, and it plays no part in the film's inclusion.
Among other things, Daniel Day-Lewis makes a compelling argument for quality over quantity, when it comes to assembling any best actor of all time argument. His filmography is the smallest of just about anyone I have ever featured at Make the Case.
If his current retirement sticks, and there is every reason to believe that it will, Lewis will have only appeared in 21 films from one end of his career to the other. It started with an uncredited role in 1971's Sunday Bloody Sunday. It ends with 2017's intense, distinctive performance in Paul Thomas Anderson's Phantom Thread. There are a handful of TV and movie credits, but Lewis stopped doing TV by 1986. He hasn't appeared in a theater production since a 1989 production of Hamlet at the Royal National Theatre in London. 1989 was also the year he appeared in My Left Foot, which earned him the first of three Best Actor Oscars. To date, no other actor has won that many in that specific category.
Rather than be legitimized by the acknowledgements of a group like the Motion Picture Academy of Arts and Sciences, the presence of Lewis as the winningest Best Actor nominee in Oscar history gives such awards a little more credence. I know a few people who think Lewis might be a little overrated. I honestly have never met someone who hates his work, or believes he is a bad actor. God knows they are out there, but the general consensus is just about universal. Daniel Day-Lewis is one of the greatest actors of all time. He is also one of the best actors living today. His erratic, short-ish filmography doesn't really suggest that our opinion of him would be different, if he had appeared in more films. Some make the argument that being prolific has made Robert De Niro less of a great actor.
I don't think that would have happened with Lewis. It would mean we were talking about a fundamentally different actor, perhaps human being, than the one we are actually talking about. I think if anything, we would have just taken him for granted a little bit. If his career as an actor is indeed finished, I don't think he is in any danger of being forgotten. He has left behind far more memorable roles than ones that were just pretty good.
He might come back. If he does, great, but I don't think it really matters. In terms of his movies, he has already given us more than anyone can reasonably ask for.
1. My Beautiful Laundrette (1984)
Stephen Frears, who directed this from a script by Hanif Kuneshi, has made several films that seamlessly combine a multitude of complex elements. My Beautiful Laundrette is a moving character study, a genuinely funny comedy, and an at-times-emotionally-painful drama. It also provides some pretty intense, bullshit-free commentary on Britain during the time of Margaret "Let's-Hope-Hell-Is-Real-So-She-Can-Burn-In-It" Thatcher.
Considered by many to feature his breakthrough performance, My Beautiful Laundrette offers a young Daniel Day-Lewis as a bisexual gang member, who begins an unexpected friendship, and then more, with a Pakistani immigrant named Omar (a performance by Gordon Warnecke that is every bit as nuanced and beautiful as Lewis'). Lewis generates tension from the deep conflicts of his character, and his intensity as an actor is on unforgettable display here.
2. My Left Foot (1989)
Once again, limiting this column to just five of the best Daniel Day-Lewis movies puts us in an awkward position. There are more than 5 great Daniel Day-Lewis performances to choose from. That goes without saying. Going to My Left Foot from My Beautiful Laundrette means skipping over exceptional turns in films like A Room with a View, The Unbearable Lightness of Being, and Eversmile, New Jersey. It also means we're jumping over fascinating misfires like Stars and Bars. Just understand that I'm as crestfallen to skip those movies as you are. You have my deepest sympathies.
My Left Foot gave Lewis his first Best Actor Oscar. Considering he had only started doing films about seven years earlier, you can't help but be a little impressed. My Left Foot, in which Lewis plays the famous author/painter Christy Brown, is also one of Lewis' most famous examples of his legendary attention to method acting. To play Brown, who was a quadriplegic with debilitating cerebral palsy, Lewis learned how to live, write, and paint as Brown had. Nearly thirty years later, audiences are growing justifiably sick of watching able-bodied actors play people with disabilities. Fair enough, but Lewis' performance here continues to be seen by many as a benchmark of acting. It doesn't hurt the perception of Lewis in My Left Foot that he plays Brown without any pretension, or even the faintest interest in anything but the person and character. My Left Foot is more than just an inspirational story, and Daniel Day-Lewis' performance is a big part of that.
3. Gangs of New York (2002)
Lewis' second collaboration with Martin Scorsese is one of the best villains of 21st century film. Gangs of New York itself is a fascinating, beautifully-shot-and-edited epic, which occasionally falters under its massive story. This sometimes to the point of the movie becoming underwhelming, which can be a little hard to take with anything that is longer than two hours. Daniel Day-Lewis not only gives the best performance of this film, far and away outshining younger leads Leonardo DiCaprio and Cameron Diaz, but his performance holds this film together, during those points in which it is clearly about to collapse.
As Bill "The Butcher" Cutting, Daniel Day-Lewis cuts one of the most extraordinary figures committed to film in this century. Cutting is a pitiless, vicious, and deeply bigoted man. He also displays moments that could technically be described as honor. There are flashes of a human being in Lewis' complicated portrayal that makes "The Butcher" more than just an antagonist for DiCaprio's character. DiCaprio was still a short distance away from finally getting to a point of true greatness as an actor. It would be fascinating indeed to see the older, stronger performer DiCaprio has become go up against Lewis's Butcher a second time. Obviously, that is impossible. It doesn't really matter in the end. This is still one of the best performances in modern film history. Amazingly, Gangs of New York did not score Lewis one of his three Best Actor Oscars.
4. There Will Be Blood (2007)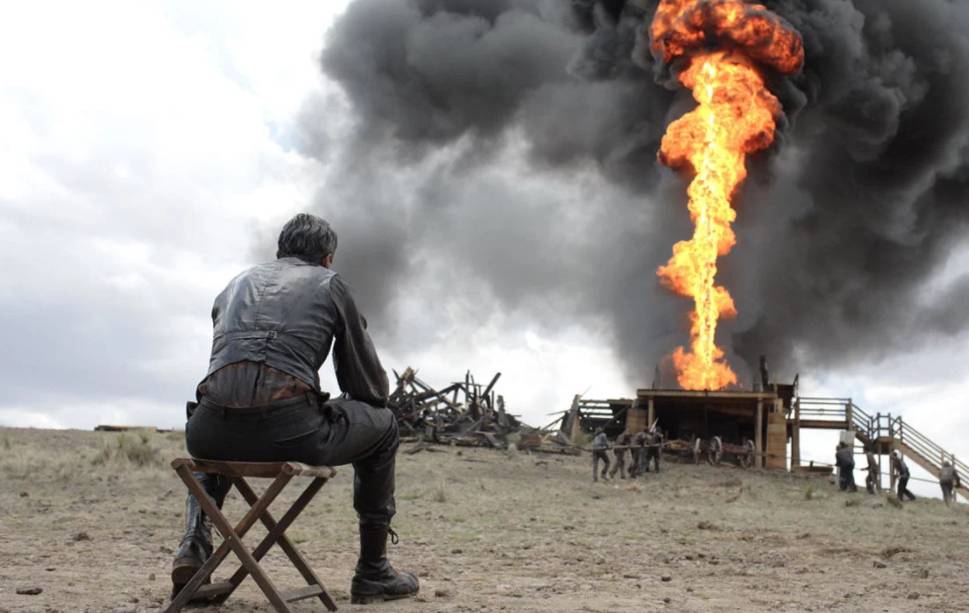 Few things in film are as devastating as the last 15 minutes of There Will Be Blood. Unlike the above entry, this film from Paul Thomas Anderson is a flawless union of writing, atmosphere, story, pacing, camera, and more. The film is also filled with staggering performances from the supporting cast, with Paul Dano as twins who have two very different experiences with Lewis' ferocious, unwaveringly ambitious Daniel Plainview.
Nonetheless, Lewis stands above it all. While There Will Be Blood is a fascinating depiction of early 20th century American capitalism, it is Daniel Day-Lewis who tells that story in the most effective fashion possible. Plainview is not a good man. Yet once again, Lewis gives him moments of such deep need and helplessness that we can't resist a need to at least wish he could have found his humanity in his adopted son. Or in anything.
The end of this movie can mean a lot of things. However, when Plainview rests over what is likely his final act of destruction, he states simply, with an emotion we can't quite catch "I'm finished!" By the time we get to that point in the film, we have no doubt that he has indeed reached a conclusion.
5. Phantom Thread (2017)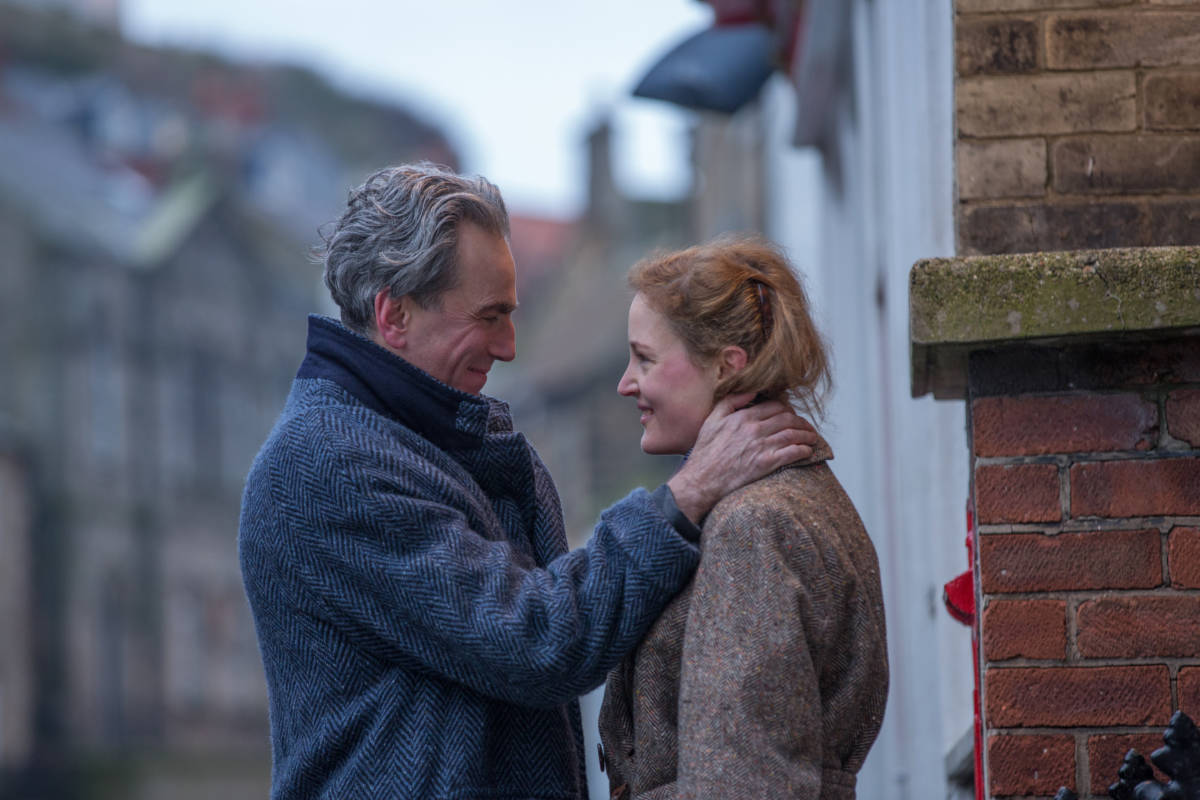 Anyone who thinks Phantom Thread is propaganda for toxic masculinity is a fucking nitwit. In what will likely be Lewis' final film, Phantom Thread is indeed about toxic mindsets, and that certainly includes toxic masculinity. However, anyone who seriously thinks the movie, or Lewis' performance, are holding those things up to be celebrated is someone who probably drank a bathtub full of NyQuil before hitting the multiplex. Lewis' performance, as well as the very fiber of the film itself, make it clear to us in no uncertain terms that Lewis' Reynolds Woodcock is someone to be admired.
Perhaps, we can admire him for his artistry as a fashion designer. We can even feel empathy, or perhaps pity, that despite his brilliance, he is cruel, unhappy, and too meticulous for just about anything, or anyone, in the general chaos of the world around him. That is not the same as propaganda.
Every scene with Vicky Krieps (as Alma Elson) is an astonishing tribute to chemistry between two performers. However, once again, and in his second collaboration with Paul Thomas Anderson, Lewis stands uniquely on his own. His performance is a crucial part of why this film has resonated with virtually everyone who has seen it. Reputation doesn't hold out forever. Lewis maintained his from start to finish because he delivered brilliance more often than not. He didn't win a 4th Oscar here (after winning his 3rd in 2012 for Lincoln), but I honestly wouldn't have been mad if he had. It's one of the best performances of 2017, and it happens to be in one of the best movies of 2017. If Lewis stays retired after this, no one can say he didn't go out at the absolute pinnacle of his singular dedication and relationship to his art.
Some of the coverage you find on Cultured Vultures contains affiliate links, which provide us with small commissions based on purchases made from visiting our site. We cover gaming news, movie reviews, wrestling and much more.