Stephanie Maslansky is best known for her work on Marvel's Netflix shows including the first season of Daredevil, Jessica Jones, and The Defenders, along with both seasons of Luke Cage and Iron Fist. She has brought to life some of the most iconic characters and given them the looks we all recognize them by today – for instance, Jessica Jones's leather jacket and Luke Cage's hoodie. Most recently, Stephanie has worked on the second season of Luke Cage, and talked to us about she used Harlem street style to create the looks for this season. She immersed herself into the world, and got firsthand knowledge of how she wanted to go by creating every single look.
Stephanie was a delight to speak with, and was wonderful enough to take time out for us while she is out in Budapest, working on the third season of Epix's Berlin Station. She had a lot to tell us about her work on all the Marvel Netflix shows and shared how she got into the world of costume designing.
Tell me a bit about your background and how you got into the world of costume designing, including the moment you realized this was it for you.
I was always kind of a crafty, maker person as I was growing up. I really enjoyed putting things together and building things. Once I discovered a sewing machine and made an A-line skirt in 7th grade, that was it for me – I loved sewing, I loved machines, I loved making things, following patterns and making up my own patterns, I loved fabric. I spent a lot of time doing that kind of thing and making clothes for myself, my mother, and my friends.
I also really enjoyed making accessories. It was one of my big interests. I was interested in history and the history of clothing and fashion. I like looking at magazines and being aware of beautiful clothing and looking at how it moved and draped. I grew up in the '70s and '80s, and clothes were much different than they are now. When I went to college I studied history and literature and it didn't dawn on me that I would get into a field of art at all. I come from a family of academics, doctors, and lawyers and I assumed that's just what I needed to get into.
I traveled and lived in Italy for a year studying language and history. After I graduated from college, I realized I didn't know what I was going to do. I had all these interests and didn't know how to put them together in a way that would be enjoyable for me to pursue until one day I left school and came back to Minneapolis to visit my family.
One evening I was walking past a shop in downtown that sold high end women's clothing and in the window there was a display of period costumes from the Guthrie Theatre. I looked at them and thought, "I could do that – oh my god, that's what I'll do." I was relieved and happy, and concerned because I was 24 and was just figuring out what I'm going to do. It's funny because I would highly advise people to learn about themselves before jumping into something. If they can afford to, or work a little and travel a little, those years are precious before you have to settle down and do adult things.
I got into designing and got a job as an intern at the Guthrie Theatee for a season and after I was done with that I decided to move to NYC. I started from the bottom and decided against  going to NYU for costume design. I decided to work and work my way through the field. I took drawing and painting classes, and took theatrical design classes. I continued my education on my own, and I wanted to work and needed to work.
I started in theater, I wound up designing and styling commercials for several years. I did my first movie in my early 30's, and was hired to do another movie shortly after that. I moved out to LA and started going more commercials and then moved back to NYC and decided to get serious about movies/television. I fell into TV when I got back to NYC and sort of stayed there. I really like TV and I enjoy doing it and I'm very confident and comfortable in it. It's hard work, but I really enjoy it!
I struggled for years and was a part of TV shows that didn't do well. It's a bummer because you work really hard and it's presented on national TV and people don't like it and it gets cancelled and you have to start over. There's a lot of good content now and I have started getting better quality shows combined with getting a little more mature and being more organized. It's been a real rollercoaster ride every since I started doing Daredevil in 2014, and luckily they liked me enough to keep me on for the first season of all the shows.
How did you get involved with the Netflix Marvel shows?
I saw a piece in Deadline which has become an interesting way to find out how things are happening. I called my agent and said I really want to interview for this. And he said sure, and said let me know if I can get you a meeting. A day or two later, the line producer called me independently. Fortunately, at this point I have a decent reputation and I'm a NYC costume designer and I do a lot of authentic looking real stuff. She wanted to bring me in for a interview. I signed a bunch of NDAs and put together a presentation and had a Skype meeting. A couple of days later they called me and gave me the job.
You are responsible for the iconic looks of Netflix's Marvel shows, including Jessica Jones' jacket and Luke Cage's hoodie. Talk to me about you came up with these looks and what your process was like in dressing them. (Did you use comic books as reference, etc.)
Luke Cage is a working man's hero, so we really wanted to dress him in a humble way. We also wanted to figure out a way to incorporate the colors of Luke Cage into his costume which has been very important to me with every show – to incorporate the colors that are traditionally associated with each superhero. For example, tones of red and black for Daredevil, tones of blue and purple for Jessica Jones, tones of olive green and gold for Iron Fist, and gold and black for Luke Cage. We knew we wanted him to wear a hoodie because its functional as he's going out to kick ass or breaking into a building. He would often put on his hood and we were trying to figure out how to incorporate the color yellow into the sweatshirt.
I suggested we line the hood with the color so that way we get a pop but it is not overwhelming. People really liked that idea. We started a collaboration with Carhartt and they supplied us with all the hoodies. And in the end they were even willing to line the hood with yellow jersey. Our tailors did that for the first season, and the second season they were willing to do that themselves. Now they are selling Luke Cage style hoodies where the hood is lined with gold.
As far as the comics are concerned, I was not that familiar with superheroes. I didn't grow up reading superhero comics. I watched Superman when I was a kid, and I was vaguely familiar with the other comics but they weren't my thing. I read Archie and Veronica! So when I first got this interview I had to dive in and learn a little bit, and I knew someone in production design that was already hired on who helped me out and gave me suggestions which was really useful.
At this point, I'm still not the be-all and end-all with knowledge of superheroes, I go back and I research and reference when a character comes up, and I'm told when a character is from the comics and when one is made up. My job is to take what I learn from the comic books and illustrations and create a live-action believable grounded character from them. It's been a lot of fun and incredibly creative. I'm not ready to give it up, I really enjoy it! I pay homage to the comics as often as I can, and making the fans happy as often as I can by placing Easter eggs for them.
You've done both seasons of Luke Cage – with the story evolving, how was your approach different in season two over season one?
Yes, the story has evolved tremendously. The characters have evolved as well from the start of season one to the end of season one. Obviously, Mariah really evolved into the grays. Tilda Johnson evolved and became Nightshade. Luke Cage evolved from the humble, do-good guy to a person who realized he needed to play the game differently, and possibly get in bed with the bad guys, in order to make Harlem a safe space.
Shades evolved, he left Mariah and they were very tight and in love and that was a relationship that really changed Mariah. She dressed differently, she behaved differently, she embraced her inner villain and wasn't hiding it anymore. And was proud of who she was and where she came from. I hope her clothing reflected those changes in her, the fact that she was in a relationship with a much younger man and becoming a villain.
I'm always asked why some of the villains I dress look so good. And I tell them because they love money, they love having money, spending money, using it, showing they have money, they like driving nice cars and wearing nice clothes, and taking nice vacations.
Mariah's wardrobe was about 90% built by us because we were looking for a very specific look. And we couldn't find it in the stores, so we decided to make everything. We wanted specific colors, shapes, and classic looks for her that were were more sexier and sassy – so that's what we did, we just ended up making most of it.
You did a phenomenal job with Bushmaster's costumes this season! He was a great villain for the second season. Tell me about creating his look.
Well, he started off wearing colors from one of the original illustrations which depicted him as a half snake, half man being – very muscular and wearing his colors which were pale yellow, cream, white, and gold. I put him in an off-white shirt, beige tie, and a gold belt buckle. I wanted to make him look like a real human being but wanted to reflect back on those colors. And then as time wore on and he became stronger and more confident and more powerful, his colors started to take on the colors that you would associate with Jamaica, which are bright island-y colors. Which is why you saw him start to see dress more colorful, the first two suits I put him in were more quiet. They didn't have the snap and pizazz he had going forward.
How did you use the Harlem street style to influence each character's look/clothing? What was the research for that like?
It was a lot of fun! I made it my business to spend time in Harlem which meant walking around the day which was great because there is a lot of boldness in Harlem. People dress boldly, a little bit of flash too, and they're not afraid of who they are. There are a lot of strong colors and strong patterns and a lot of African print. You see things on the street sometimes and you say to yourself, "Man, I could recreate that and put it in a TV show and no one would believe that it was real, and here I am looking at it." You have to take that into consideration, something that reads on the street doesn't necessarily translate on the screen and it becomes a big distraction. There's great street style in Harlem, and that definitely influenced me – I had to take it and play with it for those very reasons. You're still trying to tell a story and there's dialogue and you have to make sure you don't get in the way of it.
In the evenings, we went to bars and restaurants and we hung out and talked to people and it was lot of fun. I also needed to be informed how Harlem's Paradise should look, and there are are lot of bold colors in Harlem. I didn't want to shy away from that but I wanted to make it authentic and tone it in a way that wouldn't fight with the lighting in the camera and the story.
I really liked your use of colors with each character (i.e.- Jessica Jones with purples/blues) because I associate certain colors with each one and I think you did a great job with that!
I appreciate you saying that. I think the one reason is why it stays in your mind is because I tried to do it in a subtle, authentic, realistic way. For example, with David Tennant, I was really careful in my use with purple with him. Purple is such a strong color and I like some shades of purple – aubergine, eggplant, plum, grape, merlot. A really bright purple color I'm not into or a bright lavender I'm not into.
I was lucky that season because Paul Smith, a designer David Tennant walked right into, was doing a lot of purple suits that season. I found all these great suits in shades of purple. I always tempered them with different shades and the ties and the shirts and if I added a vest I'd throw in navy blue or deep red. I wanted to make sure the purple wasn't overpowering. Even though he had a predilection for the color purple, I wanted it to be fun and cool to look at, and not jarring. I'm very sensitive to color, I just wanted to make sure it was pleasing to look at and the audience could take it in and enjoy it, but not miss a beat in comprehending and understanding the dialogue.
What is the process like for Luke's sweatshirts considering they're always being shot at and replaced? How exactly do you create that look?
There's a big process to it. I work very closely with special effects and wardrobe department. If Luke Cage gets all shot up, we shoot the scene that happens three scenes later. So we have to be prepared with his look of having been shot up, before we shoot the scene where he's actually shot up. We have to really think long and hard and plan where he is going to get shot and where will we put the bullet holes. We need to make it match to the scene when he actually gets shot up and we create the squibs and the special effects to make it look like he's actually getting shot. It's a lot of work and you have to be as accurate as possible.
When you're creating the costumes, are you creating a lot of them from scratch or are you able to pick some off the rack?
Yes! It depends on the character and how they're built. Someone like Cottonmouth, he walked right into Dolce and Gabbana suits and looked amazing in the three piece suits we got for him. When we first meet Cottonmouth, I wanted him to be in a particular color of suit – I wanted his suit to be green. I like to pay homage to how the villain is first illustrated in the comic books. Many of these villains in Marvel lore are named after snakes (Diamondback, Bushmaster, Cottonmouth), and when you go back and look at how they dress, I wanted to reflect that. So Cottonmouth was dressed in a green three-piece suit – that's what I built for him.
Do you have a favorite character amongst the many you've worked with on the Netflix Marvel show or in general? Why? Is there a character that resembles your own style?
I always find a character that might dress a little bit like I do. But my way of dressing has evolved tremendously over the years so it's an interesting question that you're asking. I'm thinking of various characters throughout the years, who at the time I thought of myself when I dressed them. But now, I don't dress anything like that anymore. I really enjoyed dressing Stanley Tucci in 3 Lbs. It was a show that got cancelled after a few episodes. There was a female lead in the show as well, Indira Varma, I dressed her the way I dressed at the time in my life.
Going forward, I did a show called Black Box and I dressed Kelly Reilly. She played a bipolar doctor, so she was one way when she was manic and one way she was when just normal/taking meds. I really enjoyed dressing her the way we did. She had a distinctive, very unusual look and pale skin, beautiful face, blue eyes, and pale red hair. I dressed her in a lot of pastels which I normally don't use but they worked very well for her–when she was calm. When she was manic, things got different.
Going into the Marvel shows, it's such a tough question. I enjoyed dressing Claire in season one of Daredevil because she was no-nonsense, but I wanted to make her look sensual and sexy as well. I enjoyed dressing the characters of Colleen Wing and Joy Meechum in season one of Iron Fist. In Jessica Jones, Krysten was such a blast to dress and so was the character of Trish Walker. I also loved working with Sigourney Weaver, Mahershala Ali, Theo Rossi, Mike Colter, and Finn Jones.
How do you adjust costumes or the look of them based on if it's night or day?
The lighting has to be adjusted as much as the costume has to be adjusted. You don't want to put everyone in black or dark colors all the time because it becomes a black hole. So you have to be aware of that – what the backdrop is going to be, what the lighting is going to be, what the background is going to be, and what conditions you're shooting in.
As a general rule, I don't go for extremely bright neon or primary colors (like royal blue, bright yellow, bright red), I go for muted, deep rich colors like mustard yellow, magenta, merlot, navy blue, and gray blue. There are shades that you can find that are rich and full of tone, that aren't just bright and uncomplex. Those colors that are rich and full of tone you can mix them much better with other colors. I'm very careful not to bring too much color into a scene or outfit, I always temper with neutral colors (nude, gray, beige, black)–it helps tonally and make it more authentic.
In Luke Cage, how did you go about working around Misty's bionic arm? Was that something you helped with or a different department or both?
That's actually a prop thing – the prop department had the arm built! It was a collaboration between Marvel and the departments. It's reflective of the comics and you have to pay homage. Marvel has some incredible illustrators/artists who conceptualize things like Misty's arm. It's up to the designers and prop master – we have to interpret that and figure out material and figure out how it's going to work practically.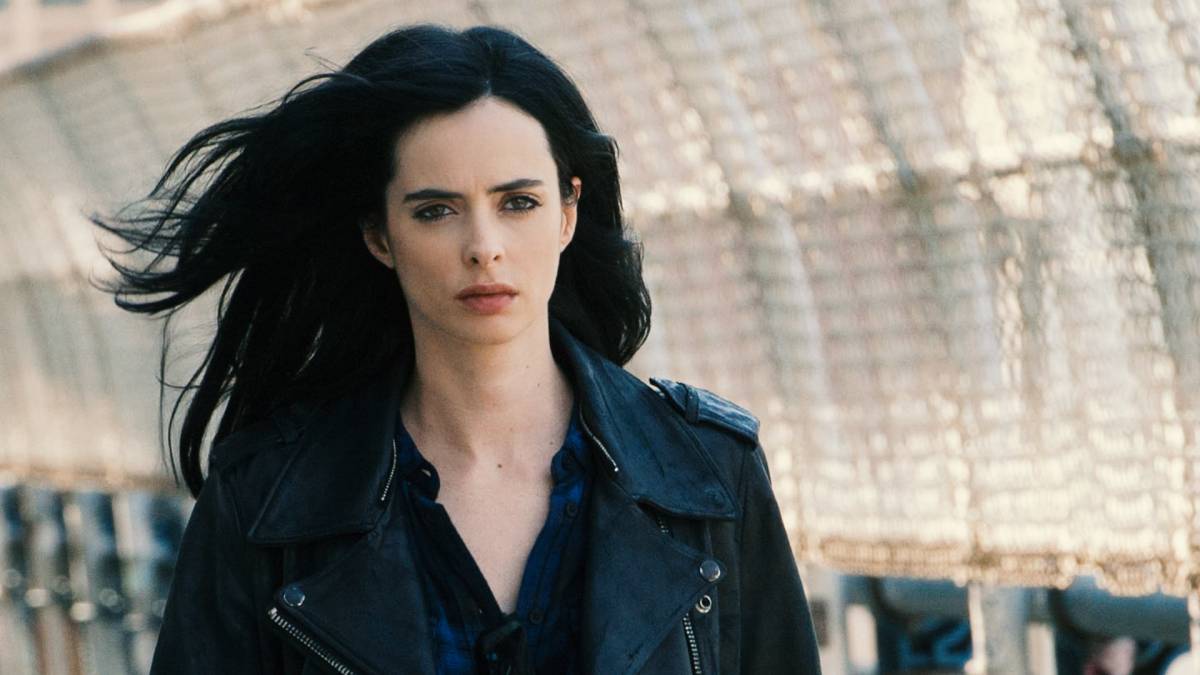 Oftentimes the illustrators that work at Marvel are very accustomed to doing comics and giving ideas. But we're trying to make these ideas 3D and work on a human being and make them function and be practical, and allow this person to act and say the words. It's been a very fascinating learning experience both for Marvel and the people bringing it to life on the film side. I think it's been a wonderful collaboration and we've all really enjoyed it and grown close.
What are you currently working on right now?
Right now, I am in Budapest working on a television series called Berlin Station on Epix. It's in its third season and about the CIA station in Berlin and focuses on espionage and stopping the world from World War II and a variety of other conflicts. It's very topical and dealing with very current events.
Words of wisdom?
If you decide you want to get into this business, knock on every door, take every opportunity, be as helpful as you can and be as proactive as you can. Try to be available as often as you possibly can and work hard! You can get an education, get a Masters or get a graduate degree but take every opportunity you can. Whether it's theater, TV, commercials, or movies – you need to learn! You need to learn how clothes are constructed, need to learn to about fabrics, and how clothes should fit. There's a lot to learn and there are no shortcuts!
Keep up with Stephanie's work on her Twitter.
Some of the coverage you find on Cultured Vultures contains affiliate links, which provide us with small commissions based on purchases made from visiting our site. We cover gaming news, movie reviews, wrestling and much more.