"Aloha" means both hello and goodbye. It's also the title of the final episode of Five-0. I've never been a fan of goodbyes. It's not easy to say goodbye to the people, or the things, you love. Five-0 has been a part of my life practically since it began, and after so many years it makes it that much harder to bid these beloved characters farewell. I know several fans agree with me.
The main theme of the night, as well as the show in its entirety, is "Ohana", meaning family. Five-0 are more than just a team, they're a family. Danny's and Steve's friendship is the most prominent example, as Steve hurriedly comes to Danny's aid when Daiyu Mei kidnaps him, and Danny's nearly killed as a result.
Steve's fear was palpable as he raced to Danny after overhearing gunshots, accompanied with reckless driving and sheer panic displayed in his facial expressions. Steve had no second thoughts about reaching into a burning car, his arm briefly catching alight, in his attempt to save Danny. Danny was thankfully never in the car to begin with, but the fact that Steve was willing to risk losing an arm and endure searing pain for his best friend shows the lengths he'll go to, to save him. Elsewhere, Danny wasn't doing too badly for himself while in captivity, managing to escape and shoot plenty of his captors before he was shot himself.
One of the core aspects of the show has always been Danny's and Steve's bromance. The episode was sprinkled with several of them. Both Caan's and O'Loughlin's performances covered a wide range of emotions, from fear to guilt to desperation, circling back to joking and a show of brotherly love. For instance, Steve holds his head in his hands until Danny wakes, and makes a guilty Steve feel better by joking with him. It's just their way of making light out of a dark situation. Steve is haunted given Danny's kidnapping and near-death experience reminds Steve of his father's death ten years before, and Danny points out how many times Steve has saved his life in turn.
Plus, Steve prayed in the hospital's chapel for Danny's recovery, telling God to take him, not Danny. Steve's emotional intensity, a mix between anger and pleading, in that moment is both a testament to how much he loves his best friend, and an indication of Steve's personality. Steve would rather take on everyone else's pain, and sacrifice his own life to save them. It may look like self-destruction, as Steve doesn't seem to care for himself much at times, but the thing is, Steve cares so much for others that he puts them first. It's just his natural thought process. Perhaps Steve will learn to take care of himself for a change.
However, my favorite moment between them happens near the end of the episode, when Steve and Danny share their final goodbye-for-now, anyway. Danny feels like his "main dude" is leaving him, and Steve points out that Danny has a phone. The two will stay in contact, and perhaps Steve's journey will lead him to New Jersey, where Danny could meet him. At least, I'd like to think they'd make that trip.
Danny talked about his love for Hawaii, discussing its beauty and that Steve could clear his head there, which shows how far Danny's come since his rants about the "pineapple-infested hellhole" he thought Hawaii to be when he arrived. Steve and Danny have grown on each other in more ways than one, and I'm sure Steve has something to do with Danny coming around on Hawaii and its charms.
I was sad to see Steve leave Danny, I'll admit. Yet sometimes seeking peace, as Steve says he needs, means seeking it alone. I thought Steve journeying alone was a good idea, but was surprised to see Catherine (Michelle Borth), his former flame, appear on the plane and take the seat next to him. While Steve loved and was ready to marry her before, it didn't quite work out between them. I'm glad he'll have someone with him that cares about him and vice versa, as it means Steve could finally get the happy ending with her that he always wanted.
There was a lot of foreshadowing where Catherine was concerned, as Cole mentioned that he knew her and Steve remarked that she was the "one that got away." While I'm happy that Steve and Catherine appear to be getting back together, and that Catherine was the one that helped decode the cipher Steve's mother left behind, I can't help but think Steve needed to clear his head alone, or that perhaps Danny should have gone with him instead. Nonetheless, Steve has a chance at love, and perhaps that will give him the peace he seeks after hitting the ground running for so long in Hawaii.
I loved the fact that "Aloha" tied itself to "Pilot" in many ways. There are many parallels that touch back upon to where the series began, though "Aloha" carries its own updated spin on the events of the pilot episode ten years later, as well as contain its own storylines. Steve's life changed instantly when his father was murdered by Victor Hesse (James Marsters), and as Steve says, it's what brought him to Hawaii, and what kept him there as he took down the bad guys and solved his family's mysteries. Daiyu Mei is Wo Fat's widow, and she claims everything she's done is because she wants revenge against Steve for killing him. Not to mention she took the money Steve's mother left behind for him, his sister and niece.
Daiyu Mei is a villain in her own right, just as ruthless as her deceased husband. According to a flashback shown in the episode's beginning, we see the planning that took place between Wo Fat and Victor Hesse, with Daiyu Mei present, just before they attacked Steve's convoy that carried Victor's brother Anton in the pilot episode, and subsequently led to the deaths of Anton and Steve's father in one fell swoop.
That flashback, in addition to the capture of Daiyu Mei, are both nods to the show's beginning. Plus, the audience got to learn something we never knew before: Steve's father, John, talked to Wo Fat before he died, and it turns out John knew his wife was still alive all along, among other things. Daiyu Mei was pushing Steve to relive the pain of losing his father, but Steve didn't fall for it, despite his vulnerable state as of late. Mustering up the strength to deal with reliving one of the worst moments of his life isn't easy, but his father was wrong. While it was hard on Steve, he really could handle it.
The fact that Steve catches Daiyu Mei among shipping containers is also a nod to the pilot episode, as Steve confronted Victor atop a shipping container. Plus, the Easter egg of seeing Danny's old silver Camaro in the auto recycling yard was priceless, especially since Danny's just lost his current Camaro.
I'm beginning to think Danny's got bad car karma. RIP to the Camaros, they were fun while it lasted. Perhaps Danny will consider a less expensive car, or at least switch to Mustangs, as Camaros just don't seem to be working out for Danny. I'm somewhat sad that we never saw Danny react to the loss of his precious car. Although, it might've been a bigger loss for Steve, considering he was usually the one driving Danny's car, anyway.
I appreciated the efforts the writers made to wrap everything up in one swoop. Although, I so wish I could've seen Steve offer one last "Book 'em, Danno" instead of "Book her, Cole", but seeing as Danny was recuperating in the hospital, it's a given he wouldn't be present for the takedown.
The other thing that bugged me somewhat was the fact that Daiyu Mei lived. While she's captured, and Steve didn't take a shot when he could have, especially after all she's done, offers a testament to his character, it doesn't seem right. Steve needs his peace. Can he truly get it if Daiyu Mei is still alive, where she could possibly use contacts on the outside to continue making Steve's life miserable? Steve showed her mercy by allowing her to live and to let the system deal with her, but I can't help but feel like it's a loose end.
The real tear-jerker of the episode was watching Steve say goodbye to his team. You get to see how close they all are, and how much of an impact Steve has had on them all. Steve is the leader, and he is the one who ultimately brought them all together and made them the family that they are. It's a big deal, and they all love Steve for it.
I was glad to see that, despite the tension that's gone down between them lately, Steve and Adam part on good terms. Adam was there for Steve in "Aloha", telling him Five-0 was in his corner, just as Steve had told Adam earlier this season. At one point, Steve is doubting himself given his actions in the previous episode over his hesitation to make a decision, but Adam reassures him and supports him, which is what he needed the most. Adam's final goodbye to Steve in the episode's last moments finds him thanking Steve for seeing the good in him-despite everything, Steve sees the good in everybody. Steve will never turn his back on family, after all.
Steve shared tearful goodbyes with Tani and Noelani, as well as a meaningful moment with Junior, saying everything they needed to say in that moment of simply touching foreheads, but his goodbyes to Quinn and Lou were what made me really tear up.
With Quinn, who is the newest member of the team, it's clear that she really has become a part of Five-0, and the "Ohana", by extension. She thanks Steve for giving her a chance, as well as giving her a family, and Steve declares that she was worth it. It doesn't matter how new you may be, if you're family, you're family. Quinn doesn't often get sentimental or vulnerable, and I was glad she had that moment with Steve before the series ended.
Lou, however, really brought on the waterworks. Chi McBride did not fail to deliver powerful emotion in his performance, crying openly and giving Steve the biggest embrace. Lou tells Steve "you saved my life when you met me", which clearly means a lot to Steve, and which touched my own heart. Lou has been around for several seasons, and while his performances are usually serious or comedic, his emotional performances especially stand out. Lou is older than the rest of the team and acts as something of a guide sometimes, and I have no doubts he'll continue that role even with Steve gone.
Throughout the entire episode, I kept thinking Cole would make a good member of Five-0, so it made sense to me that Steve told him to "hold down the fort for me" while he was gone. Cole is a perfect addition to the team, and just adds another member to their always-growing Ohana. Families are always growing, which means you just have more people to love and more love to give, and you receive that love in return.
Steve leaves his dog Eddie behind, but Danny will need the dog while Steve's gone. In a way, Eddie will help the Five-0 team while Steve's away, as a reminder of him. The thing is, like Steve says, "it's not goodbye forever." I'm hoping that means we'll see Steve and members of the Five-0 team on Magnum P.I. or perhaps MacGyver, the other two shows that series showrunner Peter Lenkov also developed, and that exist in the same universe as Five-0. Crossovers have happened before, who's to say they won't happen again?
"Aloha" made for sensational performances and required plenty of tissues for tears, but it wraps up a legacy by ending the series where it began. Goodbyes are never easy, but I'm hoping it's only a "goodbye for now" circumstance, and we can see the characters pop up in crossovers, or perhaps even another reboot in the years to come.
Some of the coverage you find on Cultured Vultures contains affiliate links, which provide us with small commissions based on purchases made from visiting our site. We cover gaming news, movie reviews, wrestling and much more.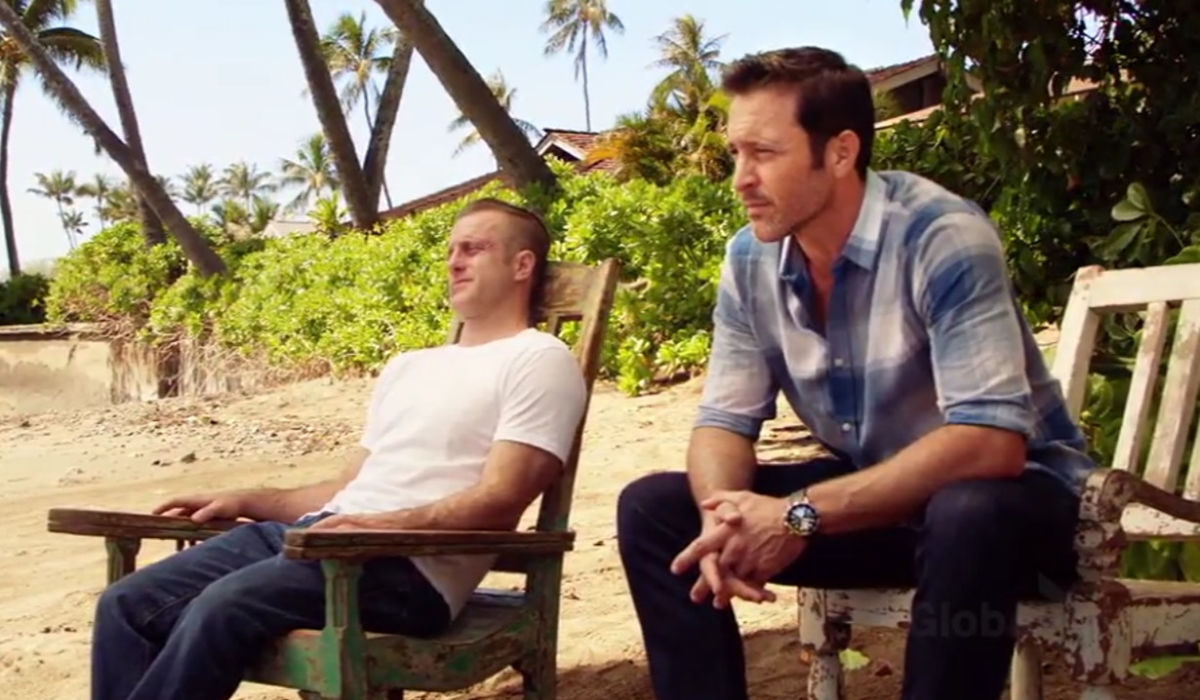 Verdict
Alex O'Loughlin, Scott Caan, and Chi McBride delivered the strongest performances, given their range of emotions shown, and have made for a memorable and long-lasting goodbye alongside their colleagues. "Aloha" assured us our favorite characters will go on doing what they do best, solving crime in paradise and being there for one another like a family should.