Walter White is dead. I haven't seen all of The Wire yet, but I know Stringer Bell is dead. Nip/Tuck used to be good, so I don't really know what happened at all. Californication hasn't ended just yet. Tony Soprano ..well the lights went out and we had the biggest cop out of 'the audience can decide his fate' ending. On a realistic and sad note, James Gandolfini is dead, and so with it is Tony. Kevin Spacey was Keyser Soze all along.
The common thread is, all my favourite programs have ran their natural course. Some bowed out at their peak, some definitely went on one or two seasons longer than they should have, but they have left a hole.
Before I delve, I have never seen 24, am not interested in Game of Thrones (wat. – Ed) and all the other supernatural stuff that some channel on Sky churn out. Not a big Star Trek fan neither (See an earlier post by me.) I'm not going to change, these are my opinions, I just don't want to watch them.
So yes, there is a hole. Or rather was.
Just over a year ago, I started seeing the advertisement for Hannibal. You know, the really over-the-top artsy advert that featured no words but darkly sensual colours and the guy from Casino Royale tucking into what I could only presume was a cut of meat from the most endangered animal on the planet.
I wrote it off instantly. Who wants to see a rehashing of these well established books and films. The Silence of the Lambs won the big five Oscars for fucks sake. The advert was shown again and again, and my Dad always said, "the more something is advertised, the (sic) fucking shitter it probably is" – So, it was dismissed.
Flash forward a few weeks, and two work friends were talking about a gruesome scene in something in which someone was using comatose bodies as a fertiliser to grow mushrooms. Instantly, this caught my ear. What were they talking about? You got it –Hannibal. They had nothing but great things to say, and I believe my friends, we watch the same things and criticize the same things. Apparently it was worth the investment in time and would turn your stomach.
At first, I was still ambivalent, so I let them all record on my box, because if your going to binge watch, you can't be missing a few episodes. I found myself with a rare Sunday off work and my fiancée was away, so I loaded up on Red Stripe and Doritos and pressed play.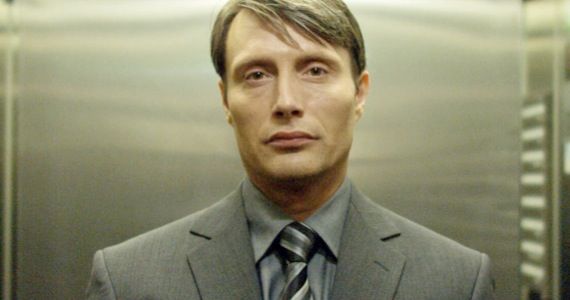 Shy of 13 hours later, I had found my vice. It was mind blowing. This is what we endured years and years of bad haircuts and wardrobe malfunctions, Diedre fucking Barlow, Party Election Broadcasts and Antiques Roadshow for. This was television. This was more than television. This is what High Definition was made for. This is the best you will see Lawrence Fishburne. This was pure gold. It is the best thing ever. Not just programming, it is the best thing EVER. (As much as I have gave spoilers on other shows, I'm going to leave the Hannibal details pure for your viewing pleasure.)
I could not shut up about it. It is beautiful. From the opening scene in the pilot which was, at first thought, a bit too CSI, to the last scene when Dr Hannibal Lector walks into frame, your jaw drops and you literally say to yourself "OMFGWHATTHEFUCKWASTHAT???" It is simply perfect. It is very highly stylistically shot, has a very dark, atmospheric ethos, has deep, interesting character development, impeccable dialogue and doesn't just tell the story of the books or acts as a direct prequel. It is stand alone. Yes, the same characters are there, but it is worlds away from the film adaptations. It is nightmarish and macabre. The casting is perfect.
Now, only just a few days have past since I saw the finale of Season 2, and I look back and laugh. Season 1 was absolutely phenomenal, but Season 2 has made that look like a Disney film. More dark, more tense, more nail biting, more epic, more daring, more challenging, more risqué. Right when you think you know where it's going, it takes you into a realm where you never thought possible. People, real people, have the imagination and the talent to write this. And again, some people watch a television programme about people watching television programmes. It makes me sick. So sick in fact, that I wrote a drunken email to NBC one night as if it were an ex-girlfriend, the producing channel of Hannibal in the US, and told them that even as a merry old Brit, that if it got cancelled, I would boycott all NBC past and present programmes and anything that was advertised during them. I hope there were legions of people acting the same, because as you watch, you get the feel that it is too advanced for some, or too 'talky' or doesn't provide a laughing track to tell you what bits are funny (Obviously Hannibal isn't a comedy, but there are some great light relief moments)
So I'm on a mission, to get as many people to watch it as possible. Bryan Fuller, creator and developer of the series, initially wanted to do a seven season arc – The first three seasons as stand alone seasons, the next three acting out Red Dragon, The Silence of the Lambs and Hannibal and then a final season to wrap it all up. Now, after reading a few interviews, he has changed his mind and is blending in characters and storylines where he sees fit in his own unique way.
Now, I don't think I could bring myself to watch the film adaptations again and not laugh. They are laughable – Mads Mikkelsen is the definitive Hannibal Lector. He is simply unbelievable, so cunning and wicked, who can say a thousand words with a simple facial change. Poor Anthony Hopkins. For me, Hopkins is now comical and increasingly camp as the films go on – Obviously Silence is a brilliant film, but always when I've watched Hannibal, there was something in the back of my head that screamed 'there is something off about this.' Red Dragon is what it is – It's alright, it refreshes the story that Manhunter created, but it just was cashing in. Funnily enough, I've never seen Hannibal Rising, and now I don't really need to.
So I plead – watch Hannibal, it is the greatest show ever. I know I've gone on about my own personal experiences about a television show, but I'm selfish and also didn't want to ruin the series for you. So I will leave you with some details that are important.
-Yes, the 'guy from Casino Royale' is Hannibal Lector and he owns it.
-As well as Mads Mikkelsen being the quintessential Lector, Hugh Dancy rips William Peterson and Edward Norton to bits as Will Graham.
-Gillian Anderson, Caroline Dhavernas and Katherine Isabelle are absolutely gorgeous.
-Eddie Izzard guest stars and doesn't wear high heels in any scenes.
-The girl from My Girl is in it and she's all grown up now, but still has a slight gap in her teeth
-It was recently renewed for a third season, so you have about 10 months to catch up. Quicker the better.
-At first you might not be able to make out what Mads Mikkelsen is saying because of his accent, but binge watching will help you tune your ear to his Danish tongue.
-Stags are fucking cool. The animals, but on an unrelated note, stag dos are pretty fucking cool as well.
-It was pulled from the bible belt in America. Can't handle the heat, Christains? Watch the God Channel or something instead.
Watch.
Re-watch.
Tell your friends to watch.
Be sure to read James's 26 Rules of Life as well.
Some of the coverage you find on Cultured Vultures contains affiliate links, which provide us with small commissions based on purchases made from visiting our site. We cover gaming news, movie reviews, wrestling and much more.