The Huntress is one of a plethora of dangerous bosses Kratos will encounter in God of War Ragnarok. The Huntress is a horned deer centaur who appears in the early game. She is incredibly fast and wields a lethal bone baton as her weapon. Here's how to beat The Huntress.
Lurking in the depths of the snowy forest, The Huntress attacks before Kratos gets a shield, so there is no way to shield bash or defend against her dangerous attacks. Dodging is crucial to survival in this tricky fight, and luckily her ranged attacks are telegraphed with a yellow circle giving plenty of warning and preparation time.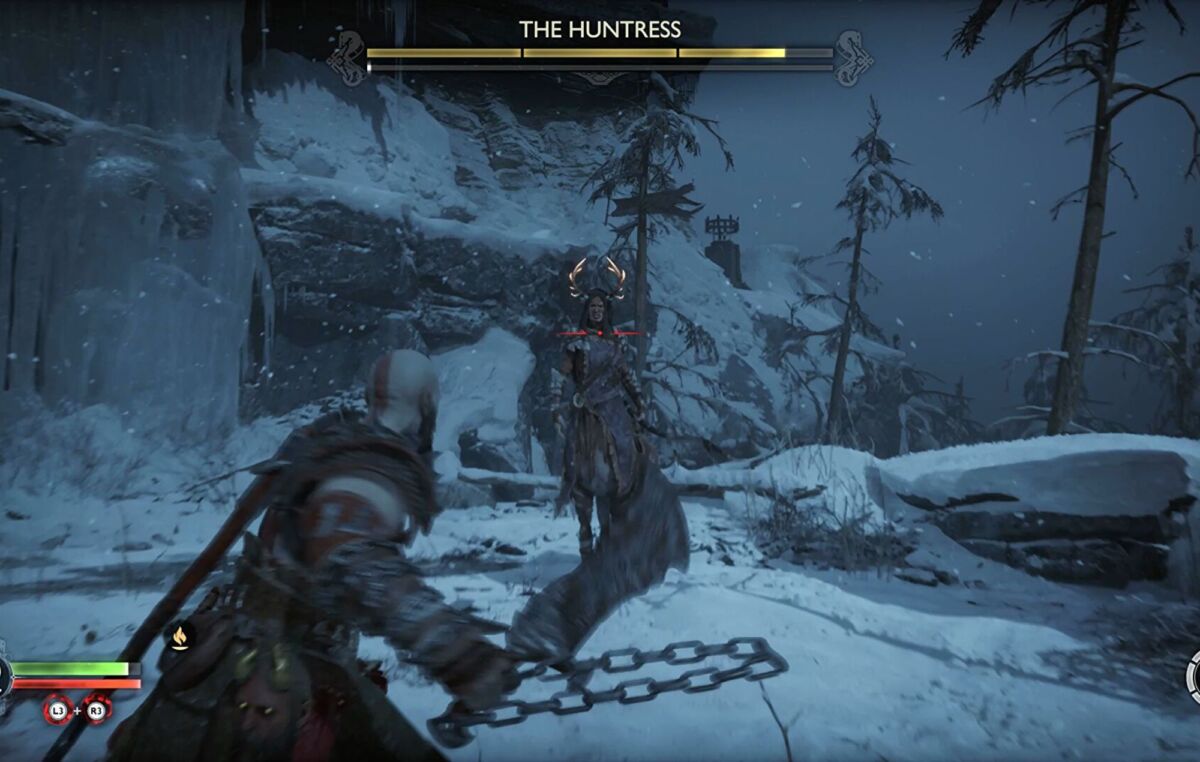 The Huntress does have vulnerability and defeating her on the first try should be simple if you follow the advice in our guide. Dealing damage to her head is the most effective strategy, as well as using Atreus' arrows to both distract her and fill the stun meter. Try not to position yourself behind her as, just like a real hoofed animal, she can powerfully kick backwards and she does so incredibly quickly, making it difficult to dodge.
Throw the Leviathan Axe at The Huntress' head and legs in order to knock her down, eventually stunning her after several of these attacks. The Huntress' horns will glow whilst she is powering up her attacks. If you time it right and strike her with the axe whilst she's doing this, she will be stunned and you're free to run up and unleash a combo at this point.
While she is on her knees, she is vulnerable, so move in close and land as many melee attacks on her head as possible. Move away before she becomes mobile again, as if you stay too close she can rear up on her hind legs and strike with a combo of front-legged kicks. From your retreated position, continue to dodge her attacks and repeat the process. After a few cycles of this, she will be defeated.
God of War Ragnarok is available on PS5 and PS4.
READ NEXT: God of War Ragnarok: How To Defeat Alva
Some of the coverage you find on Cultured Vultures contains affiliate links, which provide us with small commissions based on purchases made from visiting our site. We cover gaming news, movie reviews, wrestling and much more.