With us two weeks into Fortnite: Chapter 2 – Season 3, we are edging closer towards unlocking Aquaman as part of our Battle Pass offerings. While not as cool a skin (or character) as Deadpool from last season, with challenges that ask you to Use A Fishing Pole To Ride Behind a Loot Shark at Sweaty Sands, you may as well work towards them.
To unlock Aquaman, all you need to do is keep on completing these weekly challenges that unlock at the same time as the regular challenges. They're a bit of a cakewalk, even if Sweaty Sands is an almost too hectic place to land.
Here's everything you need to know to Use A Fishing Pole To Ride Behind a Loot Shark at Sweaty Sands.
Sweaty Sands & Fishing Pole Map
Sweaty Sands is a very large POI to the north of Holly Hedges. It is a very popular place to land, it being one of the most dynamic locations with the addition of more water.
While you can find fishing poles quite widely in Sweaty Sands, we strongly recommend you drop on the northern pier. It's far less trafficked than other areas, and there's even a barrel where you can take several fishing poles.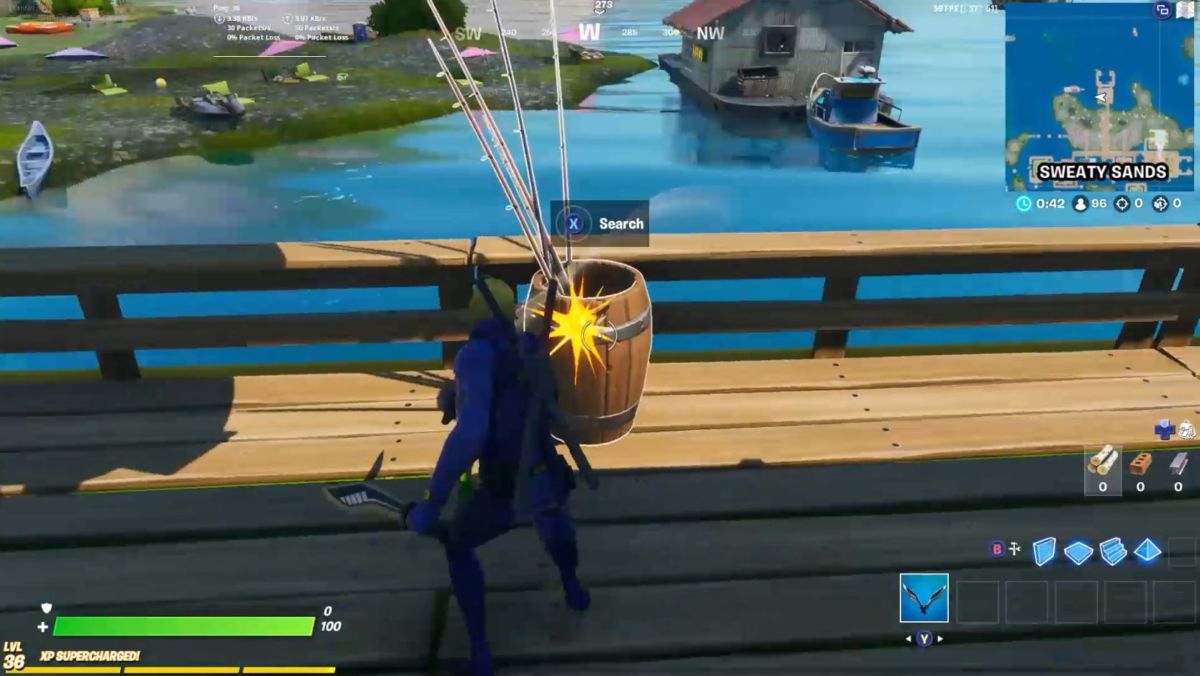 Once you have a fishing pole, the hunt is on for a Loot Shark. They spawn randomly, just like the consumable fish, so this may unfortunately be a bit of a nuisance challenge to complete. There will almost certainly be at least one each match at Sweaty Sands, so get a move on.
When you find a Loot Shark, all you need to do is cast your fishing pole with your attack input and then wait for them to take the bait. Even if the Loot Shark doesn't seem like it has noticed it, they seem to eventually.
Once he bites down on the bait, you will the be sent flying and start riding behind the Loot Shark. You don't have much control for direction, but you can jump and boost. If the Loot Shark goes on land, he will flop around a bit and then attempt to eventually get back in the water.
Don't forget: if you're yet to complete the week 1 challenge that asks you to damage Loot Sharks at Sweaty Sands, you may as well get that one done while you're done.
Unfortunately, the only reward you get for this week's challenge is a Trident! spray. Things start getting more exciting next week.
Fortnite: Chapter 2 – Season 3 is free-to-play on PC via the Epic Games Store, PlayStation 4, Xbox One, Nintendo Switch, iOS, and Android.
MORE FORTNITE:
– How Many People Play Fortnite?
– Fortnite Needs New Twitch Prime Packs
– Fortnite: Chapter 2 – Season 3 Victory Umbrella Revealed
Some of the coverage you find on Cultured Vultures contains affiliate links, which provide us with small commissions based on purchases made from visiting our site. We cover gaming news, movie reviews, wrestling and much more.