I once had a trial shift for a roller disco. The acting manager rollerbladed across the dance floor, knocking down at least three children in the space of five seconds, without the faintest glimmer of remorse. This was death by disco and I was merely a witness.
It only takes one quick look at me to understand I know nothing of rhythm. As a pale, 6'4, Stephen Merchant lookalike who has, at some point in his life, been compared to every single member of the Weasley clan of Harry Potter fame (damn you, J.K Rowling, for bringing ginger people into the public eye), I'm about as good at dancing as a bear is at not relieving itself in the woods. To be honest, dancing is a little terrifying and I'm immediately envious of anyone who can.
In game form, dance games are often an acquired taste. These days, the genre is largely dominated by the likes of Just Dance, requiring the player to get very much jiggy with it, clearing out precious floor space to risk launching Wii-motes at TV sets. The dance game format appeared as if it had peaked with nothing else left for it to explore.
Enter Floor Kids, which might just be one of the most fun and satisfying rhythm games since the halcyon days of PaRappa the Rapper.
Originally released on Nintendo Switch and Steam last year, Floor Kids is free-flowing break-dancing game that allows the player more or less complete free reign to orchestrate their grooves and moves as they see fit, tapping the controller face buttons in time with the beat to combine four different elements – Toprock, Downrock, Freeze and Power – and rack up the highest score possible.
Toprock and Downrock, achieved by flicking the left stick up and down, will be your bread and butter between standing and floor moves. Holding a face button and the left stick in the corresponding direction (i.e hold circle and the to left stick to the right) will activate a Freeze move, while holding R1/L1 and rotating the left stick will pull off a Power move. While implistic in theory, it does take a few levels to get to grips as you learn your own play style and the character-specific combos on offer.
Mixed in with the freestyling are Breakdowns, which happens twice per song. Offering a challenging curveball to each song, they task you with pressing a face button in time with the respective beat as it passes along the screen, adding an extra element of challenge and helping keep the levels from becoming too repetitive.
Combining all of these things, along with performing a certain move called out by the crowd, will rack up your score, resulting in earning crowns. More crowns equal more locations to dance in and more of your crew to unlock. A better performance earns you a character card – get four of these per stage and the crew member is yours. The stats differ to some extent, some will have better Toprock, for example, whereas others will be stronger at Power but this is a small details which never really factors too much into the gameplay. More than anything, it'll be your own crew member preference that determines your style.
There are eight crew members in total to unlock and although the controls are the same for each of the crew, they all have their owns unique dance styles and stats to make them feel different enough. For the most part, I stuck with Hiyo Ono (later I found out his character enjoyed wrestling and stand-up comedy so now we are basically best mates). You need to unlock every crew member and earn a total of 70 crowns to gain access to the final stage, The Peace Summit.
You'll get a summary of your efforts at the end of each dance, which is comprised of Funk, Flavour, Flow, Fire and Flyness – the dancing man's five-a-day. I often struggled working up a high score of flyness but, if you've so much as looked at my profile picture, this is pretty much art imitating life. Pulling off seamless combos, listening to the crowd, hitting advanced techniques and not falling flat on your face all contribute to higher scoring.
Although it does fall a little by the wayside, there is a background story to Floor Kids. A prophecy has foretold of your dancing skill and you are tasked with exploring to the city to Saturday Night Fever all over the place, amassing fellow dancers and ultimately becoming the ultimate dancing force. There are other dialogue-less cutscenes which work to give mantra-like guides to the next area and how to play the game, but they aren't vital to pay attention to.
There's no way around the fact that you will learn how to hit all the moves pretty early on (there are only 16, after all) and your confidence will grow, but it is quick for dancing complacency to set in. This is why the soundtrack of Floor Kids deserves massive praise and which each new level a delight to play with. Orchestrated by Kid Koala and JonJon, it's a genuine highlight of the experience. Admittedly, some of the tracks do get a touch similar, but there's enough variety to be found to keep the game engaging and I couldn't help but really appreciate the sketchy art-style.
Outside of the single-player, there are tutorial options and a practice mode, along with a local two-player dance battle that adds another layer to proceedings but is more a diversion from the meat of the game, if nothing else.
Floor Kids is a really stylish and quirky rhythm game, and in the time I spent playing, I mostly enjoyed what was on offer. The game's levels increase in difficulty as you progress but I never felt at the point were the challenge was too great for me to ever stop body-popping to my heart's content. Admittedly, things do start to become a touch repetitive after an hour or so of play but it's short enough to forgive what is a minor nitpick.
Some of the coverage you find on Cultured Vultures contains affiliate links, which provide us with small commissions based on purchases made from visiting our site. We cover gaming news, movie reviews, wrestling and much more.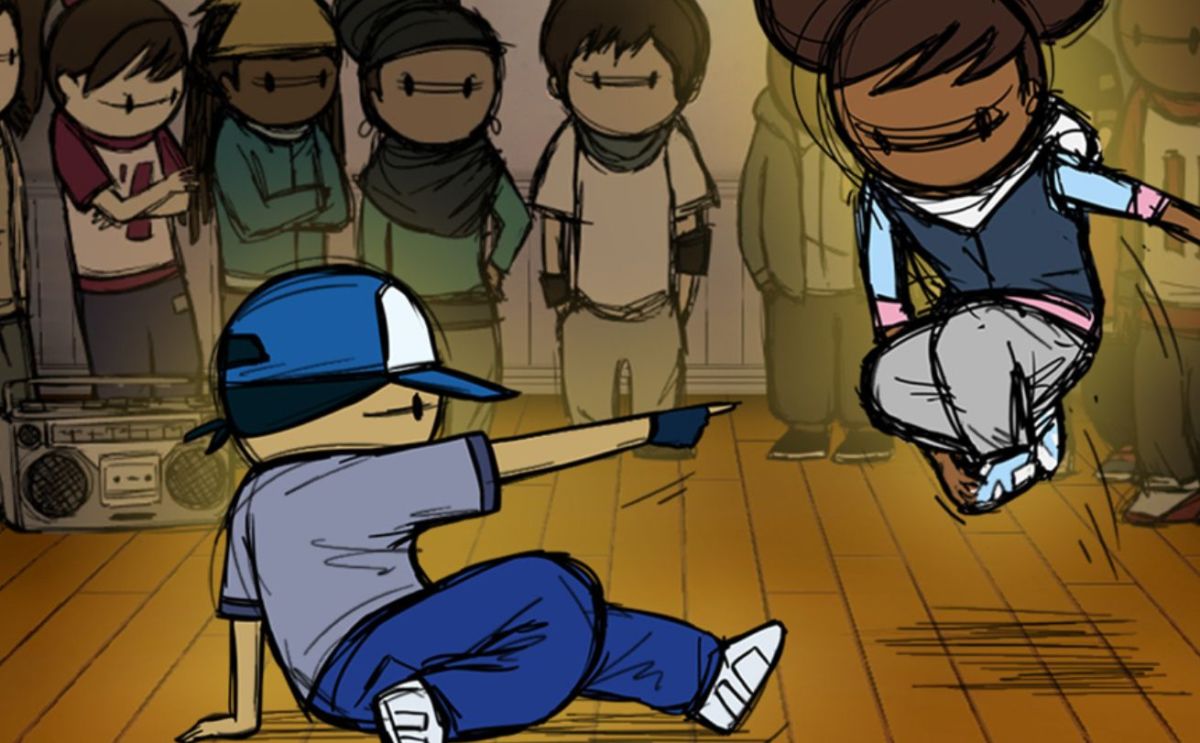 Verdict
It's funky, unique and different to anything else on offer right now – Floor Kids is a music game truly dancing to the beat of its own drum.