Modern football has a bigger impetus on the midfield than ever, especially when the top teams have midfields that can do half of a defender's job for them. The likes of Thiago and De Bruyne don't come cheap though, so you might be better served hunting down some of FIFA 21's best wonderkid midfielders instead.
We've compiled a collection of the best youngsters in the middle of the park who won't make you break the bank, Havertz-style. Each of the wonderkids you find below can be picked up for less than €5M and have the potential to grow into some of the game's greatest players. As long as you choose the right development plan, you may never have to splash the big bucks in your Career save.
While not all of these wonderkids will be able to slot into your squad from the moment you sign them, they can all be turned into potential world beaters within just a few short years.
MORE WONDERKIDS: FIFA 21's Cheapest Wonderkids With Huge Potential
FIFA 21: Best Wonderkid Midfielders
Aster Vranckx (CM/CDM)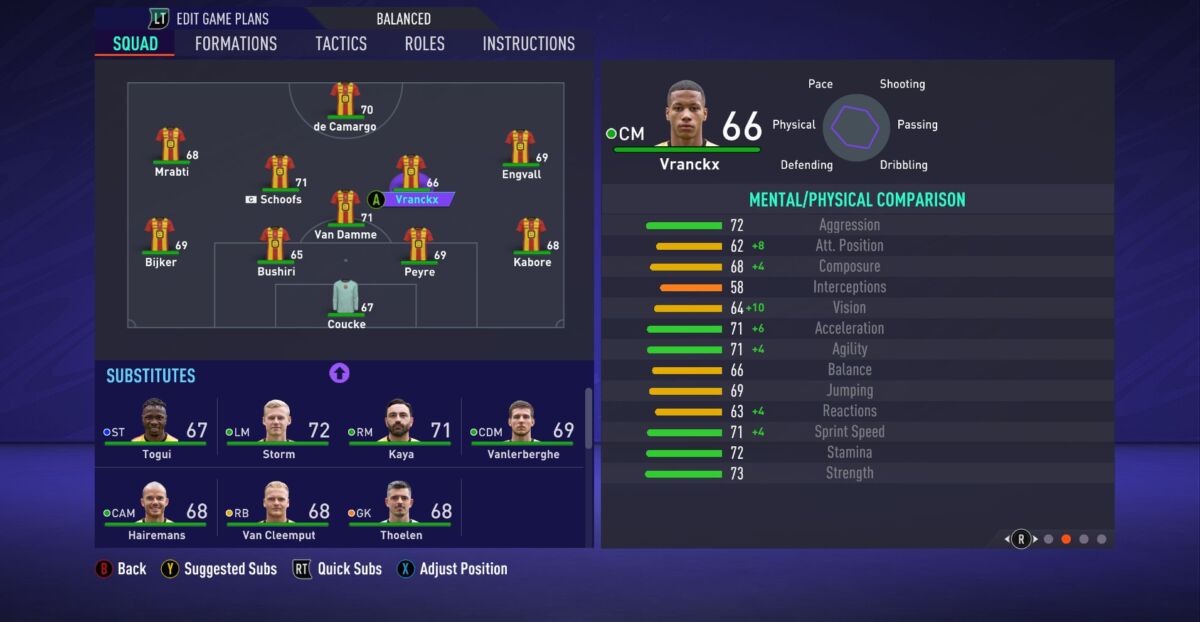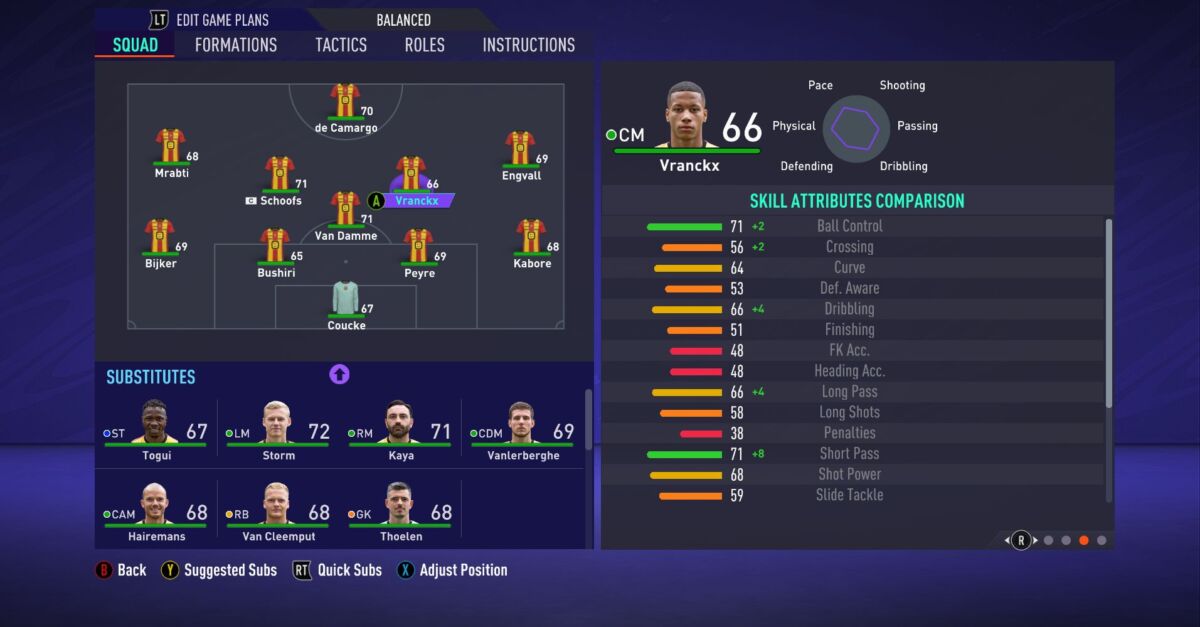 Age: 17
Rating: 66
Potential: 86
Nationality: Belgian
Current Club: KV Mechelen
Value: €1.3M
Aster Vranckx has all the attributes required to go on to become a global superstar, according to FIFA 21. The Genk midfielder has the pace and strength to dominate most games, all while only being 17 years of age. He can also be yours for as little as a few million euros.
In his first season, Vranckx should probably be used as a rotation player — give him some minutes off the bench and in cup games. Within no time at all, you'll find he has the ball magnetised to his foot and able to dictate games from the middle of the park. While he's mainly a central midfielder, he can also do a job if you want to push him further back.
Nail Umyarov (CDM)
Age: 20
Rating: 68
Potential: 84
Nationality: Russian
Current Club: Spartak Moscow
Value: €1.9M
Umyarov isn't a midfielder that immediately impresses in FIFA 21. While he's not bad at anything, he doesn't excel in many areas, either. What you're getting with Umyarov after developing him over a couple of seasons is an all-rounder whose a solid body in the middle.
Think of Umyarov as the "water carrier" for your team, someone who can do the simple things very well and always be relied on. Think of a Russian Michael Carrick and that's pretty much what you're getting with Umyarov, so never expect him to chip in with a load of goals.
Florian Wirtz (CAM)
Age: 17
Rating: 68
Potential: 88
Nationality: German
Current Club: Bayer 04 Leverkusen
Value: €1.8M
Leverkusen fans didn't have much cause for concern when Havertz was sold to Chelsea for an astonishing amount of money. As the Bundesliga's youngest ever goalscorer, it seems that Wirtz is already a feasible replacement and his FIFA 21 potential reflects that.
Considering that he could reach an 88 rating, you being able to buy Wirtz for less than €5M by activating his release clause is, quite frankly, ludicrous business. At 17, he may lack the strength to make an immediate impact in an elite team, but expect him to be weaving magic around defences with ease by his early 20s.
Yusuf Demir (CAM)
Age: 17
Rating: 64
Potential: 85
Nationality: Austrian
Current Club: Rapid Wien
Value: €975K
Who doesn't love a starlet from a team in the Swiss league? Rapid Wien (Rapid Vienna) seem to have quite the prodigy on their hands in the form of Yusuf Demir, a silky CAM whose €2.4M release clause should make him an almost immediate buy in your Career save.
Boasting superb ball control and dribbling, as well as a welcome burst of pace, Yusuf Demir could be looked at as a budget version of Wirtz, someone to sit behind the striker and light up attacks. He needs to work on his ability in front of goal, especially where finishing is concerned, but that's what development plans are for.
Jude Bellingham (CM)
Age: 17
Rating: 69
Potential: 88
Nationality: English
Current Club: Borussia Dortmund
Value: €2.1M
Everyone knows who Jude Bellingham is, but most probably don't know that he can be yours for an absolute snip in FIFA 21. Despite signing for Dortmund as the most expensive teenager in football history, he can be yours for far, far less than what Dortmund paid.
The sky really is the limit as far as Bellingham is concerned. He's already starting games for Dortmund and you wouldn't be crazy to do the same. A strong tackler who has the ball glued to his feet, Bellingham will be one of the best midfielders in the division by the time he reaches 20, not to mention his overall potential of 88 making him one of the best in the world.
Rayan Cherki (CAM)
Age: 17
Rating: 67
Potential: 88
Nationality: French
Current Club: Lyon (OL)
Value: €1.7M
Though he's yet to grab his first senior goal for Lyon, Rayan Cherki is a player that FIFA 21 rates very highly indeed. Even though he's only played a handful of first-team games, Cherki already has 5 star skill moves in the game and a trio of traits. Not bad for a 17 year old.
Though not the quickest player around, Cherki looks like he will be one of the best CAMs in the world by the time he reaches 20. With a potential 88 rating and ability on the ball that most Ligue 1 players could only dream of, Cherki definitely needs a development plan to improve his physical attributes to help him flourish.
Marco Kana (CDM)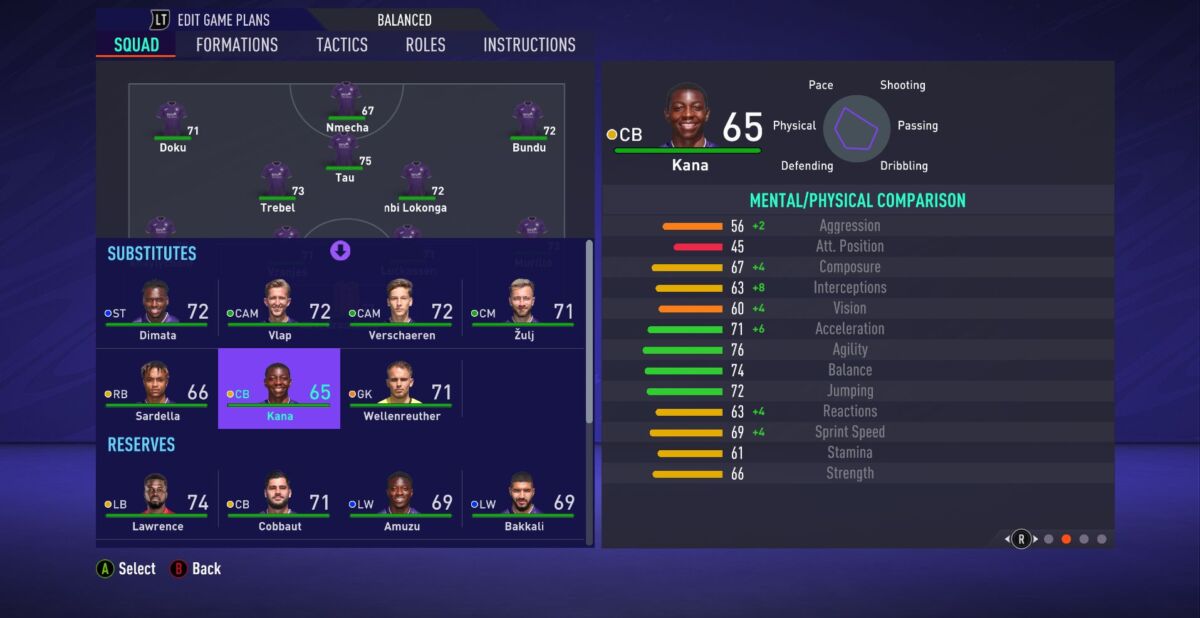 Age: 17
Rating: 65
Potential: 85
Nationality: Belgian
Current Club: RSC Anderlecht
Value: €1M
One of the best bargains in all of FIFA 21? We think so. While Anderlecht's Marco Kana is actually a natural CB, you'd be wise to move him to CDM as soon as you sign him for a couple of million thanks to his decent passing ability.
Playing as a CDM, Kana should be able to mop up most attacks and then launch a counter. While he isn't going to be the quickest player on the pitch, a development plan can help him pick up the pace. He already has the leadership trait at 17, so if you want a warrior in the middle of the park, you know where to look.
FIFA 21 is available now for PC, PS4, and Xbox One. A Legacy Edition is also available for Switch.
Some of the coverage you find on Cultured Vultures contains affiliate links, which provide us with small commissions based on purchases made from visiting our site. We cover gaming news, movie reviews, wrestling and much more.