Available from October 7th, Far Cry 6 is the latest massive Ubisoft game that also has a massive variety of in-game purchases that range from weapon charms to intel hints to fancy dress for your cock.
Get your mind out of the gutter.
Far Cry 6 features an in-game store available from the main menu and from the pause menu that has items in the following categories:
– Featured (seemingly rotated items)
– Add-Ons (Season Pass)
– Bundles
– Equipment (game-changing weapons, also charms and outfits for your animal friends)
– Transport (exclusive vehicles, including a horse that's on damn fire)
– Utilities (map locations for plenty of the collectibles, also Spray Cans for cosmetics)
– Far Cry Credits
– Ubisoft Connect (free stuff)
All of these items are purchased with Far Cry Credits, the currency that's only available through additional purchases of ever expensive amounts. As is so often also the case, you will probably have to buy a more expensive "tier" of Far Cry Credits to purchase a bundle with you then having some left over.
Far Cry Credits are available from the Base Pack (500 Far Cry Credits) up to the XL Pack (6600 Far Cry Credits). Prices range from £3.99 to £39.99.
What's somewhat nefarious here is that the Medium Pack is labelled as "Popular" even though the store had just gone live as we started browsing the in-game store — there's no way enough of those had been sold already for it to get a special label.
The Bundles section prices range from 600 Far Cry Credits to 1500 Far Cry Credits, with costumes including collaborations with other Ubisoft properties like Rainbow Six and Assassin's Creed.
Here's a little glimpse at what's in the King & Country Bundle as an example, which costs 1500 Far Cry Credits (roughly £15.99).
That's an exclusive gun, gear, transport, and even a big red button to help you live out your best Johnny English. The gear won't make you invincible or anything like that, though it may give you a leg up in certain situations as it will grant you effects like faster crouch walking, and silenced weapon damage when worn — it's not just cosmetic.
Equipment features weapons like the Hammer of the Gods, Cartomancer, White Lotus, and Serenity on launch day, which may give you a leg up. This is in line with the kind of additional purchase guns Far Cry 5 had, though charms seem to be a new cosmetic purchase for the new game.
Underneath those are Amigos Outfits, which include the aforementioned cock costumes.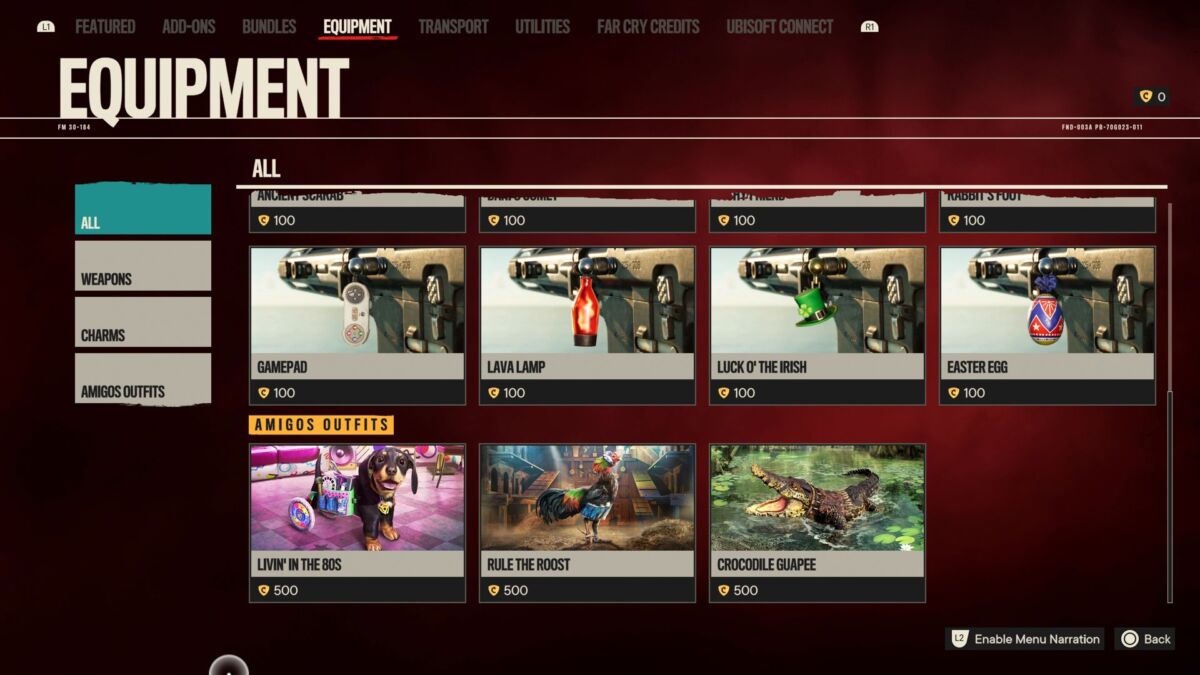 Transport comes with cars, boats, bikes, and even special horses for sale, with prices going as high as 700 Far Cry Credits, around £7.99.
Utilities is where the game's "time-savers" are, as they will help you to find the locations for Jewelry Boxes, USB Songs and Roosters for an additional purchase. Spray Cans can also be found in-game as well as bought as this store, though they seem to be just cosmetic weapon skins.
However, it is worth noting that there doesn't seem to be an XP booster item or anything truly game-breaking available in the store, at least not yet.
That's quite a lot of DLC and microtransactions for a game that has several different editions and also a not inexpensive Season Pass at £32.99. It is all, of course, optional and the game hasn't yet made a big fuss about selling me all of this extra stuff, though there's an icon to visit the store right next to the option to play co-op that isn't exactly out of sight. There's also an eye-catching prompt to check out bundles from the main menu.
Ubisoft keep adding these very "robust" microtransaction stores into their games, so people must be spending money in them for them to become such a staple of every major release of theirs. While many might baulk at spending good money on basically dressage for chickens, it's not something that's going away.
Far Cry 6 is available on PC, PS4, PS5, Xbox One, Xbox Series X | S, and Stadia.
READ NEXT: The History Of Far Cry
Some of the coverage you find on Cultured Vultures contains affiliate links, which provide us with small commissions based on purchases made from visiting our site. We cover gaming news, movie reviews, wrestling and much more.