Is it 2020 again? Because we're about to hop on Fall Guys and yeet some adorable little beans into the void so we can claim that crown. With Fall Guys: Ultimate Showdown launching as a free to play game across PC, PS4, PS5, Xbox One, Xbox Series X | S, and Switch, Mediatonic and Epic Games have brought with it the ability to utilise cross-progression, which ensures your cosmetics and goodies travel with you across multiple platforms.
If you've got a bunch of shiny cosmetics on one profile and want to show them off on another platform, or you want some easy achievements, here's how you can activate cross-progression in Fall Guys.
Fall Guys Cross-Progression Guide
In order to enable cross-progression, you need to make sure that all the accounts you're looking to play Fall Guys on are connected to the same Epic Games Store account. As Fall Guys is published by Epic Games, you'll need to have an active EGS account in order to utilise the benefits of cross-progression. If you're already playing Fortnite or Rocket League on the regular, it's likely that you'll have already got this set up, but that might not be the case for some people.
Here's how you link your console or Steam accounts to Epic Games Store:
– Create an Epic Games Store account via the official Epic Games website, either from scratch or by signing in using your platform profile.
– Head over to your EGS account profile.
– Click on the Connections heading, followed by Accounts.
– From here, you can connect and disconnect your Steam, Github, Twitch, PlayStation Network, Xbox Live and Nintendo Switch Online accounts.
– After clicking the account you want to link, follow the on-screen instructions to sign in and your account should be linked.
– Once all your relevant accounts have been linked, cross-progression should automatically be enabled across them, so if you've linked your PlayStation, Xbox and Switch accounts, you should be able to make progress across all three.
All being well, your progress from one platform should now be carried over to another.
Fall Guys Cross-Progression Account Linking Troubleshooting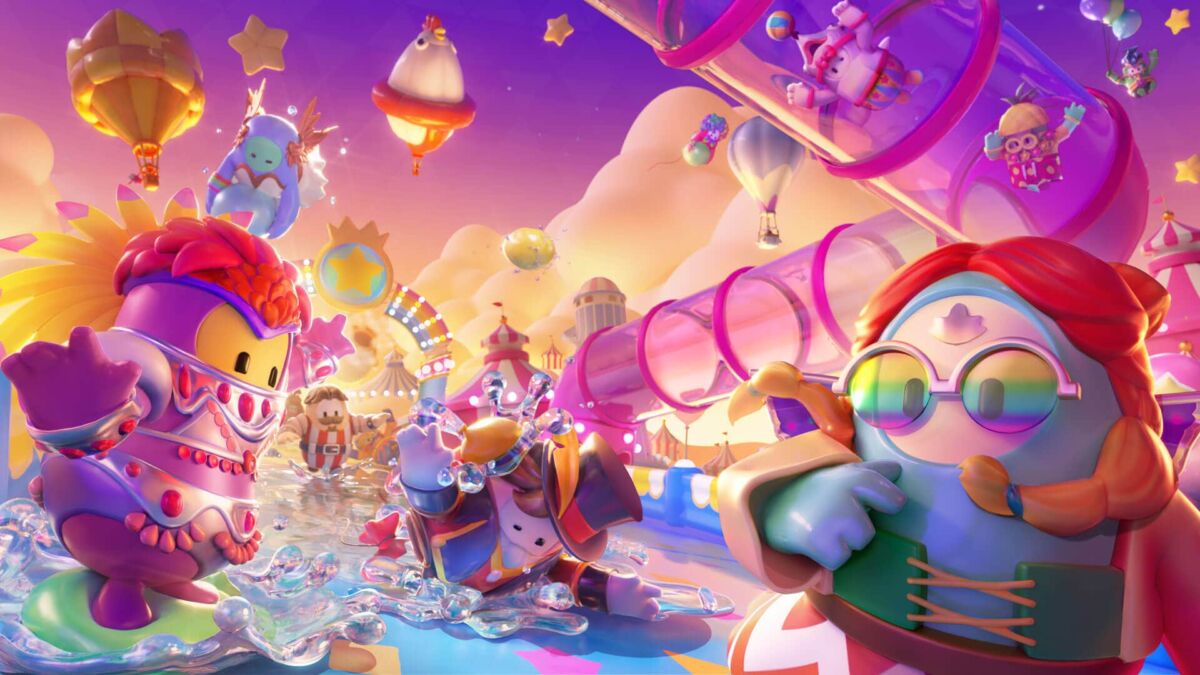 So, titles from Epic Games that utilise cross-play and cross-progression will automatically create a placeholder account tied to the platform you're playing on, so if you've booted up Fortnite on Xbox or Fall Guys on PlayStation once upon a time, you'll have a dummy account tied to the relevant account. With two placeholder accounts tied to both console profiles, cross-progression becomes a bit more complicated to enable.
In order to have your cosmetics, purchases and even your statistics and achievements/trophies carry over from one profile to another, you'll need to unite your accounts under one EGS account, which means signing in through the EGS website through all associated platform accounts using the method outlined above, upgrading them to full EGS accounts by entering in your details and email address, then unlinking the console account tied to the EGS account. Once you've unlinked your console account, you'll then be able to relink it to your main EGS account.
Here's an example: I already had cosmetics and unlocks available on Fall Guys via playing the game in 2020 on PS4, and upon booting the game up on PS5 earlier today, I received a bevy of Legacy rewards including the first season pass of the free-to-play era and new cosmetics. However, because my Xbox account was tied to another EGS account, I had to unlink the Xbox account to connect to the same EGS account the PSN profile is tied to in order to access my cosmetics on Xbox.
Fall Guys: Ultimate Knockout is available on PC, PS4, PS5, Xbox One, Xbox Series X | S and Nintendo Switch.
READ MORE:  Evil Dead: The Game: How To Play Cross-Play With Friends
Some of the coverage you find on Cultured Vultures contains affiliate links, which provide us with small commissions based on purchases made from visiting our site. We cover gaming news, movie reviews, wrestling and much more.