Film and television are notoriously demanding industries that take a heavy toll on any person's well-being, no matter how old they are. The same is true for child actors, who are entering the trade at a time when they are still developing, and some may choose to give up on the industry for one reason or another. From individuals who left acting for teaching to more notorious stories in the early days of Hollywood, here is a list of some child actors who gave up on acting.
Note: Some of these stories involve subject matter which may be triggering for some, including substance and emotional abuse.
1. Peter Ostrum
First Appearance: Willy Wonka and the Chocolate Factory (1971)
Last Appearance: Remembering Gene Wilder (2023)
One child actor who had a notably short career was Peter Ostrum. Born in 1957, he was twelve years old when talent agents selected him for the role of Charlie Bucket in the movie adaptation of Roald Dahl's novel Charlie and the Chocolate Factory.
Though Ostrum enjoyed his experience working on the film, he declined to sign a three-movie contract after the completion of filming. After auditioning for but not getting any theatre or movie roles, Ostrum instead focused on a career in veterinary care. He now lives with his family in Lowville, New York, and revisits the film every couple of years.
2. Carrie Henn
First Appearance: Aliens (1986)
Last Appearance: In Search of Tomorrow (2022)
Born in 1976, Carrie Henn was just nine years old when she played Rebecca 'Newt' Jorden in James Cameron's iconic sci-fi action film, Aliens. Her father, who worked in the U.S. Air Force, was stationed in England when she was scouted at her school in Lakenheath. Co-star Sigourney Weaver took an inexperienced Henn under her wing during production, and the pair have stayed close friends since.
Though she briefly considered acting and is still very involved in the Aliens franchise, she gave it up in lieu of her true passion: becoming a teacher. She is now an elementary school teacher and has since appeared in In Search of Tomorrow, a documentary that delves into iconic science fiction movies of the 1980s.
3. Mara Wilson
First Appearance: Melrose Place (1993)
Last Appearance: Ollie & Scoops (2022)
Mara Wilson is one of the most recognisable child actors of the 90s. Starring in films like Mrs Doubtfire, Miracle on 34th Street and Matilda, she first became interested in acting when she saw her older brother Danny doing TV commercials.
However, after 2001's Thomas and The Magic Railroad, she quit the industry, stating that "film acting is not very fun." She has gone on to star in theatre roles, appeared in web shows, and even taken on television roles in shows like BoJack Horseman.
4. Mary-Kate and Ashley Olsen
First Appearance: Full House (1987)
Last Appearance: Scatter my Ashes at Bergdorf's (2013)
Born in 1986, the Olsen twins started their acting careers at just 9 months old, with both of them playing the role of Michelle Tanner on the sitcom Full House. Laws said infants could only work 20 minutes at a time, so with twins, this allowed double the work time, though the pair did not enjoy the experience in retrospect.
However, the success of Full House would pave their way to popularity, with them starring in their own shows like The Adventures of Mary-Kate and Ashley, and Mary-Kate and Ashley in Action! Though the pair would go on to star in TV and film roles, their lessening passion for acting was rivalled by their desire to explore other creative avenues. In 2006, they founded their own fashion label, The Row, where they still work as a partnership.
They have since retreated from the spotlight, with Mary-Kate briefly pursuing a brief solo acting career, while Ashley has only made a couple of movie appearances since retiring from full-time acting in 2004.
5. Jeff Cohen
First Appearance: Little Shots (1983)
Last Appearance: Perfect Harmony (1991)
The Goonies is one of the most well-known comedy films to come out of the 80s, with some iconic performances from talented young actors at the time. One of the cast was Jeff Cohen, who played Chunk. One of the things that got him roles at the time was "his chubby kid essence", as there were limited roles for someone of his body type.
When he hit puberty and his image changed, he stopped getting hired for roles and left acting. However, he stayed in the entertainment business, using connections he made through Goonies director Richard Donner to get work behind the scenes and eventually become an entertainment lawyer. He co-founded his firm, Cohen & Gardener, in 2002.
6. Ke Huy Quan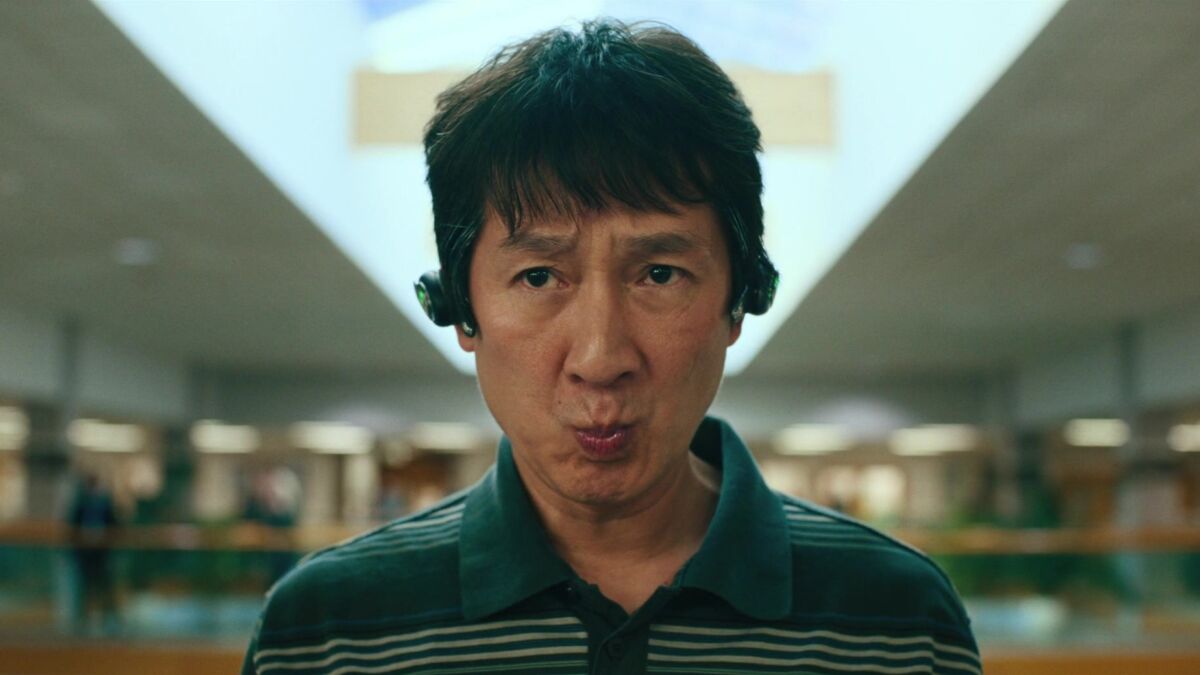 First Appearance: Indiana Jones and The Temple of Doom (1984)
Last Appearance: American Born Chinese (2023)
Another cast member of The Goonies would leave acting, at least for a time. Vietnamese American actor Ke Huy Quan, or Jonathan Ke Quan, is known for his roles as Short Round in Indiana Jones and The Temple of Doom and Data in The Goonies. He eventually quit acting after appearing in the 1997 film Red Pirate, since there was a lack of roles for him in Hollywood.
After graduating from a film program at the University of Southern California, he found work behind the camera as a stunt choreographer and assistant director. However, after being inspired by the success of the 2018 film Crazy Rich Asians, he returned to acting as Waymond Wang in the 2022 film Everything Everywhere All At Once, for which he won an Oscar.
7. Barret Oliver
First Appearance: Jekyll and Hyde … Together Again (1982)
Last Appearance: Scenes from the Class Struggle in Beverly Hills (1989)
Though he had minor roles during his career, Barret Oliver is most well-known for his performance as Bastian Balthazar Bux in the 1984 film adaptation of The Neverending Story. However, the role would go to Jonathan Brandis in the 1990 sequel, due to Oliver being in his late teens at the time.
He would go on to star in other roles, including the 1985 movie Cocoon and its 1988 sequel Cocoon: The Return. He left the industry in 1989, never commenting on why in interviews. After a relatively short acting career that concluded just 7 years after it started, Oliver instead became a photographer and a printer.
8. Ariana Richards
First Appearance: Into The Homeland (1987)
Last Appearance: Battledogs (2013)
Ariana Richards is no stranger to TV and film. Though she's best known for playing the character Lex Murphy from the Jurassic Park franchise, Richards also has starred in other notable projects such as Tremors and episodes of The Golden Girls and Boy Meets World. Though she took a hiatus from acting in 2001 after the third Tremors movie, she briefly returned to acting in the 2013 film Battledogs.
She has also ventured into other creative avenues with a brief foray into music and a successful career as an artist, winning the National Professional Oil Painting Competition in 2005. Her Jurassic Park counterpart, Joseph Mazzello, is still acting.
9. Shirley Temple
First Appearance: Runt Page (1931)
Last Appearance Appearance: America at the Movies (1976)
Arguably the most famous child actress of all time, with even a non-alcoholic cocktail named after her, Shirley Temple began acting when she was 3 years old. She would appear in 43 films by the time she was 21 and retire from film acting at 22, with guest appearances and some television roles in the late 50s and early 60s being her only subsequent acting after.
Though her acting career meant she sat on company boards like Walt Disney, she would start a diplomacy career in 1969 when she was chosen to represent the United States during a United Nations General Assembly session. She would go on to work as an ambassador for Ghana and Czechoslovakia and serve as the Chief of Protocol of the United States.
10. Danny Lloyd
First Appearance: The Shining (1980)
Last Appearance: Doctor Sleep (2019)
Born in 1972, Danny Lloyd's most well-known role was appearing as Danny Torrance in Stanley Kubrick's 1980 adaptation of Stephen King's The Shining. Though he was only 6 years old at the time of making the movie, the cast and crew were able to film all his scenes by leading him to believe he was starring in a drama film instead of a horror production. Lloyd had a very limited acting career with only one other movie role at the time: a young G. Gordon Liddy in the 1982 film Will: G. Gordon Liddy.
Instead, Lloyd pursued a career in teaching and, in 2004, became an associate professor in the Elizabethtown Community and Technical College's biology department. He would make one last acting appearance in 2019 as a cameo in The Shining's sequel Doctor Sleep, 36 years after his last role.
11. Caitlin Sanchez
First Appearance: Law & Order: Special Victims Unit (2006)
Last Appearance: The Secret of Atlantis (2012)
While Caitlin Sanchez may not be as famous as other retired child stars in this list, her story is still worth telling. The character of Dora the Explorer was originally voiced by Kathleen Herles, who departed the role in 2008 after choosing to focus on college.
Sanchez would take over the role until 2012 when a new actress would be found for the role. The reason for this? Sanchez was going through puberty. Dora the Explorer as a show would get cancelled in just 2 years, with the final episodes not airing in the United States until the summer of 2019.
12. Jennette McCurdy
First Appearance: Mad TV (2000)
Last Appearance: The First Lady (2018)
Born in 1992, Jennette McCurdy started her acting career on Mad TV at the age of 8. Though starring in episodes of shows like CSI: Crime Scene Investigation, Law and Order: Special Victims Unit, and Malcolm in the Middle, McCurdy found her fame on the Nickelodeon show iCarly. She played the character of Sam Puckett from 2007 to 2012. Along with her work on music, McCurdy continued to work on Nickelodeon projects, as well as a 2015 Netflix show, Between.
However, her success was coupled with her mother's emotional abuse, who controlled her daughter's life to an obsessive degree and projected her failed aspirations of being an actor onto her. Her mother died in 2013, and McCurdy would go on to become a writer and director. Among her works was a one-woman show that later got adapted into a memoir called I'm Glad My Mom Died.
13. Jake Lloyd
First Appearance: ER (1996)
LastAppearance: Madison (2001)
While actors are no strangers to hateful comments from some of their audience, sometimes this can escalate into horrible situations that could've been avoided. Nowhere is that more prevalent than in the case of Jake Lloyd. Though he got his start in ER and later starred in Jingle All the Way alongside Arnold Schwarzenegger, his role as a young Anakin Skywalker would forever live in infamy. After starring in The Phantom Menace, a young Lloyd was tormented by his peers, Star Wars fans and the press until he finally announced his retirement from acting in 2001.
As he grew older, Lloyd became increasingly troubled, including incidents with the law, like one involving his mother calling the police on him in 2015. Tragedy would follow him again in 2018, following the unexpected death of his younger sister, Madison. Though he was diagnosed with paranoid schizophrenia, his mother stated in 2020 that Lloyd had moved closer to his family and is progressing well with his mental health.
14. Amanda Bynes
First Appearance: Bruncha Crunch commercial (1993)
Last Appearance: Easy A (2010)
Amanda Bynes started professionally acting at 7 when she starred in a candy commercial. She found success through television, working on Nickelodeon shows like All That and The Amanda Show, and movies including Robots, She's the Man and Hairspray. However, issues in her personal life, including substance abuse and legal troubles, were exacerbated by the surrounding publicity.
In 2013, her parents filed for a conservatorship; in 2014, she was diagnosed with bipolar disorder. However, in the years since, she has focused on her recovery, checking herself into rehab in early 2019 after a relapse. She announced her engagement to Paul Michael at the end of 2019 and has since stayed sober, with her conservatorship ending on the March 22, 2022.
15. Bobby Driscoll
First Appearance: Lost Angel (1943)
Last Appearance: Dirt (1965)
The story of Bobby Driscoll is the most notorious of child actor stories. Born in 1937, Driscoll's acting career was encouraged by his family. Though he got his first movie role in 1943, it was his time under Disney that would truly see his rise to fame, starring in films such as Treasure Island and the controversial Song of the South. He even got an Oscar for performing in the films So Dear to My Heart and The Window in 1950.
His most famous role under the house of mouse was as Peter Pan, being both a model for the animators and the character's voice actor at 16. However, Driscoll's contract with Disney would get cancelled due to puberty and acne. At the age of 17, he started experimenting with narcotics. From there, he got fewer roles and became more dependent on his drug habit. When he reflected on his time as a child actor, Driscoll was quoted as saying, "I was carried on a silver platter and then dumped into the garbage can." His last film role was Piero Heliczer's Dirt.
On March 30, 1968, two boys playing in an abandoned building found his body, where a post-mortem determined he had died from heart failure due to advanced atherosclerosis from his prolonged use of drugs. He was 31. Buried in an unmarked grave on Hart Island, it wasn't until 1969 that the body was identified, when his mother started looking for him so he could be reunited with his dying father.
READ NEXT: Ranking M. Night Shyamalan's Movies From Worst to Best
Some of the coverage you find on Cultured Vultures contains affiliate links, which provide us with small commissions based on purchases made from visiting our site. We cover gaming news, movie reviews, wrestling and much more.