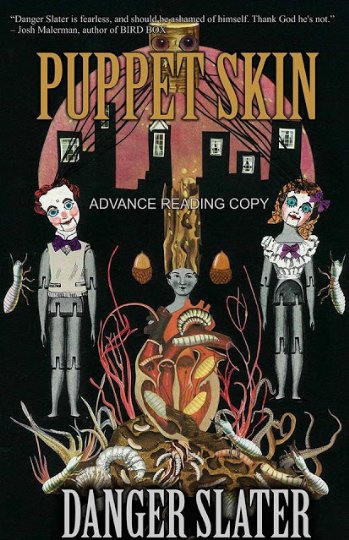 You would expect the act of writing adventurously to come naturally to someone with a name like Danger Slater, and he certainly did not disappoint. Puppet Skin holds no boundaries; it's an innovative circus show of all things weird and wonderful, condensed into a tidy 140 pages. With a badass, rebellious girl as the focus of the story and plenty of unusual injuries dotted throughout the plot, think The Catcher in the Rye meets Saw in a borderline dystopian fairytale gone wrong.
The story follows Hannah, a regular girl, as she prepares to 'graduate' – undergo the transition from human to puppet, a necessary procedure in the world where all adults are puppets. A couple of harrowing experiences involving an old man in a park dying before her eyes and her psychiatrist trying to kill her are enough to confirm Hannah's already established doubts about adult life and whether she is ready to venture into wooden skin. Throw in a stampede, a scary testing room and a few too many maggots, and you have yourself a quaint little novella that makes you question the concept of adulthood and what it actually means.
Possibly one of my favourite things about Puppet Skin was Hannah, the protagonist. In true dystopian fashion, she's a strong-willed and powerful female character, whilst all but one of the men in the story end up being corrupted by bug infestations (lovely, I know). Hannah is independent, free-thinking and turns up her nose at all things adult, Holden Caulfield style. It's not often that a writer can twist reality so radically and still create convincing characters, but absurd scenes are crafted so that you barely notice that they're impossible, and more importantly you don't really care. At one point Hannah tears out her own heart – the kind of thing which would normally make me squirm – but it's told with elegance in a quiet, non-violent scene that somehow excuses it from being disgusting.
After much deliberation the only downside I can spot is that I found myself using the 'define word' feature on iBooks more regularly than I care to admit – this book sports lexical rarities like 'moribund' and 'citadel' (where do people find these words?). Depending on whether or not you care for expanding your vocabulary this could be a bit of a distraction from the flow of the plot, but I'll leave that for you to decide. Personally, I quite liked having a chance to learn new words in a way that wasn't just sitting and writing out the word with its definition twenty times over. But that's just me, and admittedly Puppet Skin could prove to be hard work if you're a night time sleep-reader.
On the whole, though, I greatly enjoyed reading this book. It's a chilling tale with completely unpredictable twists and turns, built around a strange little universe which unfortunately is probably more symbolic of our own societies than we'd like to think. Nevertheless, it's still massively creative and original, and a neat account of one girl's life in a slightly distorted world.
Some of the coverage you find on Cultured Vultures contains affiliate links, which provide us with small commissions based on purchases made from visiting our site. We cover gaming news, movie reviews, wrestling and much more.