To be honest, I don't think Vincent Price has ever actually scared me. Yet there is something about the multifaceted, unforgettable approach he brought to villainy that will probably stay with me for the rest of my life. The great actors and actresses of the horror genre do not have to actually be scary, in order to make a connection to the audience. They simply have to bring something to the material that makes it almost impossible to imagine that material without them.
A good example of the above thought with Price would be the numerous Edgar Allan Poe movies he worked on. Yeah, there have been a ton of Poe film adaptations through the years, but I really don't care about the vast majority of the movies that didn't feature Price. He was the perfect actor to play characters like Roderick Usher or Nicholas Medina. While he was not overtly scary in those roles, he did set the bar for the kind of bad guy who could still capture your attention. He frequently transcended the notion of merely being scary. In the best Vincent Price films and worst Vincent Price films, he was rarely boring. The horror films of Vincent Price could establish tension and atmosphere on their own terms. Price would then bring his singular presence to the proceedings. He enhanced the tension and atmosphere through performances that were so unique, they didn't have to be outright scary. They were an approach to evil, sympathetic or not, that were essential to the appeal of the movie.
Because if Vincent Price was one thing (and he was a lot of pretty amazing things), he was versatile. This is something that has unfortunately been lost to history. Part of that is due to a lot of the choices Price made in a film/television/stage career that spanned over fifty years. The unreasonable phantom of typecasting loomed heavily over Price by the end of the 1960s. Although he would have numerous opportunities in the years following that decade (arguably, his most successful on a number of fronts) to prove he was one of the most underrated actors of his day, particularly when he received rave reviews for his one man show about Oscar Wilde, the 70s and 80s were also fairly unkind to Price. A fantastic actor, Price's desire to never stop working compelled him to accept things that were more often than not beneath him. To be sure, some of the silliest things Price ever did in his career are also a lot of fun. Unfortunately, at the same time, they collectively created the suggestion that Price could do little more than play at high camp.
While there is no question that no one could do campy roles like Price could, he could also do a hell of a lot more. Taking the time to visit an amazing career that saw him operate effectively and memorably in dozens of films and genres, the unshakable fact of his depth and versatility as an actor will come to you over and over again.
At the same time, the subject of bad guys in cinema as it currently stands is much, much smaller without him.
1. Laura (1944)
Price's first couple of decades in film offers a considerably wider array of films than the later-but-no-less-worthwhile years of his career. Laura is a good case in point for the argument that Price could do so much more than delight as a self-referential boogeyman.
Directed by the great Otto Preminger, Laura also emphasizes the vast assortment of legendary directors Price worked with in his long career, including John M. Stahl, Joseph L. Mankiewicz, Roger Corman, Samuel Fuller, Tim Burton, and countless others. As the gold digging Shelby Carpenter in Laura, Price is a supporting player to stars Gene Tierney and Dana Andrews. However, as good as those two are, Vincent is ultimately the one who runs away with the whole film. His performance is disquieting, less-than-likable, and pitch perfect. There are layers and layers of subtleties to his portrayal. Considering he only has but so much time in this wild, occasionally baffling noir story of a woman who has zero fucks to give, that's impressive.
Laura is Victoria Price's favorite film of her father's. It's not hard to understand why.
2. The Pit and the Pendulum (1961)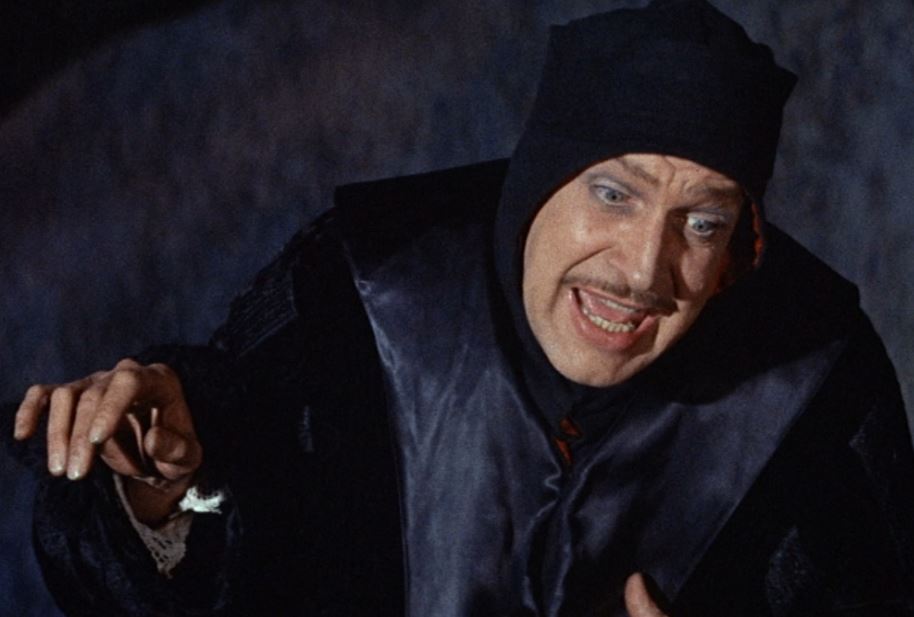 Choosing just one of the Roger Corman Poe films is borderline impossible (I mean, Jesus Christ, have you seen Tomb of Ligeia?). Still, the level of menace Price reaches as both Nicholas Medina and Sebastian Median (Nicholas' unfathomably cruel father) in The Pit and the Pendulum amounts to one of the greatest performances of Price's career. Price manages to be both deeply unsettling and sympathetic as Nicholas, creating a version of the Edgar Allan Poe character that will never be equaled. While I'll stand by the personal opinion that Vincent Price has never directly scared me, the way he plays Nicholas, particularly at the point in which his monstrous past finally torpedoes his sanity, gets under the skin every single time.
One of the best things about Price's dedication to a Scottish nobleman, slowly descending into madness as he becomes convinced that his wife has been buried alive, is how complex his performance winds up being. The ghosts that haunt Nicholas can still haunt the viewer, when we experience them through Price's characterization. Then on a dime, Price switches on the kind of theatrics that were firmly establishing his reputation by this point. The Pit and the Pendulum is the best of everything Price could do as an actor. Keep in mind that there are many films from this decade in particular offering that particular case study.
3. Theatre of Blood (1973)
For me personally, Theatre of Blood remains my favorite Vincent Price performance of all time. How can you not like cheerfully violent slasher film about an extravagantly awful Shakespearean actor faking his death, building an army of homeless people, and then resurfacing to enact a brutal series of Bard-inspired murders upon the London theater critics who maligned him? Seriously, doesn't that sound fucking great?
It is fucking great. Beyond the fact that Theatre of Blood gives us the added bonus of Price doing Shakespeare (badly, but that's the point), the movie is hilarious, gory, and entertaining to the very last second. Price goes so far over the top, you can almost see him setting up shop on the sun, but it's all forgivable. The material is a weird chemical compound of dry wit and cartoonish insanity. It works, and in the hands of Price, it's almost too much fun. Price was masterful at comedy, particularly in terms of timing and delivery. The great script and excellent story qualities that make up Theatre of Blood showcases all of these things in absolutely riveting, hysterical form.
And as though that isn't enough, Theatre of Blood also features a wonderful supporting performance from Diana Rigg. That woman is amazing forever. If you only know her through Game of Thrones, change that by watching this.
4. The Great Mouse Detective (1986)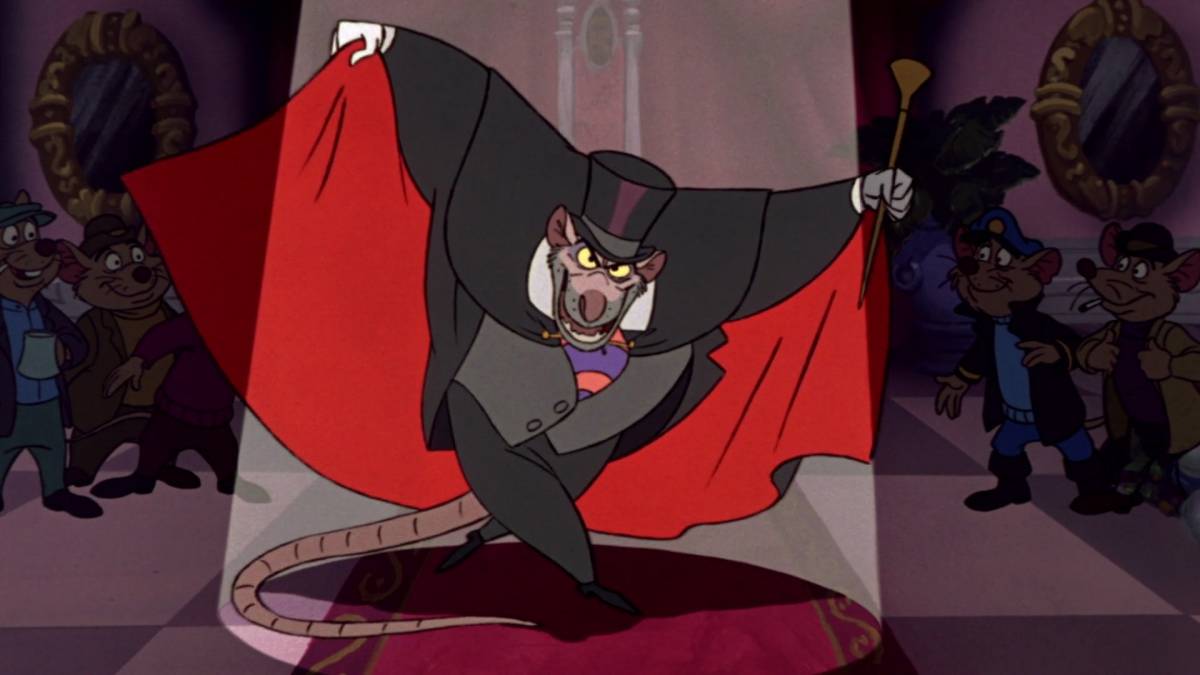 The 1980s are admittedly slim pickings for those just beginning to discover Vincent Price films. However, there are a couple of significant, essential entries from the period. While The Whales of August offers a wonderful, Oscar-worthy performance from Price in a film that also features Bette Davis and Lillian Gish, Make the Case is still going to opt for the sadly-neglected Disney release The Great Mouse Detective. If only because it is pretty silly that Price's fiendish, wonderful Rattigan is rarely featured on any list of the best Disney villains.
But that's not the only reason. Based on the Basil of Baker Street series by Eve Titus, which essentially retold Sherlock Holmes classics with mice, rats, and other animals, The Great Mouse Detective has Price as an infectiously enthusiastic criminal mastermind. Price provided narration for various projects during his life (like Michael Jackson's Thriller), and he recorded a number of readings of selections from the likes of Poe. However, in terms of voice acting, it's a shame he didn't have the opportunity to do more. Price could convey the particulars of a character, however broad or ridiculous they might be, within any medium. Rattigan is a hell of a lot of fun, further elevating an already excellent Disney film. The Great Mouse Detective deserves rediscovery and a larger, appreciative audience.
Although to be perfectly honest, as Price's Rattigan sings, growls, coerces, murders, and cackles, it's easy to forget that the rest of the movie is pretty good.
5. Edward Scissorhands (1990)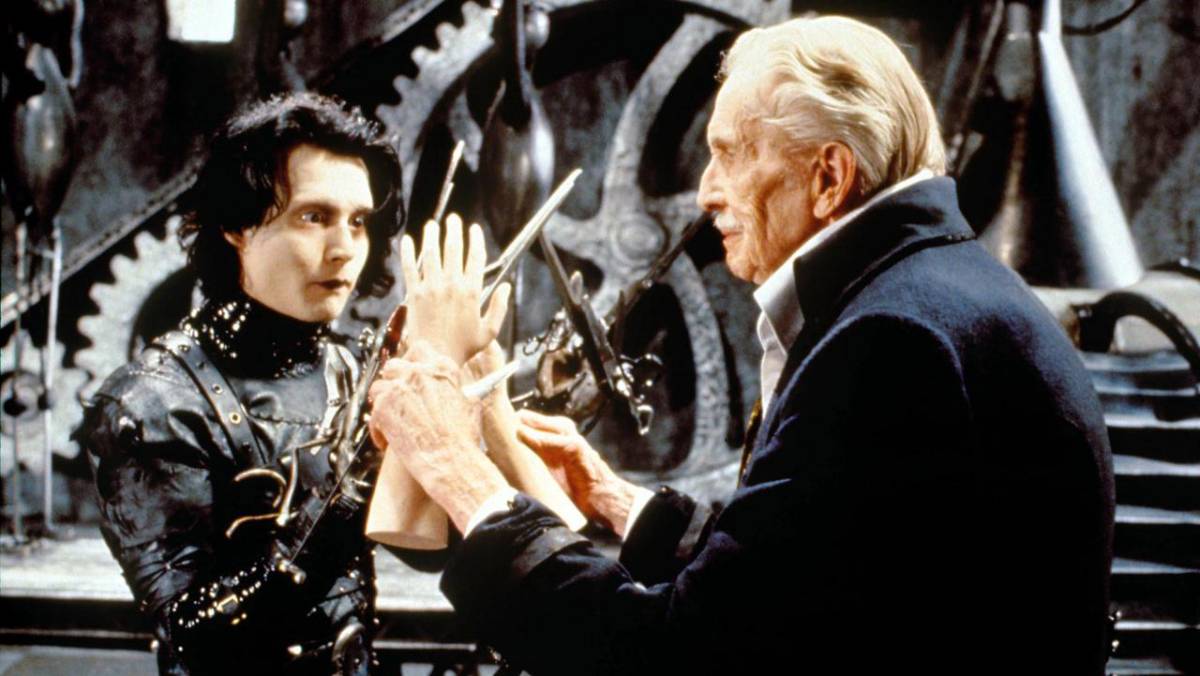 Vincent Price not only influenced actors, but also filmmakers. Consider the clear influence that the films and performances of Vincent Price had on a weird-looking nerd named Tim Burton. Add to that the influence Burton's best films have had on other filmmakers and artists. This degrees-of-cultural-influence-separation game can go on forever, but it's fascinating and important to think about what Vincent Price meant to the generations who were raised on his deep, brilliant library of films and television appearances (Egghead on the 60's Batman is quite frankly one of humanity's greatest cultural offerings).
There is no question that Burton, who previously worked with Price on the adorable, moving animated short Vincent (about a little boy who wants to grow up to be Vincent Price), loved the actor. Only someone with a profound respect for the man would have conceived of a role like The Inventor. In what would be his last major role, before passing away in 1993 at the age of 82, Price instantly and effortlessly wins as Edward's father and creator. In a story about a guy with scissors for hands moving from his manor in the hills to the suburbs, Edward Scissorhands offers potent, impressive shots of genuine, even painful humanity. Very little in the film better personifies that fact that the few moments in which we are treated to Vincent Price.
Although Price would do one more film following this one, Edward Scissorhands is understandably much more appealing as a farewell to all of us. If you can get through his death scene without crying, then you're a lot stronger than I'll ever be.
Some of the coverage you find on Cultured Vultures contains affiliate links, which provide us with small commissions based on purchases made from visiting our site. We cover gaming news, movie reviews, wrestling and much more.