Sean Connery became James Bond at the age of 32. As the first iteration of the most famous spy in movie history, Connery defined the role with debonair charm and a masculine magnetism. The James Bond franchise is now nearly 60 years old and while six actors have portrayed the spy hero, many insist that the Connery template has never been surpassed. From 1962 – 1967, Connery starred in five films as agent 007 to great fanfare. But as the role of Bond took on a mythical status, it began to consume the actor who brought him to life.
In total, Connery contributed 7 films to the Bond franchise. Many actors would welcome being associated with such an iconic role, but Connery resented it. He felt that his capacities extended beyond donning a slick tuxedo and drinking martinis that were shaken and not stirred. Screen legend Michael Caine stated that his friend Sean was "a much better actor than just playing James Bond, but he became synonymous with Bond…That was particularly upsetting to him". In 2006, Connery stated that he was fed up with the "idiots now making films in Hollywood". He officially retired from acting shortly thereafter.
Sadly, Sean Connery died in October of 2020 at the age of 90. He last portrayed James Bond in 1983 at the age of 52. Though his legacy will undoubtedly be linked to Bond, Connery leaves behind an amazing catalog of work completed after his most iconic role. They serve as a testament to the actor's diverse talent and immense aptitude. Here are eight roles that reflect Sean Connery's best beyond Bond.
1. Highlander (1986)
The sci-fi/fantasy epic was one of Sean Connery's first roles after officially retiring as agent 007. Although not a huge hit at the box office, Highlander gained a massive cult following. The film spawned four sequels, three television series and an animated movie. Now considered a trendsetting classic, Highlander features Connery as Juan Sánchez-Villalobos Ramírez, an immortal swordsman who plays mentor to the Highlander protagonist played by Christopher Lambert.
Connery is hugely entertaining as both the venerated sage and fierce instructor. This movie has a fun concept, and he had fun with the role. As the ancient warrior, Connery is brutal, charming, and somehow believable.
2. The Untouchables (1987)
Connery was only nominated for one Academy Award in his illustrious career, but it resulted in a win. It was for his role as Jim Malone, a tough, Irish American street cop in Brian De Palma's prohibition era thriller. While in pursuit of Al Capone, Connery's hard-boiled character teaches the meek Eliot Ness (Kevin Costner) the brutal brand of Chicago justice.
While The Untouchables contains some unforgivable historical inaccuracies, Connery's performance is unforgettable. Malone stands out as one of the few authentic pieces in this stylized gangster jigsaw puzzle. His combustible temper, nurturing nature, and devilish wit make for a combination rarely witnessed onscreen and seldom executed so well.
3. Family Business (1989)
This crime drama/comedy is routinely overlooked and underrated as it relates to Connery's prolific film catalogue. The plot centers around three generations of one family who engage in a risky caper. It features an impressive cast including Connery as the patriarch, with Dustin Hoffman playing his son and Matthew Broderick as the grandson.
Connery stars as Jessie McMullen, a Scottish American immigrant who settled in New York City in 1946. Jessie is charismatic beyond description and intensely lovable. He also happens to be a career criminal. Connery is shrewd and unapologetic as he conveys the role with delightful sincerity.
4. Indiana Jones and the Last Crusade (1989)
In the third installment of the Indiana Jones franchise, Connery plays Dr. Henry Jones Sr., father to the swashbuckling archaeologist (Harrison Ford). The Last Crusade focuses on Indy's search for his brilliant father and their joint pursuit of the Holy Grail. The film was the number two grossing picture of the year and boasts an impressive 94% audience score on Rotten Tomatoes.
The film features all the action/adventure hallmarks that are characteristic of the series but what sets it apart is the fantastic dynamic between father and son. The interplay between the two characters is the stuff of comedic genius and injects some highly effective heartfelt scenes. Connery's performance as the elder Dr. Jones is one of the most endearing of his career and secured him a Golden Globe nomination for best supporting actor.
5. The Hunt for Red October (1990)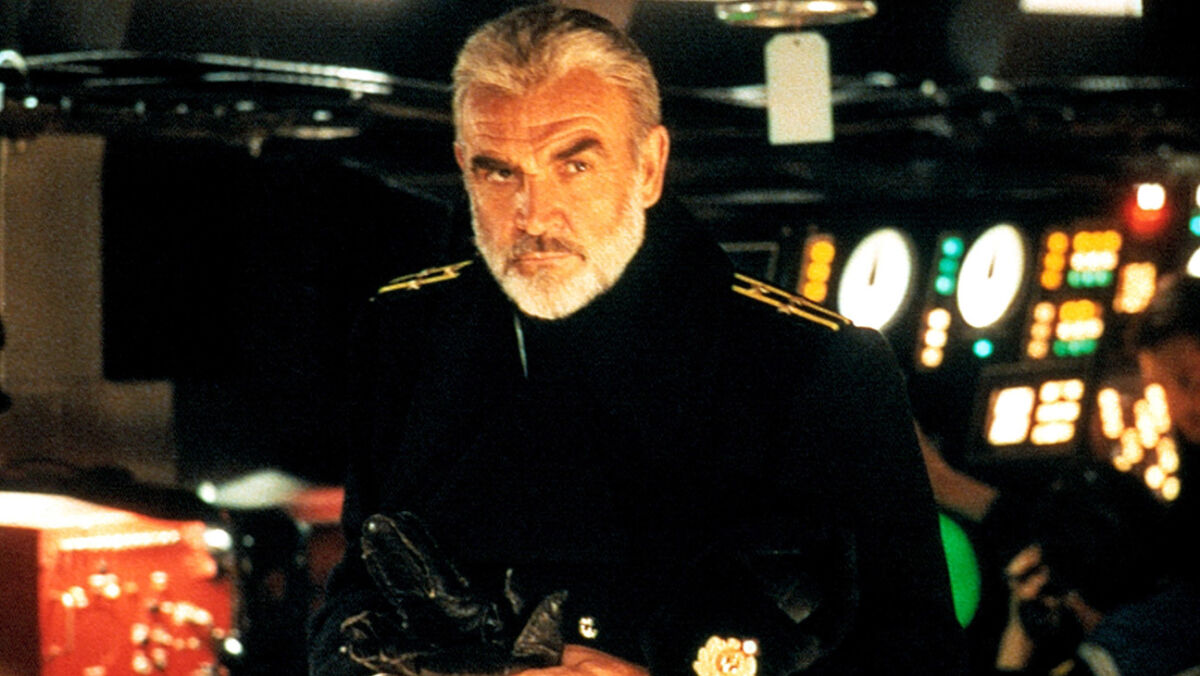 Adapted from the Tom Clancy novel of the same name, The Hunt for Red October is an intense submarine thriller set at the end of the cold war. It was a massive hit at the box office and currently enjoys a Rotten Tomatoes rating of 89%. The magnetic Connery plays Soviet maritime captain Marko Ramius, the man in charge of the fabled submarine Red October. When Ramius turns rogue, he becomes the target for both the American and Soviet governments.
This is a clever film full of twists and political intrigue. The solid cast includes Alec Baldwin, Scott Glenn, and James Earl Jones but, as movie critic James Berardinelli states, "it is very much Connery's film". He portrays an honorable antihero that audiences fear yet can't help but root for.
6. The Russia House (1990)
Framed by the dissolvement of the cold war, this spy drama tells the tale of a British publisher (Connery) who is recruited by the CIA to obtain Russian military secrets while on assignment in Moscow. Co-starring a mesmerizing Michelle Pfeiffer, this is a good movie, not a great one. However, it resonates because of its textured characters.
The jaded Connery seems miscast at first, but he marvelously shifts tones to suit the film. He was widely praised for the role with The Washington Post exclaiming, "This may be the most complex character Connery has ever played, and without question it's one of his richest performances". The Russia House is also one of the best examples of Connery's sensational range as an actor.
7. The Rock (1996)
As far as big-budget action blockbusters go, The Rock is better than most. The fanciful premise focuses on a renegade general (Ed Harris) who hijacks Alcatraz Island. If the U.S. government does not adhere to his demands, he will unleash chemical warfare on San Francisco. Connery plays a geriatric convict, who once escaped from the infamous prison, is enlisted to help a commando team infiltrate the island and thwart the general's plans.
This movie is pure adrenaline fodder, but it is fun. The high-level acting performances are highlighted by Connery who, according to Variety, "trades winningly on his sophisticated, elegant sense of cool, and his older-but-wiser finesse". This performance is thoroughly compelling and proved that Connery was still the consummate action hero.
8. Finding Forrester (2000)
Gus Van Sant directed this intriguing story about a reclusive writer (Connery) and his unlikely bond with an inner-city basketball prodigy (Rob Brown). When the revered author discovers that the teenager possesses a talent and passion for writing, he begins to tutor him, and the pair become friends.
As the writer introduces his protégé to a new literary world, the student helps his mentor reenter the actual world. Finding Forrester was Sean Connery's last good film, and he is great in it. As the troubled novelist, Connery conveys the tender charm that he is known for and a beautiful vulnerability for which he is not. The performance is poignant and cerebral, just like the man himself.
READ NEXT: From Page To Screen: A Brief History of James Bond
Some of the coverage you find on Cultured Vultures contains affiliate links, which provide us with small commissions based on purchases made from visiting our site. We cover gaming news, movie reviews, wrestling and much more.