There's no shortage of Christmas movies that involve dalliances of the heart, but quite a lot of those films are either badly done or the heart of the film isn't really about the romance at all. So, I have the arduous task of making a selection of ten Christmas films mainly about romance, though of course the requisite Christmas themes like the importance of family and life lessons inherent in the season still come into play.
The selected films aren't Oscar worthy, and sometimes they would not have garnered the good faith of the critics – people who are mostly deterred by the large helping of cheese these films force you to indulge in. But, they are most certainly a lot of fun, enjoyable in their own way, and most important of all, I have watched all films on this list twice. Much like Santa Claus, I had to check it twice to make sure the cheese is palatable and that the films can hold up upon multiple viewings.
This also means I watched quite a lot of bad Christmas movies to get to this point, but hey, all artists suffer for their art at some point. The films are ordered based on quality, and we have quite the range, from holiday staples to films that you may not have even heard of.
10. A Christmas Kiss (2011)
Two strangers get stuck in an elevator together, sparks fly between them, and they end up sharing a passionate kiss. Then the elevator doors open and the woman flees the scene, while the man gets stuck amongst Christmas carolers. Why are Christmas carolers caroling outside of an elevator, you may ask? Your guess is as good as mine. A Christmas Kiss plays on the premise of Cinderella, because when Wendy (Laura Breckenridge) and Adam (Brendan Fehr) locked lips, she was heavily dolled up, like with glitter and everything.
So when she does run into Adam again in real life (he's dating her boss by the way), he doesn't recognise her. She spends her time with him pining away, and gradually, Adam begins to see that the woman whom he thought might be the perfect one for him, isn't truly compatible with him when it comes to the more important things in life.
One thing that you need to know about romantic Christmas films is that the characters don't exactly toe the moral line all the time, and sometimes the circumstances are flat out bonkers, but the acting was good in this one, and I always like films that venture a twist on the Cinderella tale.
9. Happiest Season (2020)
Happiest Season, while being a good film, ranks lower on the list for me because the romantic elements were sidelined for a coming out story. Not that it's a bad thing, but the balance of drama and comedy gets thrown out of whack a bit, and the genius of a rom-com is being able to manage that balance.
Happiest Season is definitely a decent Christmas movie, and the acting is pretty good. You can't go too far off course when you have someone like Dan Levy on the cast list. Be warned, you might end the movie shipping Kristen Stewart's Abby with Aubrey Plaza's Riley instead.
8. The Spirit of Christmas (2015)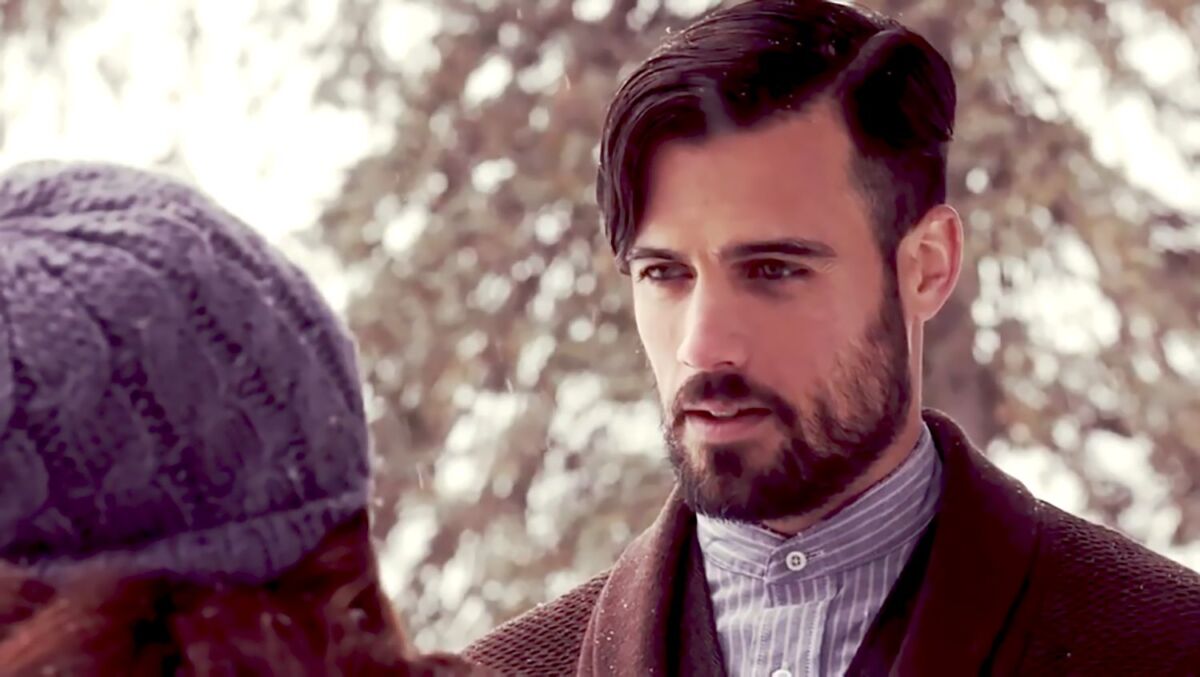 The Spirit of Christmas is one of those 'so bad it's good' movies. The main reason is lead actor Thomas Beaudoin, who plays a ghost that haunts the property that lawyer Kate (Jen Lilley) is trying to get appraised and sold. Every appraiser has been scared off by his ghost, and Kate is skeptical that he even exists, until she comes face to face with him. As far as ghosts go, Daniel is definitely nowhere near the level of Paranormal Activity (though that was a demon), he just wishes to be left alone in his home.
And of course, because he is well-dressed, does his own ironing, and broods in an exceptionally attractive way, Kate falls for him. Yup, she falls in love with a ghost, and this is a first for Kate, who has never really been emotionally invested in a relationship before. Like I said, it's not the most sane movie, but it sure is enjoyable, and I thought the period elements of the film were handled quite well for the budget it was working with.
7. Feast of the Seven Fishes (2018)
Feast of the Seven Fishes is an underrated Christmas romance movie, and it is certainly one of the more unique and enjoyable ones I've seen in recent years. The Italian tradition of the feast of the seven fishes on Christmas Eve isn't a tradition I knew much about, so it was nice to learn of the preparation that goes into it, as well as visually feast on all the food sequences (shrimp never looked this good).
Tony (Skyler Gisondo) is part of a big, bustling Italian family, and feels that the expectation required of him is to go to business school and help run the family business. However, it is clear from the get-go that art school is what he wants. I have been a fan of Gisondo ever since Santa Clarita Diet (cancelled way too soon), and he does well here as a romantic lead, having credible chemistry with both his potential love interest Beth (Madison Iseman), as well as former love interest Katie (Addison Timlin).
6. Christmas in Boston (2005)
If you are a fan of Patrick J. Adams, aka Mike Ross from Suits, then you will find some enjoyment in this one. Adams' Seth and Marla Sokoloff's Gina are childhood pen pals, and weirdly enough, when it came time to picture swap, both sent the other pictures of their own good friends instead. Now, a dilemma emerges, because Adams finds himself in Boston for a toy convention, and so the two arrange to meet, well, they arrange for their friends to meet.
While their friends canoodle, Seth and Gina somehow become acquainted, and they feel the sparks fly between them. The only problem is that Gina doesn't know Seth is her Seth, while he knows who she is. It plays on the whole idea of the ideal versus the reality: can Gina fall in love with Seth in real life, or is she too busy holding onto the ideal version of him she built through his letters?
It's truly a beautiful movie, very heartfelt and Christmasy, perfect for the holidays.
5. The Family Stone (2005)
I rewatched The Family Stone recently, and it is really a strange sort of Christmas movie, in the sense that it defies expectations. Firstly, the family at the heart of Christmas movies are always fairly nice, but the Stones feel very judgemental, and the moment they meet Everett's (Dermett Mulroney) girlfriend Meredith (Sarah Jessica Parker), the claws pretty much come out.
She already feels insecure enough, and despite sensing that, at every turn they pretty much spell out that she's not wanted. Parker's character is also extremely socially inapt, and one particular dinner conversation was so uncomfortable to watch, I found myself a bit shocked that it found its way into a Christmas movie.
The Family Stone is definitely a fun movie to watch solely because of the cast, with the likes of Diane Keaton, Rachel McAdams and Luke Wilson all part of this mad family. It's the kind of film that you either hate or love, which is why it is right smack in the centre of this list.
4. Midnight at the Magnolia (2020)
Midnight at the Magnolia was a random watch for me; I was bored and it's on Netflix, so I took a stab at it, and it really ended up surprising me. The premise is a simple one: longtime friends and radios hosts Maggie (Natalie Hall) and Jack (Evan Williams) are in love with each other. Maggie, after thinking that her love will never be reciprocated, moved on, while Jack just never acknowledged his feelings for her.
The two work together, their families always get together during the holidays, so their lives have always been intertwined. When they find themselves on the verge of hitting the big time with their radio show, they are faced with a tiny hurdle, which is bringing their significant others to meet their families on New Year's Eve. This is a problem because the two find themselves newly single, so they decide to pretend date, and the feelings they have set aside start to emerge. Will they give in to what everyone thought was always inevitable?
I really enjoyed the banter between Hall and Williams, and they really sell me on their characters and their best friend status. Usually in these kind of low budget Christmas films, the supporting cast are a bit lacking, but I feel their family members did well enough, which allowed the family gatherings to come across as more authentic.
3. Love Actually (2003)
You knew this film had to be here, there is no way I could write a list about romantic Christmas movies and not include Love Actually.
Yes, some of the stories are far-fetched, like Colin Firth's character pledging love to a woman who barely knows English, or a tad creepy, like Andrew Lincoln's character being in love with his best friend's wife. Let's not pretend that real life is neat and ordered, and that our love stories have to be the same. You can ask anybody to tell you one of their love stories, and it's bound to have some messiness and aspects that aren't exactly sane, but that's life.
Also, the cast is impeccable and the stories are diverse, so even if you don't like some of them, there are some that might suit your tastes a bit more.
2. The Holiday (2006)
Much like Love Actually, The Holiday is an iconic Christmas romance movie. The cast is incredible, with the likes of Kate Winslet, Jude Law, Cameron Diaz and Jack Black, while the two love stories are as different as the settings they take place in.
Of course, in real life, none of us go on a vacation and actually fall in love (I just mean me), but I think the important message here is that both women did something they would usually never do, deciding to uproot themselves during the holiday season so that they could get a little distance and find themselves again.
It's a warm, cosy and fairly sexy film, so yeah, highly recommended.
1. While You Were Sleeping (1995)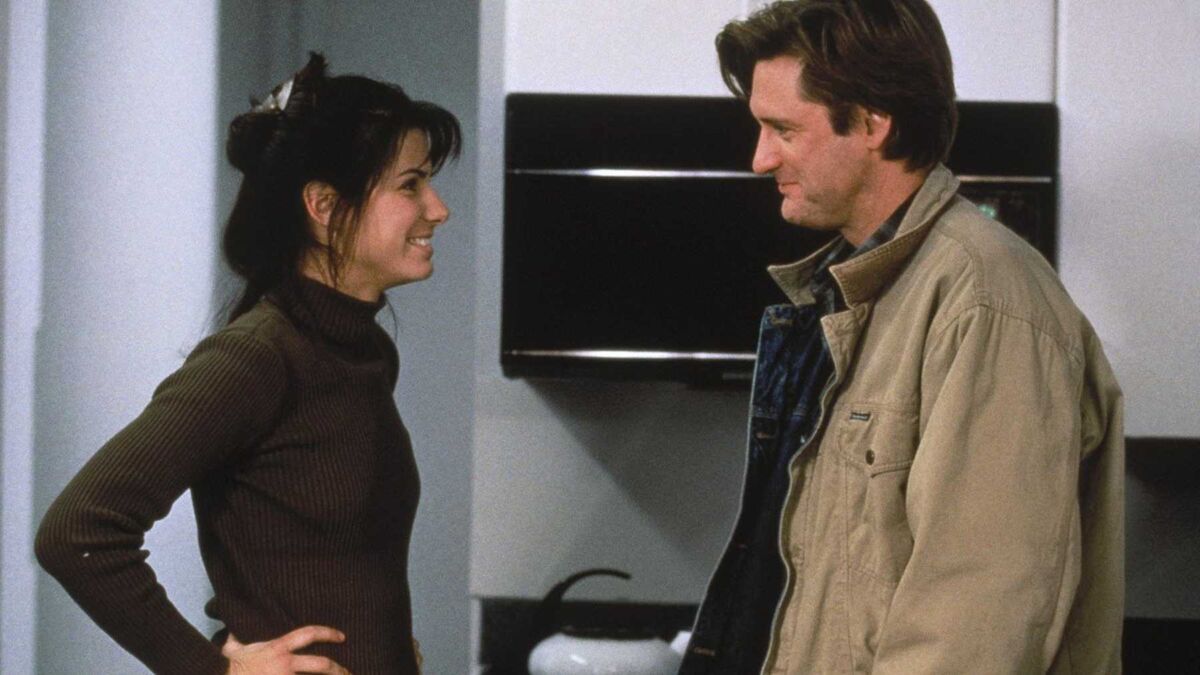 For all the years I have lived, and there have been plenty, there hasn't been a romantic Christmas movie that has topped While You Were Sleeping for me yet, and it's easy to see why. I mean, look at the cast, we have Sandra Bullock, Bill Pullman, Peter Gallagher and Peter Boyle, every scene so well-acted and executed – it is the perfect mix of drama and comedy.
After saving Peter's (Gallagher) life, Lucy heads to the hospital to see if he's okay, only to be mistaken for Peter's fiance. She goes along with it due to certain circumstances, but things get a bit more tricky when she meets his brother Jack (Pullman), and now, she can't be with the brother she truly wants because she's fake-engaged to his brother.
It's complicated stuff, but truly funny and moving. Bullock goes on to play a very similar type of character in The Proposal with Ryan Reynolds, so I would say it is almost mandatory that the two films be watched together.
You may find yourself questioning the decisions of these characters in these films, but remember to just go with it, you may be surprised at how much you might enjoy yourself.
READ NEXT: 15 Best Games for Christmas 2020
Some of the coverage you find on Cultured Vultures contains affiliate links, which provide us with small commissions based on purchases made from visiting our site. We cover gaming news, movie reviews, wrestling and much more.