Six years on from the inaugural TakeOver event, NXT TakeOver XXX will celebrate a legacy that has grown from a developmental territory into a global brand for WWE. During that time, fans have been awarded with a deep roster of talented wrestlers and tremendous consistency, making TakeOver events must-see programming.
With the anticipation high for the upcoming Pay-Per-View, it's an opportunity to reconnect with some of the classic matches from the previous 29 events. Included are matches that are important to the very fabric of NXT, helping it grow into the success it is today. I will mention that this will not include the UK-based TakeOvers, as they weren't counted by WWE either.
I'd be curious to hear from the comments section what would be their number one choice from this list? Which division do you think has been the strongest? And name the match you think is missing most from this list.
NXT TakeOver: Fatal 4-Way (11th September 2014)
Fatal 4-Way Match for the NXT Championship:
Adrian Neville vs. Tyler Breeze vs. Tyson Kidd vs. Sami Zayn
An often forgotten match from NXT history. There were strong positive reactions at the time, with the main event a wonderful representation of the then-NXT model. You had four contrasting individuals who had previously feuded over the last few months, with Neville unfairly underrated for the strong work he did in the early days of NXT, Tyson Kidd the veteran ring general helping mould the future of WWE, while fellow villain Tyler Breeze was much slyer and manipulative, attempting to steal the victory.
Neville at the time was the longest reigning NXT Champion and was renowned as being massively resourceful, doing just enough to retain his championship while building a feud with Zayn. This feud encompassed the smooth and beloved crowd favourite, Sami Zayn, who came so close to victory, only for Neville take advantage. An early indication of the potential NXT had, and still holds up today.
NXT TakeOver: R Evolution (11th December 2014)
NXT Championship Match:
Adrian Neville  vs. Sami Zayn
I will admit to being slightly biased in this choice, as this was the match that made me an NXT fan. It was purely by luck that I bought the WWE Network and discovered there was an exclusive PPV that night, which turned out to be this event. At the time, I had no idea who either men were, but through the flawless storytelling and commentary from Rich Brennan, Corey Graves and Alex Riley, I was drawn in and understood completely the level of stakes attached.
With Zayn's career on the line and the Full Sail Crowd behind him, the emotion of the moment swept up everyone watching. Tremendous pacing, great action, emotionally conflicting moments where Zayn battled against his need to win with his belief in winning the right way, it was a rollercoaster match throughout. Even the ref bump added to the match, and the final act of the match is one of the most cathartic moments in NXT history. An emotionally rewarding story that earns respect.
NXT TakeOver: Rival (11th February 2015)
No. 1 Contender Match for the NXT Championship:
Finn Balor vs. Adrian Neville
With Neville representing the NXT past after his then-record breaking reign as NXT Champion, his match against Balor became a passing of the torch. Balor had already joined NXT with a tremendous aura and unparalleled potential, his Demon entrance unlike anything seen in NXT to that point.
With hard hitting strikes being the main feature of this intense battle, Neville put over his opponent in an impressive manner, legitimising the newcomer. Balor took the momentum from this match and went on to become one of the most important champions in NXT history, headlining tours and raising the bar for the brand.
NXT TakeOver: Rival (11th February 2015)
Fatal 4-Way Match for the NXT Women's Championship:
Charlotte vs. Sasha Banks vs. Becky Lynch vs. Bayley
When Paige was forced to relinquish the NXT Women's Championship after her promotion to the main roster, Charlotte defeated Natalya to become champion. In the precursor to this Fatal 4-Way match, Triple-H publicly admitted his desire to see women on the main roster given more opportunities. With the NXT Universe watching, Triple-H publicly demonstrated his intentions, as these four women revealed that the issue with women's wrestling was not a lack of talent, but a lack of opportunity.
In a match that combined high octane action with dramatic near falls, the competitors helped sell the importance of the championship. With contrasting submission attempts and desperate tactics throughout, there wasn't a single weak link in this competitive battle. Charlotte demonstrated her natural ability, Bayley's connection with the crowd had them on the edge of their seat, while Sasha's character work was unparalleled. Lynch at the time seemed a mild afterthought, but the potential in her future character began here.
NXT TakeOver: Brooklyn (22nd August 2015)
NXT Women's Championship Match:
Sasha Banks vs. Bayley
https://www.dailymotion.com/video/x5vavt9
One of NXT's major strengths in the early years is the tremendous storytelling and long-term booking to create likeable babyfaces who connect with the audience. Whether the original iterations of Zayn and Balor, or the more recent success of Johnny Gargano, audiences are rewarded in NXT for caring, However, possibly the finest example was Bayley, who over two years grew from an innocent and excitable fan into a legitimate challenger for the Women's Championship. She would enter this match as an underdog against the cocky Banks, who had been champion for 192 days at this point.
During the build-up to this match, Banks lambasted Bayley's efforts, and during the match itself viciously attacked Bayley's injured hand. However, with the will of the NXT audience behind her, Bayley stepped up and the two crafted a sensational match, culminating in a Poison Hurricarana off the top rope by Bayley. After her Bayley-To-Belly finisher won her the match, Bayley celebrated in the ring alongside Sasha, Charlotte and Becky Lynch, in a heart-warming moment.
NXT TakeOver: Respect (7th October 2015)
30 Minute Iron Man Match for the NXT Women's Championship:
Bayley vs. Sasha Banks
The first women's match to headline a WWE PPV. The first ever women's Iron Man match. Not only the climax of the Sasha-Bayley feud, but also the confirmation of the impact made in women's wrestling by the Four Horsewomen (including Charlotte and Becky Lynch). There have been many firsts since this match, the first women's PPV in Evolution, the first women's Hell In A Cell match, the first Royal Rumble. There have even been better women's matches in NXT since then, but has there been any with more importance?
The fans were chanting and cheering for 'women's wrestling' before the match even began, a deserved reward for the hard work NXT and their division had put into raising the standards of women's wrestling. With a perfect blend of Sasha's vicious bully and Bayley's babyface fire, it's an emotionally involving tale that allowed Bayley to confirm herself as the new figurehead of NXT. Afterwards, both women received a deserving standing ovation.
NXT TakeOver: Dallas (1st April 2016)
Singles Match:
Sami Zayn vs. Shinsuke Nakamura
Despite the beauty of his deserved victory over Neville for the NXT Championship, and his continued presence as the beloved underdog of the NXT Universe, Zayn was at a loss in the lead-up to Dallas. He'd lost the title to Kevin Owens and was nearing the end of his time with the NXT Universe, so Commissioner William Regal rewarded him with a marquee match against debuting superstar Nakamura. Instantly hooking the crowd with his unbeatable theme song and enigmatic rockstar charisma, the crowd were at a fever pitch prior to this match.
The chemistry between these two was electric, the battle between Nakamura's Strong Style brutality and Zayn's never-say-die heart intoxicating to all who watched. A match built on respect, intensity and aggression, both men attempted to leave an impact, and they did with aplomb. Unfortunately, it feels in retrospect neither men would ever again reach the heights of this moment, but they captured lightning in a bottle in a Match Of The Year contender.
NXT TakeOver: Brooklyn II (20th August 2016)
NXT Tag Team Championship Match:
The Revival (Dash & Dawson) vs. #DIY (Tommaso Ciampa & Johnny Gargano)
Currently creating major waves as the newest tag team in All Elite Wrestling, The Revival originally came to prominence in NXT, becoming the first ever two-time NXT Tag Team Champions in history. They had a series of strong matches prior with American Alpha, but it was here that they began cementing their reputation as one of the best tag teams in the world. Gargano and Ciampa were coming off an impressive Cruiserweight Classic match when Commissioner Regal booked this match.
A blend of The Revival's hard hitting, old school tactics, cutting off the ring throughout, and #DIY's faster paced independent-inspired style created an action-packed, psychology-based story. With some tremendous false finishes and a captivated audience, this match continued the good work begun earlier this year with the NXT tag team division.
NXT TakeOver: Toronto (19th November 2016)
2-Out-Of-3 Falls Match for the NXT Tag Team Championship:
The Revival (Dash & Dawson) vs. #DIY (Tommaso Ciampa & Johnny Gargano)
After an absolute barnstormer at the previous event, #DIY earned a second opportunity after The Revival screwed them out of the Dusty Rhodes Tag Team Classic Semi-Finals. With #DIY having won a non-title match months before and The Revival having retained more recently, the match was announced as a 2-Out-Of-3 Falls match. The lead-up to the event focused on Gargano's battle with self-doubt, blaming himself for their loss. The match itself was a Match of the Year contender, its unrelenting pacing and storytelling keeping the audience on the edge of their seat.
An early pinfall put The Revival one fall ahead, focusing their attack on the sympathetic Gargano. Inspired by each other, #DIY tied the match with a Superkick/Knee Strike combo, and with everything on the line, Gargano battled to vanquish his demons. In an image that became infamous, Gargano and Ciampa simultaneously locked their submissions on both opponents, with both members of The Revival tapping simultaneously. A heroic victory that resonated for years to come.
NXT TakeOver: Chicago (20th May 2017)
Ladder Match for the NXT Tag Team Championship:
The Authors Of Pain (Akam & Rezar) w/Paul Ellering vs. #DIY (Tommaso Ciampa & Johnny Gargano)
The next step in the development of the NXT tag team division, continuing to grow as regular show stealers, with the beloved #DIY trying to reclaim from the beasts. This was a deserved choice for the first ever NXT tag team main event, a reward for the tremendous work put in by The Revival, American Alpha and #DIY over the previous year. In a brutally violent war that featured the courageous challengers come so close to victory, only for the champions to snatch victory away, all four men put on an awesome display.
However, it would be remiss to not mention the aftermath, where as the show was beginning to end, and the crowd showed their appreciation for the vanquished heroes, the unthinkable occurred. Despite having been saved by Gargano earlier in the match, Ciampa would cruelly turn on his partner, assaulting him and putting Gargano through a table. As the medics tended to his victim, Ciampa sat in peace. One of the greatest wrestling feuds in history was about to begin.
NXT TakeOver: Chicago (20th May 2017)
United Kingdom Championship Match:
Tyler Bate vs. Pete Dunne
https://www.dailymotion.com/video/x7l788b
Having already shocked the world with an awesome match in the final of the UK Championship Tournament, the pressure was on for the two men to replicate the magic on a bigger stage. With the champion aged only 20 and the 'Bruiserweight' just three years older, the two prodigies built on their previous match and created a blockbuster of a match.
Expertly paced in front of an immensely hot crowd, these two men stole the show and became the catalyst for the future UK brand. In the end, Dunne's experience allowed him to draw Bate in and punish the champion, going on to hold the championship for nearly two full years.
NXT TakeOver: Brooklyn III (19th August 2017)
NXT Women's Championship Match:
Asuka vs. Ember Moon
With a title reign lasting 510 days, Asuka set a benchmark for the NXT women's division that has yet to be truly matched. For sixteen months, Asuka dominated the division, defending the title against a range of opponents such as Bayley, Nia Jax, The IIconics and Nikki Cross. However, her biggest challenger and most difficult opponent was the newly debuted Ember Moon, who Asuka had to cheat to defeat earlier this year.
This rematch seemed ready-made for Moon to win and become champion, coming close when she hit the strongly protected top-rope Stunner finisher she called The Eclipse. However to the surprise of many, Asuka retained the title after an unrelenting focus on Moon's injured arm, forcing Moon to tap out. Moon actually came out of this loss with greater respect from the audience, having proven she was Asuka's equal.
Unfortunately, an injury in this match required Asuka to vacate her championship just a few days later, but she went out on a high with this match.
NXT TakeOver: WarGames (18th November 2017)
Singles Match:
Aleister Black vs. The Velveteen Dream
Sometimes, it's not titles or revenge that wrestlers battle over. It's respect. In a match built around Dream's incessant need for Black to say his name, it would be a star-making performance for both performers. To this point, both men had gained the interest of fans, but this feud helped elevate them, their use of psychology during the match captivating the crowd.
Whether the two stealing one another's character traits, or a fast paced interchange of moves, this was a show stealing match that set both men up for future accomplishments. For character work and the importance of idiosyncrasies in a match, it's must-see.
NXT TakeOver: Philadelphia (27th January 2018)
Extreme Rules Match:
Aleister Black vs. Adam Cole
Almost unfairly overshadowed by the instant classic that would follow it, Black and Cole put together a massively entertaining brawl that encompassed their distinctive styles wonderfully. The use of weapons during this match was minimal, with Black utilising his knees and kicks in the style of a 'living weapon' (sorry, Steve Blackman).
In contrast, the disbelieving and snide Cole resorted to kendo sticks and chairs to even the playing field. With some cringeworthy attacks (Cole going back first onto an upright chair especially) and an impressed crowd, it deserves much more praise than it has previously received.
NXT TakeOver: Philadelphia (27th January 2018)
NXT Championship Match:
Andrade 'Cien' Almas w/Zelina Vega vs. Johnny Gargano
https://www.dailymotion.com/video/x6duae1
Having already demonstrated impressive chemistry in two previous matches (with Almas winning both), the excitement for this match was strong. Gargano had already become a beloved fan favourite of the NXT crowd after being betrayed by Ciampa, while Almas' partnership with Zelina had revitalised his career.
This was a perfect half hour of the underdog hero battling against the cruel villainous act of the champion and his manager. The emotion of this match cannot be underestimated and set the standard for NXT for the next two years. If anybody doubts Almas as a main eventer, rewatch this classic.
NXT TakeOver: New Orleans (7th April 2018)
Ladder Match for the NXT North American Championship:
EC3 vs. Adam Cole vs. Ricochet vs. Killian Dain vs. Lars Sullivan vs. Velveteen Dream
https://www.facebook.com/watch/?v=2354215961332536
Kicking off the WrestleMania weekend with a love letter to ladder matches, NXT's attempt at a secondary championship belt was given the best start possible. Incorporating six wrestlers with potential galore and putting them together in such a match could have been to the detriment of certain wrestlers, but all six came out looking fantastic.
With Lars and Killian coming across as absolute monsters (which was nice while it lasted), Ricochet a highflying highlight throughout, EC3 impressive with his character and selling, Dream continuing his growth as a gifted up and comer, and Cole using his intelligence to win, everyone came across strongly. For those who miss the car crash style of TLC II or the early MITB matches, this PPV opener is a wonderful throwback.
NXT TakeOver: New Orleans (7th April 2018)
Unsanctioned Match
Johnny Gargano vs. Tommaso Ciampa
https://www.dailymotion.com/video/x6higbo
Sometimes all you need is a goodhearted hero battling an evil bastard to avenge the villain's betrayal. With Ciampa having cost Gargano not only a title match but also his career, he entered this fight as the most hated man in wrestling. Ciampa would even forego entrance music so that he could bask in the boos and hatred.
In comparison, Gargano's desire to win back his NXT career was a hook that every viewer could get behind, making Johnny Gargano a beloved icon for the audience. With rewarding callbacks to moments in their past and tremendous pacing throughout, this match was instantly special and a wonderful reward to the fans invested in this story.
NXT TakeOver: Chicago II (16th June 2018)
Chicago Street Fight:
Johnny Gargano vs. Tommaso Ciampa
https://www.dailymotion.com/video/x6m3bqh
For the second event in a row, Ciampa and Gargano headlined in a brutal main event. Any fears that they might struggle to measure up to their previous classic were quickly dispelled, as the two used the emotion from their story to build upon. With the first Chicago TakeOver having been the site of Ciampa's betrayal, this match was invested with history.
This time, however, that history and Gargano's emotions got the best of him, his inability to let go leaving him open for Ciampa to take advantage. The vitriolic hatred opened up a world of possibilities, as Gargano was consumed by his anger and Ciampa suddenly had more control than ever.
NXT TakeOver: Brooklyn 4 (18th August 2018)
NXT Tag Team Championship Match:
The Undisputed Era (Kyle O'Reilly & Roderick Strong) vs. Moustache Mountain (Trent Seven & Tyler Bate)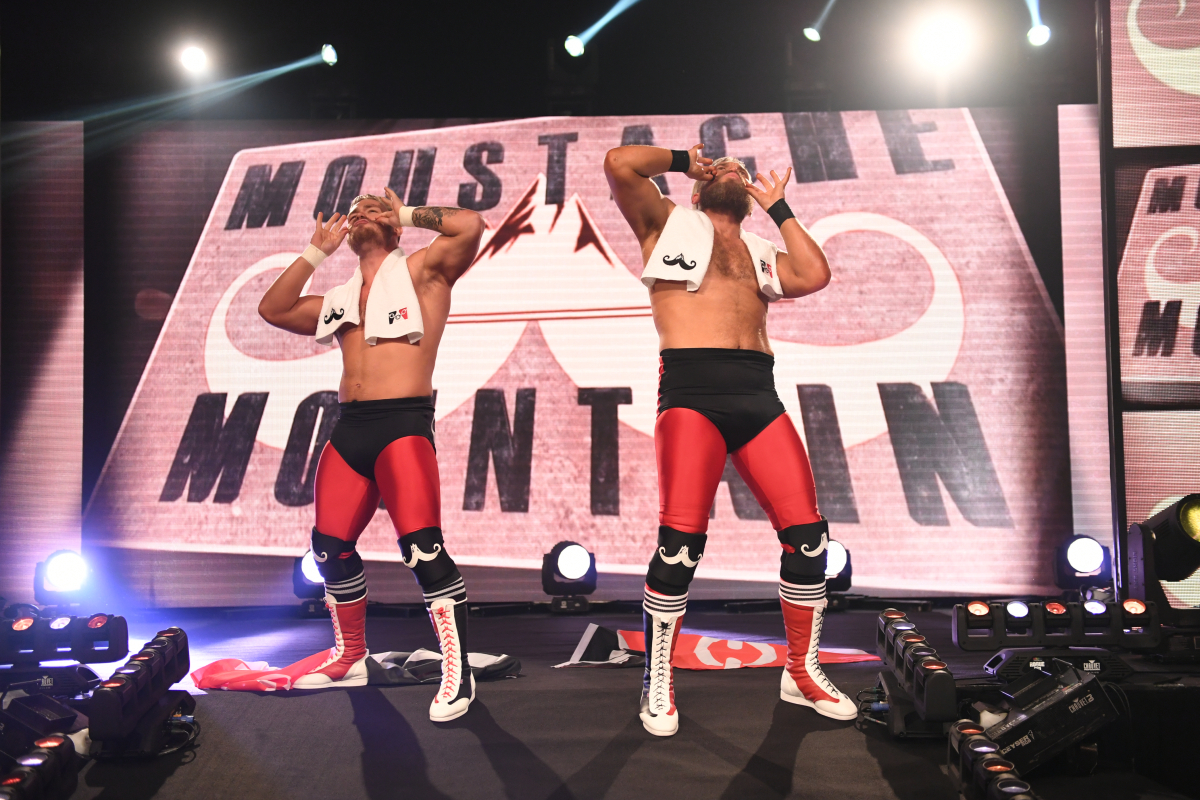 With The Undisputed Era becoming the standard bearers of the NXT Tag Team Division, having featured since November 2017 with either O'Reilly, Strong or Bobby Fish as champions, the division became a must-see on every TakeOver. The build-up to Brooklyn 4 featured O'Reilly and Strong meeting their match in Seven and Bate, the crowd favourite Moustache Mountain.
The two British Strong Style alumni won the titles in a crowd-pleasing moment, only to lose them back in an awesome match when Seven's knee forced Bate to throw in the towel. This third meeting demonstrated the tremendous chemistry between the four of them, building on the story of Seven's dodgy knee while also portraying Bate as one of the finest babyfaces in peril. Performances like this are a tremendous reminder of why Moustache Mountain were chosen to represent the NXT UK brand.
NXT TakeOver: Brooklyn 4 (18th August 2018)
NXT North American Championship Match:
Adam Cole vs. Ricochet
A singles match between two of the finest in-ring competitors on the NXT brand, their contrasting style blending together perfectly. Ambitious and dramatic, this battle featured tremendous highlights such as Cole Superkicking Ricochet mid-Moonsault, or a huge Hurricarana to the floor.
This contest would help to elevate not only the newly-formed championship, but both competitors too, it's an opportunity to see what the fuss about the 'One And Only' was before transitioning to the main roster.
NXT TakeOver: Brooklyn 4 (18th August 2018)
Last Man Standing Match for the NXT Championship:
Tommaso Ciampa vs. Johnny Gargano
The original main event was meant to feature Ciampa defend against former champion Aleister Black and his rival Gargano in a Triple Threat match, but an unfortunate injury to Black curtailed this. Instead, NXT set the stage for the rubber match between the former friends.
The development of the story from the previous two wars impacted upon this battle, with Ciampa continuing to use his manipulative intelligence to draw Gargano's anger against him. This culminated in Gargano's inability to forgive Ciampa costing him the match, in a moment that wonderfully epitomised NXT's storytelling strength.
NXT TakeOver: WarGames II (17th August 2018)
WarGames Match:
The Undisputed Era (Adam Cole, Kyle O'Reilly, Roderick Strong, Bobby Fish)vs.
Ricochet, Pete Dunne & The War Raiders (Hanson & Rowe)
As the mastermind behind the growth of NXT from developmental to third brand, Triple-H has always been inspired by the heyday of NWA in the 1980's. The previous year allowed him to resurrect a version of WarGames, utilising three teams of three as opposed to the normal four on four. However, this year allowed NXT to incorporate the classic element of two teams, eight men, three rings, and the Match Beyond.
This WarGames was paced for all eight men to impress, Undisputed Era using their teamwork to take control of the match. With Strong's power, O'Reilly's strikes and submissions, Cole's dastardly nature and Fish's ingenuity, the odds seemed stacked in their favour. However, with Ricochet's innovative agility, the War Raiders' size and deceptive pace, and Dunne's never-say-die brutality, the underdogs clawed their way to victory. With some impressionable moments (I'm personally partial to the two teams standing off between the rings), it combines an ode to history with present day excitement.
NXT TakeOver: New York (5th April 2019)
NXT Tag Team Championship Match:
The War Raiders (Hanson & Rowe) vs. Ricochet & Aleister Black
https://www.dailymotion.com/video/x75dhtj
The opening match of arguably the best PPV in TakeOver history featured the War Raiders defending their titles against the newly teamed Black and Ricochet. Despite their seeming incompatibility, the challengers had demonstrated amazing chemistry together to earn a deserved opportunity. All four displayed agility, speed, power and tag team ingenuity that started slow and then demonstrated nonstop pace in an action-packed match.
After their victory, the War Raiders respectfully hugged their challengers and then exit, allowing Black and Ricochet an emotional goodbye to a loving crowd. A standing ovation, a bow from both challengers, and a chant of "You deserve it" as Black and Ricochet said goodbye to the NXT Universe.
NXT TakeOver: New York (5th April 2019)
NXT United Kingdom Championship Match:
Pete Dunne vs. WALTER
https://www.dailymotion.com/video/x75dhtk
After 685 days as champion, Dunne had successfully helped the growth of the NXT UK brand and had become an audience favourite. At the recent inaugural UK Takeover, Blackpool, Dunne successfully defended his championship against Joe Coffey, only to be confronted by the debuting WALTER. A massive mountain of a man who would invest simple moves with unparalleled brutality, WALTER represented Dunne's biggest challenge as champion.
The tale of the match showed Dunne attempting to fight the bigger man, only for WALTER to assert his dominance multiple times. Dunne attempted to fall back on his use of joint manipulation that had helped him retain so many times but ended up leaving himself open for a vicious Powerbomb off the top rope. WALTER followed up with a Top Rope Splash to win the U.K Championship, which he still holds currently at 480+ days.
NXT TakeOver: New York (5th April 2019)
Two Out Of Three Falls Match for the Vacant NXT Championship:
Adam Cole vs. Johnny Gargano
https://www.dailymotion.com/video/x75cxvq
The first ever NXT match to break the five-star rating with a 5.5 rating, this was originally meant to be the finale of the Ciampa and Gargano feud, but an unfortunate neck injury for Ciampa meant the championship had to be vacated. Against the odds, Cole and Gargano took advantage and created a masterpiece. The first fall demonstrated two equals trying to avoid taking a major chance, which leads to a mistake by Gargano to lose the first fall. This ties wonderfully to the story from before the match of Cole suggesting Gargano can barely win one fall, let alone two.
The second fall was character driven, with an arrogant Cole willing to win in any manner, while Gargano's desperation and refusal to win by count-out almost backfiring. Even the finish has Cole quickly tapping to Gargano in order to prevent injury and keeping himself strong for the third fall. The third fall is wondrous storytelling as the crowd and commentators will Gargano on against Cole and the Undisputed Era, culminating in one of the most heartwarming victories in NXT history. For the briefest of time, Gargano was on top of the world.
NXT TakeOver: XXV (1st June 2019)
Singles Match for the NXT Championship:
Johnny Gargano vs. Adam Cole
https://www.dailymotion.com/video/x7a687u
Two months on from their instant classic, Gargano defended the championship against the leader of the Undisputed Era. With both having learned from their match, they put on a tremendous rematch, Cole utilising his intelligence to focus on Gargano's right knee. This willingness by Cole to attack Gargano's injury would help make all the difference.
Despite them having been involved in his loss to Gargano at the previous TakeOver, The Undisputed Era surprised many by not getting involved. However, Cole used this expectation of interference to distract Gargano, before taking advantage and finally vanquishing the inspirational underdog that was 'Johnny Wrestling'.
NXT TakeOver: Toronto II (10th August 2019)
Grudge Match:
Io Shirai vs. Candice LeRae
Quite often, previews to Takeover events will mention possible showstealers, intensifying the anticipation. However, every now and again, a match appears that blows the audience away, with two competitors determined to prove they deserve to be noticed. This match featured a viciousness between two intense women, LeRae finally moving from an underwhelming role as 'Gargano's wife' into an impressive babyface of her own. Her determination and desire helped her connect to an unsuspecting audience, and showed she was talented in her own right.
Shirai surprised many with her heel turn, but here she demonstrated a remorseless and nasty edge, giving her a whole new lease of life. Both women combined to create a heated bout with tremendous pace, drawing the crowd in with several near falls and vicious attacks. A perfect representation of not just the depth of the women's roster, but the consistently brilliant TakeOver events.
NXT TakeOver: WarGames III (23rd November 2019)
WarGames:
Team Baszler (Shayn Baszler, Bianca Belair, Io Shirai, Kay Lee Ray)
vs.
Team Ripley (Rhea Ripley, Candice LeRae, Tegan Nox, Dakota Kai)
https://www.dailymotion.com/video/x7oe74l
NXT continued their tremendous work on the women's division over the last five years by debuting the first women's edition of WarGames. Having spent months building growing animosity, with Baszler and her lackeys Marina Shafir and Jessamyn Duke creating enemies in Nox, Kai, former NXT UK Women's Champion Ripley and Mia Yim, their wars overwhelmed NXT. With Belair and Lee Ray pulled in, as well as Shirai and LeRae's own feud tied to Baszler, it became evident that only WarGames could contain them.
The match itself highlighted Ripley as a tremendous star, while Dakota Kai's betrayal of her best friend was a revelatory moment. Nox's popularity with the crowd gained new empathy, and the performances of LeRae and Shiai held the match together. Kay Lee Ray's brutal beatings of her opponents even helped demonstrate the potential of the NXT UK roster to audiences who may not know better. One of the highlights of NXT's women's division.
NXT TakeOver: Portland (16th February 2020)
NXT Tag Team Championship Match:
The Undisputed Era (Bobby Fish & Kyle O'Reilly) vs. The BroserWeights (Pete Dunne & Matt Riddle)
One of NXT's most treasured elements is the Dusty Rhodes Tag Team Classic. Commemorating the beloved 'American Dream' for his treasured work as a senior NXT producer and trainer, the tournament has introduced several beloved tag teams: The Authors of Pain and Aleister Black & Ricochet's respective victories catapulted them into successful tag team runs, while The Undisputed Era were strengthened by Roderick Strong joining them.
This year's iteration continued the habit of newly formed teams succeeding, with Matt Riddle and Pete Dunne being partnered together. Their seeming incompatibility, Dunne grumpy and dry compared to Riddle's laidback goofiness, belied their surprising chemistry as they won the tournament. Their prize was a match for the Tag Team Championship, against tag team royalty in Fish and O'Reilly. The tournament allowed NXT to inject some freshness into the tag team division, as well as highlight Riddle and Dunne as an enjoyable team.
Nearly six years of main event classics, tag team barnstormers, engrossing stories, inspiring heroes and a revolutionary women's division. With such a varied collection of historic matches, there is something for every fan. The NXT brand currently stands as a success, with its own rabid fanbase ready for this weekend. The only question will be, will any of NXT TakeOver: XXX's matches join the above list as a TakeOver classic?
Some of the coverage you find on Cultured Vultures contains affiliate links, which provide us with small commissions based on purchases made from visiting our site. We cover gaming news, movie reviews, wrestling and much more.