Marvel is one of the most popular comic book and action movie companies in the world, with their characters remaining relevant decades after their initial debut. With superheroes like Spider-Man, Iron Man, and Deadpool, Marvel is home to some of our most beloved characters. With them pulling out all the stops this year, here are some of the best Marvel gifts this holiday season.
THE BEST MARVEL GIFTS: Marvel Zombies: The Complete Collection | Marvel's Avengers | Marvel Cinematic Universe Phase 1-3 Complete Collection | Thor Hammer Bottle Opener | Marvel Encyclopedia | Marvel Greatest Comics | Marvel Pinball Machine | Thor Hammer Wireless Bluetooth Speaker | Marvel's Spider-Man: Miles Morales | LEGO Marvel Avengers Hall of Armor | Iron Man MK50 Robot
11. Marvel Zombies: The Complete Collection
Tired of how safe the MCU is? Then you really ought to check out Marvel Zombies: a non-canon comic series set in the Marvel universe when a zombie apocalypse unfolds. Yes, it's as awesome as it sounds.
Nobody is safe, so if you want to see your childhood heroes turn into absolute nightmares, Marvel Zombies is a graphic and uncompromising series. It's doubtful that Disney would allow this to exist these days, so be sure to scoop up this weird slice of the Marvel universe.
10. Marvel's Avengers
Marvel's Avengers tells the story of a teenager named Kamala Khan who gains superpowers after making contact with Terrigen mist during A-Day. Play as some of your favorite Avengers characters and challenge up to three of your friends in online-play in this action-packed adventure.
Characters like Captain America, Iron Man, Hulk, Black Widow, and Ms. Marvel are available, making this game perfect for any Marvel fan. You can pick up Marvel's Avengers for PlayStation and Xbox on Amazon or from many other major retailers.
9. Marvel Cinematic Universe Phase 1-3 Complete Collection
This is the ultimate collector's bundle for any Marvel fan. This box set includes all of the Marvel films on Blu-ray, giving you instant access to all of the HD versions of the films, dating back to the original Iron Man movie from 2008 and continuing through Spider-Man: Far From Home, released in 2019.
Each of the three included sets comes with special edition packaging, making these films perfect for displaying in a collection. There are also hours of bonus content and unreleased film content to be watched, giving you a deeper look into the making of each film.
8. Thor Hammer Bottle Opener
Thor's Hammer is one of the most powerful weapons in the universe. Thus, making it perfect for those pesky bottle caps that you can't seem to remove. This bottle opener is designed as a replica of Thor's hammer, making it perfect for any Marvel fan, yet also great for anyone who enjoys a bottled beverage now and then.
It is palm-sized, giving you the authentic look and feel of Thor's hammer on a budget. It may seem a bit ridiculous at first, but this would be the perfect gag gift for any Marvel fan.
7. Marvel Encyclopedia
Designed exclusively for Marvel's 75th anniversary, this encyclopedia includes all the information available about some of your favorite Marvel characters. This all-inclusive book reveals important information about the Marvel Universe, and this edition has been revised with an additional 32 pages.
Get all the updated facts, storylines, and expanded entries about Spider-Man, Thor, and the rest of The Avengers in this tell-all encyclopedia. The artwork has been designed and illustrated by Mike Deodato Jr, giving you a compelling look into the details of each Marvel character. Available now on Amazon, the quantities of these books are incredibly limited.
6. Marvel Greatest Comics: 100 Comics that Built a Universe
For anyone who is a fan of the original Marvel Comics, this gift is a must-have. This large scale book tells the story of the many Marvel Comics series, giving an in-depth look into the various characters that have been introduced over the years and telling the story of how these stories, heroes, and villains came to be.
This incredibly well-made book details 100 of Marvel's most beloved characters, sharing their stories through detailed illustrations and expertly crafted columns. Dating back to 1939, these groundbreaking comics shaped an industry and built the foundation of our favorite superheroes that we are still enjoying over 80 years later.
5. Marvel Pinball Machine
This vintage pinball machine is a blast from the past, with accurately recreated controls from vintage consoles as well as retro lights and sounds. Built-in electronics provide excellent haptic feedback, allowing this modern machine to feel identical to one that is three times its age.
The rear glass is backlit, with an 8-inch LCD animated score screen at the bottom of the unit as well. This console doesn't require coins for operation, just press the button and you're ready to go. At 5-feet tall, this pinball machine is a bit smaller than its vintage counterparts, but it is more than large enough to be played by adults and children of all ages.
4. eKids Marvel Thor Hammer Wireless Bluetooth Speaker
This robust Bluetooth speaker is designed to look like Thor's hammer Mjolnir, blending in perfectly with your other Marvel collectibles. This is a very durable speaker that can pair with any Bluetooth-enabled device, including smartphones, tablets, gaming consoles, and more. It weighs about 350 grams and delivers powerful sound on a budget.
With the touch-sensitive handle, this speaker will light up when powered on, allowing you to stream music, play movies, or accept phone calls. This speaker supports Bluetooth functionality up to 33 feet away from the streaming device, making it perfect for any bedroom, living room, or office.
3. Marvel's Spider-Man: Miles Morales
Marvel's Spider-Man: Miles Morales was one of the most highly anticipated video games of 2020, and it certainly lived up to the hype Having received raving reviews from fans across the globe, this game is a no-brainer this holiday season.
Available exclusively for the PlayStation 4 and PlayStation 5, the game tells the story of Miles, a young man who was bitten by a genetically-enhanced spider, giving him powers that are very similar to Peter Parker. Peter Parker has left the area to travel alongside his girlfriend, leaving Miles Morales as the only hope for New York City.
2. LEGO Marvel Avengers Hall of Armor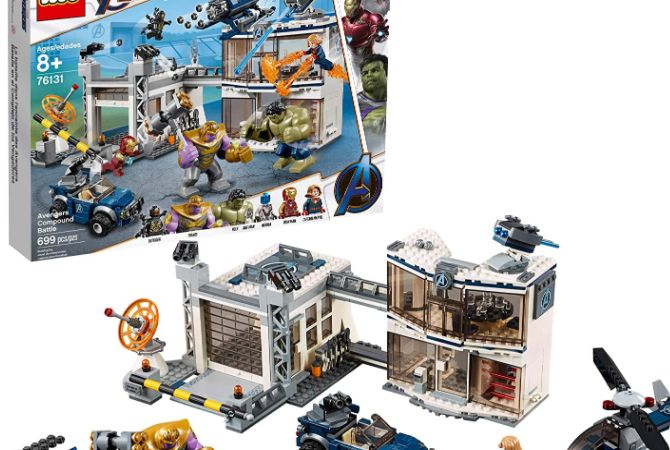 This LEGO set includes everything you need to build your own miniature Avengers playset. The kit includes blocks to build the Avengers Hall of Armor and several Avengers figures. There are various iterations of Iron Man armor as well as a jetpack and two Outriders.
This kit is perfect for any child or adult and comes with 524 pieces to get the job done. The completed set measures 5 inches by 13 inches, making it the perfect size for playtime or display purposes. You can find the LEGO Marvel Avengers Hall of Armor set at Walmart, Target, and Amazon.
1. UBTECH Iron Man MK50 Robot
This incredible robotic Iron Man allows you to take control of your very own MK50, pairing it directly to your smartphone or tablet. You can control his movements and motions as well as take part in augmented reality missions. Customize the look and feel of the robot by uploading images of your face and recording custom sound bites and phrases.
A custom programming app is also included, allowing you to create simple scripts and actions to be performed by the robot, taking the features of the bot to a whole new level. The block-based coding system is easy to learn, making it perfect for all ages.
READ NEXT: Best Star Wars Gifts 2020