Since 1987, Square Enix has created countless games for their wildly successful Final Fantasy series. With a recent remake of a beloved classic, Final Fantasy XIV going strong, and Final Fantasy XVI on the horizon, the Final Fantasy fanbase is continually growing.
There's a vast world of products surrounding the Final Fantasy franchise. Luckily, we've narrowed down the options to create a list of the best Final Fantasy gifts that any fanatic would love, so saddle up your Chocobo and get ready to spend your Gil.
Final Fantasy Gift Guide
1. Final Fantasy Polygon Figures
Final Fantasy VII is arguably the most famous game in the series and is definitely the popular favorite within the Final Fantasy fandom. These amazing FF7 polygon figures will make a great, nostalgia-inducing gift to add to any fan's collection.
Each polygon blind box comes with eight surprise figures, which might include Cloud, Sephiroth, Aerith, Tifa, and more. Each figure is designed to look just like its polygonal likeness from the classic 1997 game.
2. Final Fantasy Plush
The Final Fantasy franchise is filled to the brim with adorable characters, from the Chocobo to the Moogle, but this plush of Red XIII from FF7 will be sure to make any fan fall in love.
This plush has moveable joints and can stand on its own, so you can either recreate amazing battle scenes or simply cuddle with RED XIII. There's also an awesome jumbo Tonberry plush that is as cute as it is creepy, complete with a lantern and tiny plush knife.
3. Final Fantasy VII Remake
While we're on a FF7 binge, we might as well recommend the Final Fantasy VII Remake, which would make a great gift for any fan, whether they've played the original or not. The remake was extremely well-received and brings better graphics and more cutscenes to the beloved classic.
It's available on the PS4 and PS5 and will be spread out between three separate games, with Part 2 hopefully launching in winter 2023.
4. Cactuar Planter Pot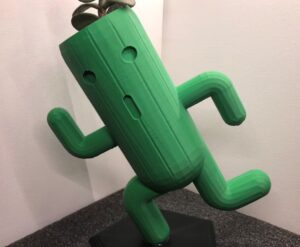 There are many recurring characters, good and bad, throughout the Final Fantasy franchise, and one of the more iconic characters is the Cactuar. This perpetually shocked anthropomorphic cactus would put a smile on the face of any Final Fantasy fan.
This 3D-printed Cactuar planter is made with biodegradable plastic taken from renewable materials. It comes with a random air plant that can be placed in the hole at the top of the Cactuar's head.
5. Moogle Lamp
Another cherished Final Fantasy mascot is the adorable Moogle. This creature has been with fans since FF3 and would brighten any fan's day.
This Moogle lamp brings a soft yellow light to wherever it's placed and looks like it popped right out of the FF14 Mog Station. At only seven inches tall, it takes up very little space and would make a cute addition to any room.
6. Final Fantasy XIV Complete Collector's Edition
Final Fantasy XIV is the franchise's very own MMO with an immense and amazing community. The newest addition to the story, Endwalker, was released in December 2021 and brings a thrilling and heartwarming conclusion to the Hydaelyn and Zodiark storyline.
The Final Fantasy XIV Complete Collector's Edition includes A Realm Reborn and all subsequent expansion packs up to Endwalker. Also, if you play FF14, you can opt to purchase Mog Station optional items as a gift for your friend once they've been added to your friend's list to go along with the game.
7. Final Fantasy Maps
Each Final Fantasy game typically contains a new and unique world, with its own world map and special places. Etsy shop hutui offers beautiful maps of the worlds from FF7, FF8, and FF9.
Each map comes in three different sizes and is hand drawn and digitally colored by the shop's owner. They feature exquisite detail, a title, a compass rose, and notable regions and cities.
8. Final Fantasy Action Figures
If you're looking for a great collectible gift to give the Final Fantasy fan you know, an official Square Enix Final Fantasy action figure should do the trick. There are various options, but these Aerith and Jack Garland ones are our favorites.
Aerith is almost 10 inches tall and features her iconic red dress from the Wall Market portion of FF7, while Stranger of Paradise's Jack Garland is nearly 13 inches tall and looks incredibly intimidating. Each figure is made with exceptional detail.
Buy Aerith from Square Enix Store
Buy Jack from Square Enix Store
9. Sephiroth's Black Materia Necklace
An important piece of the Final Fantasy series is the use of Materia, which are mystical items that help with stat boosts and abilities and originated in FF7.
While there are various forms of Materia, this gorgeous Materia necklace holds Sephiroth's Black Materia Meteor from FF7. The pendant is made from silver with a black onyx center and hangs on a 17.7-inch chain.
10. Stranger of Paradise: Final Fantasy Origin
The newest installment in the Final Fantasy realm is Stranger of Paradise: Final Fantasy Origin, which was released in March 2022. This spin-off title in the Final Fantasy series was created by Koei Tecmo Games and Team Ninja and contains a bunch of Final Fantasy lore.
This action RPG sees Jack Garland face various challenges on his quest to bring the light of the crystals back to the kingdom of Cornelia. It's available for PS4, PS5, Xbox One, Xbox Series X & S, and PC.
11. Odder Otter Desk Buddy
There's nothing odder than an otter that lives out of water, but that doesn't mean we don't love the Odder Otter minion from Final Fantasy XIV. These Odder Otter desk buddies will bring joy to the workspace of any Final Fantasy fan.
Each Odder Otter is 3D-printed with a furry texture print and then hand-painted with fantastic attention to detail. Its hat comes off to reveal a small storage container perfect for tiny office supplies, dice, or coins.
12. Chocobo & The Flying Ship Puzzle
It wouldn't be a Final Fantasy game without Cid and his flying ship. This official Square Enix Chocobo and the Flying Ship jigsaw puzzle would make an excellent gift for any Final Fantasy fan.
The 1,000-piece puzzle features a Chocobo flying next to Cid and his airship and is based on an illustration from the Final Fantasy Picture Book.
Buy Aerith from Square Enix Store
13. Final Fantasy Ultimania Archive
The Final Fantasy universe is immense with tons of details and lore sprinkled throughout each game. For hardcore fans of the series, the Final Fantasy Ultimania Archive would make a great gift.
There are three volumes in total, each packed with concept art, process pieces, and notes from the original artists and designers of the first 14 Final Fantasy titles.
14. Chocobo's Crystal Hunt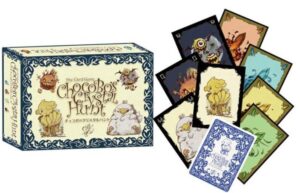 While Final Fantasy is known for its video game series, there are Final Fantasy-themed tabletop games as well, like this card game called Chocobo's Crystal Hunt.
The game is recommended for four players and plays quickly, taking around 10 to 20 minutes to finish. Players will need to send their Chocobo on a mission to steal their opponents' crystals before their own go missing.
Buy Aerith from Square Enix Store
15. Final Fantasy T-Shirt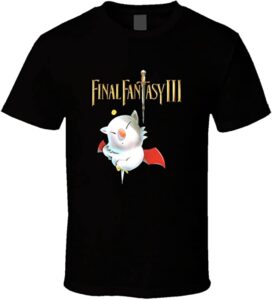 Lastly, a great gift option for any Final Fantasy fan is a comfy t-shirt repping their favorite fandom. These are our top two Final Fantasy t-shirts.
The first features a design based on the tank, healer, and DPS player roles from FF14, with an important reminder to always remember your role. The second features a retro nod to Final Fantasy III, complete with an adorable Moogle and iconic sword.
READ NEXT: The Best Metal Gear Solid Gifts
Some of the coverage you find on Cultured Vultures contains affiliate links, which provide us with small commissions based on purchases made from visiting our site. We cover gaming news, movie reviews, wrestling and much more.