6. Gates of Heaven (1978)
Director Errol Morris is now widely regarded as one of the most accomplished, passionate, and unique documentarians in film history. Gates of Heaven has since been overshadowed by such Morris films as The Fog of War and The Thin Blue Line. I still personally think Gates of Heaven remains his most fascinating film, even if the subject is considerably lighter than some of the topics Morris would tackle in the future.
Simply put, Gates of Heaven is an extremely straightforward documentary about pet cemeteries, as well as the people who bring their pets to such places. The documentary doesn't judge anyone at any given point. It simply reveals their rich personalities, their dreams, and their outlook on the world. You can learn so much about people by simply bringing animals into the conversation.
Fun fact: Werner Herzog promised Morris that if Morris finished the film, he would eat his shoe. Morris did, and Herzog did indeed boil and eat a boot. That became the subject of a short documentary unto itself.
Watch if: You want to see something that is sweet and quietly weird.
Avoid if: You prefer documentaries deal with weightier, more socially-relevant themes.
7. Burden of Dreams (1982)
Speaking of Werner.
And speaking of Les Blank, who also directed the short documentary in which Herzog boiled and ate the aforementioned shoe. Blank has perhaps most famously chronicled Herzog during the delightful production of Herzog's Fitzcarraldo. This is a production that included, among other nightmares, Herzog's delirious effort to get a massive steamboat over an actual goddamn mountain.
You also have Klaus Kinski screaming every few minutes, which was never, ever a good thing. This is a powerful, unsettling narrative about sacrifice, and about the stubbornness of an unshakable vision to do something a certain way.
Watch if: You want to see the lengths filmmakers go to for their dreams.
Avoid if: You prefer your descents into madness to be a little more lighthearted.
8. Shoah (1985)
No other film will ever approach The Holocaust with such an excruciating eye for a level of detail most of us would rather not acknowledge. Yet we must. More than ever, we must be aware of the people who committed these atrocities during World War 2. We must be aware of their victims. We must look into the past to see those who survived.
Directed by Claude Lanzmann, Shoah is a 566-minute document that should be seen and understood by every human being on the planet. It is one of the most emotionally devastating documentaries that will ever be created.
Watch If: You want the deepest possible understanding of The Holocaust you could ever get from a film.
Avoid if: You shouldn't.
9. Sherman's March (1986)
Sherman's March, it could be argued, is a tribute to possibility. It is the notion of starting out with one thing, and then ending up with something entirely different from what you imagined. It is rare that we can actually document such a process, because the first part is usually abandoned, or destroyed. Director Ross McElwee decided to keep it all.
What starts out as a man's efforts to document the impact of General William Sherman's march through Georgia turns into a lengthy, freewheeling mediation on loneliness, as Ross was dumped by his girlfriend shortly after work on the Sherman's March idea began. It is a universal love letter to relationships, but Sherman's March is also one of the best character studies in documentary filmmaking history.
Watch if: You want something that will genuinely and pleasingly surprise you at every turn.
Avoid if: You don't have a lot of patience for people who bitch about relationships
10. Crumb (1994)
Before he directed films like Ghost World and Bad Santa, Terry Zwigoff directed this bizarre, occasionally miserable documentary about celebrated underground comic artist Robert Crumb. Through interviews with Crumb, his friends, and his family, Crumb shows every possible side of one of the most eccentric artists in recent memory.
Crumb is a true original, like him or not. The documentary shows everything that could create such an impression. For the most part, this a weird amusement. Occasionally, and particularly when the film tackles Crumb's awful childhood, it is something much sadder than just an engaging story about an oddball.
Watch if: You want an unapologetic look at a singular human being.
Avoid if: You're done with misanthropic men, no matter how brilliant they are.
11. Hoop Dreams (1994)
The story of two Black teenagers from Chicago, both of whom receive an opportunity to play basketball for the highly-regarded St. Joseph High School, became one of the definitive documentaries of the 1990s. Not surprisingly, since both teenagers (William Gates and Arthur Agee) come from less-than-stellar neighborhoods in Chicago, director Steve James' documentary has a lot to say about race, social classes, who gets the "right" to a good education, and much more.
Neither Crumb nor Hoop Dreams were nominated for an Academy Award. This led to some depressing confirmations about the nature of Oscar voting. That has long since faded, but the humanity and energy of this film lives on.
Watch if: You want to see an inspirational, complex narrative.
Avoid if: You prefer your inspirational stories to have a happy ending.
12. American Movie (1999)
There is something to be said for determination. This is a common thread in several of the best documentary movies highlighted here. It is certainly the heart of Christ Smith's American Movie, which chronicles the efforts of filmmaker Mark Borchardt to complete his low-budget horror movie Coven. The film is filled with the eccentrics who make up Mark's friends and family, all of whom lend some form or support or another to his endeavors.
It helps the movie considerably that Mark is quite likable, showing himself to be a good father and friend. We watch American Movie with the hope that things work out for him. American Movie also forces us to be realistic about just how close Mark is going to get to making his dreams come true. There is something encouraging about that, as well as slightly depressing.
Watch if: You want to see someone fight like a bastard to bring their dreams to fruition.
Avoid if: You can only watch someone screw up but so many times.
13. Bowling for Columbine (2002)
Of all the best documentaries directed by Michael Moore, Bowling for Columbine is still the most ferocious. Although Moore's obsessive need to be a character in these stories, while simultaneously shaping the story to make his point as clear as possible, has drawn controversy, it is difficult to argue with American culture as he depicts. Specifically, our obsession with guns.
It is a conversation that entirely too many people still refuse to even entertain, as the Columbine Massacre of 1998 now seems horribly tame, when compared with the glut of shootings that have occurred since.
Watch if: You want to see someone go after guns in a big, angry way.
Avoid if: You carry a deep loathing for Michael Moore in your heart.
14. Jesus Camp (2006)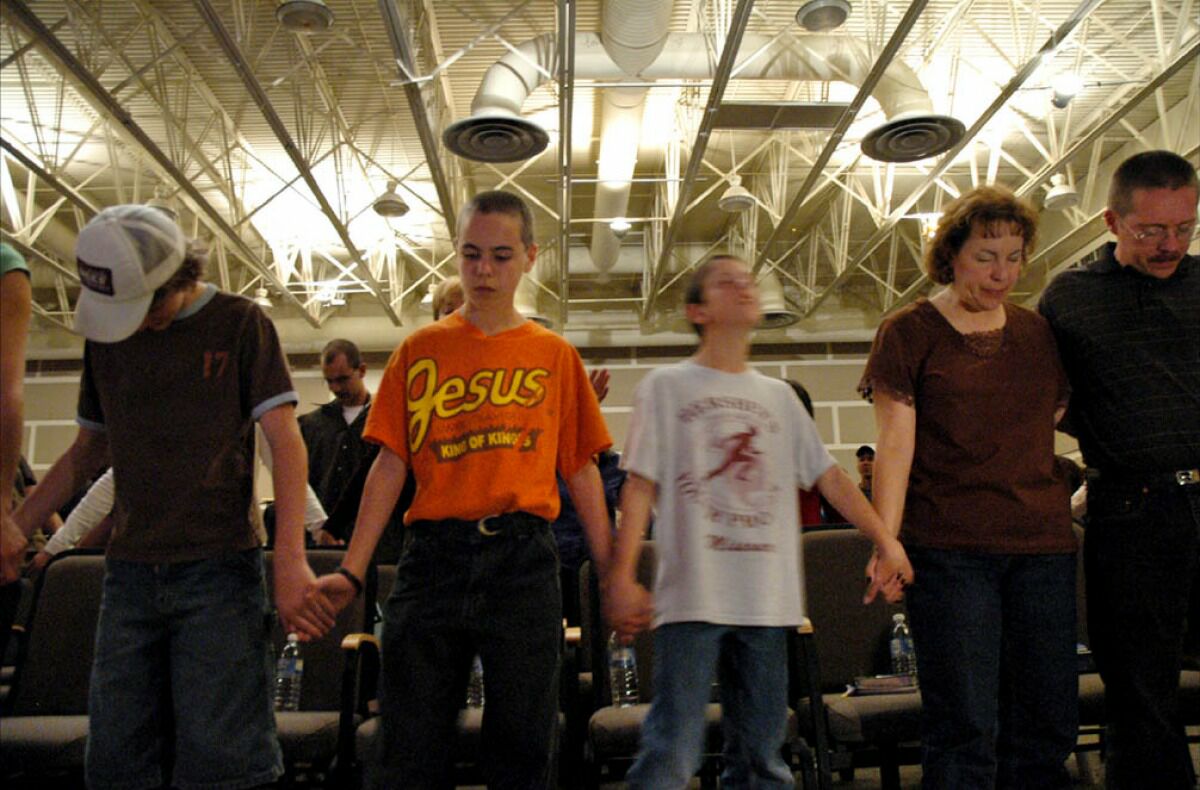 Watching Jesus Camp, it becomes harder and harder to argue with the notion that Christianity is a poison.
Even as the film only deals with U.S. Evangelical Christians, both the secular and spiritual alike are forced to confront the enormous capacity for evil. The most impressive aspect of that from directors Heidi Ewing and Rachel Grady is the fact that they do not frame the documentary as an attack on the Christian summer camp in question. They simply cast a light on these people and this place.
Whether or not you believe in God, any human being with an understanding of their best self can look upon one of the best documentary movies, and despair. Abuse does not have to be overt.
Watch if: You want an uncompromising look at fanaticism and Christian faith.
Avoid if: The description of the camp sounds pretty darn good to you.
15. I Am Not Your Negro (2017)
Raoul Peck, Haiti's former Minister of Culture, uses the life of celebrated writer James Baldwin to frame the chaotic years of the Civil Rights Movement during his lifespan. The documentary is based on Baldwin's unfinished manuscript about this very topic, including Baldwin's relationships to Malcolm X, Martin Luther King Jr, and Medger Evers.
Although this documentary simply cannot dive into Baldwin's manuscript, and its value across the generations, with the depth we might want, it is nonetheless a masterful tribute to an iconic writer and his influence upon the world.
It is also a steady reminder of how much further we still have to go, before the subjects covered in this documentary are no longer the commonplace headlines of racism, police brutality, and more.
Watch if: You want to understand a singular artist and their time and place.
Avoid if: You're pretty sure we all live in a post-racial society, which means you don't need something like this.
MORE BEST MOVIES LISTS:
– The Best Modern Movies
– The Scariest Horror Movies Ever Released
– The Greatest Sci-Fi Movies Ever
Some of the coverage you find on Cultured Vultures contains affiliate links, which provide us with small commissions based on purchases made from visiting our site. We cover gaming news, movie reviews, wrestling and much more.