As will always be the case in life, we're constantly looking for breaks in the overwhelming exhaustion and frustration. For a century and change, comedy movies have been making it possible for us to breathe, laugh, and get some of our dignity back. As far as the best comedy movies on Netflix are concerned, you aren't lacking in choices.
From some of the most famous comedies of the past 25+ years, to the funniest comedy movies to stream for the whole family, there are a ton of great choices out there.
Netflix may not have the deepest streaming library in town, especially when it comes to older films, or something not produced by the studio itself, but there's no question almost anyone can still find something they like.
This non-ranked list of the best comedy movies on Netflix will prove that in no uncertain terms, so let's get started.
1. Hunt for the Wilderpeople (2016)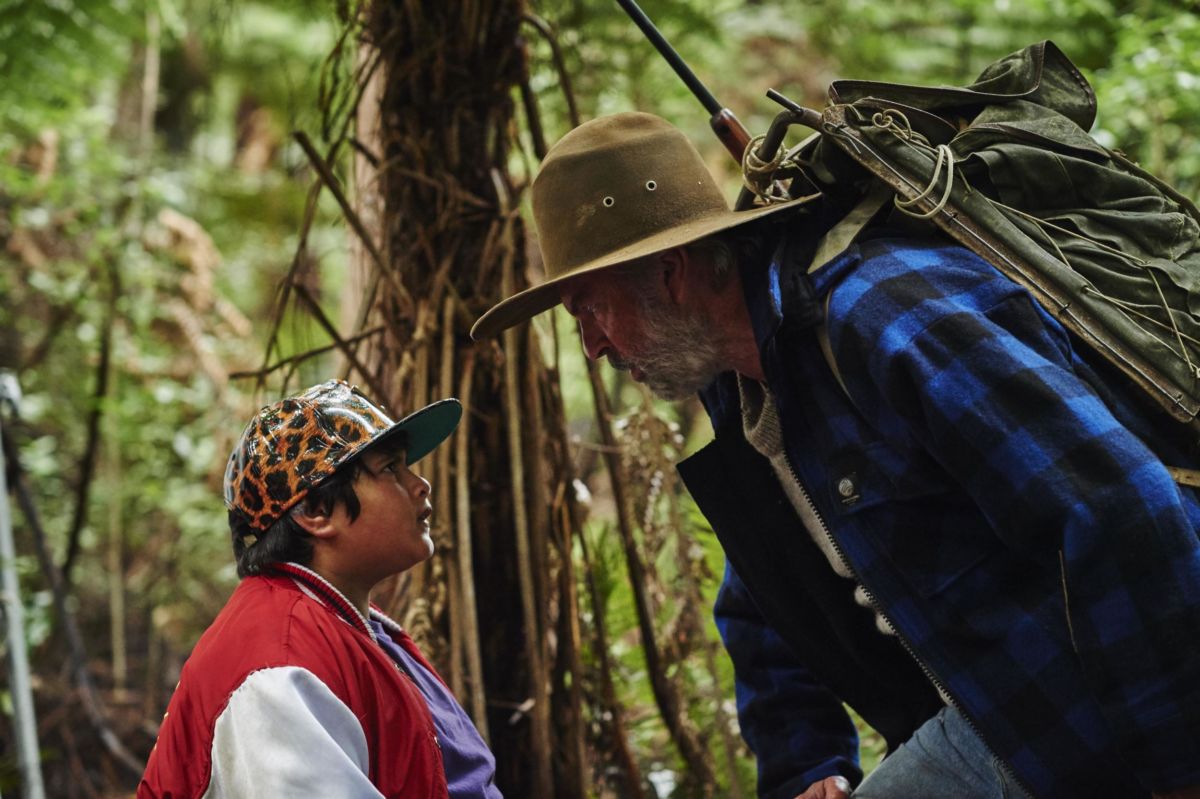 Director: Taika Waititi
For some people, this endlessly charming and spiritually creative 2016 indie comedy hit was their first significant introduction to writer, director, actor, and all-around delightful weirdo Taika Waititi.
From a fairly simple story, in which a young man (Julian Dennison) and his father figure friend (Sam Neil, in one of his best performances to date) go on the run from society, the law, and all of the nonsense included in dealing with these things, Waititi crafted an absolutely hysterical, fast-paced comedy with impressive layers of depth. This is particularly true in the film's depiction of childhood and innocence in a period of profound, painful, and quite humorous transition.
While Waititi has since revisited such depictions and themes in movies released since Hunt for the Wilderpeople, this might be his best effort so far.
2. Eurovision Song Contest: The Story of Fire Saga (2020)
Director: David Dobkin
If you're one of those people who believe Will Ferrell's best work as a comedy actor is behind him, Eurovision Song Contest: The Story of Fire Saga might just win you back.
Between genuinely funny, sweet chemistry with Rachel McAdams, who may have found one of her best characters to date here as the sweet, determined, but fairly naïve Icelandic singer Sigrit Ericksdóttir, and actually presenting the Eurovision Song Contest in all its bizarre song contest glory, this movie has a lot more to offer than a quick glance might suggest.
While there's nothing revolutionary or groundbreaking here, The Story of Fire Saga is a successful blending of several things that are genuinely humorous on their own terms. Ferrell's maniacal hyper-focus on winning the contest is just one aspect of the movie working very comfortably and quickly with its promise to deliver something memorable.
3. Legally Blonde (2001)
Director: Robert Luketic
It's kind of hard to believe that the first Legally Blonde, which continued Reese Witherspoon's lifelong journey of being beloved by pretty much everyone, is over 20 years old at this point. With a third Legally Blonde film set to be released sometime in 2022, it's inevitable that more and more people are going to go back to the first one.
You want to see how one of the best comedies of the 2000s, or at least one of the most popular, has aged after a couple of decades.
You know what? It's still great. Witherspoon's impressively dedicated portrayal of the deceptively simple Elle Woods, a young woman who becomes the hit of Harvard Law, based entirely around the fact that she wanted revenge on an imbecile who wouldn't propose to her, continues to be the center for a movie that was considerably smarter than it got credit for by many.
And if you've never seen it before? Change that. It's okay. I swear to you: it's a pretty damn likable movie.
4. Mystery Men (1999)
Director: Kinka Usher
Shame on you, 1999 movie audiences, for shame. Mystery Men, one of the most unique superhero movies ever made, only grossed $38 million on an astonishing (given the type of movie) $60 million budget. Are you kidding me?
While a fairly straightforward underdog ensemble, featuring the likes of Ben Stiller, Janeane Garofalo, Wes Studi, Paul Reubens, William H. Macy, and several others, Mystery Men's singular charms come from taking a bolder, darker, and relatively more grounded approach to superheroes. Yet there are also contradictions to this, as the movie has ridiculous things like Depression-era mobsters in a city that seems to be a combination of cartoons, comic books, and something close to our own world.
Mystery Men is essentially what happens when you throw a lot of different things in the blender, and what comes out is actually a lot better than you ever would have imagined.
Tom Waits plays a guy who makes weird gadgets and tries to bed old women for funding. What more do you need?
5. Bride of Chucky (1998)
Director: Ronny Yu
For some (not me), Bride of Chucky represents the peak of the Child's Play franchise combining genuine shock and horror with some of the silliest damn characters and plots ever created for a mainstream horror series.
To be sure, a lot of that humor comes from brilliant casting. Actors who can find the right balance between movies that can get pretty nasty, but also come with one-liners and amazing physical humor routines that work more often than not. That quality is extraordinarily apparent in Bride of Chucky, which features yet another great turn from Brad Dourif as the iconic killer doll.
However, if you ask me, the true star of Bride of Chucky is the bride, played here by Jennifer Tilly with such presence, timing, and delivery, I honestly think she should have won an Oscar.
Who even won in 1999?
6. Monty Python's Life of Brian (1979)
Director: Terry Jones
Monty Python essentially retelling the story of Jesus Christ (who still exists in this story as a neighbor of the titular Brian) may not sound all that controversial to younger viewers.
However, by the end of the 70s, Monty Python, consisting of Graham Chapman (who plays Brian, a put-upon messiah, to perfection), Eric Idle, John Cleese, Terry Gilliam, and Michael Palin, were among the most popular and influential figures in comedy. When they decided to go for religious satire, a sizable portion of the universe as we know it collectively lost their minds. The movie was a hit, but it put the group, no strangers to this type of humor, in an entirely new light.
Don't care about literally any of that? Life of Brian is still a blast of hilarious characters, multiple hit performances by each member of the troupe, and some of the most famous songs Eric Idle has ever written.
7. The Forty-Year-Old Version (2020)
Director: Radha Blank
I can admittedly be pretty hard on Netflix's attention to movies. They aren't very good at promoting their own releases, don't particularly care about older movies, and continue to slash their overall selection from one year to the next. All of this is almost objectively true at this point.
At the same time, they've indeed released several very, very good movies, exclusive to the platform. The 40-Year-Old Version continues to be one of my favorite examples of what you can find on Netflix, even as the company seemingly embraces an identity crisis around what the hell they're all about.
The 40-Year-Old Version gets a lot of its energy from Blank herself, who wrote, directed, produced, and stars in the film as an established artist embarking on a period of profound creative transition.
This is a painful journey at times, but the movie rolls that into some deeply funny observations on taking creative risks, as well as meditations on being a middle-aged Black woman in America that I would imagine are probably autobiographical to one degree or another.
With one of the best black-and-white portrayals of New York City I've ever seen, The Forty-Year-Old Version turns the story of a playwright's efforts to become a rapper into one of the best comedy movies on Netflix to recently come down the pike.
8. The Naked Gun: From the Files of Police Squad! (1988)
Director: David Zucker
Against all odds, a film based on a failed (but hilarious) 1982 TV show became one of the most profitable comedies of the 1980s. The film cemented fresh 62-year-old up-and-comer Leslie Nielsen as a leading man for comedies. This would prove to be particularly the case when those comedies focused on his dedication to being the weirdest, clumsiest thing in movies that thrived on pure chaos in all aspects and at all times.
Movies where the comedy is as broad as can be found in The Naked Gun often struggle to keep the enthusiasm going for its entire running length. Not so here. It never, ever stops being funny.
The Naked Gun started a franchise, features memorably funny performances from George Kennedy, Priscilla Presley (it's still just kind of weird to me that she even did these movies, but I'll never deny how absolutely incredible she is in them), and Ricardo Montalbán, playing the villain with his legendary enthusiasm and energy.
9. ParaNorman (2012)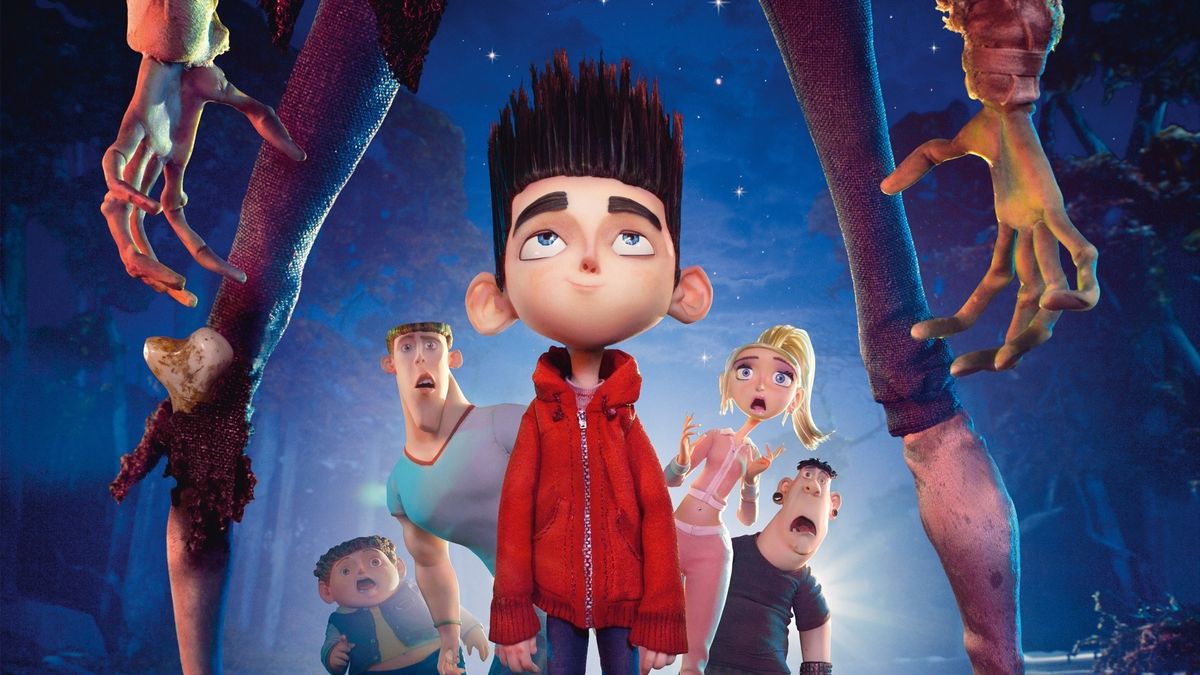 Director: Chris Fell and Sam Butler
Produced by the endlessly inventive animation studio Laika, ParaNorman is a love letter to childhood stories wrapped in a horror atmosphere and various related themes. It also benefits from being one of the comedies on this list that is perfect for pretty much the entire family, and is also a comedy about a kid, his friends, and a vengeful dead little girl that I can recommend to pretty much anyone.
Seriously, I don't care who you are. I can't guarantee you will love this movie, which features some of the most impressive stop-motion animation of all time, set to some of the most distinctive horror aesthetics to be found anywhere. However, everyone should at least give the film a try.
The fact that it's an animated comedy featuring children should not deter you from watching.
10. The Death of Stalin (2017)
Director: Armando Iannucci
While based on the very-real power struggle that emerged in Russia following Stalin's death, I have no idea how factual this satire really is. I don't know if this will upset anyone, but I really don't care either way.
I think that even as history mythologizes people like the utterly monstrous Joseph Stalin, we have to remember that these massive figures of history were still dorks who farted a lot, had impossibly dumb ideas alongside the good ones, and confused education with intelligence on an almost hourly basis.
Built around an incredible ensemble, which includes Steve Buscemi, Michael Palin, Jeffrey Tambor, and Jason Isaacs, I think The Death of Stalin is great because it puts a special emphasis on my larger belief that most of history's most notable names were barely more competent than the rest of us.
It also offers some wonderful raised stakes, and varied comedic chemistry among this very quick-witted, immense cast.
11. Dolemite is My Name (2019)
Director: Craig Brewer
Written by two of the best comedic biopic screenwriters in film history, Scott Alexander and Larry Karaszewski (they also wrote, for example, Tim Burton's Ed Wood), Dolemite is My Name put Eddie Murphy on a comeback trail that became one of the year's more appealing film stories. The fact that Murphy himself was overlooked at the Oscars is still a sore point for some.
Besides being a profoundly affectionate story of Rudy Ray Moore, as well as the notion of the family that can sometimes come out of something as extraordinary and difficult as making a movie, Dolemite is My Name is Murphy as one of the funniest human beings on the planet once again.
That's enough to power the entire movie, but don't forget that Dolemite is My Name also benefits greatly from performances by names like Da'Vine Joy Randolph (who also deserved an Oscar), Keegan-Michael Key, and Wesley Snipes.
12. Always Be My Maybe (2019)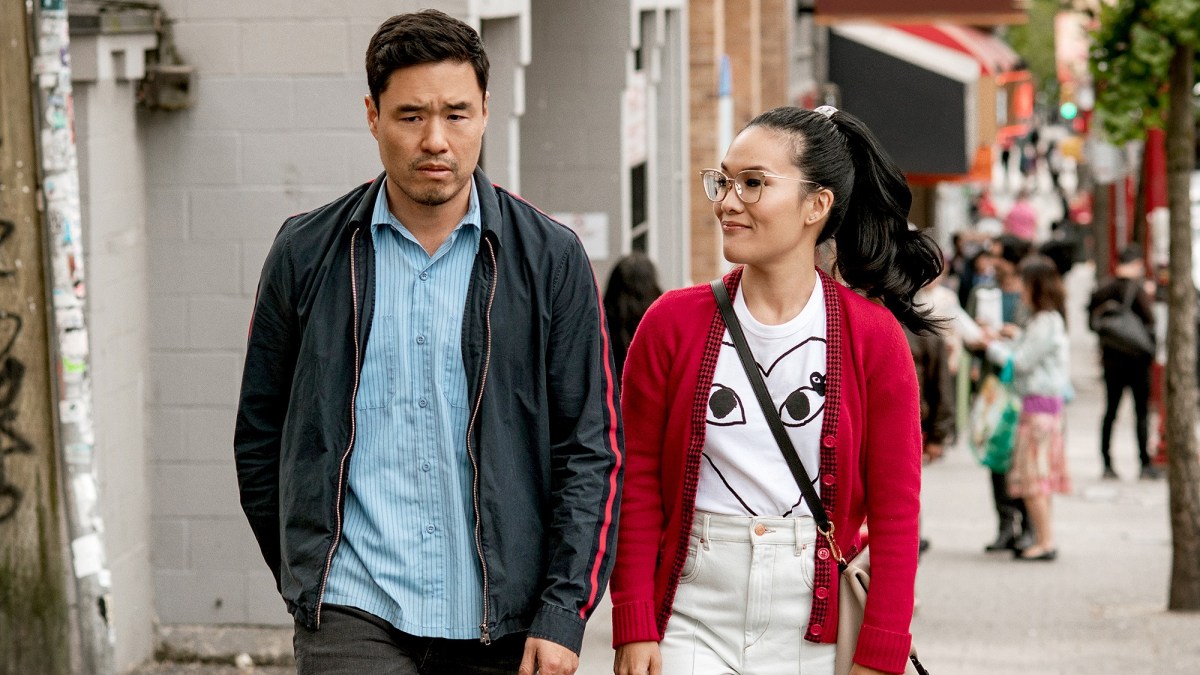 Director: Nahnatchka Khan
If you're looking to this list for possible romantic comedy suggestions, you'll learn I'm not the biggest fan of these. However, like most people, even those who won't admit it, I'm not completely immune.
If someone demands a romantic comedy sometime soon, Always Be Me Maybe is going to be the kind of thing that most people who don't really care for these movies will find themselves liking nonetheless. A lot of the appeal of these movies really just comes down to whether or not you like the characters who are almost certainly going to wind up together.
While it can sometimes be almost impossible, I think you're going to like Ali Wong and Randall Park regardless. They drive a simple story and create pleasant surprises in the degree to how clever the movie comes across.
Keanu Reeves as an exaggerated version of himself is something that must be seen, but as crowd-pleasing love stories go, Always Be My Maybe from director Nahnatchka Khan proves you can craft these with a degree of depth and intelligence.
13. Yes, God, Yes (2020)
Director: Karen Maine
Written and directed by the same singular creative wit that helmed Obvious Child, Yes, God, Yes is another coming-of-age comedy that proves these stories can still find new ways to remind us that childhood was, at best, problematic.
At the heart of Yes, God, Yes, the story of a Catholic teenage girl whose sexuality comes into its own during an AOL chat session (the movie is set in 2001), is the likability of Natalia Dyer as the girl in question.
I don't have a lot of experience in being a teenage girl in the early 2000s. I don't think that's really going to stop you from embracing Dyer as Alice, or from appreciating how Yes, God, Yes also hits certain memory notes of being 16 in the early 2000s. On a level that almost anyone who fits those qualifications will be able to appreciate.
14. National Lampoon's Christmas Vacation (1989)
Director: Jeremiah S. Chechik
"It's not Christmas right now!" You might say, if you read this between January and October.
"Who cares?" I'm willing to say back.
The best of the Vacation sequels, and nearly as good as the first one, Christmas Vacation gets a lot of mileage out of Clark Griswold (Chevy Chase, just about to hit a long downward slide at this point) being obsessed with having an old-fashioned family Christmas. This obsession is literally the same as the past two films in the series. However, Christmas Vacation ultimately possesses something that seems to be even more relatable than the dream of a fun family road trip.
Almost nothing goes according to plan, of course. Clark tries to keep his sanity, of course. He fails. Of course.
However, when this formula is firing on all cylinders, with a strong script, an invested cast (Chevy does some of his best work here), and a modicum of sympathy for Clark's dreams, there are very few classic comedies that work as well in their heyday as they do now. Yet Christmas Vacation is still a pretty safe bet for a comedy that starts funny and stays that way.
15. Tenacious D in the Pick of Destiny (2006)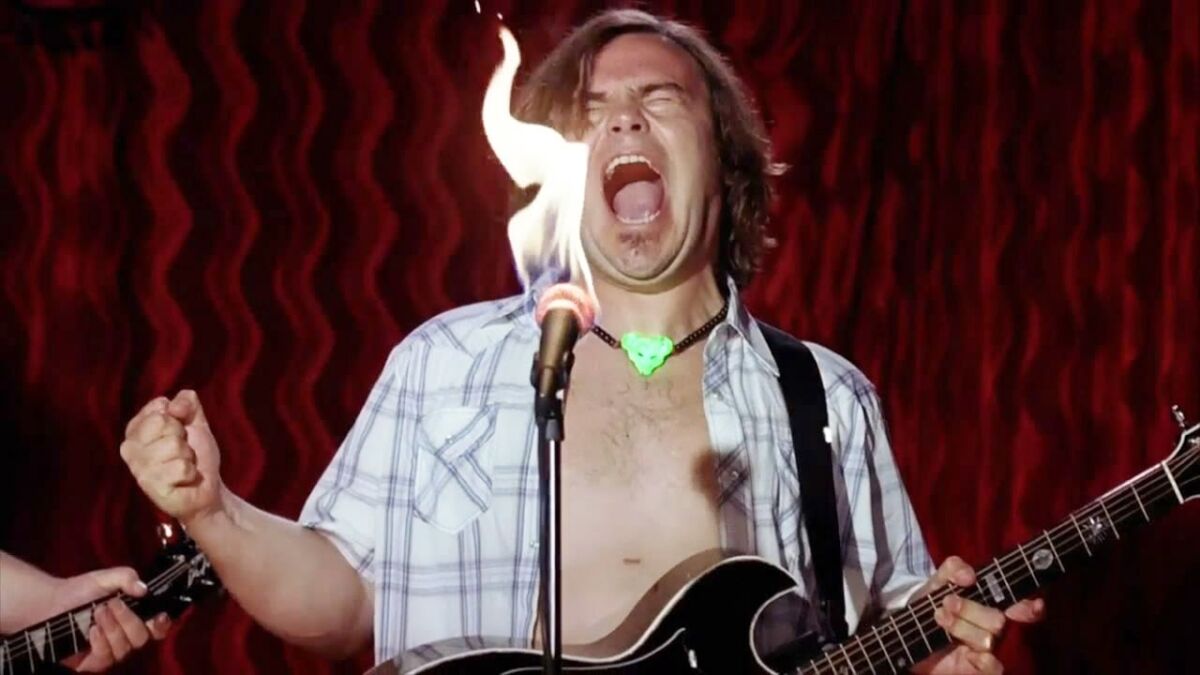 Director: Liam Lynch
Keep in mind that nothing has been ranked, and that this is simply a gathering of the best comedy movies on Netflix. It's easy for Pick of Destiny to make that cut.
While very clearly steered at midnight and/or stoner movie fans, as well as those who just love the D, Pick of Destiny has a sweetness that combines with genuinely good music and gently surreal humor to create something that I will always argue deserved a bigger audience, when it was released in 2006 to disappointing box office returns.
This is definitely among the all-time great stoner comedies. I would also just argue that it's goofy charm, particularly the relationship between Jack Black and Kyle Gass, the actual longtime friends who make up the actual longtime multi-genre music duo Tenacious D, makes it a comedy broad enough to be a good time for anyone who just likes buddy comedies.
READ NEXT: The Best Comedy Shows On Netflix
Some of the coverage you find on Cultured Vultures contains affiliate links, which provide us with small commissions based on purchases made from visiting our site. We cover gaming news, movie reviews, wrestling and much more.