We're often told that the British sketch show is a dying art, an outdated medium supplanted by cheaper setups or else rendered obsolete by the fast-paced, quickfire ephemera of viral, self-made content on YouTube, Vine and, say it quietly, Tik-Tok. While our American cousins have taken the form and run with it, producing pioneering shows ranging from Mr. Show to I Think You Should Leave and Portlandia, the setup seems increasingly out of place in contemporary British culture.
Such a decline is a shame, depriving modern audiences of a format conducive to great creativity, variety and invention. To let sketch comedy die out entirely in the UK would be to allow the nation to shed a vital part of its comedic identity, a part that it cannot afford to lose. As such, any budding sketch enthusiasts should look no further than fifteen of the finest exponents of the sketch scene as inspiration for just how great a format it can be.
The definition of a "sketch show" can be a tricky one to pin down, especially as many shows, such as Snuff Box or Coogan's Run, use many of the trappings of the format while also following a vaguely overarching story. In this list, we've tried to stick as strictly to pure sketch shows as possible, although essential viewing such as The League of Gentlemen has slipped through the net by virtue of its undeniable quality and influence. Here are the best British sketch shows you should be checking out.
The Best British Sketch Shows
15. The Armando Ianucci Shows
The Armando Ianucci Shows, a series of eight sketch-based episodes released in the early 2000s, managed to fly so far under the radar that you have to do some pretty deep scouring of the comedy archives to find it. Considering that the show's original release coincided with the tragedy of 9/11, it's not surprising that few viewers at the time gave it the attention it deserved, a crying shame considering its quality, charm and originality.
Ianucci may be a comedy powerhouse better known for being responsible for The Thick of It, In the Loop, Time Trumpet, Veep and The Death of Stalin, as well as being one of the main writers and driving forces behind the peak years of Alan Partridge, but The Armando Ianucci Shows is the Scottish comic distilled into his purest form..
Each episode revolves around a particular theme, be it 'morality', 'reality' or 'neighbours' as Ianucci attempts to get to the heart of humanity's most unanswerable questions. Every one is excellent, but the aptly-named 'Twats' is probably the pick of the bunch as Armando discovers that football fans are being fed their opinions by pundits via earpieces and makes the striking revelation that, ultimately, "we're all twats!". For anyone with an interest in Ianucci's work or sharply written comedy, The Armando Ianucci Shows is essential viewing.
14. Limmy's Show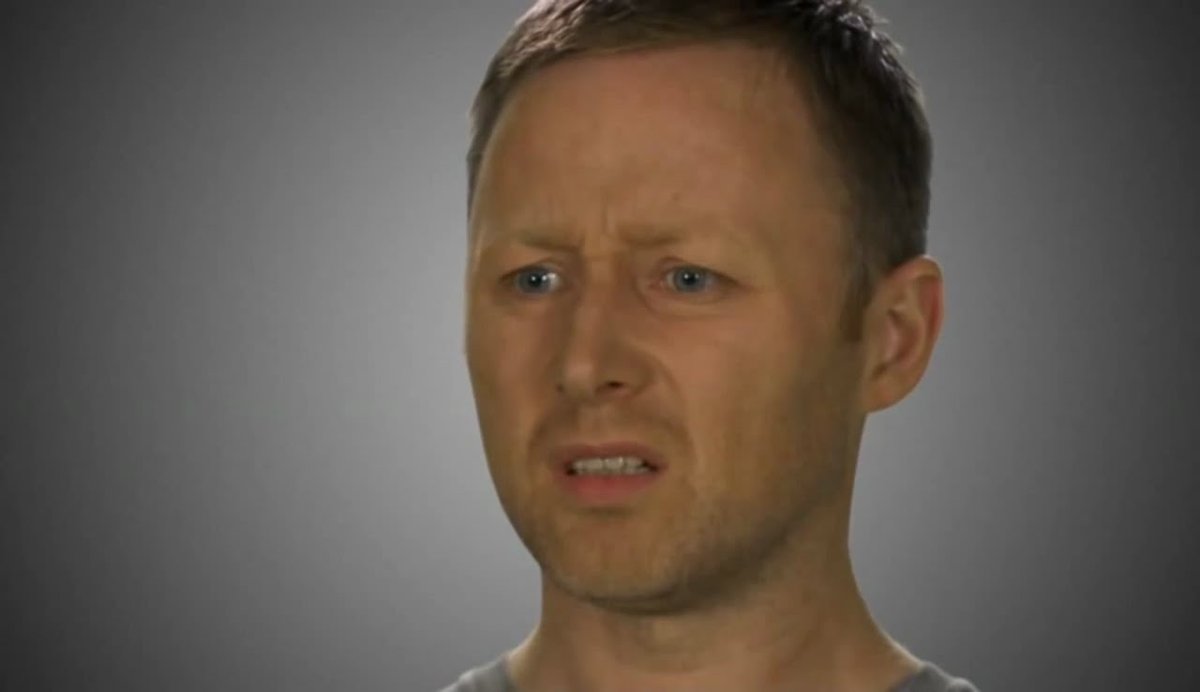 Brian Limond, AKA Limmy, has slowly grown into one of Britain's most respected and beloved comic performers, a quiet and gradual progression that has seen the Scottish humorist revered by fans and his peers in equal measure. If ever there were a comedian who could be described as a cult comic, Limmy and his peculiar brand of quirky, often disarmingly scathing humour, would be the first name to spring to mind.
The thing about Limond is that he's such a subtly adept comic performer. Far from what you'd call a studied or trained actor, the Glaswegian comic has such an incredible eye for detail that he makes his characters as believable as they are absurd, a tricky line to walk but always done with consummate ease. Limmy's Show is certainly Scotland-centric, but there's no reason for anyone not to be enraptured by the slightly surreal, subtly layered nuances of one of this generation's most unique comedy voices.
Watch a single Limmy skit and you may end up being left a little cold, until you realise that it's three hours later and you're still trawling YouTube for any hidden sketch you might have failed to unearth. Limmy might have a leaning towards being hit and miss, but when he hits, there are very few who can compare.
13. French and Saunders
For a British sketch show to go on for six whole seasons and span three separate decades is a phenomenal achievement. What the continued longevity of French and Saunders proves unequivocally, is the utter faith the BBC had in the duo to keep turning out work of consistently high calibre that would remain undiminished in its popularity.
Like the best of duos, French and Saunders aren't just great writers but peerless performers, each possessing that intangible quality that makes a person funny by virtue of their mere presence on screen. In many ways, the pair took over the mantle left behind by Morecambe and Wise, their one-off specials and movie parodies usually marking the high point of events and fundraisers like Comic Relief.
Doing silly humour is never easy to pull off, but two of the country's funniest performers have always possessed the charm, charisma and warmth to make practically anything work, and that is a very rare talent indeed.
12. Horrible Histories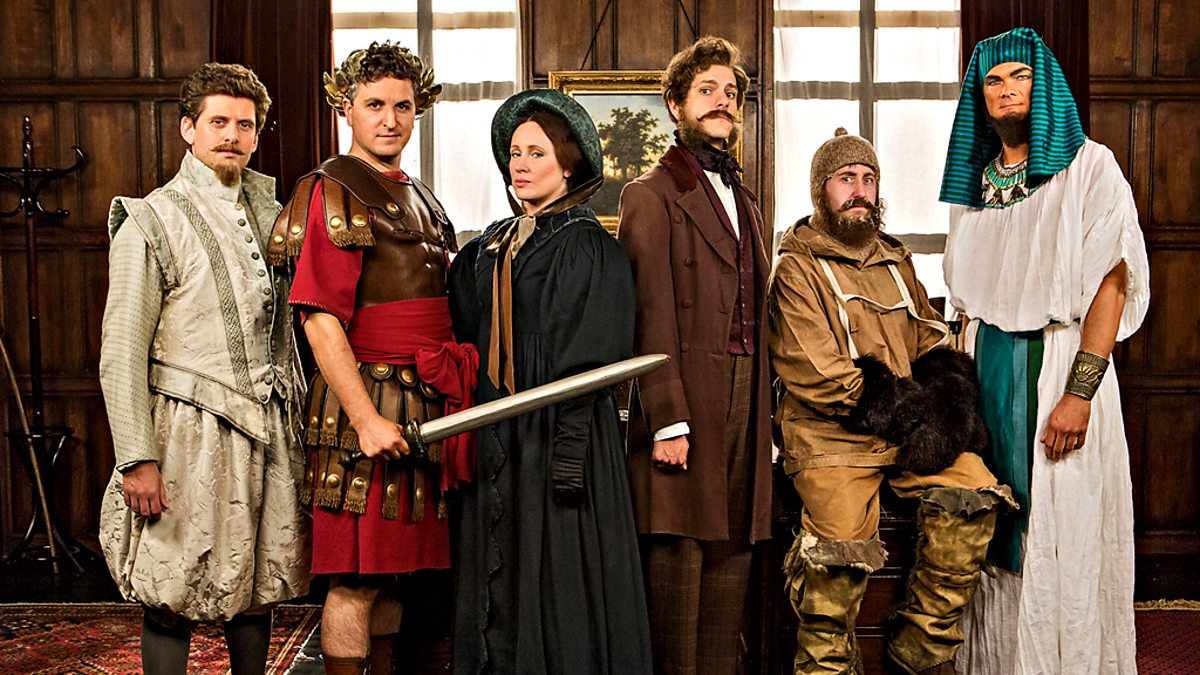 I admit that Horrible Histories the TV show was a little after my time, even if I had been one of the many devotees of Terry Deary's original series of excellent and informative books of the same name. The genius of Deary, and the subsequent sketch show, was the realisation that children aren't particularly interested in pre-industrial land rotation or the effects of the Corn Laws or how a loom worked. Children like faeces, violence, and disease, so the more of it, the better. They have little interest in the effect of the Reformation on matters of personal belief in the 16th Century.
Usually, the phrase "Let's make (insert subject here) fun!" is enough to make even the most dim-witted infant run for the sanctuary of the nearest available rooftop, a platitude that normally precedes the appearance of a math-magician or wacky scientist trying to engage kids with physics by walking around on custard. Horrible Histories, somehow, pulls the trick off, managing to be funny without being patronising, rude without being crass and informative without ever being patronising, or worse, boring.
Horrible Histories has managed to engage the smartphone generation with history and the wider issues surrounding it, and if that remarkable achievement doesn't merit its placement as one of the best British sketch shows ever, I honestly don't know what does.
11. That Mitchell and Webb Look
There's a strong case to be made in suggesting that That Mitchell and Webb Look was the last great sketch show this country produced. Many have been good, from Cardinal Burns to The Peter Serafinowicz Show, but revisiting TMAWL is often tinged with the hollow feeling that you're watching the death throes of a dying breed. What Mitchell and Webb proved is that there is still room for comedy that can be smart without being smug, a show that found great mainstream success without ever dumbing itself down. The world is a poorer place without it.
Best of all was the pair's ruthless disregard for their own material and their keen awareness that many gags and characters have an inevitable sell-by date after which they fail to be nearly so amusing. While others might have been happy to grind bits into the ground, Mitchell and Webb jettisoned or adapted many of the most popular sketches in a bid to stay fresh.
Numberwang's original form as a nonsensical gameshow, for instance, only survived the first season before becoming the subject of a Da Vinci Code parody, a soberly in-depth documentary and even a board game adaptation.
10. Ruddy Hell! It's Harry and Paul
Harry and Paul are just such incredible character comedians that the pair are almost without comparison. Enfield started his career with the intention of making shows whose humour could be accessible to a wide audience, not merely as a high-class vehicle for Footlights graduates or patronising working men's sitcoms, while Whitehouse, a former painter and decorator, was once described by Johnny Depp as "the greatest actor in the world". Enfield and Whitehouse had, of course, worked on numerous shows, together and separately, but Harry and Paul would be the first to explicitly place the pair on an equal footing as the show's eponymous stars.
There are certainly some misses in amongst the hits, and some of the show's sketches, especially in the earlier seasons, would struggle to get past even the laxest of regulators today, but when the duo get things right they are almost incomparably funny. From their peerless contemporary parodies of Dragons' Den and Question Time to the Royal Northerner Show, not to mention their Movie Original series (nobody does black and white sendups nearly as well), Harry and Paul is a showcase of two phenomenal comic actors working at the peak of their powers.
Also well worth seeking out is the pair's Story of the Twos, a lovingly scathing tribute BBC2 fronted by Harry Enfield's joyous send-up of foppish historian Simon Schama. Side-splittingly funny and peerless in its observation of the channel's highs and lows, The Story of the Twos is a blisteringly enjoyable romp through 50 years of televisual history.
9. The Fast Show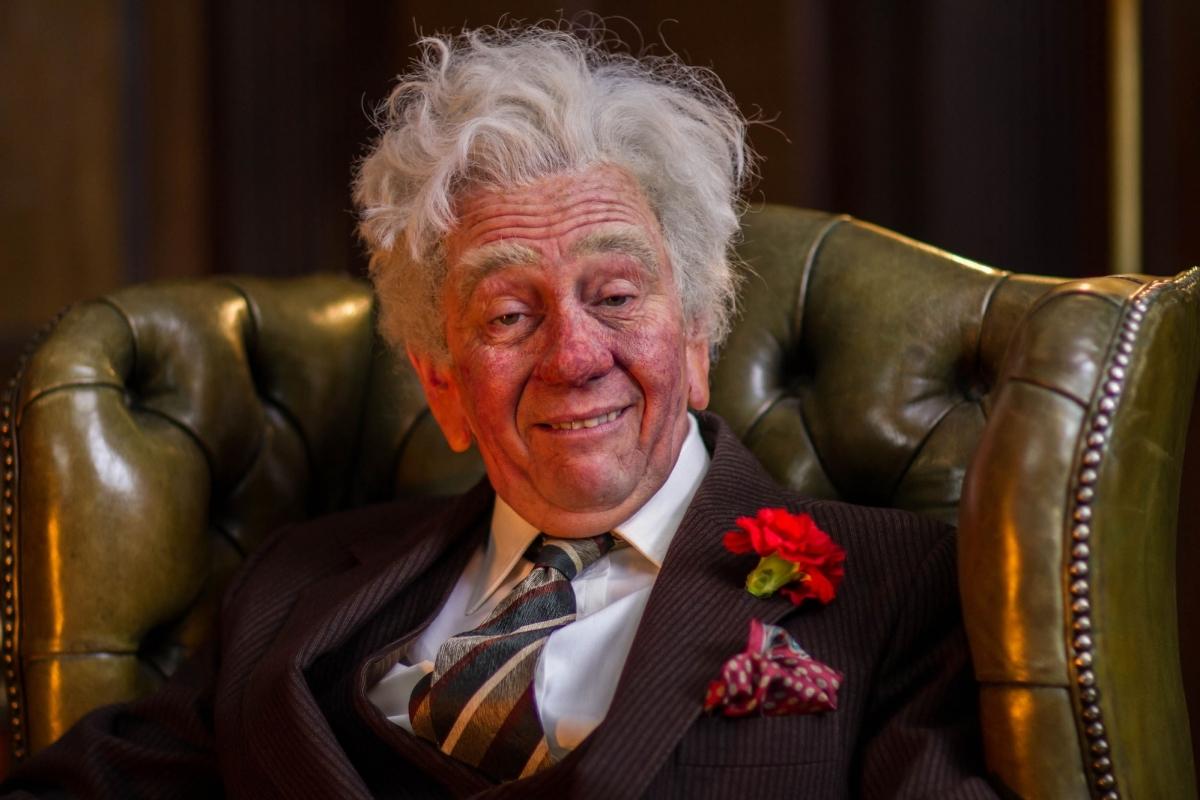 In the pre-internet, pre-Tik Tok, pre-commodified comedy age, The Fast Show was miles ahead of its time. While previous sketch shows had much longer with their respective skits, the Fast Show was, unsurprisingly, a far zippier afar, cutting happily from one sketch to another and often back again at breakneck speed.
Thrashing out sketches is all well and good, but it's all for nought if the material itself isn't up to scratch. Fortunately, the Fast Show is almost endlessly quotable and consistently brilliant, an only slightly hit and miss affair that manages to unearth far more hits than a comparably small number of misses.
There are dozens of wonderful recurring sketches from which to choose, but Charlie Higson's existentially tormented Johnny Nice Painter, Simon Day's Competitive Dad and Paul Whitehouse's Rowley Birkin QC are especially noteworthy. The Fast Show might have travelled at breakneck speed, but rarely did it sacrifice its own quality in the process.
8. Not The Nine O'Clock News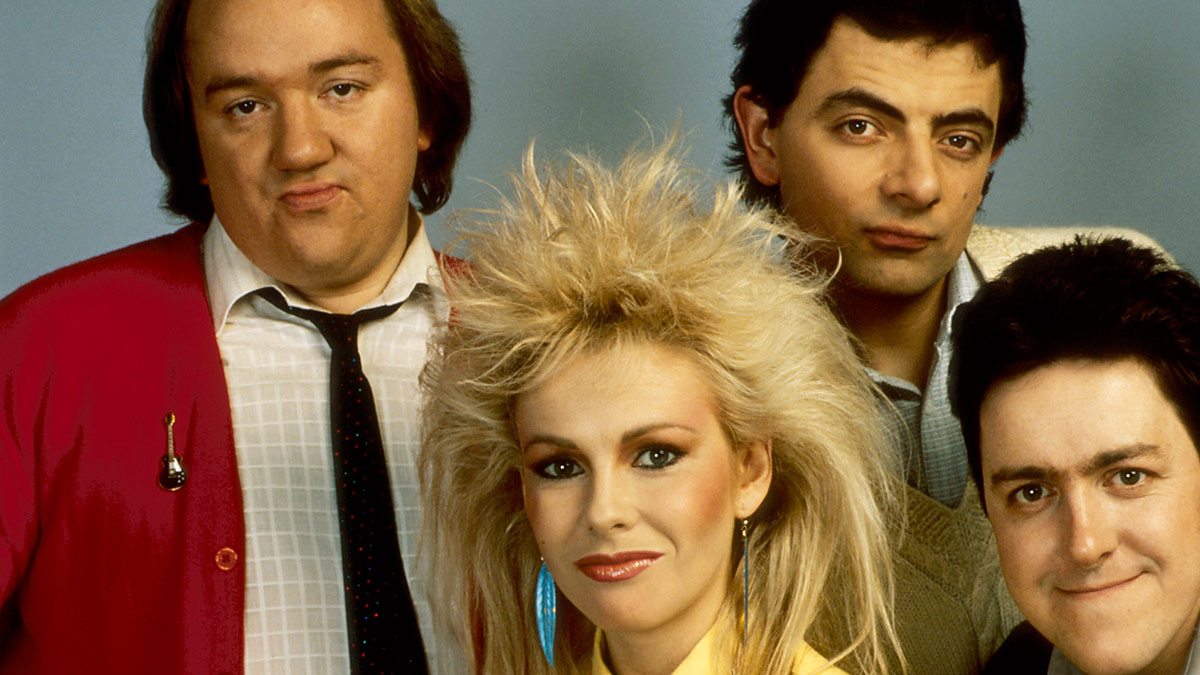 Not The Nine O'Clock News feels like it comes from a completely different era in the history of British comedy, and in many ways it does.
The age of the edgy, anarchic, rock n'roll comic may not quite be with us as it used to be, although it still exists via stand-up comics and topical panel shows, but the idea of satirical sketch comedy seems somewhat alien to modern-day sensibilities. Anarchic, satirical and often featuring politically relevant parodies of figures like Oswald Mosley and Margaret Thatcher, it's easy to think of NTNOC purely in terms of the impact it left as a political force.
When NTNON is at its best, however, is when it's simply allowing its performers to be outstanding. The show boasts nothing short of a dream cast of talent, Atkinson, Stephenson, Smith and Jones combining to form a near-perfect quadrumvirate. If the show's cast were exceptional, they were aided by some of the best writing the format has seen, classics ranging from Gerald the Gorilla ("wild? I was absolutely livid") to Constable Savage and The Swedish Chemist Shop.
With songs, parodies, satire and overdubbed vignettes, NTNON managed to be both of its time and far ahead of it in equal measure.
7. Big Train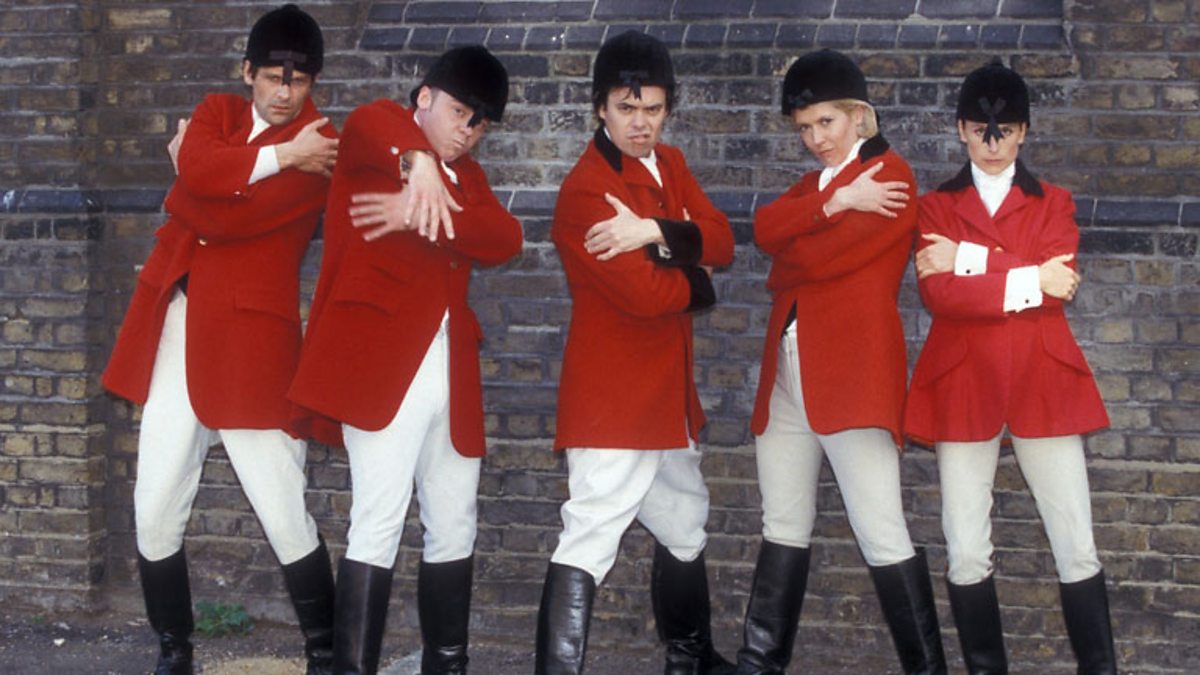 Explaining why Big Train is funny is like trying to explain why you bite your fingernails or why you like mayonnaise. There's no discernably apparent reason, aside from the show's stellar cast of exceptional comic performers, why such a peculiar little sketch vehicle from the late 90s should be so good. It just is.
Part of the show's strength is its utter commitment to every sketch's ridiculous and absurd premise, often deadpanning each ludicrous set-up with the stoney-faced conviction of a serious drama. While few others could get away with such a tactic, Big Show's masterful performers, including Mark Heap, Kevin Eldon, Julia Davis, Amelia Bullmore and Simon Pegg, are so genuinely convincing that the whole thing just sort of works.
The show isn't gag-laden in the same way that an episode of Not Going Out or The Two Ronnies might be, but it's so surreally immersive, consistently original, and richly textured that one can be taken in by practically every single skit, no matter the quality. Why a man looking for an extra-strength brand of glue to stick together animals, or hearing the outrage of the announcement of a new office manager, should be funny is beyond me, but Big Train must simply be seen to be adored.
6. The League of Gentlemen
The League of Gentlemen has contributed so much to the alternative comedy scene in Britain that it's tempting to say that the cultural landscape in this country simply wouldn't be the same without them.
Through a period when comedy has increasingly favoured mockumentaries, catchphrase-laden sketch shows and the increasing allure of the cheaply-made panel show, the League have ensured that the dark heart of British humour has remained alive and beating throughout fads, trends and social change. Reece Shearsmith and Steve Pemberton's acclaimed follow-up anthology shows Psychoville and Inside No.9 have ensured that the spirit of The League has never truly departed from our screens.
Few comedy shows have ever been quite as unique as The League of Gentleman as it unearthed the strange and disturbing antics of the residents of Royston Vasey, a part-sitcom part sketch show that dabbled in classic horror tropes with gleeful abandon. More of a collection of separate skits loosely tied together by an overarching narrative, and described by The Guardian as "like watching Monty Python remake The Wicker Man from inside Alan Bennett's fever dream", The League of Gentlemen is still one of the finest examples of bridging the gap between two apparently opposing genres ever made.
5. A Bit of Fry and Laurie
Stephen Fry and Hugh Laurie's talents have made them national institutions, albeit of two distinct nations. The pair have left an indelible mark on transatlantic culture, the duo possessing levels of talent usually reserved for a room full of people, let alone only two.
Meeting initially at Cambridge before going on to star in the somewhat forgotten sketch relic Alfresco alongside the likes of Ben Elton, Emma Thompson and Robbie Coltrane, ABOFAL was the pair's comedic vision coming to fruition with unbridled control. Built upon the duo's incomparable natural chemistry, the show paved the way for probably the finest onscreen Wodehouse adaptation, Jeeves and Wooster, just a few years later.
ABOFAL is of a different era and yet still feels immensely accessible, verbose and florid while also being as slyly vulgar as possible at almost every available opportunity. It's often easy to get sick of shows that rely heavily on wordplay, but the breadth and variety of ABOFAL's sketches, always punctuated by intercutting vox-pops or the occasional musical number from Laurie, never lets things grow dull. Like the best of sketch performers, Fry and Laurie understood how to create characters and worlds immediately, from Fry's peerless parodying of the upper classes (see Duke of Northampton) to Laurie's incomparable ability to be hit in the face.
Thanks to YouTube and its stars' subsequent successes, ABOFAL is finally being awarded the esteem it always deserved.
4. Morecambe and Wise
Not many sketch duos get to be known as literal national institutions, but there's no other word for the esteem and status held by Eric Morecambe and Ernie Wise during their comedy peak. If Monty Python garnered renown throughout the globe, Morecambe and Wise were the comedy heroes for practically every television lover up and down the United Kingdom, their legendary Christmas specials as synonymous with the festive period as turkey, the Queen's Speech and casual racism from your nan.
It isn't hard to understand the excitement or indeed the esteem. Eric Morecambe is still regarded as one of Britain's great comedy performers, a man who was inherently funny without even having to try, aided and abetted by the industry's most misunderstood sidekick Ernie Wise, the man who selflessly allowed his partner to shine time and again. The era of vaudeville and variety has all but disappeared from mainstream British television, hastened in part by the passing of Morecambe in 1984.
Were it ever to return, it's unlikely any could come close to matching the format's true masters.
3. The Two Ronnies
Amid the waves of laughter, there are times when you watch sketches from The Two Ronnies and think, "Wow, this is just genuinely impressive!"
Few shows have the capacity to elicit genuine laughter, but even fewer are actively remarkable in their construction. The Two Ronnies' capacity for lovingly crafted, exceptionally well-put-together skits was practically unparalleled, from their exquisite Mastermind parody and the infamous 'Four Candles' bit to practically any monologue Ronnie Barker ever performed.
Corbett remained a national institution until his passing in 2016, a beloved icon of the small screen and a hugely popular figure in British cultural life. Barker, however, finds his name swirling the lofty summit of Britain's very, very best, the stratosphere reserved for the Cleeses, Atkinsons, Sellerses and Cooks to which many strive but few arrive. As a comedic performer, Barker was practically unstoppable, as comfortable playing the upper-class fuddy-duddy as the disaffected shop custodian or straight-laced newsreader.
The man could do it all, and he elevated The Two Ronnies to something genuinely awe-inspiring.
2. Not Only…But Also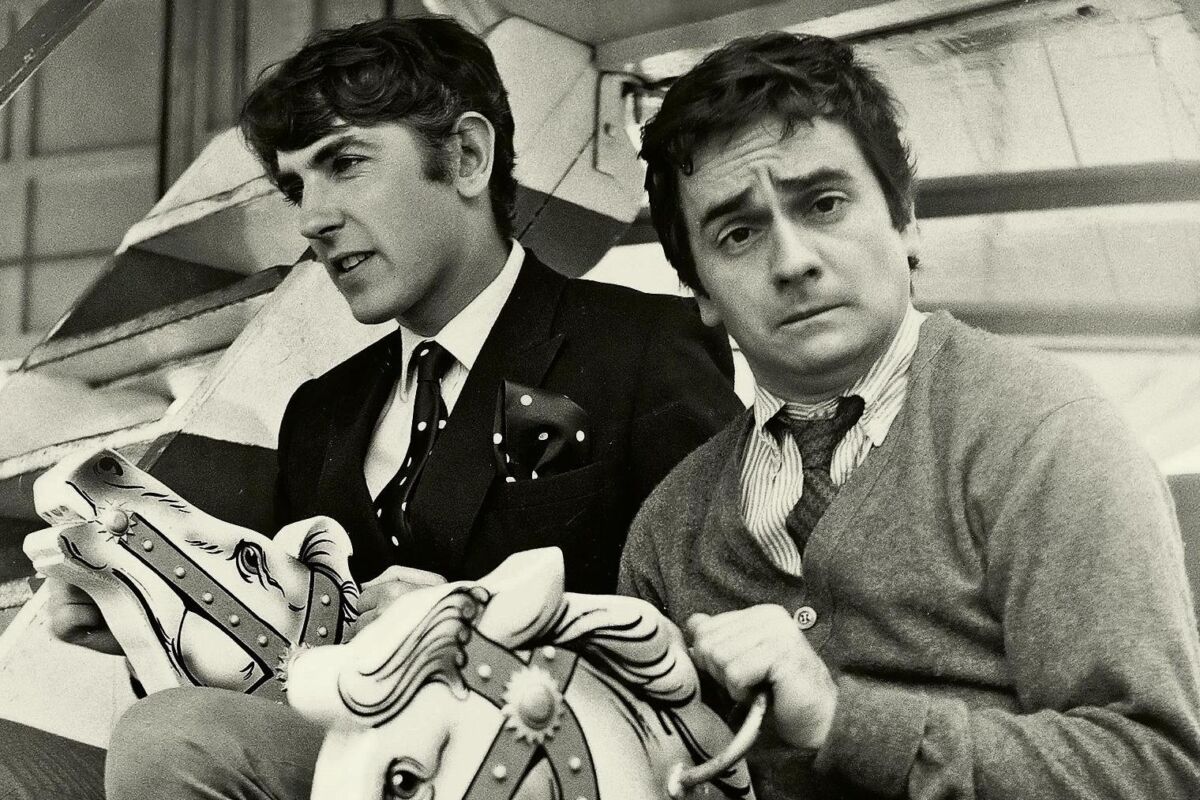 If Monty Python are the Beatles of the comedy world, Peter Cook and Dudley Moore are The Beach Boys, or the Byrds, or Elvis Presley multiplied by a factor of two. The point is, while many might consider the genesis of modern British comedy to emanate from the groundbreaking work of Cleese and co., the two titans who started it all are Pete and Dud.
A 2005 poll to find 'The Comedian's Comedian' placed Peter Cook at the very top of the pile, the finest comic mind, according to his contemporaries and admirers, this country has ever produced. Combining Cook's extraordinary talents as a writer and performer with Dudley Moore, a starkly gifted actor, wit and exceedingly proficient jazz pianist, resulted in near-comedic perfection, a font of talent to which all other duos must now vainly aspire.
Cook and Moore are still hysterically funny, the joy of two performers with a clear adoration for their medium dripping from their work. Cook and Moore paved the way for comedy to be profane and profound, filthy and frenetic, ridiculous and reverential, crass and extremely clever. Chaucer and Shakespeare aside, the pair are still arguably the true grandaddies of Brititsh comedy.
1. Monty Python's Flying Circus
There isn't a sequence of words you could use to describe Monty Python and their influence on British humour, nay, culture, that hasn't been spouted infinitely on talking heads features, online lists, comedy websites, TV countdowns and newspaper articles, guides to, greatest hits and best-ofs, top 10s and social media posts. Being British and not knowing about Monty Python is like not knowing who the Queen is, or the words to the national anthem, or what colour a postbox is.
Monty Python really did change the face of comedy forever, an anarchic, groundbreaking troupe of Oxbridge grads who pushed every boundary possible in pursuing the Holy Grail, pun-intended, of surreal humour. While lapsing into hyperbolic, grandiose cliche is somewhat inevitable when talking about Python, it's also one of the few instances where such assessments are well-earned. The troupe's sketch show, plus the films that followed, changed the comedic landscape and in doing so influences shows and performers ranging from The Simpsons to South Park, Mr. Show to Spaced, Rowan Atkinson to Sascha Baron Cohen. The debt owed to the troupe is staggeringly enormous.
Monty Python isn't merely an aspect of British comedy or the start of a lineage that has literally defined a genre for the past 50 years. Rather, Monty Python is British comedy, in the same way that Bob Marley is reggae music, or Martin Luther is The Reformation, the one thing that people think of when somebody mentions this soggy little island and its peculiar sense of humour. There is no British comedy without Python, and there is no Python without a profound understanding of the British identity.
Monty Python is synonymous with British comedy and culture, and when you can find another show that can be said about, I'll happily place it at the top of the list of the best British sketch shows. Until then, it'll still be the same – something Completely Different.
READ MORE: The Best Comedy Movies on Netflix You Should Watch
Some of the coverage you find on Cultured Vultures contains affiliate links, which provide us with small commissions based on purchases made from visiting our site. We cover gaming news, movie reviews, wrestling and much more.