For a time, it felt like boxing games were one of the best and most lucrative games out there, deftly weaving together fighting games and sports. Whether they were straight-laced simulators with black eyes and brutal KOs, or arcadey zaniness that trades pugilism for power-ups and silly bollocks. Both versions of boxing games have their merits and downfalls, but it feels like both have fallen out of favour in recent years. Despite that, we can still celebrate the best boxing games ever made.
Whether it's due to the cost of licensing boxers across multiple federations, or the ongoing rise of MMA over boxing, games based on the sweet science have been dry for a while. However, thanks to new releases, the future looks to be a lot brighter when it comes to the squared circle and video games. With that in mind, we've ranked the 10 best boxing games, no judges' decision needed.
The Best Boxing Games
10. Hajime No Ippo: The Fighting
Developer: Bandai Namco
Publisher: Bandai Namco
Platform(s): PS3
Considering this game never saw a release outside of Japan, we can't exactly put this game higher up the list, but Hajime No Ippo: The Fighting is still worth mentioning.
Despite over a dozen licensed Hajime No Ippo games, only three have ever seen a release outside of Japan, with the most recent one being the Nintendo Wii's Hajime No Ippo: Revolution in 2007, but 2014's The Fighting for PS3 might just be the best that the franchise has to offer.
As you'd expect from your typical anime/manga adaptation, Hajime No Ippo: The Fighting chronicles the big fights from some of the most important story arcs in the franchise, along with a Best Match mode that allows you to change the canon outcome of fights to experience new content.
The story mode feels like Punch-Out, with each new boxer coming equipped with new abilities that require different gameplans. This won't be the first mention for Punch-Out or its legacy either. Honestly, with boxing games returning and anime adaptations becoming bigger business, perhaps the time is right for a new Ippo.
9. Pato Box
Developer: Bromio, 2think Design Studio
Publisher: Bromio, 2think Design Studio
Platform(s): PC, PS4, Xbox One, Switch, Vita
That line about Punch-Out's legacy wasn't a joke. Enter Pato Box, a clear homage to Nintendo's previous work, only with more duck heads, shadowy organisations and an extremely eye-catching graphical style. Couple all of that with an explorable open world (which still retains the look and feel of Punch-Out, somehow) and Pato Box is certainly a unique game for the ages.
You control Primo, known by his stage name of Patobox, who just so happens to be both a boxing world champion and a half human, half duck hybrid. After a championship defense, Pato learns of a shadowy conspiracy that aims to take him down, meaning you'll have to venture out, defeat the various henchmen of the evil movement, and learn the truth about not only their dark secrets, but your own too. If you love the satisfying gameplay of Punch-Out, but want an absurd story built on top, Pato Box is the game for you. It's silly, and that's what makes it brilliant.
8. Knockout League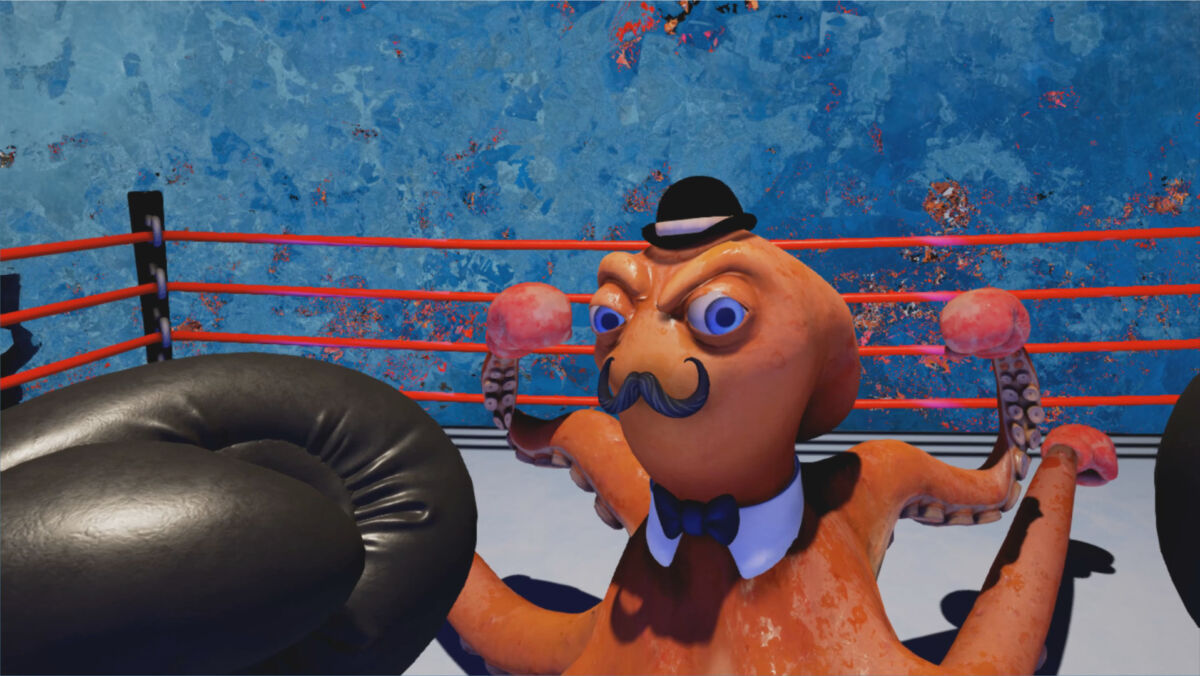 Developer: Grab Games
Publisher: Grab Games
Platform(s): PC, PS4 (VR Title)
Knockout League admittedly sounds like a fighting game spin-off of Rocket League, but it's actually a VR boxing title. It seems that boxing developers have realised that 1:1 tracking of your movements tends to produce the most satisfying boxing games, and provides a bit of a workout while you're at it. Two birds, one stone and all that.
While there're plenty of VR boxing titles that offer a more serious take on the art of two people trading punches, Knockout League is a much dafter game. Instead of just regular boxers, you're facing off against pirates, a giant octopus and a lot of people who can use flaming uppercuts. There's even a workout mode in there if you just feel like working up a sweat running some drills, which is an added bonus.
It's also a guaranteed way to make your VR headset stinky, but that's another story.
7. Rocky Legends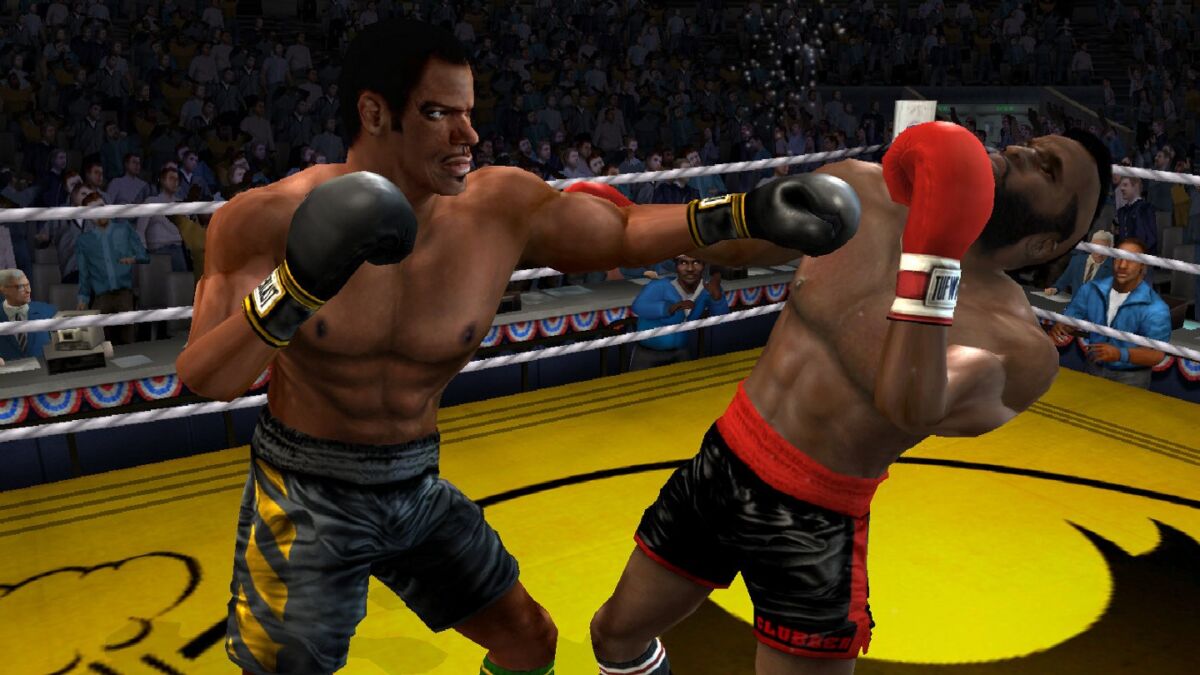 Developer: Venom Games, MGM Interactive
Publisher: Ubisoft
Platform(s): PS2, Xbox
Of course there would have to be at least one boxing game based on the Rocky franchise, but there's actually several to choose from. 2002's Rocky was a decent retelling of the first five films, following Rocky as he fights all the big hitters like Apollo Creed, Clubber Lang, Drago and that bum Tommy Gunn who took Rocky's kid's room. Say what you want about Rocky V, but that line is still hilarious.
Anyway, Rocky Legends was a sequel and essentially a more robust version of that game. The career mode included Balboa's story, but also allowed you to play as Creed, Lang and Drago in mostly canonical retelling of their rises to the top of the boxing division.
I say mostly canonical, as Drago's career mode changes the outcome of Drago vs Rocky to have Ivan win and be rewarded with a medal from the Soviet Union. Bundling the expansive career mode together with plenty of versus modes and gameplay that walked the line between arcade and simulation, Rocky Legends was a great overall package.
6. Ready 2 Rumble Boxing: Round 2
Developer: Point of View, THQ San Diego, Midway Games, Crawfish Interactive
Publisher: Midway
Platform(s): PS1, PS2, Dreamcast, N64
The Ready 2 Rumble series is perhaps one of the silliest games ever made, not just within the realm of boxing games, and the sequel took all of that and turned the ludicrousness up to 11. I mean, you're able to have Michael Jackson and Hillary Clinton fight each other in a boxing match, or have Michael Buffer transform into a Hulk-like creature known as Rumbleman, who served as the game's final boss.
Ready 2 Rumble Boxing: Round 2 was such a product of the very early 2000s, in the sense that most of the original characters felt like stereotypical caricatures of various cultures, but the gameplay between the ropes was certainly enjoyable.
The whole game revolved around landing big hits, which would spell out the word RUMBLE. Once spelled, players were granted devastating combo speed and power, but the sequel added two extra levels to RUMBLE. Landing a blow on that third level would send your opponent flying out the ring for an instant win.
Again, it's silly, but there's some fond memories there, enough for many to consider Ready 2 Rumble as one of the best boxing games ever.
5. ARMS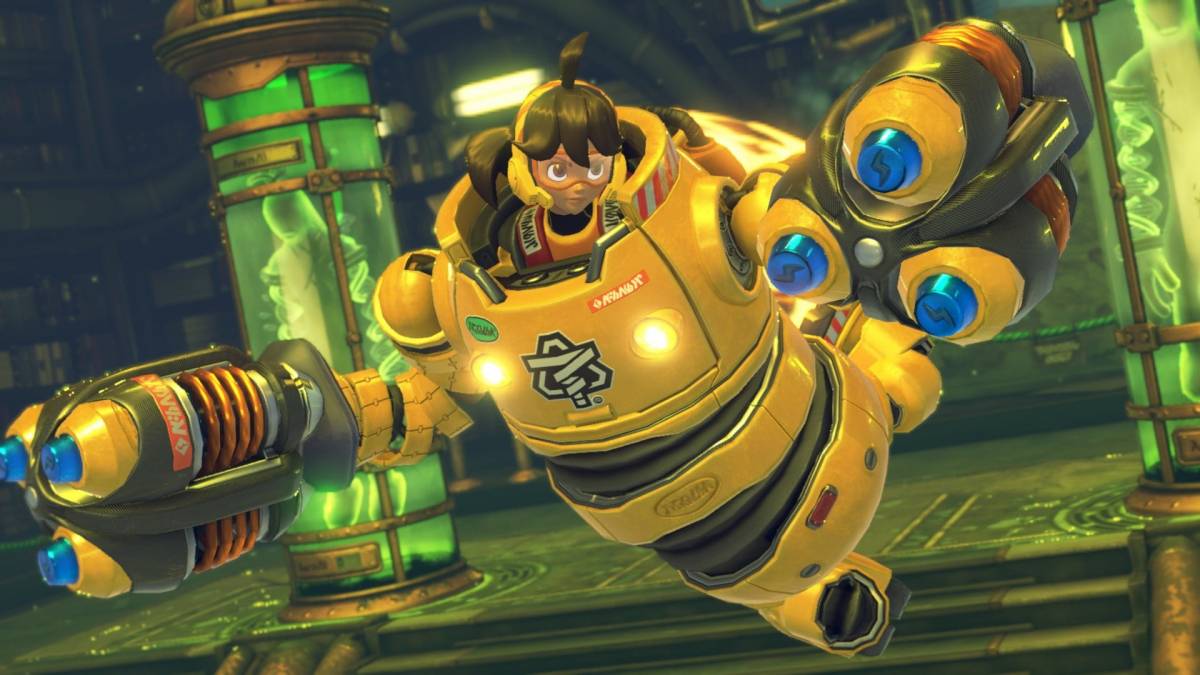 Developer: Nintendo
Publisher: Nintendo
Platform(s): Switch
Nintendo's other big boxing game, ARMS might not have had the same huge appeal or recognition that Punch-Out has received, but it takes the loose theme of boxing and plays around with it to create something that's genuinely new and interesting. You're still punching people in the face, so it hasn't changed too much, but swapping the regular arms for big springy arms with multiple power-ups is certainly quite different.
As mentioned, ARMS sees players picking from a cast of varied characters, each with their own moves, and you're dropped into 3D arenas to do battle. You'll also pick from a list of power-ups, which alter your attacks in key ways, giving the game a heavy strategy component.
With springy, long ranged arms, there's a different kind of mindset that ARMS requires. While it might look like random flailing, skilled players can make absolute mincemeat out of you.
4. Wii Sports: Boxing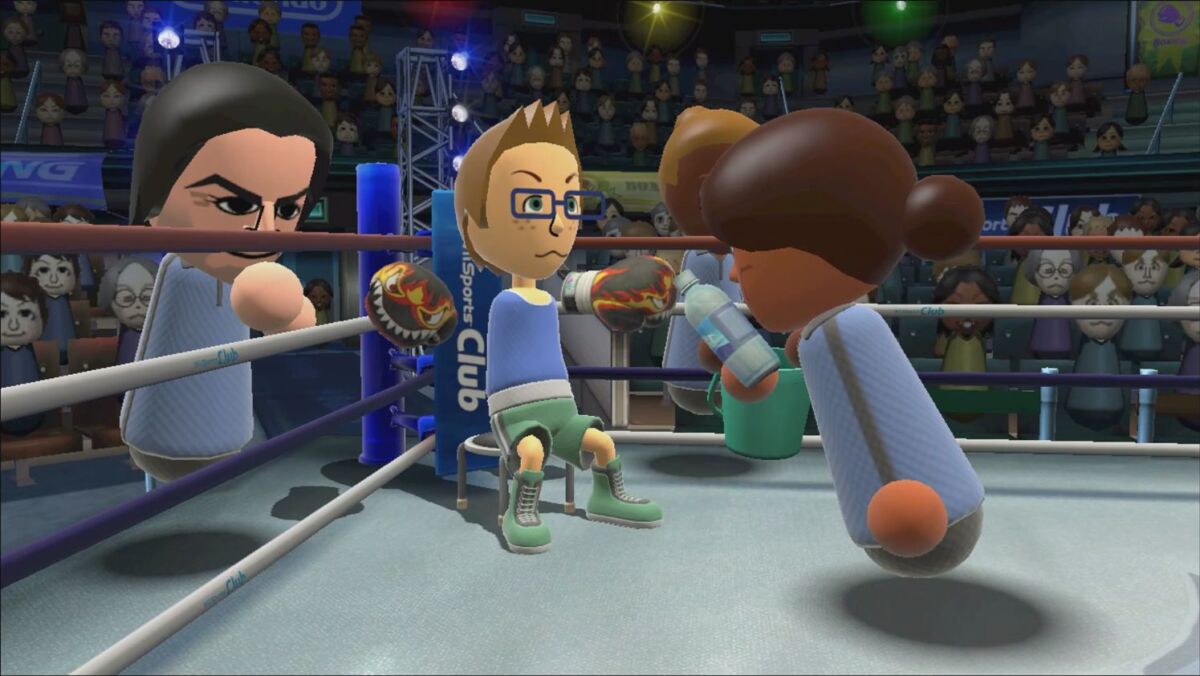 Developer: Nintendo
Publisher: Nintendo
Platform(s): Wii
Just like how Ready 2 Rumble Boxing: Round 2 has left plenty of fond memories for gamers everywhere, just the mere mention of Wii Sports has likely triggered the iconic theme to start playing in your head at full blast.
Coming bundled with every Wii console, Wii Sports was an impressive and, most importantly, fun technical showcase for the Wii's motion control capabilities, coming with adaptations of sports like tennis, golf, bowling, baseball and, most importantly, boxing.
Wii Sports: Boxing, which could be enjoyed either solo or against a friend in the same room, was injury and broken property lawsuits waiting to happen, as players used the Wii Remote and Nunchuk attachment to simulate knocking the crap out of on screen Miis.
While the idea of two people punching the air next to each other is a clear recipe for a black eye, watching your character move like you do, landing body-to-head combinations, still feels incredibly satisfying to this day.
3. Creed: Rise To Glory
Developer: Survios
Publisher: Survios, Sony Interactive Entertainment
Platform(s): PC, PS4 (VR Title)
While the Rocky games were decent novelties or nostalgia wins, Creed: Rise To Glory is without question the best licensed boxing game in history. By a wide margin, it's a lot better than Don King Presents Prizefighter.
Almost like Wii Sports: Boxing before it, Creed: Rise To Glory earns brownie points by virtue of the fact it's a VR title, so the motion controls give the game that added level of satisfaction. Jabs, hooks and uppercuts hit better when they're your punches.
Like Rocky Legends, Creed: Rise To Glory is a celebration of the entire Rocky franchise, wrapped up with the more recent Creed films. The career mode charts Adonis Creed's rise to the top of the division, but the freeplay also includes classic characters like Apollo, Clubber, Ivan and others.
There's also online play, so if you feel like punching the hell out of another person without actually causing damage, you can do that.
2. Fight Night Champion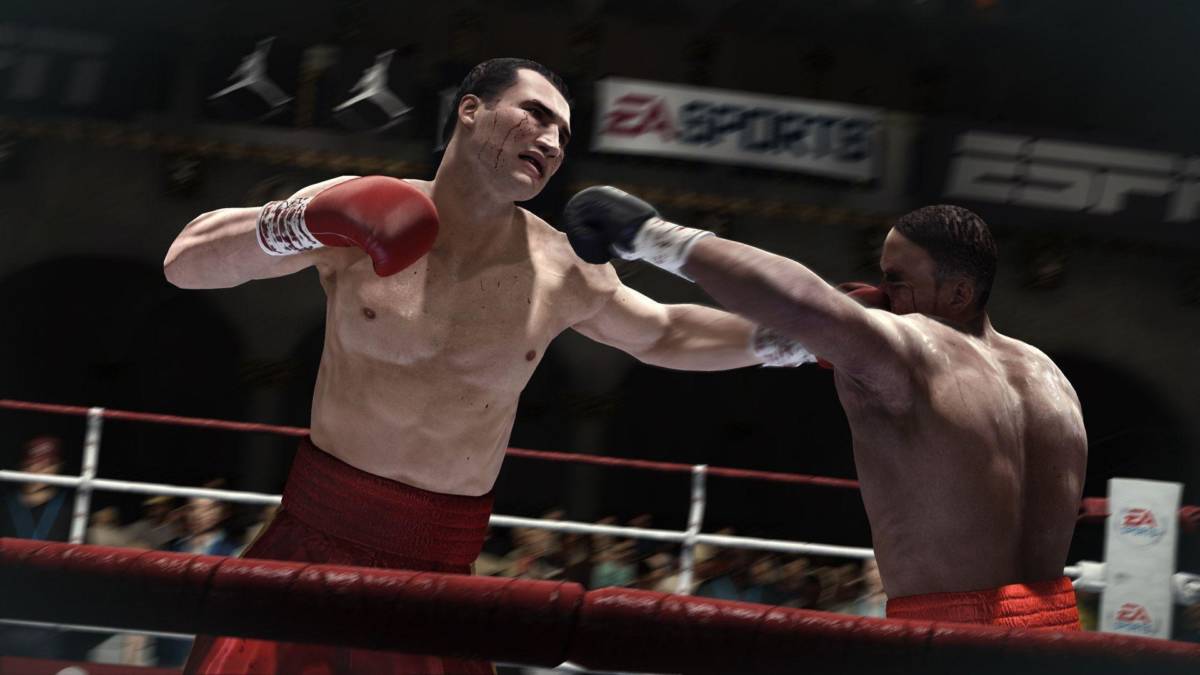 Developer: EA Vancouver, HB Studios
Publisher: Electronic Arts, EA Sports
Platform(s): PS3, Xbox 360
While Fight Night, or the previous EA boxing franchise Knockout Kings, seems to have fallen off the face of the Earth, it appears to have been replaced with the EA Sports UFC series. Sure, there's nothing wrong with the UFC series, and brutal head kick knockouts can be just as fun to watch or perform as boxing knockouts, but Fight Night's lack of presence in gaming is missed so much. Naturally, everyone will have their preferences regarding their favourite in the series, but Fight Night Champion hits just that little bit different.
Fight Night Champion contained all the usual trapping of a great boxing simulation, with an in-depth career mode that saw players create their own boxer and rise through the ranks of their chosen weight division. On top of that, Champion included a pretty decent story mode that followed boxing prodigy Andre Bishop in his career, running afoul of corrupt promoters and other issues.
While it might not be up to the same level as Rocky (and really, what is?), the story mode is still thoroughly enjoyable, cementing Fight Night's legacy as the best boxing game franchise ever.
1. Punch-Out!!
Developer: Next Level Games
Publisher: Nintendo
Platform(s): Wii
It feels like there's a case to be made that Nintendo's favourite sport is boxing.
Along with Wii Sports: Boxing, ARMS and Fitness Boxing on the Switch, there's plenty of simulated pugilism to enjoy on Nintendo's hardware, but there can only ever be one true king, and that's obviously Punch-Out. There's been many versions of it over the years, and its legacy is far-reaching (the Super Punch-Out homage in Bully springs to mind), but Punch-Out!! for the Wii gets the nod here.
In essence, Punch-Out!! is the same boxing game it always has been since Mike Tyson featured in the name, with players taking on the role of underdog Little Mac, as he faces goliaths, titans and overpowered gorillas with red ties.
How these fights ever got booked or approved by any athletics commission is beyond us, but the thrill of figuring out each boxer's attacks and patterns and striking at the right moment is as satisfying now as it was all those years ago.
READ MORE: 30 Best Fighting Games Of All Time
Some of the coverage you find on Cultured Vultures contains affiliate links, which provide us with small commissions based on purchases made from visiting our site. We cover gaming news, movie reviews, wrestling and much more.