Anime has a curious reputation with some for being childish but also not for children, yet neither of those opinions hold any weight if you actually know anything about the medium. Not only can anime encompass a wide range of themes, ideas, and subjects, but there's plenty of stuff out there as well for kids of all ages.
When you consider the best anime shows and movies for kids, you'll no doubt think of Hayao Miyazaki and Studio Ghibli. We've got that iconic studio nicely covered for this article, but there's so much more out there for the younger viewers in your home to enjoy. Shows, OVAs, and movies alike are available that will almost assuredly meet your child-friendly criteria.
From magical girls and adventures in the land of dreams, to likable kids meeting incredible monsters and other creatures, the best anime for kids can encompass whatever your children may enjoy. There's also a good chance with at least some of these anime that any adult in the room will have a good time watching them, as well.
The Best Anime for Kids
15. Shin Chan
Looking for something that can conceivably keep your kids occupied for decades? Shin Chan could be just the ticket.
Beginning in 1990 as a manga series that ran in its original form until 2009, there are literally thousands of pieces of media related to this franchise. The 1992 TV series, continuing the adventures of a young boy named Shin Chan and his constant getting into trouble for the things he says and does, is still going strong as of this writing. The TV series alone offers a dizzying 1000+ episodes. There's also spinoffs and more than 30 (and counting) feature films.
Yeah, it's a lot. It's also important to remember that Shin Chan can be surprisingly raunchy for a kid's show at times, but your little ones will no doubt find Shin's comedy of errors to be a blast. Impressively, this show never becomes inappropriate for young viewers. Just be aware of the toilet humor that often dominates.
14. Ponyo
Studio Ghibli is always going to appear at least a couple of times when discussing the best anime for kids, and Ponyo is a good example of how the works of Hayao Miyazaki are generally perfect for any age group. There's a sweetness to these characters and story, along with some truly lovely animation in the form of lush backgrounds, underwater scenes, and character designs.
These are qualities that anyone can enjoy in Ponyo, but your little ones are going to be particularly taken with this story of Ponyo, a goldfish princess who leaves her undersea kingdom to explore the surface world. There, Ponyo meets a kindhearted young boy named Sosuke. Their immediate friendship blossoms into something deeper, perhaps even soulmates.
All of this sets in motion events that will impact their parents, their respective worlds, and everything in between. There's a gentle chaos to Ponyo that makes it easy to appreciate its deeper qualities.
13. Whisper of the Heart
Sometimes erroneously credited to Hayao Miyazaki (he adapted the Aoi Hiiragi manga into the screenplay), the Studio Ghibli family classic Whisper of the Heart was in fact directed by Yoshifumi Kondō. This would be his only film as a director, released in 1995, before his untimely passing in 1998. It's a shame he didn't direct more.
Another ideal family film, with its story of a young girl named Shizuku and her various coming-of-age adventures, Whisper of the Heart is a story of love, passion, and the constant desire for knowledge, understanding, travel, and adventure. It's a satisfying, visually stunning, and largely straightforward movie with rounded, charming characters, and its larger lessons about achieving dreams will resonate with kids of any age.
Whisper of the Heart is a love story that aspires to be more than just a love story between two people, and it succeeds brilliantly in every way. Check out the 2002 spinoff The Cat Returns afterwards.
12. Little Nemo: Adventures in Slumberland
Little Nemo: Adventures in Slumberland is a curious entity. Based on a Winsor McCay (the man responsible for the 1914 animated hit Gertie the Dinosaur) comic strip that ran from 1905 to 1927, the movie is a U.S./Japanese co-production. It went through a lengthy developmental hell before finally being released in Japan in 1989, followed by a poorly-received U.S. release in 1992. The film has become something of a cult classic. Despite its age, this is still one of the best anime for kids you're ever going to find.
Little Nemo concerns the adventures of a little boy named Nemo in a dream world known as Slumberland. Even as the story shifts to Nemo's discovery of the appropriately-titled Nightmare Land, Adventures in Slumberland never fails to be a moving and gorgeous movie that particularly younger kids are certain to like.
Pair this up with the 1985 anime film Night on the Galactic Railroad, which is thematically similar, if you want an anime marathon with the youngsters.
11. Chi's Sweet Home
A grey and white kitten named Chi is separated from her family, finds a young boy and his mother, and goes off to live with them. That's Chi's Sweet Home in a nutshell, with an adorable and irresistibly sweet manga eventually being adapted in a number of animated shows. These shows feature episodes that run for roughly three minutes apiece, so this is a perfect show for younger children who may not have the attention span needed to watch a 20+ minute piece of media.
Chi's Sweet Home is winning just for presenting cute animation that doesn't overdo this quality. This is simply the adventures of a young cat discovering the world. It's not saccharine, but it has a pleasant tone and sense of humor that might just make you as much of a fan as your children are certain to be.
10. Silver Spoon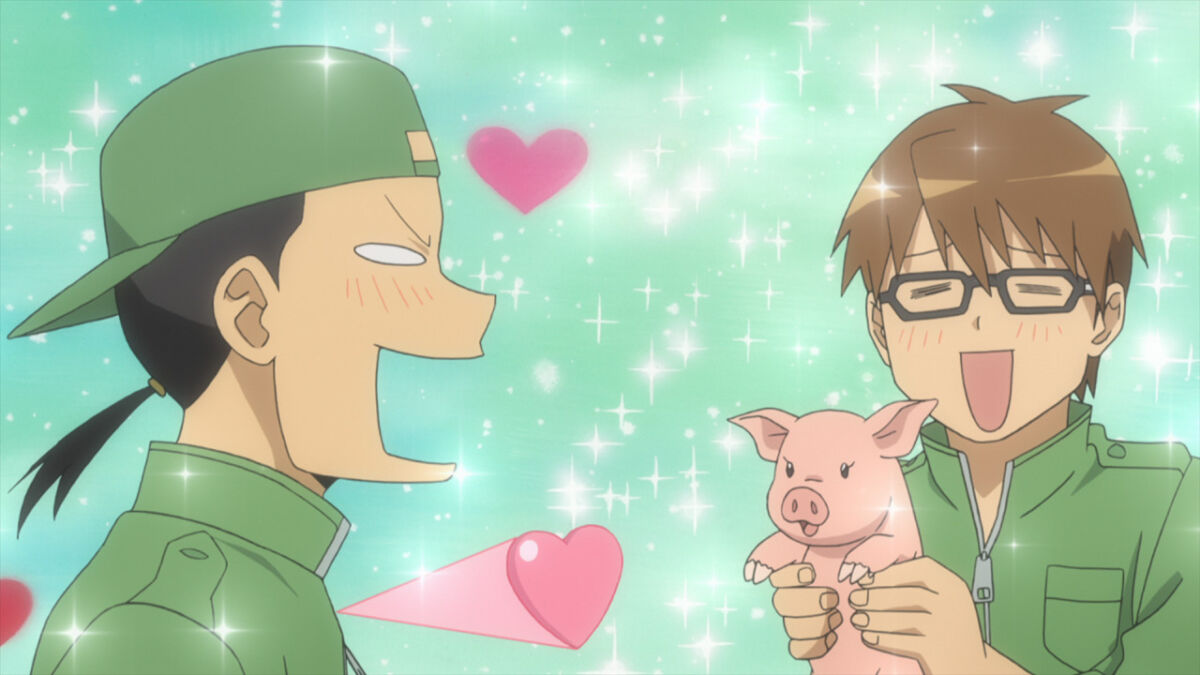 Silver Spoon is based on a very popular manga from Fullmetal Alchemist creator Hiromu Arakawa. However, while that series is noted for being quite dark at times, Silver Spoon is something else altogether.
Young teens in particular are likely to appreciate this story of Yuugo Hachiken making the bold decision to drop his life in the city to move to a rural area to essentially study farming. This is another deceptively simple story, with Yuugo learning through often humorous trial and error just what it means to be a farmer. What makes his journey so interesting is that he doesn't really want to be a farmer either. He was just that desperate to get away to something different.
The fish-out-of-water element to Silver Spoon drives much of its 22-episode run. Without ever becoming grim or even depressing, the series (and 2014 live action movie) promises an adventure that will fundamentally change how Yuugo sees the world.
9. Kiki's Delivery Service
One of the most appealing qualities in the Studio Ghibli library, particularly in the films of Hayao Miyazaki, is the refusal of movies like Kiki's Delivery Service to play to our expectations.
There is no villain in this movie about a young witch named Kiki, her talking cat named Jiji, and their adventures in the great wide world. There are no moments of intense dramatics. The most serious antagonist towards Kiki's dreams of being a successful witch with a prosperous delivery service is Kiki herself, particularly her self-doubt as she shifts from childhood to something more mature.
That doesn't mean Kiki's Delivery Service lacks emotional depth, or doesn't have anything interesting to say about complex themes like independence, growth, and the value of vulnerability. You'll no doubt pick up on those things as your kids are enthralled with young Kiki's compassionate, sometimes difficult journey.
8. Porco Rosso
There's a softer sadness that exists in the DNA of Porco Rosso, one of the most underrated kids movies Studio Ghibli and Hayao Miyazaki ever released. While the film does feature a little more action and violence than most Ghibli releases, this remains a perfectly suited, albeit slightly somber, movie for children or anyone who simply appreciates good animation combined with meaningful, accessible storytelling.
A World War I flying ace named Marco Pagot has been transformed into a pig. We never find out why. He simply lives in this state under the name Porco Rosso ("Red Pig" in Italian), fighting sky pirates throughout Italy and alluding to a life of loss and regret. That sounds a little bleak, but rest assured this is a story of love and redemption, and things never get too heavy-handed.
Porco Rosso offers stirring action, lovable characters, and lessons on environmentalism, pacifism, and even feminism.
7. Hikaru No Go
Based around the game Go, which was invented in China approximately 2, 500 years ago, Hikaru No Go is the story of a boy whose discovery of his grandfather's copy of the game in the attic leads to something extraordinary.
Namely, that the board itself is haunted by a ghost named Sai, who dreamed in life of achieving a "Kami no Itte," (a perfect move) during a game of Go. This ghost transfers both the desire and ability to young Hikaru, who soon becomes a renowned player. Hikaru No Go is fundamentally about this child's adventures learning and playing the game, but everything is presented with an exciting, dynamic energy that beautifully embraces tension, character development, and other elements.
For younger viewers, it's just going to be a fun story about children, ghosts, and the power of possibility. The relationship here between student and teacher is also quite touching.
6. Sailor Moon
Created by Naoko Takeuchi and premiering in Japan in 1992, with an infamously westernized dub released to North America just three years later, Sailor Moon is one of the most iconic anime series of all time. The basic premise of the series concerns Usagi Tsukino and her friends protecting their universe from the forces of evil, but Sailor Moon proves to be a much deeper and richer experience as you go on.
Sailor Moon will prove to be just as beloved with children today as it did for kids around the world over 30 years ago. The aesthetic, character arcs, and even the darker moments of the series may just turn your child into a serious anime fan. Don't say we didn't warn you.
With two shows (totaling 214 episodes), a lengthy manga, several TV specials, and numerous wonderful films (with more to come in 2023), Sailor Moon can be immersive.
5. Digimon
It's not really fair at this point to call Digimon a clone of Pokémon and leave the matter at that. After running hundreds of TV episodes and literally dozens of films over almost a quarter of a century, it's safe to say that Digimon also possesses its own unique charms. Your children are probably not going to worry about that too much at any rate, since Digimon is a show about kids who train and use monsters in elaborate fights, and this is what the series in any form has always done exceptionally well.
Digimon distinguishes itself with unique, varied creature designs, but fans will also tell you the show's writing and unique attention to its characters and their relationships is what makes this franchise something that deserves its own recognition. If your kid enjoys Digimon, they're going to have a lot to make their way through.
4. Hamtaro
Readers of a certain age will understand why Hamtaro ranks high for the best anime for kids.
Starting in 1997 as a serialized manga for very young children, the inevitable anime adaptation was eventually broadcast on Cartoon Network in the early 2000s. It did very well for itself with American kids, leading to video games and more. If you haven't seen the show in about 20 years, and you now find yourself with kids of your own, you'll be pleased to find that it's aged quite well.
Hamtaro has an adorable, determined, and sincerely likable titular lead, but the whole cast of characters are guaranteed to be a hit with at least preschoolers. Hamtaro emphasizes light-hearted silliness with some solid basic lessons thrown in, as Hamtaro and his friends escape the cage for a plethora of adventures. It's a perfect show to introduce a younger member of your household to anime.
3. Pokémon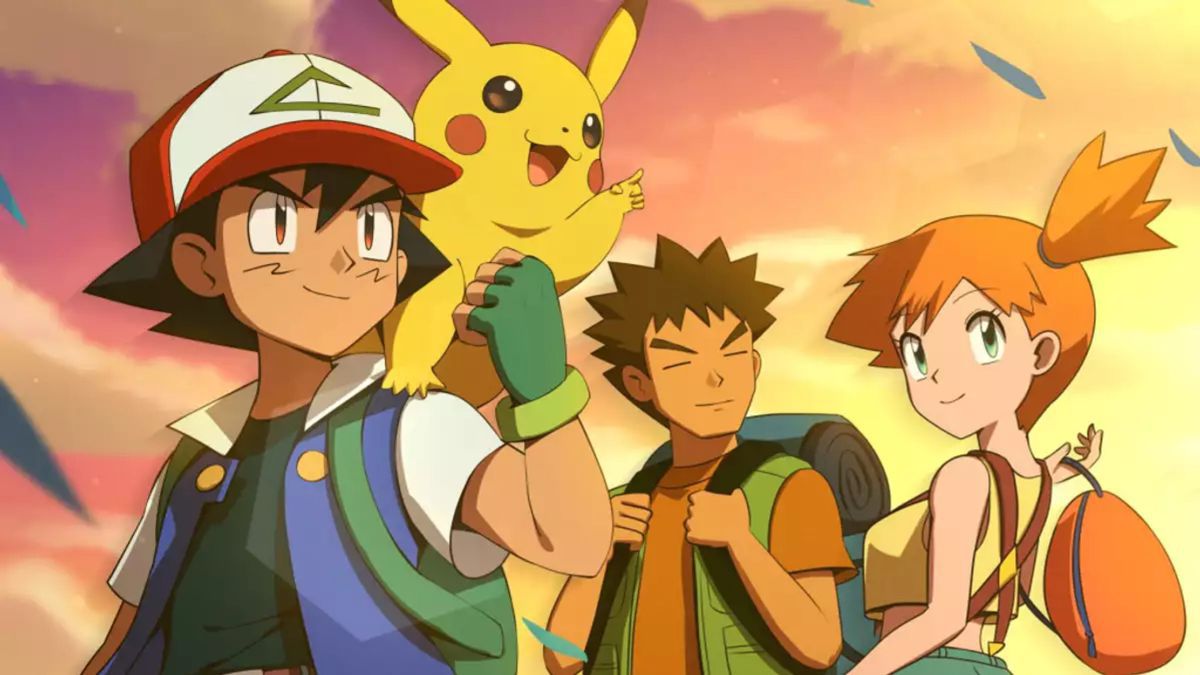 Pokémon has become a permanent fixture on the pop culture landscape. A big part of that includes the success of the anime series, which premiered in Japan in 1997 and has now run for over one thousand episodes. That doesn't even include the list of movies, and of course, the many, many video games. There's a lot of Pokémon awaiting whoever decides to pick up this enduring media empire.
If you strip away all of that, and just put Pokémon in the context of being one of the best anime for kids ever released, the series is a blast for a variety of ages. It begins with a boy named Ash and his dream of becoming the best trainer of Pokemon, creatures with unique abilities, designs, and personalities, and grows a world that spans different lands, casts, and stories.
The earlier seasons have visually aged a bit, but your kids probably won't care. There's so much Pokémon to get through, in fact, that they won't care about much else.
2. Doraemon
Doraemon has existed in some form or another for over fifty years. We're going to focus on the 2005 series, which is probably the one your kids will appreciate best. In any form the series involves a young boy named Nobita, who receives the help he desperately needs in the form of a robot cat from the future named Doraemon. The friendly creation of Nobita's future grandchild, Doraemon and Nobita go on a variety of fun, fast-paced adventures, while Nobita learns a variety of lessons to help mold him into a more confident child.
Doraemon keeps winning with audiences because its characters are fun and likable, but the show gets particularly clever with the many bizarre inventions Doraemon brings from the 22nd century. If your kids get through the 1000+ episodes of the 2005 series, we have good news for you about the nearly 2000-episode strong 1979 series. There's also a ton of movies.
1. My Neighbor Totoro
If you ever get the chance to take your kids to see My Neighbor Totoro in theaters, do it without hesitation. The best kids movie from Studio Ghibli has a moving childhood story and iconic characters that continue to live up to the praise this movie is still receiving from audiences around the world.
Two little girls move with their father to the countryside to be close to their mother as she recovers from an unknown (likely tuberculosis) illness. As they adjust to their surroundings, they meet several forest spirits, including the massive, helpful, and very, very powerful Totoro. We're not just talking about one of the most famous fictional characters in modern Japanese pop culture history (whose appeal is far from limited to Japan), but the spiritual and emotional anchor for an incredible cinematic childhood story that goes in its own wondrous direction.
My Neighbor Totoro surprises you by somehow being so much more than a story of two children and their experiences.
READ NEXT: 20 Best Game Boy Advance Games of All Time
Some of the coverage you find on Cultured Vultures contains affiliate links, which provide us with small commissions based on purchases made from visiting our site. We cover gaming news, movie reviews, wrestling and much more.