I've missed a lot of pretty big games over the last couple of years, me being unable to balance editing work, my eternal grind to get to 100 Fortnite wins, and reviewing games. With my Fortnite conquest now complete, I've started to look back on my library and see what I have overlooked while I've been busy getting embarrassed by children. Games like NieR: Automata (I know, I know) are beckoning me, but the recent Assassin's Creed Odyssey piqued my interest the most.
An odd choice, especially considering I gave Origins roughly half an hour of my time before I decided it wasn't for me. It's even odder considering that I haven't gelled with any AC game since the revolutionary second entry, but I'm clearly determined to keep trying with the franchise. It's early days, yet I am pretty hooked by Odyssey — even if the story isn't quite clicking yet and the dialogue sags.
Odyssey is definitely not your daddy's Assassin's Creed. There's a lot of RPG-isation here, from a levelling and scaling system to item rarities, and much, much more. A change was needed; Syndicate was decent but largely forgettable, though it's such a huge reconstruction for the series that older fans could be excused for being left jaded. It's had the opposite effect on me, the transformation revitalising the open world formula that had been done to death.
The thing that's drawn me in the most is the game's absolute crazy scale. I have about ten hours in the bag and I don't think I have even see a tenth of the map, maybe even a twentieth.
Here's where you start in Odyssey, a humble island called Kephallonia that's far from the riches of the rest of Greece.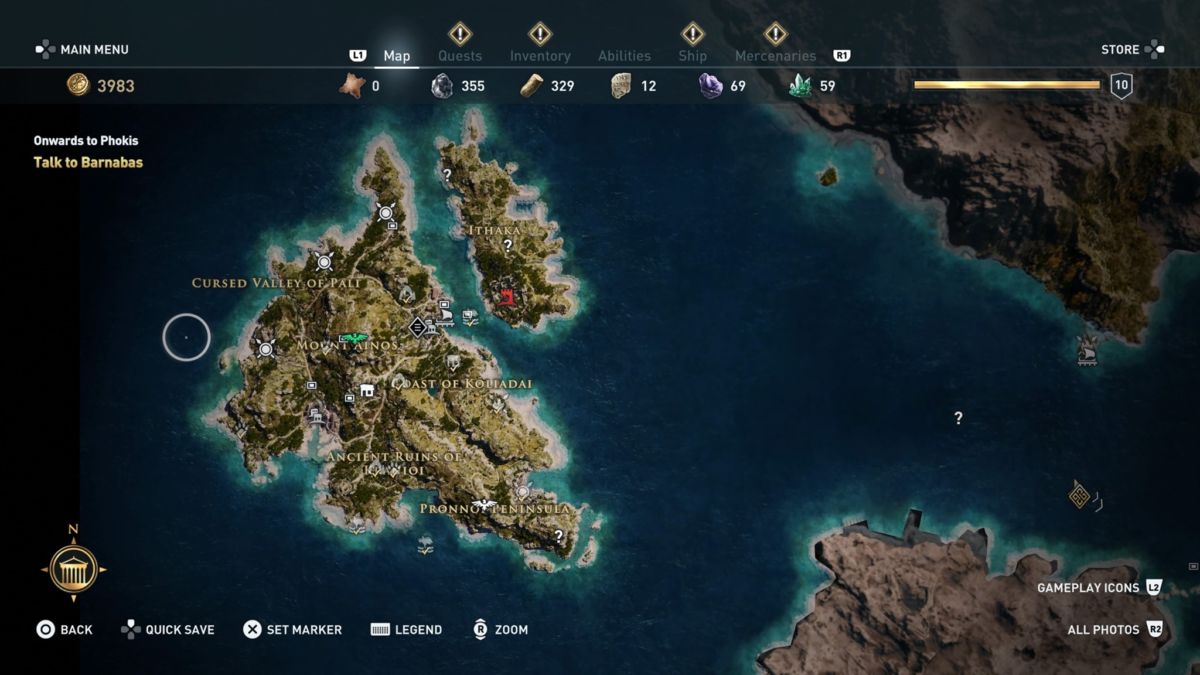 I took my sweet time to run and ride around the island, doing objective after objective and ticking things off of my sightseeing list. It's a beautiful place, one that really demands that you jump into photo mode when you kick someone into the ocean. (On a separate note, I haven't had many opportunities to toe-blast idiots off of ledges yet, though I give them an Australian-sized booting when I do.)
Understanding that this was just a starting island, I went into the map and zoomed out for the first time to see what was ahead. This is what I saw.
The above isn't even the whole thing; there are plenty of spots north and south that are bigger than the starting island yet could still be considered small. I genuinely gasped when I saw the size of the map, something I don't think I've done since GTA V — you see one open world map this generation, you see them all. Odyssey's, however, is on an incredibly grand and almost self-indulgent scale with there being countless things to do in each region, making it clear that Ubisoft want you to be playing this thing for a long, long time.
At first, the size of the map was actually a little offputting for me: how would I ever find the time to get through it all when I promised myself months ago that I would put in the 1000 hours necessary to beat Isshin in Sekiro? The issue is compounded by the fact that many regions are gated off by levelling, so it's not like I can simply sail in with scurvy-infested miscreants and win the day straight away. On that note, it would apparently take ten hours to sail across the map.
After the initial shock, I decided to travel over to Megaris and just see how it went. I became more absorbed than ever, the island being even more packed with stuff to see and do than Kephallonia and an actual, important advancement of the storyline to boot. I've "conquered" the region, and with an absurdly long list of objectives still to tackle, I'm going to be here for a while yet.
Thing is, I don't particularly want to grind through it hour-after-hour, day-after-day to make progress — Odyssey doesn't hook me quite like the game it draws many, many inspirations from, The Witcher 3. To me, Odyssey is a fairly undemanding game that you can play for a couple of hours here, a few there, so I can already see myself returning to it occasionally to see even more of Ancient Greece, just at my own pace.
Time will only tell if I make it all the way to the end — I've heard the grind becomes wearisome at level 20 — but I am excited to discover more and see how this impossibly grand Greek fable weaves its tale. For my money, this is the most refreshing Assassin's Creed has been in years.
Oh, and by the way: Kassandra is better than Alexios.
Some of the coverage you find on Cultured Vultures contains affiliate links, which provide us with small commissions based on purchases made from visiting our site. We cover gaming news, movie reviews, wrestling and much more.