WWE's NXT brand has been practically gutted since the slew of releases across both 2021 and early 2022. The most recent names to top the list include Samoa Joe, William Regal, Timothy Thatcher and 'Road Dogg' Brian James, leaving the NXT 2.0 roster looking pretty bare and in a very difficult position. More and more fans are going to start turning to better alternatives, especially if those aforementioned names choose to take their services to another promotion.
There is however a slim glimmer of hope left for NXT 2.0, with a few notable superstars still putting in as much effort as they can to give fans an OG NXT standard of performance. Even though Wednesday Nights on the WWE Network have been plagued by fresh faces with a total lack of inspiration behind their characters, there's the last few bastions of former glory that are holding down the fort during this slump period.
Let's run down five wrestlers that are still worth tuning in for, those that will hopefully keep NXT 2.0 alive long enough to find its niche once again.
1. Pete Dunne
'The Bruiserweight' made waves throughout WWE when he first debuted as part of the first WWE United Kingdom Championship tournament. Putting on a series of stellar championship matches with former British Strong Style partner, Tyler Bate, Dunne quickly became one of the most talked about newcomers under the WWE umbrella.
Since establishing the NXT UK brand and losing the title to WALTER, a worthy successor to his record-breaking reign, Peter moved overseas to join the US sister-show, arriving as a hotly-touted star amongst a stacked roster. Dunne excelled in any match he was featured in, most notably in his first WarGames match alongside Ricochet and The War Raiders and then his Dusty Classic victory as part of The Broserweights.
Then the pandemic hit and Dunne was unfortunately bound to the UK during the travel bans. Dunne didn't lose an ounce of momentum though, returning briefly to NXT UK and then to the black and gold brand to wrestle against the likes of Undisputed Era and Finn Balor.
Dunne has recently re-signed a contract with WWE, tying him down to NXT for at least the foreseeable future, giving them a perfect candidate to mould into their next top guy. 'The Bruiserweight' could easily capture one of the singles belts, whether that be in the mid-card or eventually in the main event scene. With youth and skill behind him, the sky is very much the limit for Peter.
2. LA Knight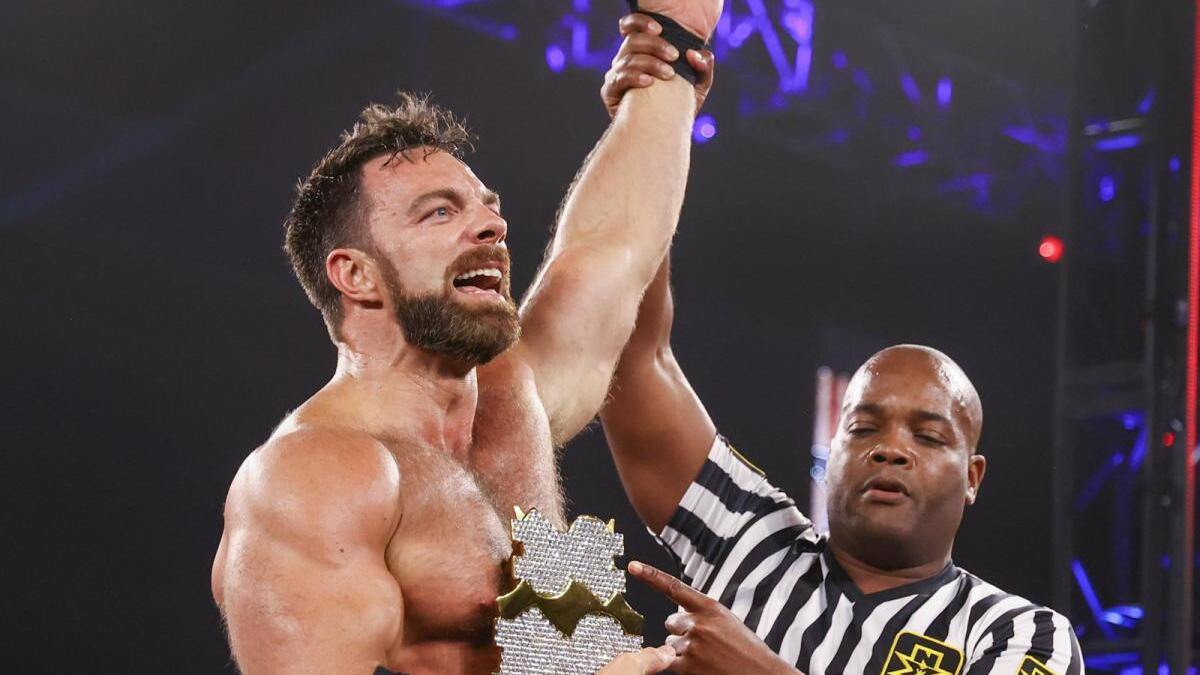 LA Knight had a rough hand dealt to him upon his arrival in NXT. The former Eli Drake was given a great deal of pomp and circumstance before making his in-ring debut, however this was in the midst of the awkward transitional period between OG NXT and 2.0. Despite only being signed for under a year, Knight was quickly considered one of the NXT 'veterans' that were featured as part of the civil war main event between the old guard and NXT 2.0.
LA has since dropped down the card into meaningless squash matches, with commentators trying as hard as they can to put him over and recapture the momentum he first had. Unfortunately, the Million Dollar title feud with Cameron Grimes wasn't really enough to propel him into the top echelon of the roster, so Knight still has a lot of work to do if he's to stick around in 2.0.
Regardless, if anyone's going to catch your attention, whether that be in the ring or on the mic, it's LA Knight. Don't give up on his stardom just yet.
3. WALTER
'The Ring General' has been predicted to be one of WWE's next top stars across all brands. WALTER has just returned from a brief hiatus since losing the WWE UK Championship to Ilja Dragunov, now a fully-fledged member of the US NXT roster. If anyone has the credentials, the look and the skill to instantly jump into the NXT Championship picture, then it's this guy.
WALTER brings the excitement with him wherever he goes, fans are desperate to see him brutally murder the chests of any superstar that stands across the ring from him. So with him now re-aligning with his Imperium buddies to battle MSK, there's plenty of opportunity for WALTER to be the breakout star of 2022, hopefully leading him to a shot at the big gold sometime throughout the year.
WALTER is an absolute gem of a superstar that WWE should be protecting at all costs, if someone like him decided to jump ship, then all hope could be lost for NXT 2.0.
4. Santos Escobar
The former Cruiserweight Champion has taken a bit of a back seat since the emergence of the NXT 2.0 stars. Having feuded briefly with one of the newcomers, Escobar is waiting for the next big opportunity to shine on the NXT brand. If anyone is still on the fence about this dude, then do yourself a favour and give the ladder match against Jordan Devlin a re-watch, because that match alone serves as enough reason for Santos to be seen as one of the top prospects on the NXT roster today.
The thing about Legado Del Fantasma is that they've been relegated to the Cruiserweight division, a dark place that nobody wants to find themselves booked into. Santos Escobar has the potential to achieve beyond the realm of 205 Live, even if he's a slightly smaller guy in a land of beefy giants. Santos could easily outwrestle most of the other talent on the 2.0 roster, so I wouldn't be so quick to give up hope on him.
5. Bron Breakker
I wasn't sold on Bron Breakker at first, as I'm sure most readers share the same sentiment, but honestly he's grown on me as a potential leader of the new NXT, having proven himself on the most recent UK tour and putting together a fun championship match with Tommaso Ciampa at New Year's Evil. Bron may not be everyone's first choice to dethrone 'The Blackheart', but whether we like it or not, he's here to stay as one of WWE's next big stars.
Breakker has the look and he has some form of charisma that will appeal to the younger audiences, he's definitely giving me a young Cena vibe from the get-go. I'm very intrigued to see how son of Steiner develops throughout his time in NXT; the brand has always stood for polishing new stars for the big leagues, and what better talent to restart that trend with.
Along with the likes of Harland, Joe Gacy and Tony D'Angelo, I'd say NXT 2.0 will eventually be left in safe hands. It won't be the same NXT that we've all come to love so dearly, but it'll definitely be a brand with some major hits, with Bron Breakker leading the pack.
READ NEXT: 5 WWE Matches We Want To See In 2022
Some of the coverage you find on Cultured Vultures contains affiliate links, which provide us with small commissions based on purchases made from visiting our site. We cover gaming news, movie reviews, wrestling and much more.