At this point, the Yakuza/Like A Dragon series has become the gaming equivalent of One Piece as this ongoing franchise that's becoming more and more impenetrable for players to actually make a start on. There's currently 8 mainline games in the Like A Dragon franchise alone, along with two Judgment games, a separate story set in the same universe, a samurai spin-off and more Like A Dragon titles coming in the pipeline, and that's without getting into Yakuza: Dead Souls, the Yakuza: Black Panther titles or the other samurai spin-off that still needs to be ported.
Asking someone to start from scratch on an 11 game series might be asking for a lot of people, especially as we're all growing older and time is becoming more and more of a precious commodity. Not everyone can easily invest the near 200 hours it would take to plough through Yakuza 0 all the way to Yakuza 6: The Song of Life, along with the near 100 hours you could spend in both Judgment games alone, though if you do, here's why you should start with Yakuza 0. Fortunately, if time is your enemy but you still want to experience one of the hottest franchises in gaming today, Yakuza: Like A Dragon is worth playing.
A sort of hard reset for the franchise, Yakuza: Like A Dragon switched perspectives from longtime protagonist Kazuma Kiryu to newcomer Ichiban Kasuga. This change in hero gave players a more accessible jumping off point for the series, as the events of previous games aren't that important when it comes to understanding the plot of this game. Sure, you might miss a few Easter Eggs and references, but the emotional core of the story remains available, which is great because it might just be one of the best stories in the whole franchise.
Like his protagonist predecessor, Yakuza: Like A Dragon opens with Ichiban Kasuga willingly being sent to prison for a crime he didn't commit. After serving 18 years hard time, Kasuga expects to receive a hero's welcome on his first day of freedom, but this former footsoldier has been completely forgotten about. Worse still, after finding and confronting his former Yakuza patriarch, Kasuga is shot and dumped 23 miles down the road in Yokohama.
Despite being betrayed and left for dead, Ichiban's relentless positivity and optimism in the face of these overwhelming odds makes him an incredibly likable protagonist. Sure, he can be a little bit naive, but in this world of hardened criminals, we stan a punch perm loving himbo who's willing to get all up in his feelings. It's this endearing charm that allows him to befriend a group of social outcasts and fellow down on their luck rogues, with this growing relationship between the main party becoming the real heart and soul of the whole game.
Meanwhile, the gameplay is also a complete departure from the Yakuza standard, with Ichiban and his party taking on fights in turn-based combat instead of real-time brawling. It's a bold change for a series that's been around for nearly two decades at this point, but it's one that allows this new era of the series to have its own identity, while also adding new dimensions to Ichiban Kasuga. He's a big Dragon Quest loving nerd, so of course he sees fights as turn-based battles, and that he's the "Hero" destined to defeat the big bad.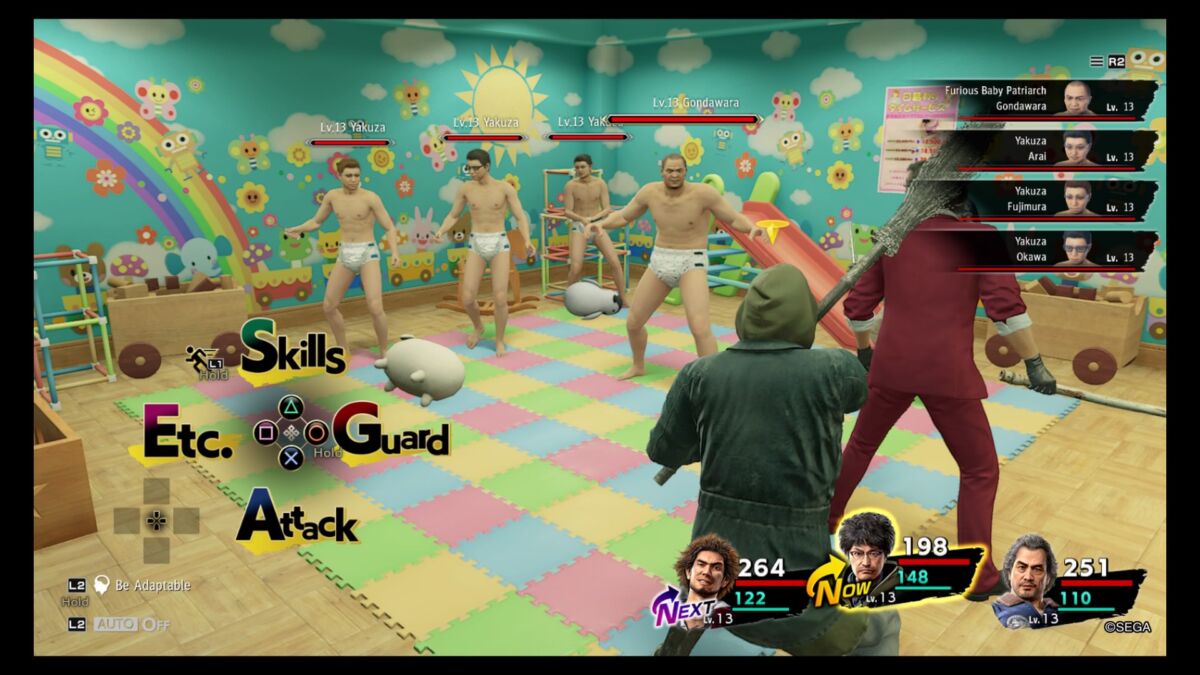 Ichiban's distorted perception of combat leads to the Yakuza franchise's trademark hilarity and ridiculousness being turned up to 11 in this entry, as normal looking goons and drunkards transform into wacky weirdos as soon as the fight starts. The combat itself is also rewarding and fun, forcing the player to learn an opponent's weakness or exploit group attacks to deal massive damage. In truth, it's probably a bit more basic than some other turn-based RPGs on the market, but as an introduction into this genre, it's fundamentally solid.
Yakuza: Like A Dragon is a big leap away from what the franchise made its name on, yet it still retains that ridiculous core that fans have fallen in love with over the years. If you want to experience what the series is all about finally, especially with Like A Dragon 8: Infinite Wealth looming on the horizon, you owe it to yourself to experience Yakuza: Like A Dragon.
READ MORE: I'm Excited And Nervous To See Kiryu Back In Yakuza Again
Some of the coverage you find on Cultured Vultures contains affiliate links, which provide us with small commissions based on purchases made from visiting our site. We cover gaming news, movie reviews, wrestling and much more.