WrestleMania 39 is already shaping up to be one of the most anticipated and stacked cards in recent history. With two championship main-events already booked in the form of Roman Reigns vs. Cody Rhodes and Rhea Ripley vs. Charlotte Flair II, wrestling fans across the globe are chomping at the bit to catch a glimpse at the rest of the line-up.
WWE's storytelling as of late has been on point; between Sami Zayn's betrayal of the Bloodline, the subtle build to the Father/Son clash of Dom and Rey Mysterio and Gunther's untouched dominance as Intercontinental Champion, there's no way this WrestleMania can be any less than a major success story for WWE.
With that in mind, let's take a look at some potential matches that may already be in the works for the WrestleMania 39 card, and some that we'd just love to see for the hell of it.
1. Kevin Owens & Sami Zayn vs The Usos – WWE Tag Team Championship
Naturally, the man on everyone's minds heading into Mania season is Sami Zayn. Will he dethrone Roman at Elimination Chamber this weekend? Will The Bloodline be split down the middle? Are Sami and Jey about to form the Nu-Wolfpac? What seems certain though is that frienemies Sami and KO will likely be involved in one another's business come WrestleMania.
I think the safe bet is to say that Roman will put down the 'Underdog from the Underground' in his hometown of Montreal, which is a shame considering the meteoric rise Sami has had as part of this storyline. However, all is not lost, as a Tag title challenge from him and 'The Prizefighter' could be the start of a massive new chapter in this ongoing story. Roman doesn't necessarily have to win his match cleanly, leaving the possibility for a rematch open for the upcoming year. Sami may even find himself in a Daniel Bryan-esque situation at WrestleMania, where he and Owens have to defeat the Usos in order to score entry into a title match on Night 2? Plenty to go with here.
Either way, having this top-tier title fight as part of the WrestleMania card is a huge nod to the success of this storyline as well as giving the Tag championships their biggest match on a Mania card since the inaugural TLC matches.
2. Becky Lynch vs Ronda Rousey
With Bianca Belair's challenger ready to be determined at Elimination Chamber, neither Becky Lynch or Ronda Rousey, two of the biggest female stars in WWE, have yet to be given any sort of WrestleMania programme. Some have floated the idea of Ronda and Shayna challenging for the Women's Tag titles, but quite frankly, who really wants to see that on a Mania card?
The idea for Rousey and Lynch to have a big blow-off singles match has been discussed since the historic women's main-event at WrestleMania 35, where 'The Man' ascended to the peak of superstardom. This is a huge clash of personalities, star power and wrestling ability that just begs for the spotlight on the grandest stage. An easy booking to make with just over a month left to go before the big day in Hollywood. Let's make this one happen for the sake of giving the Women's division a major draw on either night.
3. Gunther vs Sheamus vs Drew McIntyre – Intercontinental Championship
As I previously mentioned, Gunther's reign as IC Champion has been a return to form for the title, which hasn't really been given a traditional workhorse run since before its reinstatement in 2003. 'The Ring General' has rightfully earned the longest reign of the modern era and continues to put together total bangers on SmackDown Live, making him a regular highlight of the show.
Gunther has already had some top-quality fights with Sheamus at previous pay-per-views, bringing that chemistry to the big stage is precisely what the Intercontinental title deserves after so many years of being left as an afterthought. Adding a major player like Drew McIntyre into the mix, then the chances of this being a potential match of the night, drastic go up.
Expect red-raw chests and plenty of stars coming our way at Mania this year, do not sleep on this banger.
4. Bray Wyatt vs Wyatt 6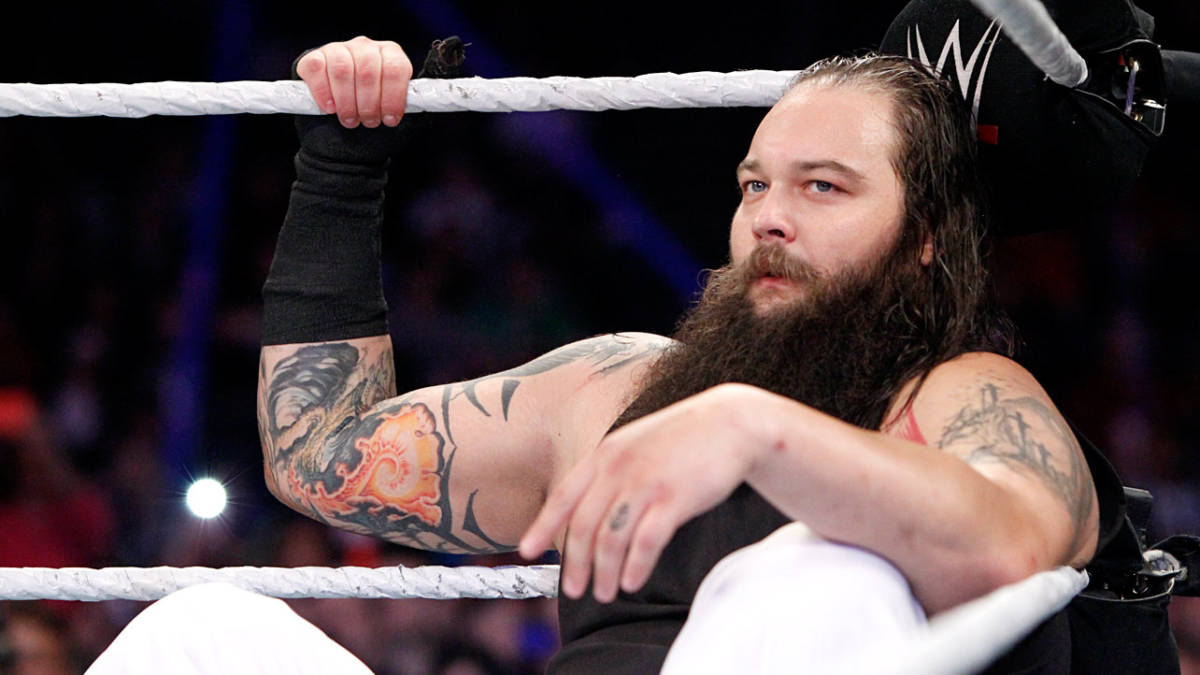 I think it's safe to assume that there's going to be some spooky nonsense featuring Bray Wyatt happening at WrestleMania this year. With no clear feuds for Wyatt to move onto after his brutal decimation of LA Knight at Royal Rumble, the only real progression for him is to have a match with, um, himself.
Wyatt's journey upon his return has mostly been formed of him battling with his inner demons, or Uncle Howdy, as they seem to have been manifested. We've seem glimpses of Wyatt's other iconic characters, including the now-humanised Firefly Funhouse puppets, a brief cameo from The Fiend and of course, the hat-tipping Uncle Howdy who may or may not be Bray's real-life brother, Bo Dallas.
For all of this to have a pay-off, the only real way to complete this storyline is for Bray to succumb to these demons and let them in at WrestleMania. Perhaps he has to fight through a gauntlet of his past? A cinematic snuff-fest? Who knows. Regardless, Bray will be on the card in some form, let's just hope it leads to something.
5. Brock Lesnar vs Bobby Lashley – Fight Pit Match
It seems that these two hosses aren't finished with each other yet. Brock Lesnar and Bobby Lashley have been competing in an on-off feud for the best part of a year, currently standing at one win a piece in their ongoing feud. With the Royal Rumble now behind us, Lesnar has set his sights on putting the odds back in his favour, and finally bringing his rivalry with 'The All Mighty' to an end.
What better way to do that than by allowing these two brutes to engage in combat inside a structure both are familiar with – the Fight Pit. Not seen since Seth Rollins' final match against Matt Riddle back at Extreme Rules, the Fight Pit lends itself as a great feud-ended and an appropriate stage for the two former MMA stars to truly test their mettle.
Really and truly, this is exactly what everyone dreamt of seeing when the idea of Lesnar/Lashley was floated years ago. Two beefy boys slapping meat inside an environment where there are no limits. Just give us Bruce Buffer to complete the ensemble and we're golden.
6. Finn Balor vs Edge – Hell in a Cell
Allegedly a match that was originally planned for Royal Rumble, Edge and Finn's rivalry is set to come to a bloody conclusion inside Hell in a Cell. Edge is no stranger to the Cell, and it'd be great to see a fully-heel Finn donning the demon warpaint for this potential Mania spectacle. Balor's Judgement Day is slowly starting to come together as a decent faction, with Rhea challenging for the SmackDown Women's title and Dominik filling in as the resident chicken-shit. Finn needs a big win on a big stage to reclaim the status he once held as part of NXT.
Edge seems to be showing no signs of winding down his career but this could very well be his final swansong on the Grandest Stage. I'll admit that I'm not 100% invested in this feud, which seems to have been going on for what feels like an eternity, but a Hell in a Cell spot-fest featuring a Demonic Finn would very much turn the tables for me. Plus, Balor deserves this, after so long of barely holding onto his momentum.
7. Rey Mysterio & Santos Escobar vs Dominik Mysterio & Damian Priest
I'd say this is very much subject to change, but come on, we need to see the Father and Son mix it up at WrestleMania this year. WWE planted the seeds for a Mysterio/Mysterio match back at Clash at the Castle, when the El Hijo del Eddie dropped his Dad and sided with Balor's Judgement Day. Since then, he's played his part to perfection, meaning we need to get the finale in a major way.
Now, rumours have it that Rey is against the idea of taking on his son in a one-on-one match, whether that be legit sentiment or part of the storyline, I couldn't say. However, pitting him in a tag situation against his own blood would hopefully give us the payoff we all want to see whilst also keeping Rey happy.
As far as partners go, Damian Priest is an obvious choice for Dom, but on the other side things look a little hazy. Talk was that Bad Bunny may be subbing in as Rey's tag partner, however this past week on SmackDown saw Rey exchanging masks with Santos Escobar, another prominent luchador who is starting to build his own reputation. Depending on if WWE are planning to carry on with the developing friendship/mentorship between Rey and Santos, this might be a great opportunity for them to compete as a team on a major stage. Hell, even Bad Bunny can be there for it, why not at this point.
8. John Cena vs Austin Theory – United States Championship
The Cover Star of this year's WWE 2K video game absolutely must be a part of WrestleMania. Come on, it's John Cena, one of the biggest stars in Hollywood and a go-to guy for a standard WrestleMania moment. For the past year, Cena has flirted with the prospect of facing Austin Theory, the current US champion. Even though the seeds for a match haven't really grown much over the past few months, aside from a few jabs as part of the WWE 2K23 marketing, this still could go ahead at this year's Mania.
So, in the past, Cena has issued numerous open challenges with the United States Championship on the line, making for one of the most talked about reigns in wrestling history. Picture if Theory were to do the same, perhaps even inviting Cena to accept the challenge in the weeks building to WrestleMania – a nice twist on when it was Cena begging Undertaker to take on his own challenge.
What a moment it would be, and what a match for the young champion. The question begs, will this be Cena's passing-torch moment?
READ NEXT: Money In The Bank 2023 Is Coming To The UK
Some of the coverage you find on Cultured Vultures contains affiliate links, which provide us with small commissions based on purchases made from visiting our site. We cover gaming news, movie reviews, wrestling and much more.