Out of every type of racing game on the market, few match the excitement and chaos of a rally title. With an ever-changing variety of track conditions and the risk of crashing into a tree or off a cliff at any moment, rallying keeps you firmly on the edge of your seat. The sport can look almost impossible at times in real life. Having cars racing sideways on roads that drivers would usually tackle with an abundance of caution offers something that other racing disciplines cannot.
Yet, translating this excitement to the gaming sphere has never been an easy task. Codemasters have done the best job in recent times, managing to simulate the thrill and challenge of rallying better than anyone else. Many players, myself included, considered the official World Rally Championship series to be a poor alternative to the Dirt franchise. Even though WRC 7 was able to make some strides towards becoming comparable to its competitor, it still fell well short. That all seems to have changed with WRC 8.
KT Racing took a year off in their yearly release cycle and the extra development time shows. This is undeniably their best effort to date. The studio has used its official FIA licence to replicate every little aspect of the tracks and vehicles as closely as possible. The result is that this is a gorgeous looking game, with each rally car recreated in stunning detail.
As you get more involved in the game, the impressive visuals become even more noticeable. A dynamic weather system means that each environment can change dramatically throughout a stage. This can throw all kinds of natural hazards your way, such as snow and rain, as well as covering the terrain in different levels of light. WRC 8 excels in immersing you in these varying conditions. It is impressive just how good the visuals are in these moments. This is mainly due to an improved lighting effects system. Your headlights penetrate through the rain and darkness while the natural light shining on the terrain looks outstanding.
Of course, the gameplay in a racing game is far more important than the presentation. WRC 8 introduces you to driving a rally car by very much throwing you in at the deep end, as the game assesses your skills when tackling a tricky rally stage section. Without a co-driver to give you any guidance it can seem very tricky, even more so when you haven't had an opportunity to get to grips with exactly how driving in this game works. However, it does seem to evaluate your ability fairly well and suggest a difficulty level and the driver assists that are best suited to you.
Perhaps the biggest improvement in WRC 8 over previous entries in the series is the handling of the cars. Although being in ultimate control of the car is impossible and getting the car successfully through a stage will still be a huge challenge, the handling feels more realistic than ever before. Even without a racing wheel, you can get a good feel for your vehicle. There's a good amount of feedback given through a normal controller which makes the game very accessible, though, it may be necessary to shift around some of the controller settings, such as the thumbstick dead zones, so that you can get the most out of it.
Driving a rally car is a constant fight between getting everything balanced. Setting the fastest possible stage time requires a degree of careful application of the steering and throttle as well as aggressive driving to get you around corners. WRC 8 nails this and translates it authentically into the game. You feel as if you are constantly just inches from disaster but this makes those moments when you get a corner just right feel all the more satisfying.
As previously mentioned, WRC 8 has a pretty in-depth dynamic weather system. Not only does this have a significant effect on the look of the game but it also drastically changes how your car feels on the road. Grip levels vary according to the heat and dryness of a stage, so much so that a hot clear day can feel like a leisurely drive compared with the frantic panic that sets in when the rain begins to fall. Detailed forecasts can help you plan for changing conditions with modified setups but sometimes you will just have to rely on a change in driving style to a more cautious approach to see you through.
Another big overhaul has come in the form of the career mode. It's a linear experience where you have to advance from the junior racing series up to WRC 2 before making it into the full WRC if you perform well enough. Getting behind the wheel is not the only concern, though, as you have an entire racing team to manage.
While it takes some rather obvious inspiration from Codemasters' F1 franchise, WRC 8's career mode is much more involved. Not only can you use R&D points to upgrade your car but you can also invest them into how well your team runs. Taking part in special challenges and training events will get you more points to spend, although choosing where to prioritise your spending can be a daunting experience. There are just so many options and the skill tree offers plenty of chances to play to your strengths.
There's also a staff roster to take care of. Having a small pool of mechanics, agents, and managers is cheaper, though it will mean it is harder to keep their morale up and ensure they don't become exhausted. You have to strike a careful balance between making sure there is enough money coming in to pay for the staff you want or need to perform well. WRC 8 genuinely tries to make you feel as if you are part of a big operation. It even goes as far as showing you the factory with each member going about their business in the various sections.
Outside of the career, there is little in the way of other single player content except for the usual quick races. There are weekly challenges to encourage you to keep coming back and set times on the leaderboards, although they aren't anything particularly exciting. Most of the additional content comes in the form of multiplayer. There are several modes you can play online against others, and thankfully, you can also play with your friends locally rather than having to jump online. There's nothing like racing against someone sitting right next to you, so this is very welcome in an age when local multiplayer is becoming ever rarer.
A year off seems to have done this series all the good in the world. Things are far from perfect, such as the framerate struggling to remain a smooth 60 fps throughout, but WRC 8 gets plenty right. Cars handle great and there's a great variety in terms of both vehicle and rally circuit selection. It is an irrefutable improvement over its predecessors and definitely does enough to rival the Dirt franchise. Players now have a proper alternative when it comes to choosing which rally game to buy.
Some of the coverage you find on Cultured Vultures contains affiliate links, which provide us with small commissions based on purchases made from visiting our site. We cover gaming news, movie reviews, wrestling and much more.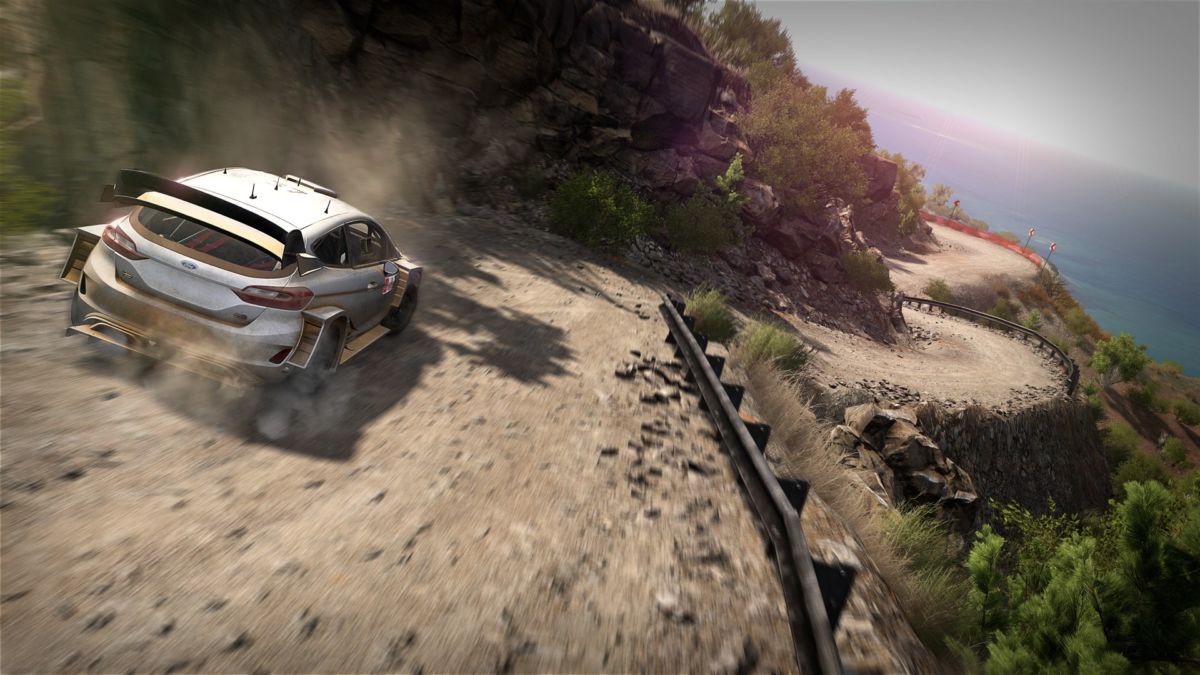 Verdict
A huge improvement over its predecessors, WRC 8 is finally a true match for the Dirt series with its authentic presentation, engrossing gameplay, and varied selection of vehicles and circuits.