Valheim has come out of seemingly nowhere to become the biggest game of 2021 so far, capturing hearts and minds like another recent Viking game could only dream of. While Assassin's Creed Valhalla may have had many, many times the budget of Iron Gate's somewhat scrappy survival game, it's proven to be far more polarising despite its AAA sheen. In fact, its inherent "AAA-ness" is a large part of why some haven't clicked with it, the checklist of blockbuster open world design ticked off one by one. Meanwhile, Valheim proudly embraces its underdog nature, polygonal edges and all.
With four million copies sold and doubtless many millions more to come, Valheim is surging through Steam charts, even topping GTA V's concurrent player peak, which is wild to think about. Valheim, a game probably made on the same amount of money that GTA Online generates in half an hour, is currently outperforming the biggest entertainment product of all time.
There's been a lot of analysis on how this has happened, how an incomplete survival game from first-time developers could become such a phenomenon. While there's a lot to Valheim's systems and mechanics, so much so that guides websites could probably retire early from 300 words on how to make a longship, it's not just the game's depth and glut of content that has made it such a hit. Valheim's file size means that even the starchiest of potato internet can download it and be playing with friends a lot quicker than most games out there.
With Valheim needing just 1GB of free space, which is less than a tenth of what Warzone demands so you can get shat on by G Fuelled maniacs, you can be enjoying your own purgatory in no time at all. I'm still trying to figure out how a team of five people managed to optimise such a huge game so impressively, especially as I want to scream at the absolute girth of the world whenever I scroll out on the map.
The procedural generation probably helps, but that doesn't account for how many different items, crafts, builds, enemies, and trees to get absolutely Looney Tunes'd by there are. Granted, Valheim isn't the most immediately beautiful game to look at, though there are serene moments at sea and early mornings that rival any spectacle in the biggest, most expensive releases. On a separate note, Valheim should be a solid reminder to big publishers everywhere that fidelity isn't everything — nobody needs to see all the sweat.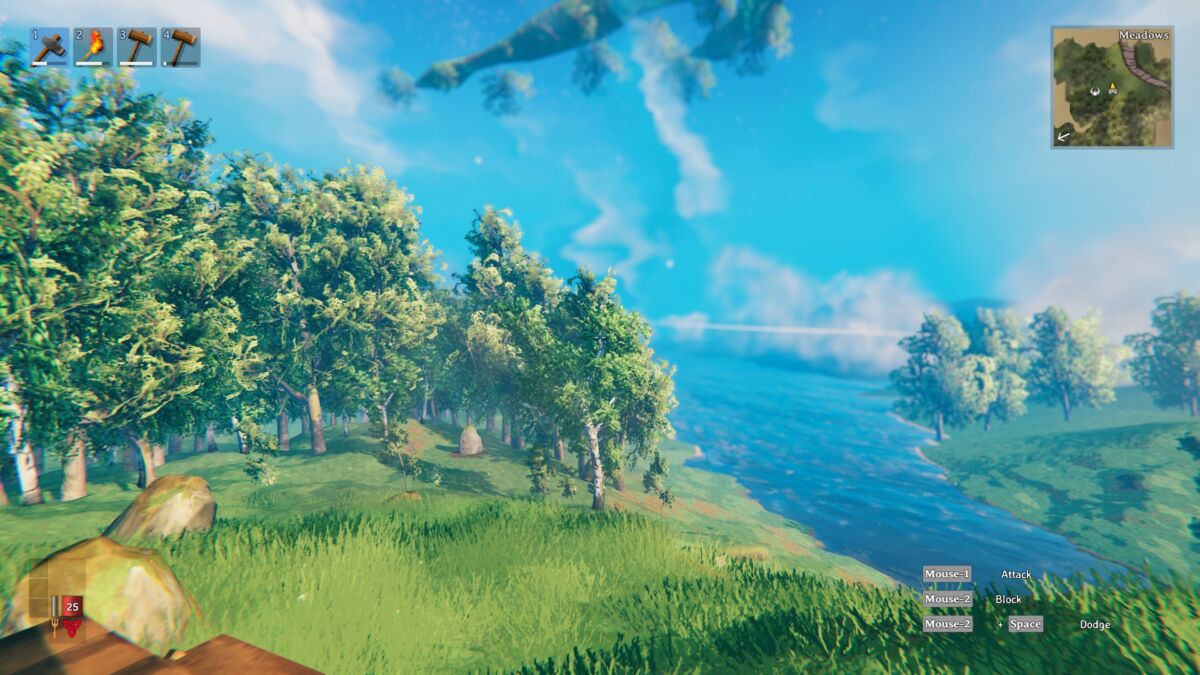 The small file size also helps to make Valheim a game that you can take with you. I could very easily download it on my laptop, plug in my controller and while away on a server if I needed a break from my desk. The game's slender cloud saves (compared to, say, Football Manager 2021) also mean that the carry-over is painless, not to mention that updates so far have been absolutely tiny so there's very little waiting around for a friend to get up to speed.
(Shortly after slapping publish on this, Valheim had an update that was a whopping 17.8 MB)
Huge file sizes and big updates have been an equally huge obstacle for me in recent times thanks to my poor internet, especially when using my PC — I've been pausing and unpausing the same updates on Steam for a long while. Games like Valheim and Among Us before it show the value in proper optimisation, and I can't wait to see how Iron Gate conjure more magic as their barmy but brilliant monolith continues to grow — hopefully not too much in file size, though.
Valheim is available now in Steam Early Access.
READ NEXT: 5 Games Like Valheim You Should Check Out
Some of the coverage you find on Cultured Vultures contains affiliate links, which provide us with small commissions based on purchases made from visiting our site. We cover gaming news, movie reviews, wrestling and much more.