Dark fantasy is a genre that's deeply loved within the anime industry, but in recent times the focus has shifted towards getting out more and more isekai anime. So if you're working yourself up to finding a thrilling adventure that caters to all your needs, we recommend checking out Tokyo Ghoul, an anime set in a fictional Japan where man-eating humans known as Ghouls roam freely.
Tokyo Ghoul isn't like your typical supernatural story though, it's got the perfect mix of emotional storytelling and plot pacing, and to cap it all off, it has a knack for making the characters relatable throughout its course. From the gorgeous animation style to the intense clashes, Tokyo Ghoul does a great job of depicting every theme.
Stuck wondering whether Tokyo Ghoul is really the anime for you? Then move ahead with this well-planned beginner's guide specifically designed to answer all the questions that you may have before starting the anime.
Tokyo Ghoul Beginner's Guide
Who Created Tokyo Ghoul?
Sui Ishida is the mastermind who created the gory thriller that is Tokyo Ghoul back in late 2011. It's said that he decided to become a mangaka after opting for the field on a whim.
Sui Ishida was later revealed to be his pen name, and the author still remains as much of an enigma as his manga's protagonist Ken Kanaki. Currently, he's busy with his new manga series Choujin X, which he started after wrapping things up with Tokyo Ghoul.
On another note, if you're curious about Sui Ishida's work being animated well enough, then there's no need to fret. Studio Pierrot, the animation house behind Bleach, Naruto, and Black Clover, brought Tokyo Ghoul to life as well, so as expected, the visuals are breathtaking.
What's Tokyo Ghoul About?
Think of a world where some people with unnatural abilities exist, and the only way for these Ghouls to get energy for their survival is by eating human flesh. Yeah, that's Tokyo Ghoul for you. Frighteningly, these Ghouls look like any other person you'd see walking down the street.
Ken Kaneki is a bashful and kind teenager who loves to read books at his local cafè, Anteiku. As it happens, Kaneki falls for an alluring woman named Rize Kamishiro who hangs out at Anteiku as well. After successfully gathering the courage to ask Rize out, Kaneki goes on a date with her.
As the date progresses, Rize starts exhibiting strange behavior, and it's revealed that she's actually a Ghoul who just wanted to have Kaneki for dinner. Mysteriously, steel beams from a nearby construction site fall on top of Rize, killing her and wounding Kaneki, who was standing close. When Kaneki wakes up in the hospital, he's told that certain organs of Rize were transplanted into him.
Rize's Ghoul organs eventually start manifesting abilities of hers onto Kaneki, altering his body into that of a man-eater. Now as a Ghoul-human hybrid, Kaneki experiences unspeakable urges, which later drag him down an endless path of bloodshed in Tokyo Ghoul.
Who Are the Main Characters in Tokyo Ghoul?
You've already spotted that Ken Kaneki is Tokyo Ghoul's protagonist. The character development he goes through throughout the manga and anime is unbelievably good. The timid boy who you see at the start of the anime eventually matures into a rather intimidating person.
Then there's Rize, the Ghoul who wanted to eat Kaneki, but remnants of her still remain inside Kaneki's mind haunting him. Though we've only discussed Rize and Kaneki above, there are so many great characters that we can go on for hours about.
Like Touka Kirishima, probably Kaneki's biggest supporter, she also serves as a mentor and friend to Kaneki during the course of Tokyo Ghoul. If there are Ghouls, there will be investigators to stop them as well, so you'll definitely have fun seeing Koutarou Amon, a policeman tasked with hunting Ghouls.
Where to Watch Tokyo Ghoul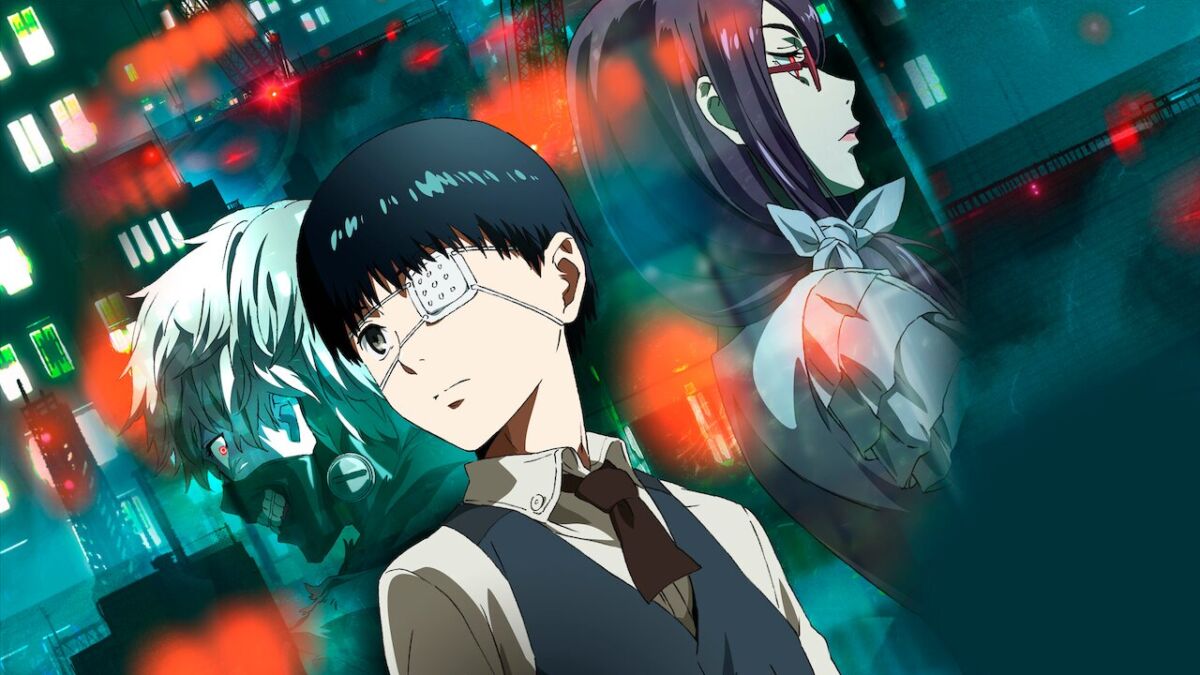 In total, the Tokyo Ghoul franchise has four seasons. The first two cover the original manga, while the remaining two depict the sequel manga Tokyo Ghoul:re.
You'll find Tokyo Ghoul: Season 1 and 2 on Netflix, Crunchyroll, and Hulu. And as for the sequel anime, that's also available to stream on Crunchyroll. Alternatively, if you prefer owning a Blu-ray home video, then that's easily available to get on Amazon.
Where to Read the Tokyo Ghoul Manga
The Tokyo Ghoul manga series has sold over 45 million copies, making it one of the best-selling franchises ever made. Collectively, the mainline Tokyo Ghoul manga series has over 322 chapters that have been compiled into 14 volumes for the original manga, and 16 volumes for Tokyo Ghoul:re. Aside from that, you can find tons of side stories about various characters in the world.
If you want to read Tokyo Ghoul online, try either Mangadex or the official Manga Plus website by Shueisha. But if you're looking to own the complete manga collection, you'll find a spectacular full box-set of the original Tokyo Ghoul manga on Amazon.
Anime You Should Try After Tokyo Ghoul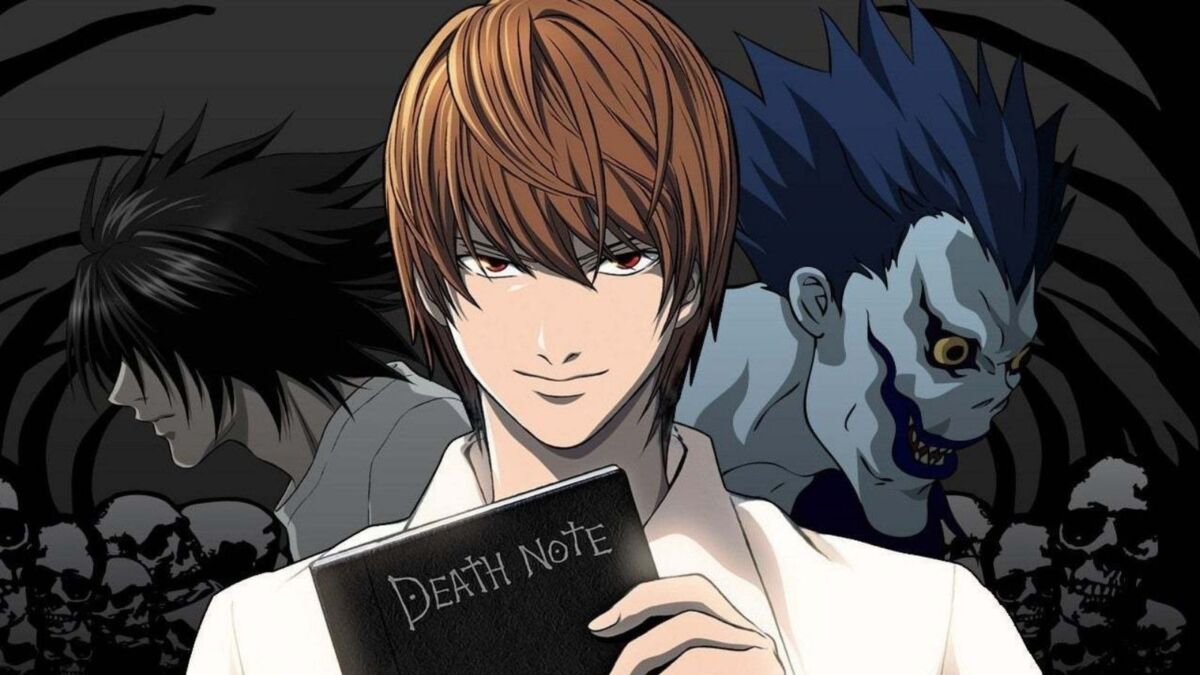 Sui Ishida's Tokyo Ghoul will certainly leave you longing for more, and as there's already a shortage of dark fantasy anime, here are some of our top picks.
We'd say give Tsugumi Ohba's classic seinen Death Note a chance. When Light Yagami gets his hands on a book that kills any person whose name is written on it, he vows to change the world, but will that be for the better? Death Note takes what it means to be a thriller to the next level, so be sure to save it.
Another great option would be Deadman Wonderland, an anime focused on a prison harboring criminals of devastating powers. Much like Tokyo Ghoul, this series has no shortage of gore.
If you'd like to witness a medieval version of Tokyo Ghoul, then Goblin Slayer certainly lives up to that with its brutal action, stunning visuals, and dramatic storytelling.
READ NEXT: Fullmetal Alchemist Beginner's Guide: Everything You Need To Know
Some of the coverage you find on Cultured Vultures contains affiliate links, which provide us with small commissions based on purchases made from visiting our site. We cover gaming news, movie reviews, wrestling and much more.